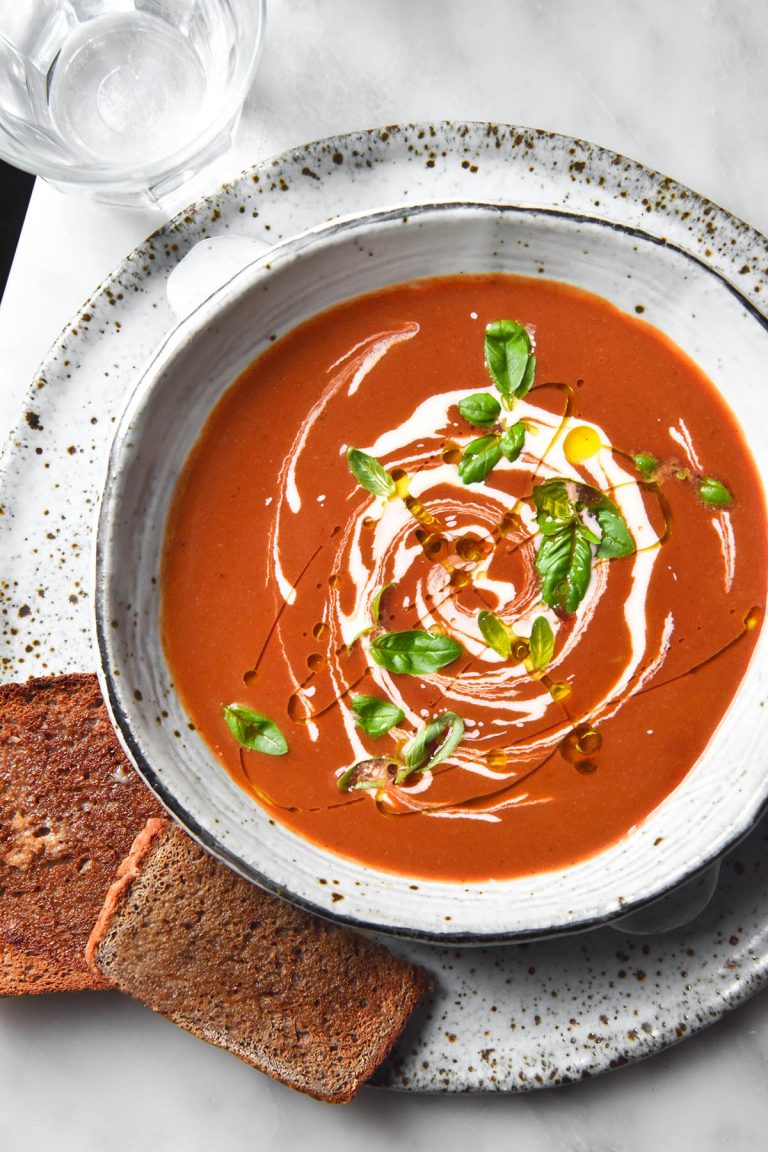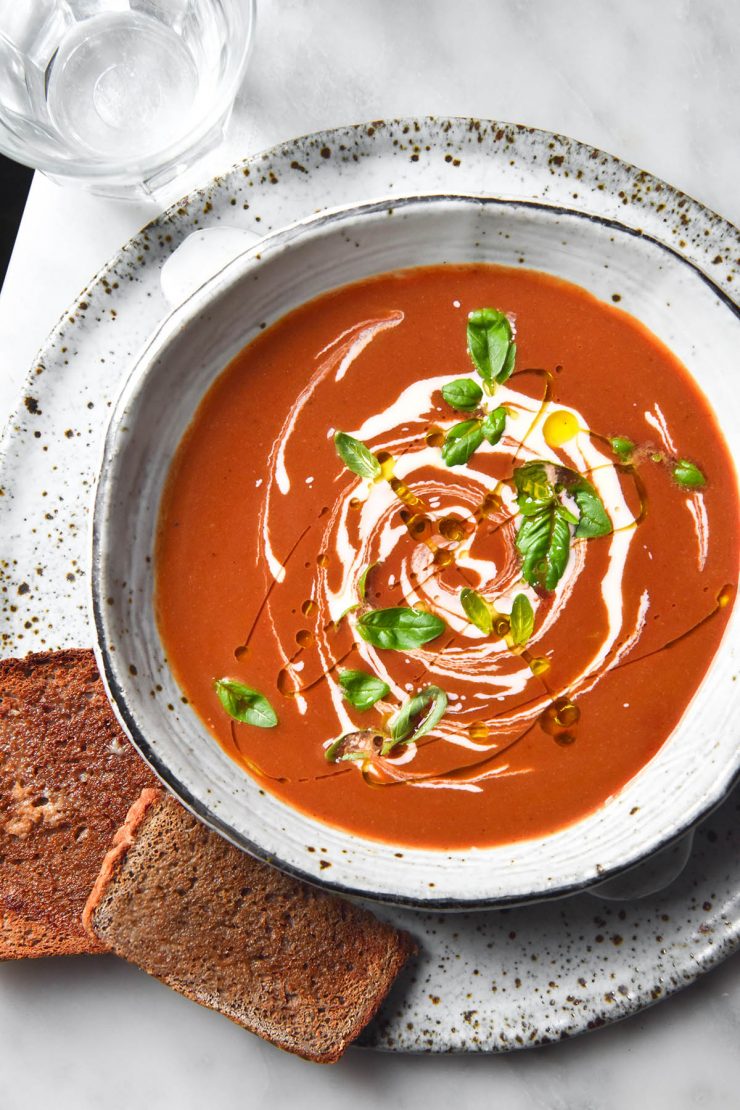 I have been testing low FODMAP tomato soup on and off for months now. I wanted to develop a soup that was beautifully tomato-y in flavour that you could have a big bowl of without issue. Because tomatoes can easily become moderate to high FODMAP, a lot of recipes out there have a serving size of 1/2 cup. Never in my life have I stopped at the recommended serving size, particularly when it comes to soup. So, I am super happy to introduce this low FODMAP tomato soup that actually contains no tomatoes at all.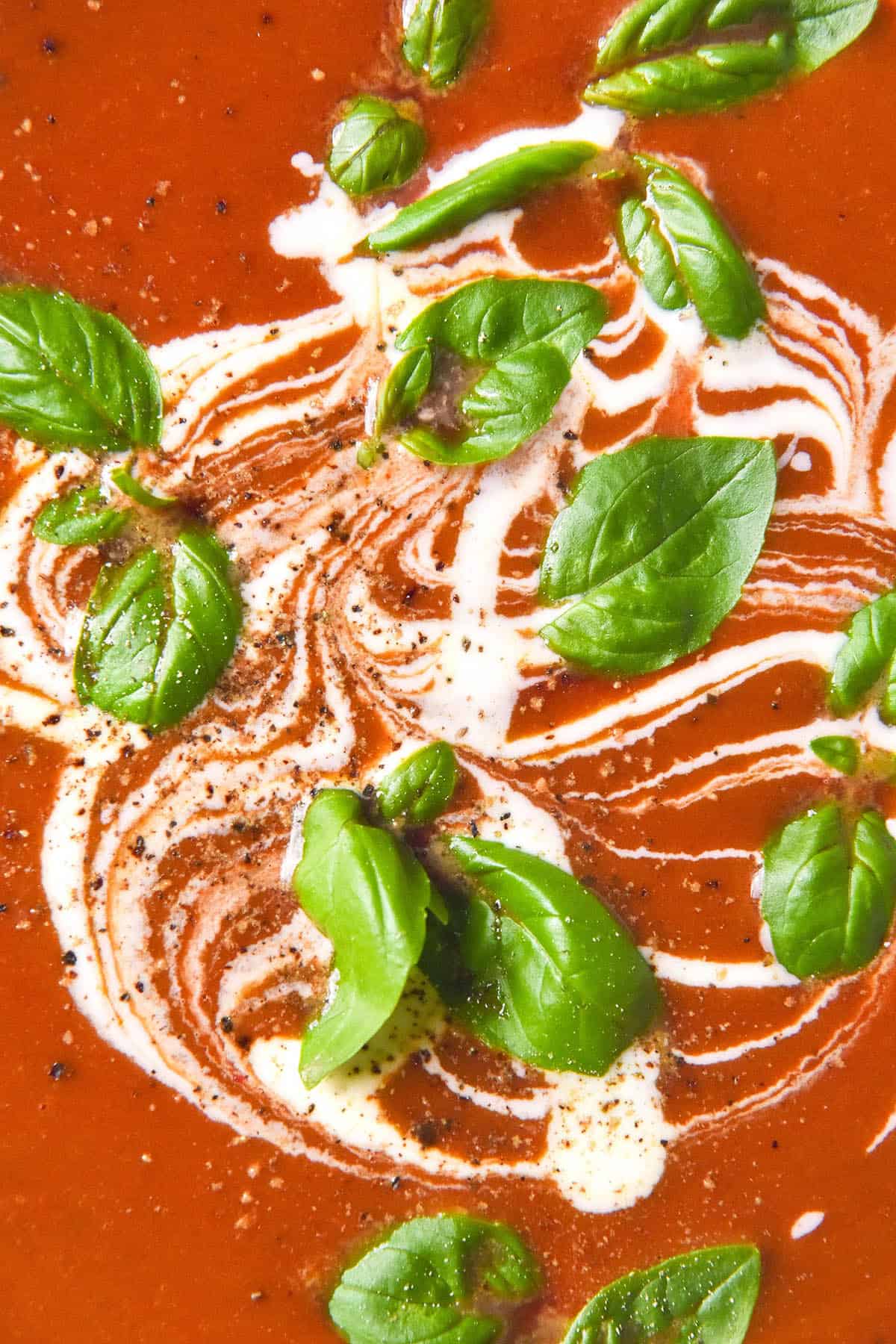 Low FODMAP tomato soup
You heard: this tomato soup contains no tomatoes whatsoever. It is, of course, made with my low FODMAP Nomato sauce, which uses spring onion greens, basil, pumpkin, beetroot and flavourings. The ingredients are cooked down and blended, and the result is incredibly good.
Add a little lactose free cream, and you've got yourself a low FODMAP tomato soup that you can eat a whole bowl of.
You might be asking: why no tomatoes? Tomatoes have moderate FODMAP thresholds in small – moderate quantities. Tinned tomatoes, for example, are low FODMAP in 100g serves per person. This isn't always an issue, but it does make a pure tomato soup tricky to pull off.
You would be surprised how incredibly tomato-like a tomato free soup can taste.
In terms of dietaries, this soup is low FODMAP and vegetarian or vegan. It is lower in histamines, and can be adapted for AIP (although substituting coconut cream will alter the taste somewhat). The soup freezes well and makes for a delicious dinner in partnership with my gluten free buckwheat bread.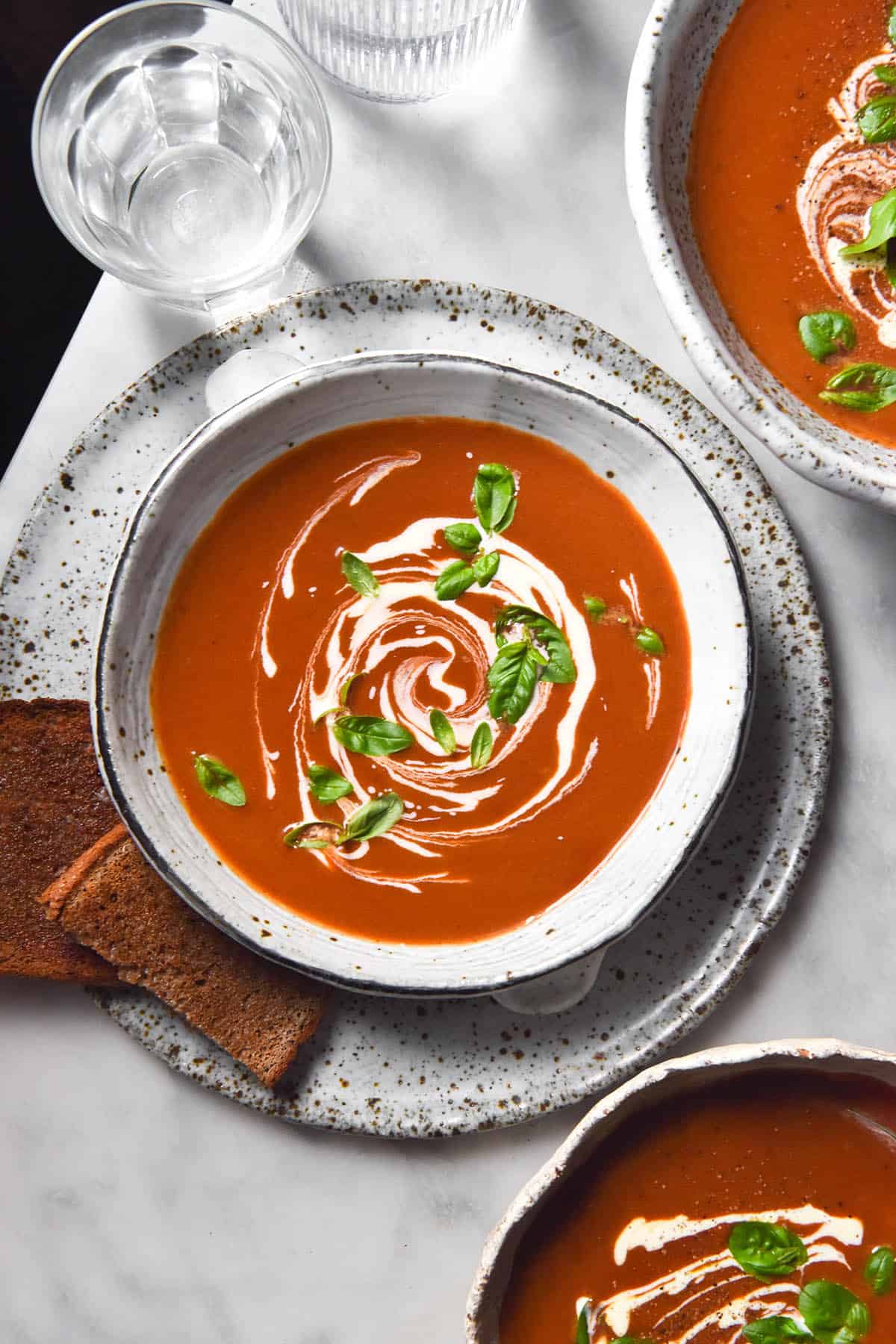 Recipe tips for your low FODMAP tomato soup
Chop your beetroot finely. Not only does this help disperse the colour, but it also helps it cook at an even pace with the pumpkin.
The beetroot is not a failsafe colouring option – some are darker than others. I am not adverse to a little pinch of red food colouring if this happens (we eat with our eyes, after all) but you do you.
I recommend blending the Nomato sauce before turning it into soup. Chunky sauce is fine for passata, but I like a smooth tomato soup.
If you own a Nutribullet or a blender without a valve for steam to escape, you will need to allow time for the sauce to cool completely before blending. Hot soup will explode a blender with no valve.
I genuinely think using garlic infused ghee as the fat source for this soup makes a world of difference. It is also heavenly slathered on the dipping toast.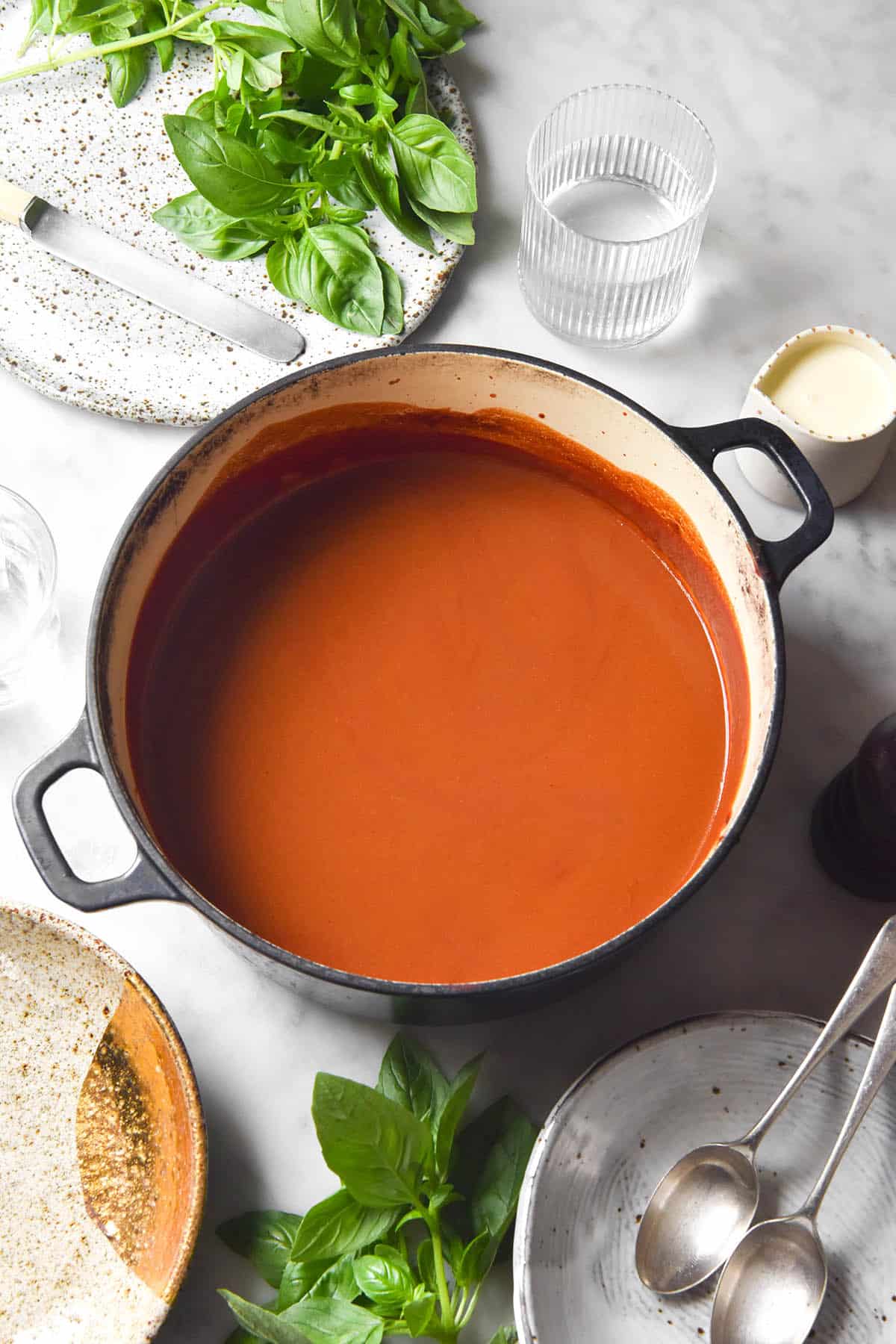 Can I make this low FODMAP Nomato soup dairy free or vegan?
Yes, you can. To make this Nomato soup vegan, simply use garlic infused oil in the Nomato sauce base, and a dairy free milk or cream in place of the cream that finishes the soup.
I would recommend using a creamy dairy free milk instead of coconut cream. Coconut flavour isn't really what we're looking for in a tomato soup. That said, if you enjoy coconut flavour you can do whatever you like!
Serving suggestions
My favourite way to eat this soup is with a slice of my gluten free buckwheat bread slathered in some garlic infused ghee. This combination tastes like a regular person's tomato soup with garlic and rye bread, in the best possible way.
However, if you're not into buckwheat, I have written a roundup of my gluten free, low FODMAP bread recipes as well as my gluten free vegan bread recipes.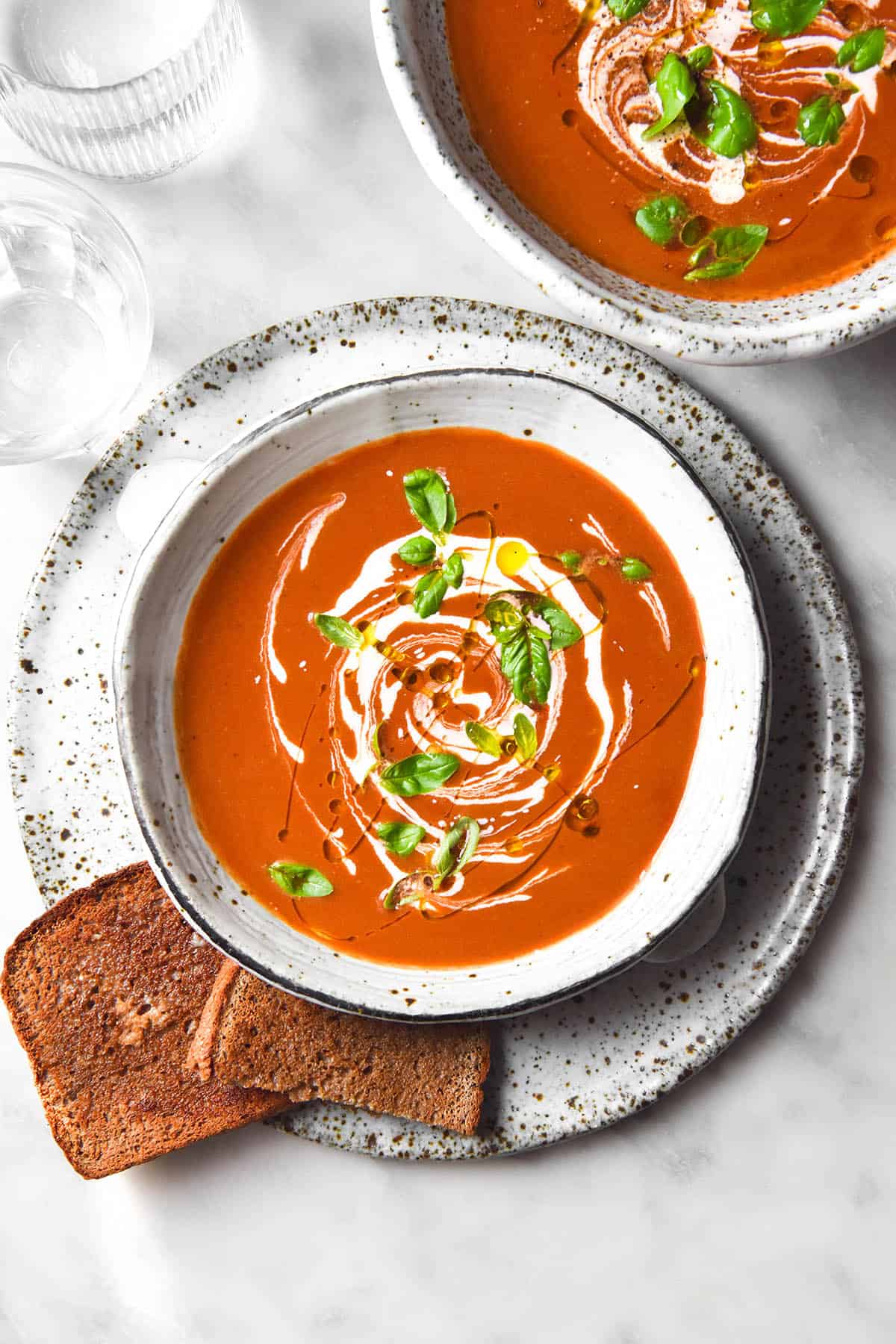 More low FODMAP soup recipes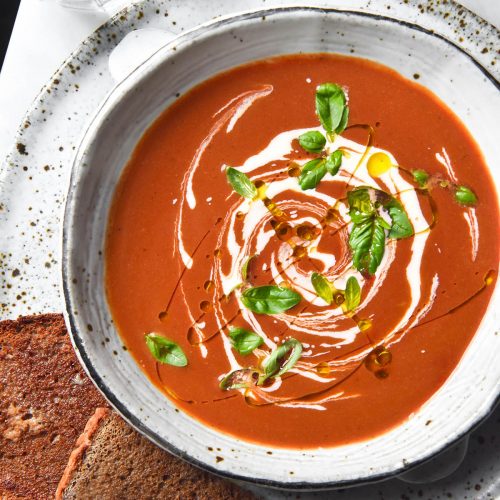 Low FODMAP Tomato soup
Serves 4-6
Serves 4 without some accompanying bread/toast or 6 with bread/toast
*Cups and measures are in Australian cups and measures. Use gram weights for international accuracy.
Ingredients
For the Nomato sauce base:
60

m

(3 tablespoons garlic infused ghee or oil, see notes section)

1

bunch spring onion greens

chopped (75g)

1

bunch of basil

chopped and woody stems removed (75g)

100

g

beetroot

chopped into small pieces

750

g

Kent or Japanese pumpkin

skin removed and chopped into small/medium pieces

500-1000

ml

(2-4 cups)* water or low FODMAP vegetable stock, as needed

40

ml

(2 tablespoons)* Tamari or gluten free soy sauce

40

ml

(2 tablespoons)* balsamic vinegar, lemon juice or red wine vinegar

2

tablespoons*

dried oregano

Seasoning

to taste
To finish the soup:
1/2

– 1 tablespoon maple syrup or sweetener of choice

this will depend on how sweet your pumpkin is

Extra lemon juice

to taste

250-500

ml

low FODMAP stock or water

to reach your desired consistency

Lactose free cream

to finish (see notes for dairy free/vegan options)

Basil

for garnish
Instructions
Preheat a soup pot over a medium heat. Add the oil or ghee and heat for a minute or so. Add the spring onion greens and allow them to sizzle, cooking until fragrant.

Add the basil, beetroot, 500ml (2 cups) of water or stock and stir to combine. Add the Tamari, balsamic vinegar and oregano and stir again.

Place the lid on and cook the sauce for 15-25 minutes or until the vegetables are completely cooked. Add water as necessary, but try not to add too much. You can add more later to achieve the right consistency, but you can't take it back.

Once the vegetables are completely cooked, take the soup off the heat and allow to cool a little. Blend until smooth. If you have a Nutribullet or a blender without a valve for steam to escape, you will need to let the soup cool completely first (steam will create enough pressure to explode a Nutribullet).

Once blended, add the extra water or stock and cream to your tastes. Taste the soup and add seasoning to taste along with maple syrup/sugar and lemon juice to achieve a tomato-like balance of acid and sweetness.

Serve with an extra drizzle of cream and some basil leaves, along with some gluten free toast.
Notes
For every Australian tablespoon, use 1 extra teaspoon if you are using USA, Canadian or New Zealand teaspoons. 1 Australian tablespoon (20ml) is the same as 4 teaspoons in these countries. 
For a vegan or dairy free tomato soup, use a thick dairy free milk. I don't recommend coconut as I think they will result in a weird flavour mix.
This soup freezes and defrosts really well.