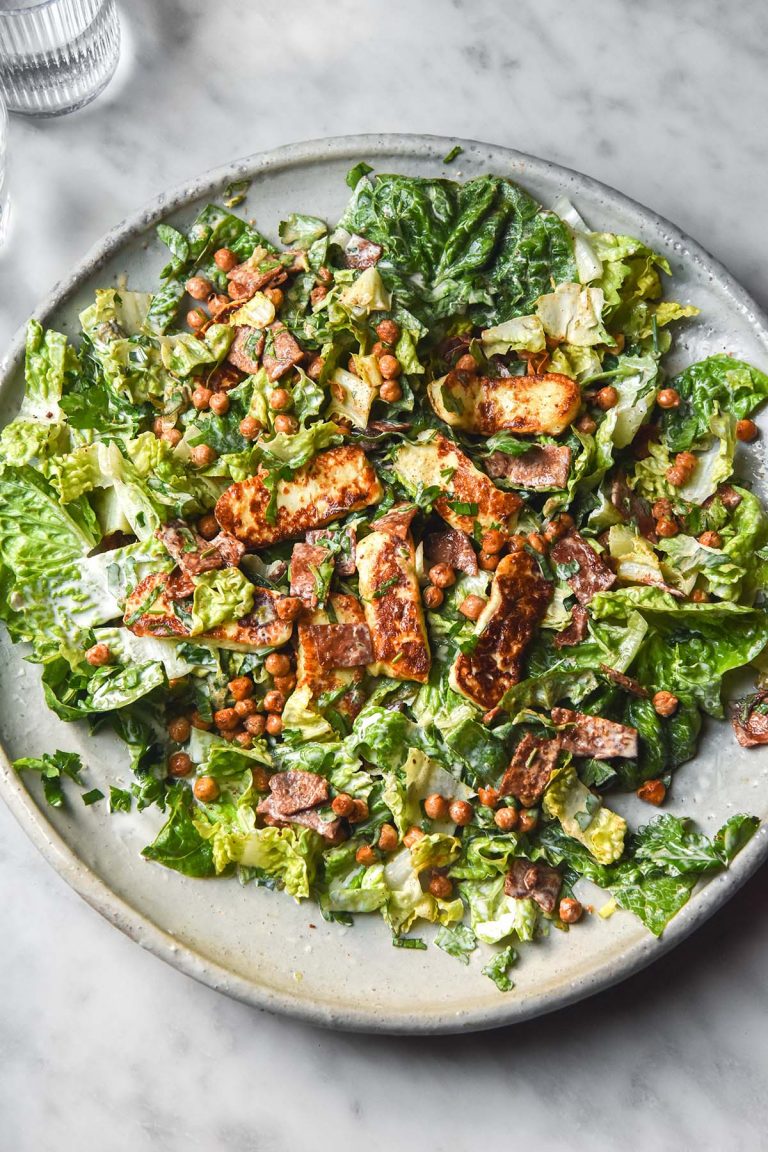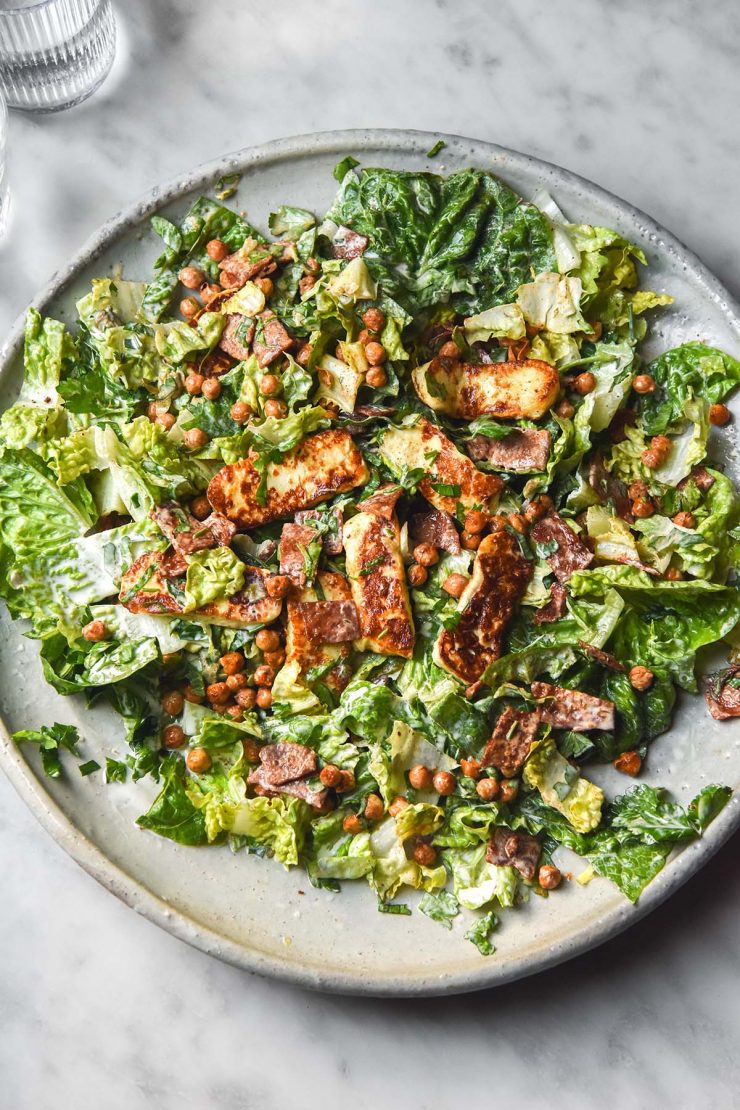 It has been a while since I posted a haloumi recipe. I apologise. Today I'm back with this haloumi salad recipe that I hope will make up for the lapse in haloumi content. It's creamy yet fresh and packed with flavour. I guarantee you'll want to eat it even when you don't want to eat salad – it's really that good.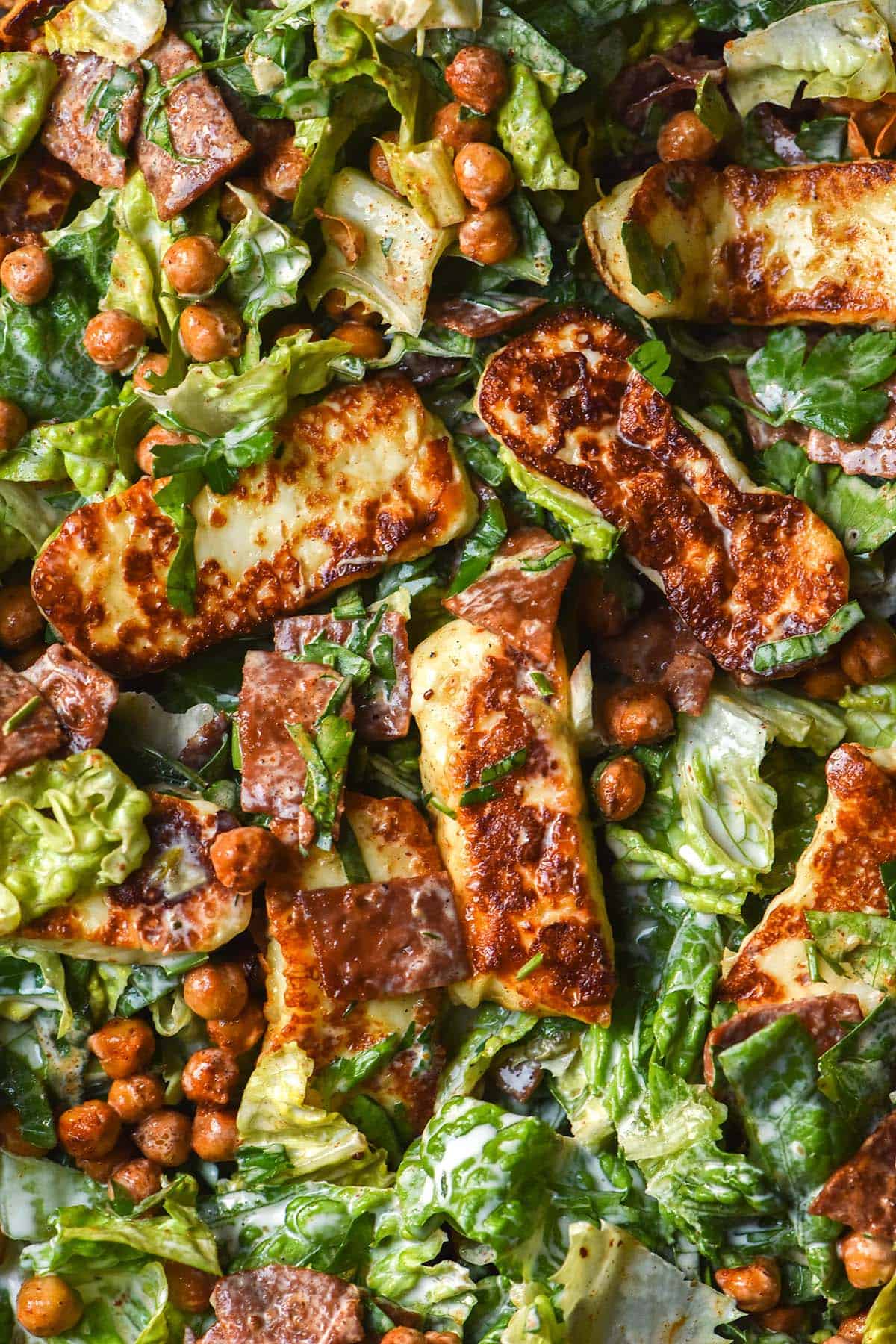 Haloumi salad
This haloumi salad is pretty quick and easy to make. A can of chickpeas is drained, tossed in oil, paprika and tajin or salt and roasted on heat. Next, the vegetarian bacon (or regular bacon!) is cooked in a pan. You can use the fat rendered from this to cook the haloumi (if you trust the non-stick nature of your pan).
A quick dressing of mayonnaise, dijon mustard, maple syrup, lemon juice and capers gives this salad a distinct Caesar salad sort of vibe. You can use any greens, but I love using good old Romaine lettuce and chopped continental parsley.
Tips for working with haloumi
In my time of being haloumi obsessed, I have picked up a number of tips and tricks I want to pass on for the best possible haloumi.
The brand matters. Some brands of haloumi are squeaky and stiff, even while hot. I like Riverina brand in Australia, but I intend to test them all and come back with the results.
Make sure your pan is thoroughly heated, particularly if your pans are old and have lost their non-stick. I like to heat my old pans for a solid few minutes before I start.
Personally, I find a tiny bit of oil helps to ensure you can flip the haloumi without drama. I use vegetable or olive, but any will do.
Once the pan is hot and oiled, add a test haloumi. This way you can determine whether the pan was hot enough for a clean flip and whether the heat is too high. Give the haloumi 10-20 seconds before flipping and adjust the heat accordingly.
For the best haloumi experience, cook it last and serve it hot. Cold haloumi before drier and rubbery. If you are haloumi obsessed, assemble the whole salad and then cook the haloumi before serving immediately.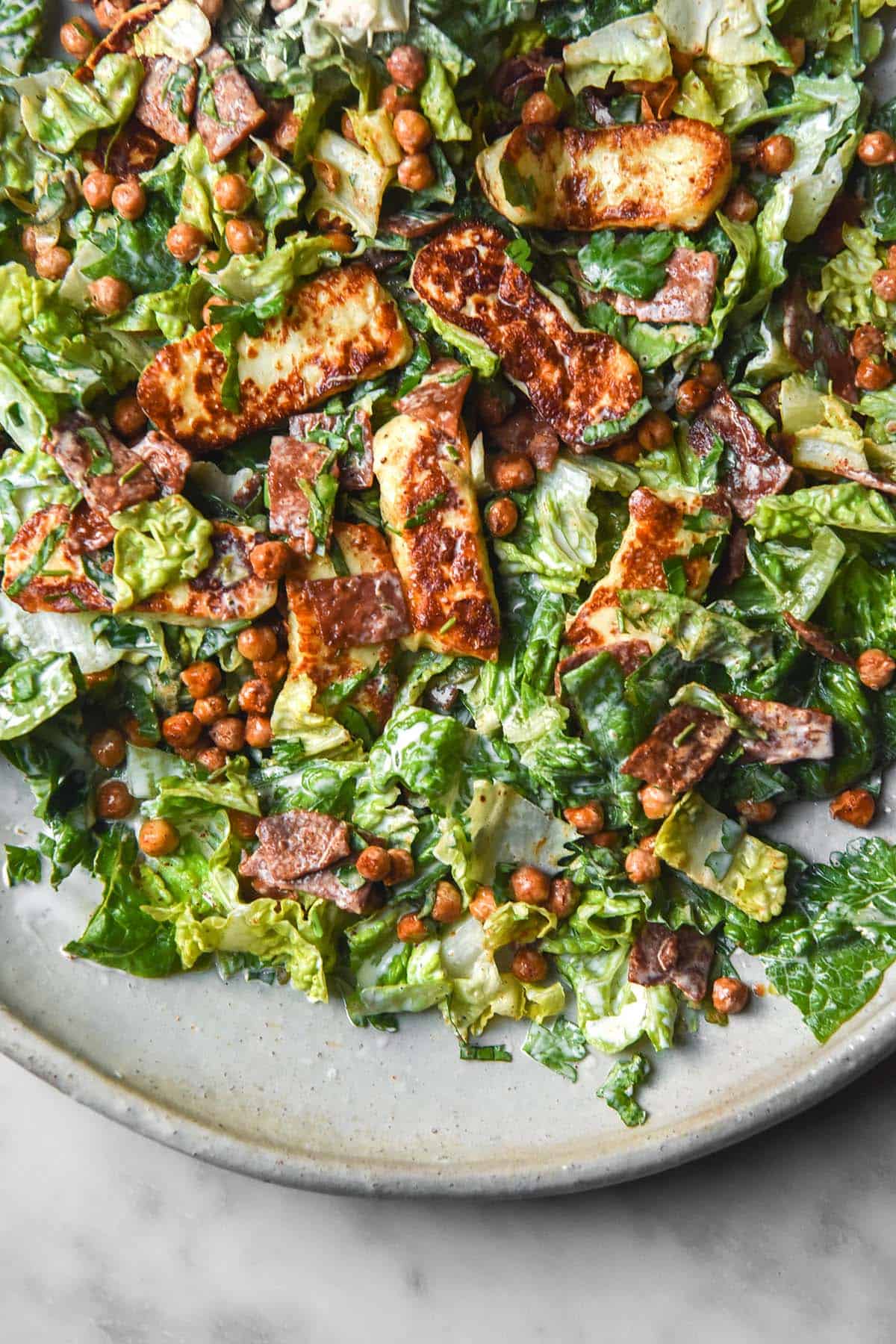 Substitution notes
You can use the greens you have on hand. Mixed lettuce, mixed salad – whatever works for you.
Parsley is a nice subtle herb that sort of blends into the greenery of this salad. If you don't like parsley, you can use rocket/arugula or simply omit.
I used Sunfed vegetarian/vegan bacon in this recipe. It's gluten free and made from pea protein, which may be low FODMAP. You can use any sort of vegetarian bacon you like. Obviously, you can also use real bacon if you're not vegetarian. I daresay real bacon is more pungent than vegetarian bacon, so you might need less than the recipe specifies.
If you would prefer a non-creamy dressing, I have a salad dressing recipe here. Use it to taste.
Addition options
Some walnuts would add a fun crunch to this salad. You could also sprinkle it with some hemp seeds or even pumpkin seeds.
If you're going for a Caesar/Cobb hybrid, you could add some soft boiled eggs to this dish. It would amp up the protein and make the salad more of a lunch dish.
I haven't tried this, but you could bulk out the salad with a grain of choice. I'd suggest cooked quinoa or sorghum.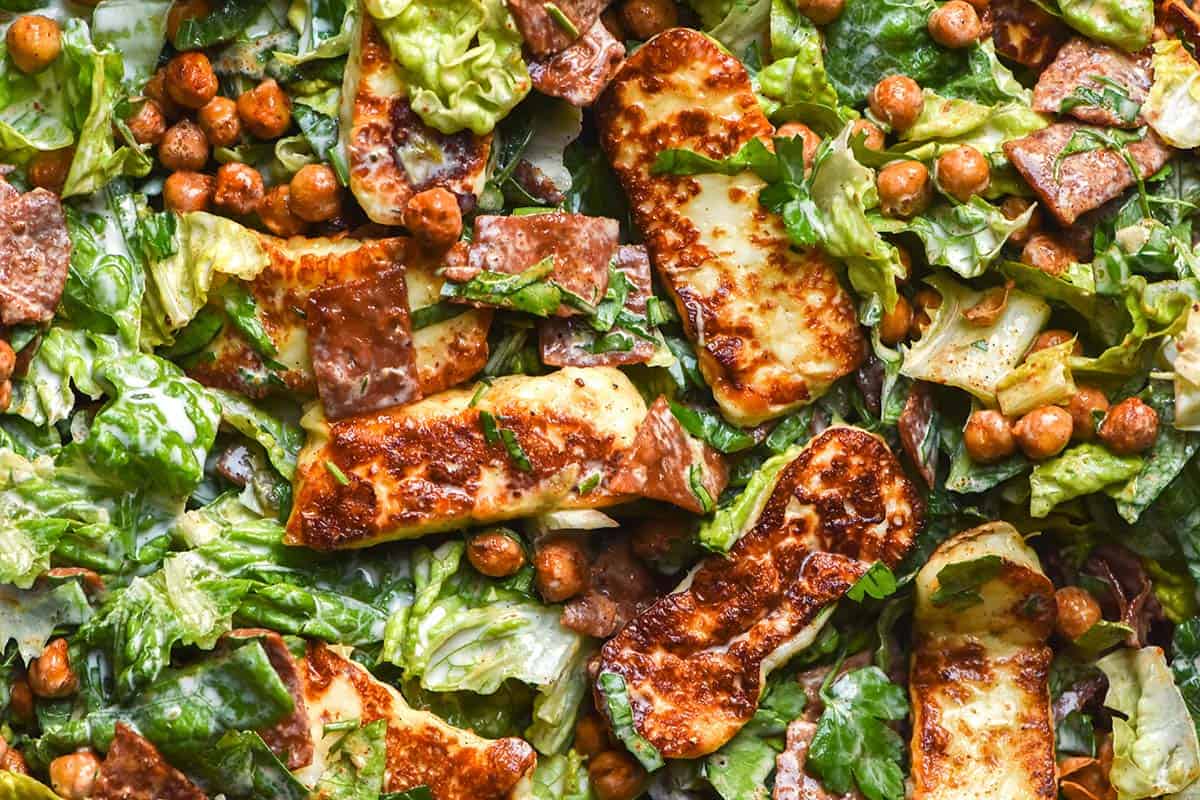 Is this salad low FODMAP?
No, this salad is not specifically designed to be low FODMAP as it currently stands. However, there are some things you can do to make this a FODMAP appropriate dish.
To even out the higher FODMAP toppings, I would consider adding more lettuce. This would mean doubling the salad dressing recipe (or making 1 1/2 batches, depending on how well dressed you like your salad).
You could also consider adding some cooked and cooled quinoa to bulk the salad out.
Monash says that pea protein and pea fibre can be low FODMAP, but each individual product needs to be tested to be sure. The vegetarian bacon I used (Sunfed brand) is made from pea protein. If this doesn't work for you, regular bacon is low FODMAP. And if you're vegetarian, I recommend making my low FODMAP Caesar salad and adding haloumi if you fancy it.
On that note, haloumi is low FODMAP in 40g (2 slice) serves per person. The threshold for a moderate lactose serve is 60g.
Canned chickpeas have a low FODMAP threshold of 42g or 1/4 cup servings per person. One whole 400g can is approximately 240g net weight once drained. This means that one can of chickpeas needs to be divided onto 6 servings to remain low FODMAP. You can simply put more chickpeas on the salads of your non-FODMAP household members, or freeze the excess (uncooked) for a later date.
Be sure to choose a mayonnaise without any garlic, onion, inulin or fructose. You would be amazed at some of the things they put in store bought mayo. I used Hellman's vegan mayo as the ingredients list is one of the shorter ones. I also love Vegenaise.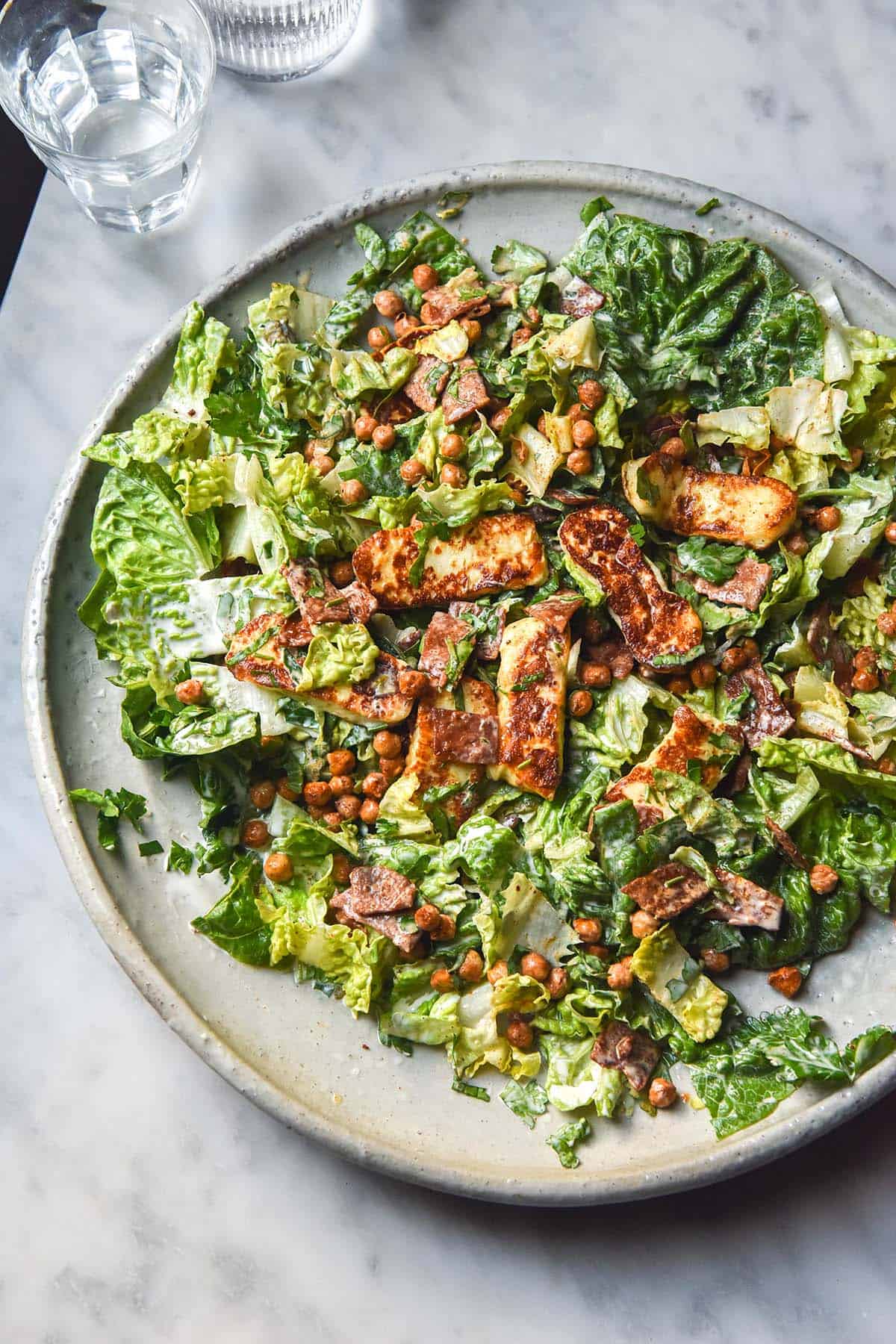 More haloumi salad recipes and haloumi dishes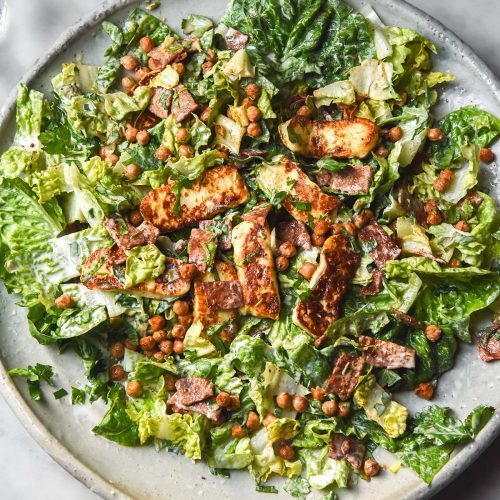 Haloumi salad
Vegetarian, gluten free, nut free option
Serves 3-4
Ingredients
For the dressing:
1/2

cup

mayonnaise (I used vegan mayo)

1

tablespoon

capers, chopped

1

teaspoon

dijon mustard

1-2

teaspoons

maple syrup, to taste

2

tablespoons (40ml)

lemon juice, to taste

Freshly cracked pepper, to taste
For the crispy chickpeas:
1 x 400g

can

chickpeas, rinsed and drained

1

tablespoon (20ml)

oil of choice (I used vegetable)

2-3

teaspoons

smoked paprika

2-3

teaspoons

tajin (see notes)
For the salad:
1 -2

large heads

Romaine lettuce, thoroughly washed and chopped

1/2 – 1

bunch flat leaf parsley, washed and chopped

180-200g

good quality haloumi (I used Riverina)

125g

gluten free vegetarian bacon, chopped (I used Sunfed)

(see notes)
Instructions
Preheat the oven to 200C/400F. In a small bowl, mix up the salad dressing and adjust according to your tastes, then set aside.

Thoroughly dry the chickpeas and place them on an oven tray. Add the oil and seasonings, then use your hands to massage everything into the chickpeas. Place them in the oven for 20 minutes or until golden and crispy.

Cook the bacon as per package instructions, then set aside. Repeat with the haloumi (I like to use two different pans for this as my pans are old and tend to stick).

Mix together the lettuce and parsley on your serving platter. Toss the salad dressing through, then finish with the crispy chickpeas, chopped bacon and haloumi. Serve warm or cold. Leftovers keep for a couple of days in the fridge.