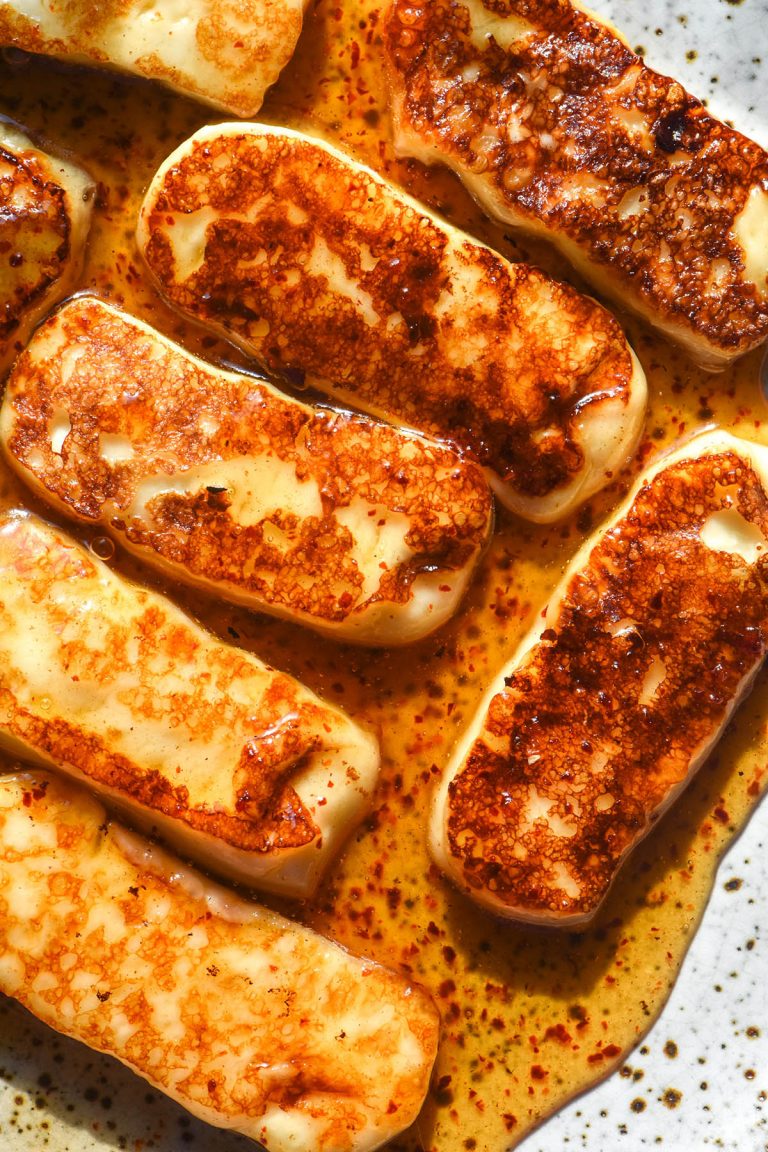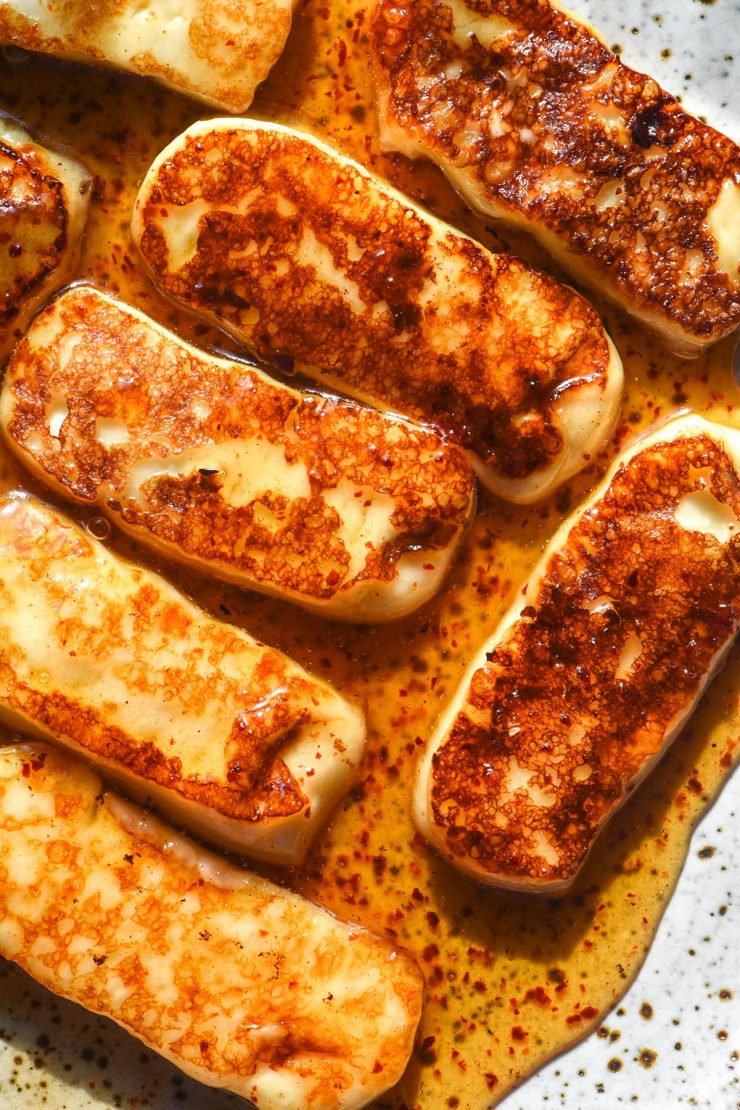 Haloumi or halloumi, however you prefer to spell it, is one of the most superior cheeses (in my biased opinion). Freshly cooked, it is salty, gooey, melt in your mouth heaven. I haven't posted a halloumi recipe in a while, so I figured I'd rectify this with an easy honey halloumi recipe.
This halloumi makes for a delicious addition to salads, pasta – whatever you're cooking. It's quick, easy and full of flavour (and it looks impressive too). While it's not an overtly low FODMAP recipe, I will include some low FODMAP options. Everybody deserves to eat halloumi.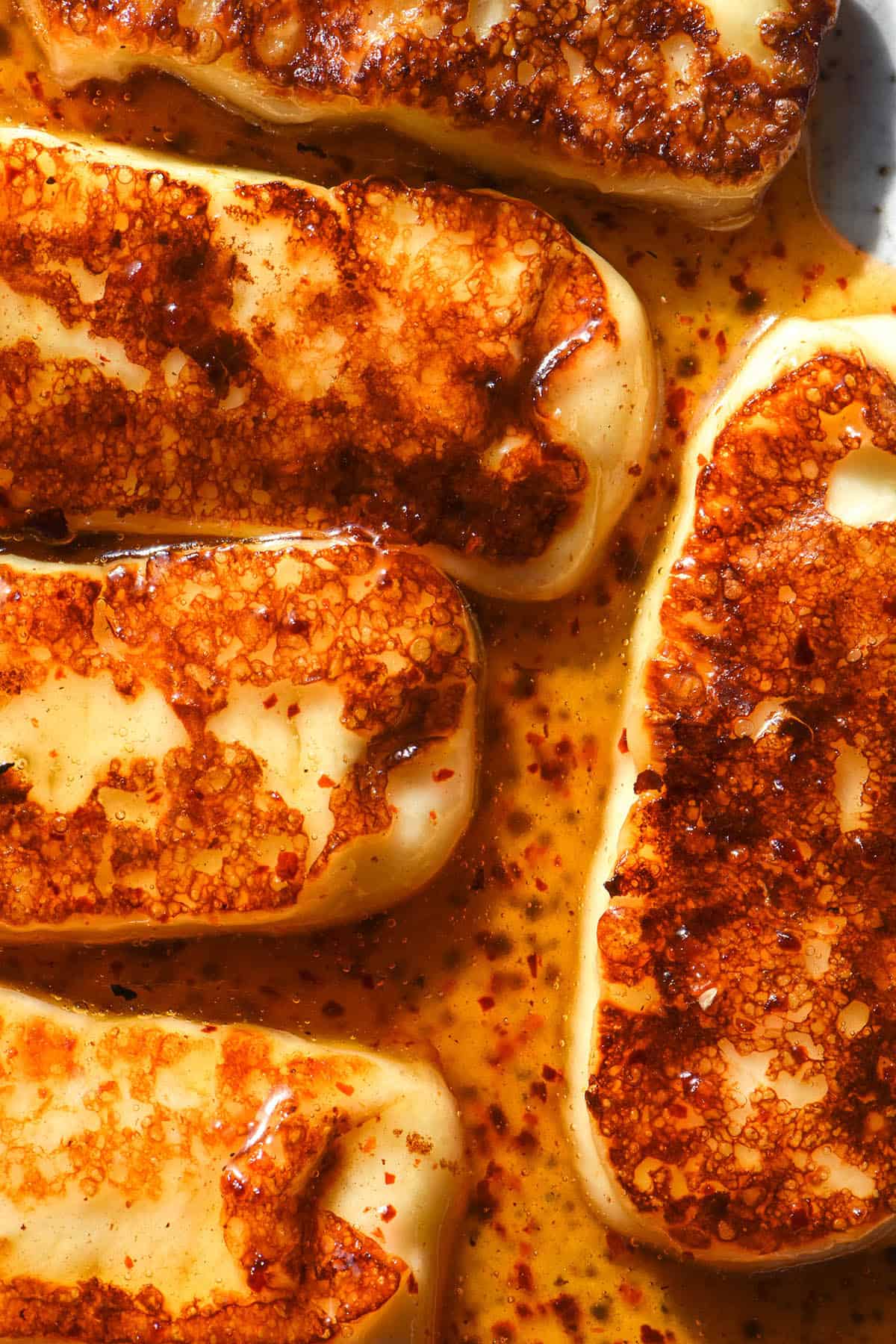 Honey halloumi
This honey halloumi uses a simple mix of honey, lemon juice, garlic infused oil and cornstarch. The first three bring the flavour, and the latter brings them all together into a thick and delicious sauce.
You can jazz this halloumi up further in a number of ways. Seasoning is a given, but some dried oregano doesn't go astray. Hot honey adds a bit of spice, or you can simply add your own chilli to taste.
Whatever you decide to do, I can guarantee it will be delicious.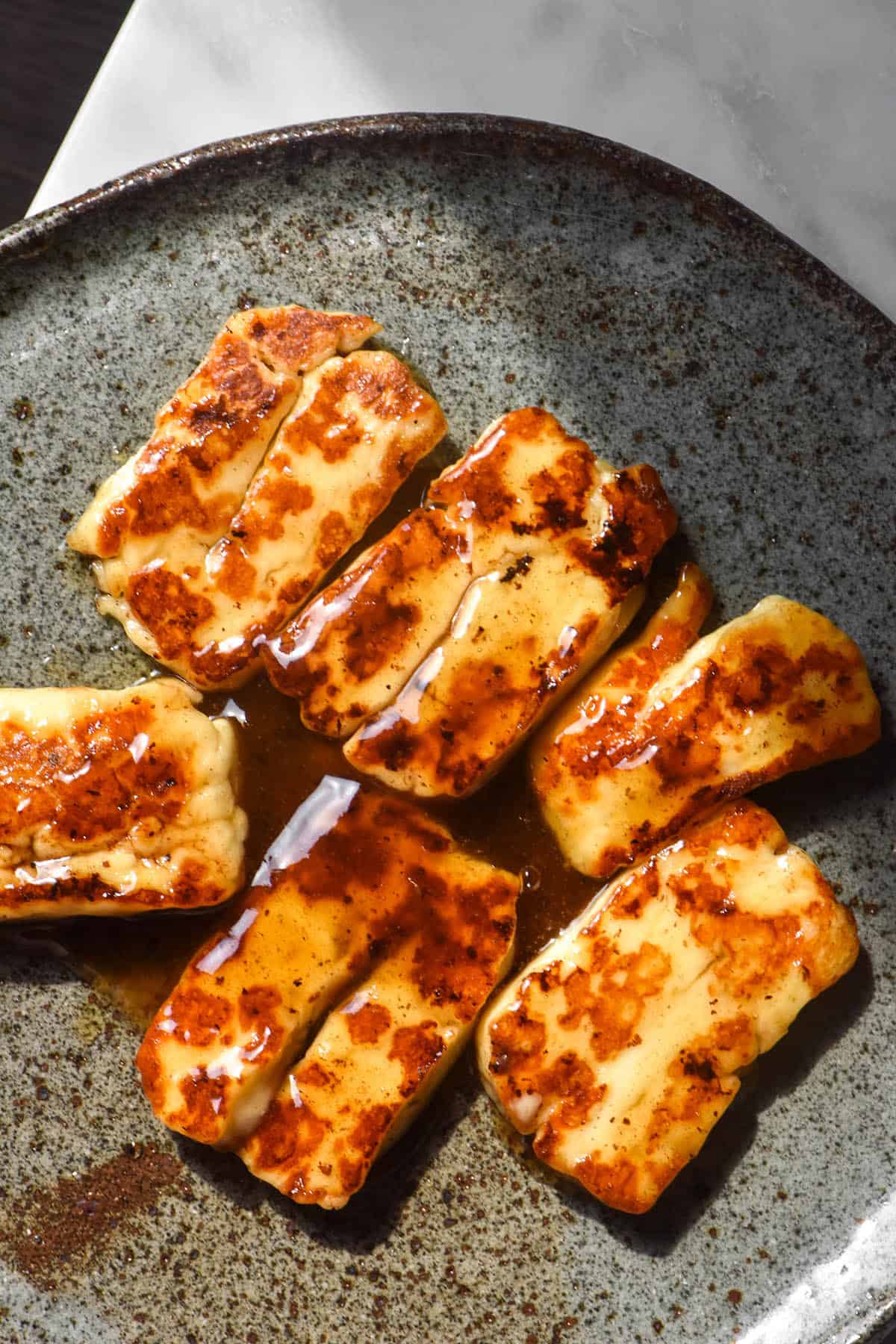 How to pan fry halloumi
Over the years of cooking halloumi, I have picked up a few little tricks to ensure smooth sailing. Let's discuss them quickly now.
Firstly, make sure your pan is thoroughly preheated. Halloumi has a tendency to stick, and attempts to remove it result in the loss of that beautiful browned coating. This tip is particularly important if you're using old pans (like I am). Ensure it is absolutely heated before the next step.
Next, I like to add just a scant amount (1/2 teaspoon or so) of oil. This is just an extra insurance policy that the halloumi won't stick to the pan.
To that end, I like to do one test piece first to ensure the pan is at the right temperature. I check how quickly the halloumi browns and go from there. The ideal scenario is halloumi that doesn't stick and is nicely browned BUT not browned so quickly that it hasn't cooked through. Adjust the heat accordingly.
Finally, choose the brand wisely. There is a huge difference between brands of halloumi. Some are rubbery to taste, some are harder to cook. I recommmend Dodoni and Riverina Halloumi in Australia.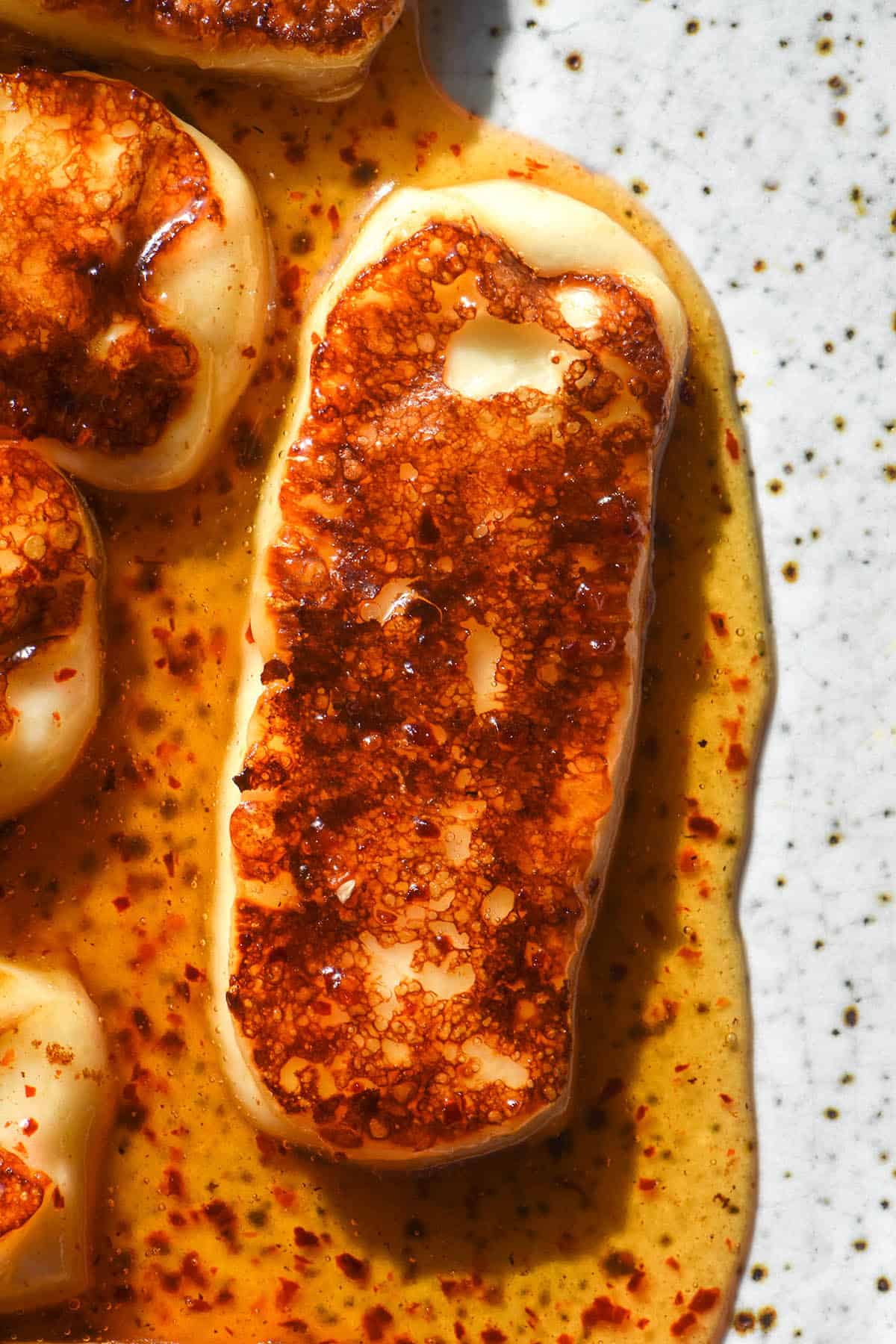 Tips for your honey halloumi
Aside from the haloumi cooking tips above, I have a few in regards to the dish as a whole.
Firstly, it's important to choose a good quality halloumi. In Australia, my favourites are Dodoni and Riverina. They melt well and form a golden crust with ease, while being gooey underneath. Both are also vegetarian – not all haloumi is vegetarian, so check the labels if you need it to be.
Next, I recommend adding both the lemon juice and cornstarch according to your tastes. The lemon obviously brings an acidic element. Every lemon is different, and everyone's taste for sourness is different. Taste and adjust as necessary.
With that said, I find that the sauce doesn't taste like it will in the finished product until you add the cornstarch. It brings the oil and sweetener together to form a cohesive sauce. The great thing about cornstarch is that it thickens really well, so you can add more lemon juice after adding the cornstarch, if you need to. Keep it on the stove until it thickens to your desired consistency (although it does thicken as it cools).
Finally, the cornstarch. Add this according to how thick you like your sauces. For a thinner sauce, add 1/4 teaspoon. For a thicker sauce, add 1/2 teaspoon.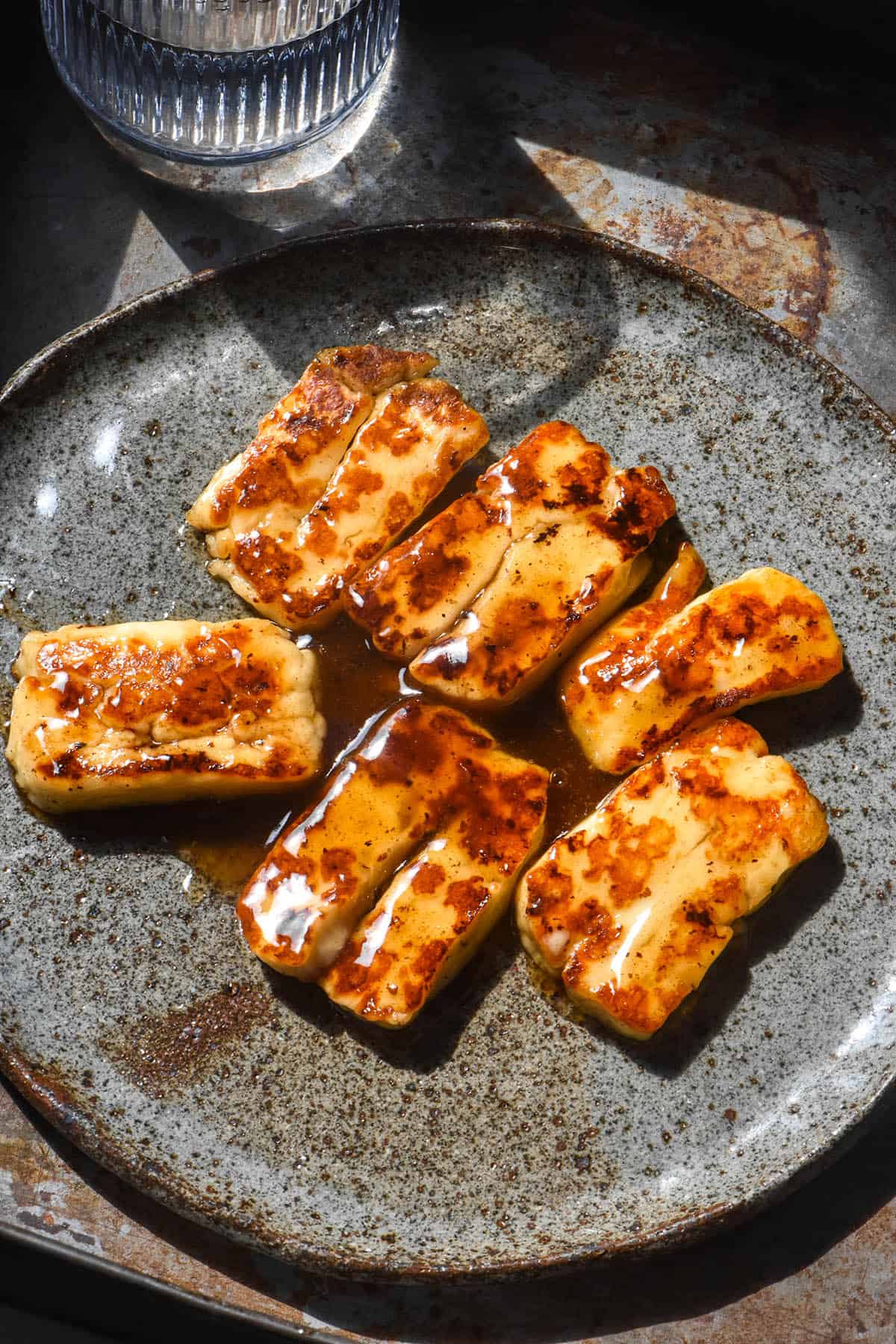 FODMAP notes for your honey halloumi
As we have discussed, this is not an overtly FODMAP recipe. Halloumi and honey are not inherently low FODMAP ingredients. However, with a few tweaks we can adjust the recipe to cater to low FODMAP diets.
Firstly, it's worth noting that halloumi is low FODMAP in 40g serves, or approximately 2 slices. It becomes moderate in lactose in 60g serving sizes. If you don't have issues with lactose, you can eat according to your preferences. Keep in mind, though, that halloumi is high in fat and this can affect gut motility.
Regular honey is low FODMAP in 1 teaspoon serves per person. Larger servings of 1/2 tablespoon contain moderate amounts of fructose.
Needless to say, there is no substitute for the halloumi here. I'm working on a baked feta recipe, but this is our only option at the moment.
In terms of honey, you do have a few options. Firstly, you can substitute half the honey with rice malt syrup or maple syrup. This will change the sweetness levels, so make sure you taste the sauce and adjust if needed.
Secondly, you can use all maple syrup or all rice malt syrup. I recommend maple syrup over rice malt, because it's only subtly sweet. Lemon juice and garlic infused oil are bold flavours, and I don't think rice malt syrup will be strong enough to balance them out.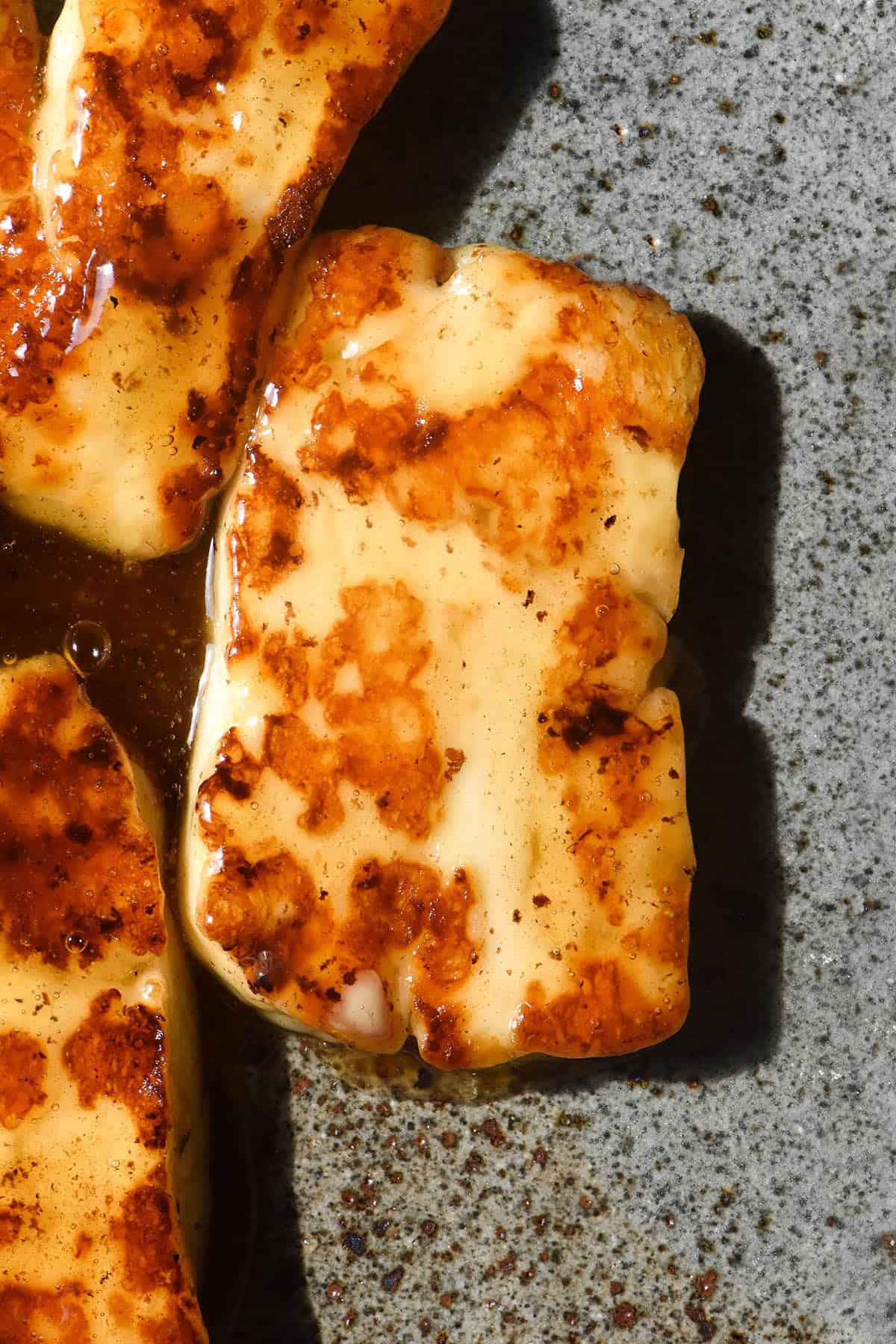 Flavour addition suggestions
This honey halloumi can be tweaked in a number of ways, depending on the meal you intend to serve it with. My favourite recommendations:
Chilli flakes or pickled or fresh jalapeno
Pickled jalapeno juice
Fresh or dried herbs (I think the more hardy herbs are better here, like oregano or lemon thyme). Sage would also be delicious
If you're not catering to FODMAP concerns, some finely sliced garlic would be delicious
Hot honey
A dash of liquid smoke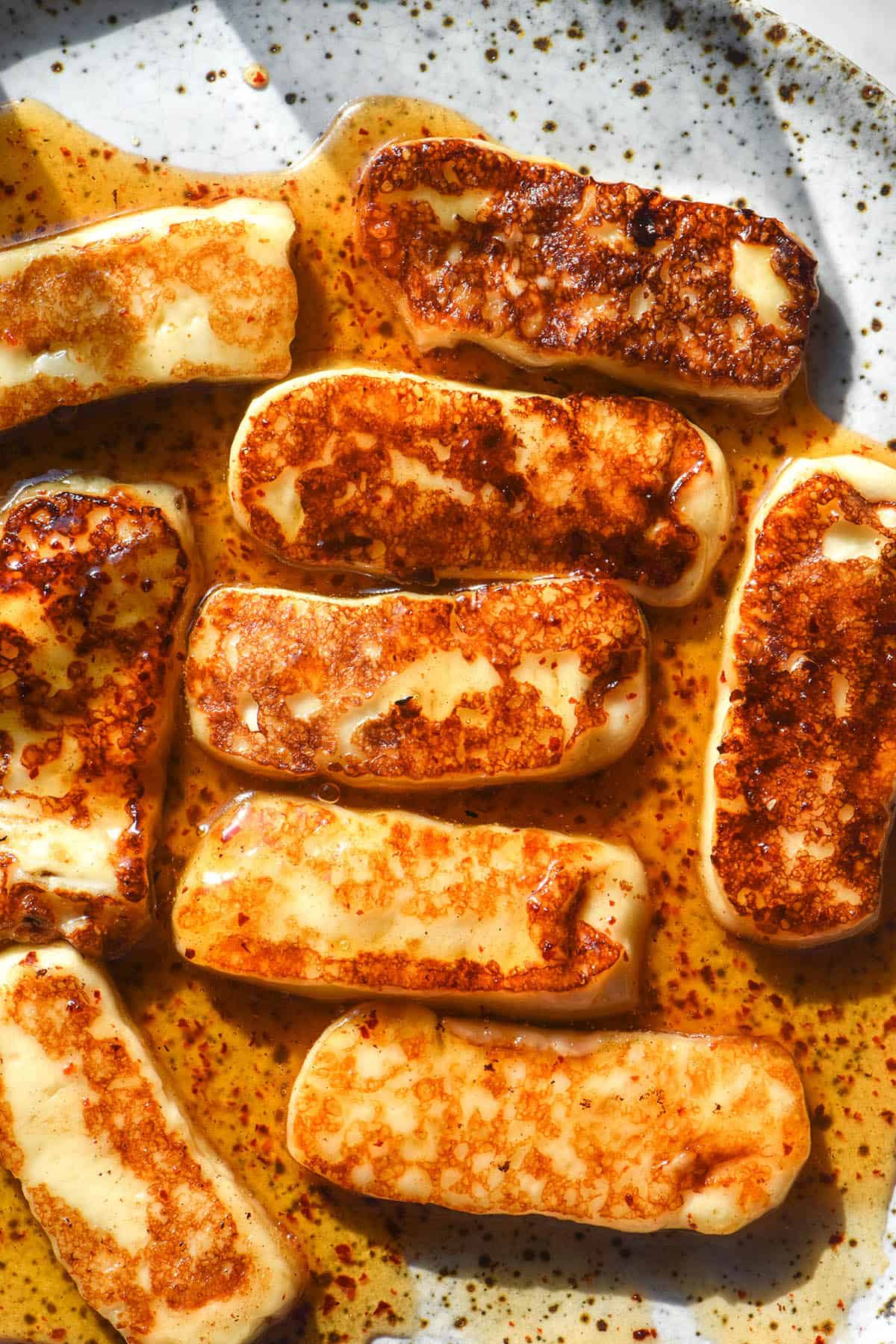 Substitution options
To make it easier, I always like to include substitutions for various dietary needs. Without further ado:
You can use maple syrup instead of honey for a lower fructose option. Make sure to balance the flavours by tasting the sauce prior to cooking as honey has a different flavour profile than maple syrup.
I have tested tapioca starch in place of cornstarch. In other recipes I have tested potato starch (which I find less gloopy than tapioca in thickening applications) so I daresay you could substitute that too.
Lime juice instead of lemon is a way to change up the flavour profile. I haven't dabbled with any other acids like red wine vinegar or sherry vinegar.
You can use regular oil if you don't have garlic oil. If you happen to have other infused oils, you can use those as well. I'm a big fan of smoked oil right now.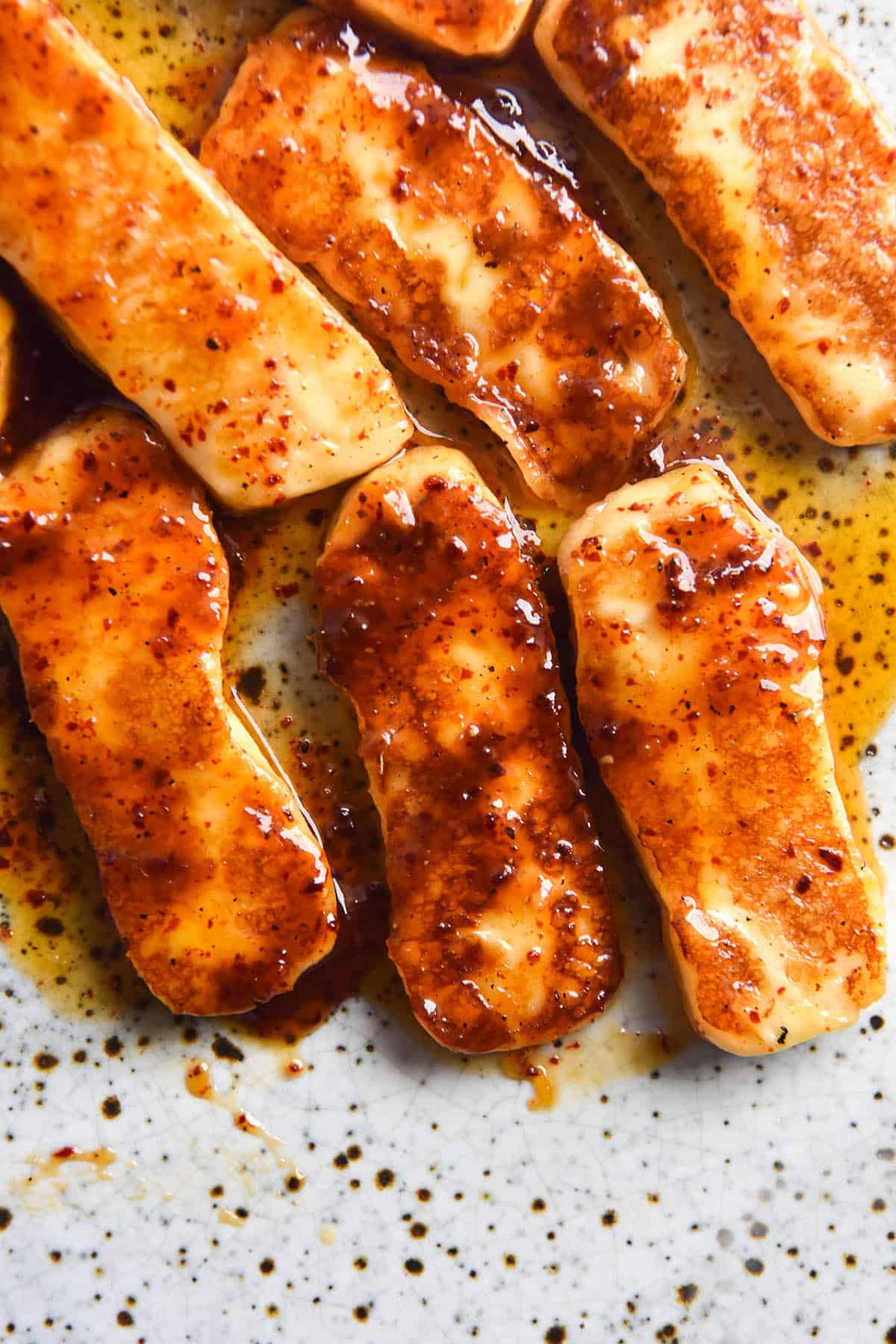 More halloumi recipes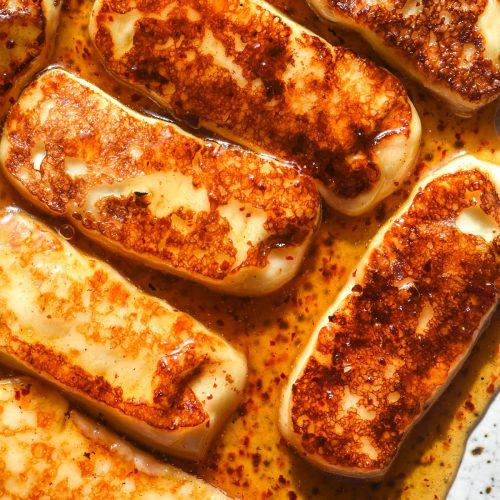 Honey halloumi
Low FODMAP option, vegetarian option
*Tablespoons are in Australian tablespoons. Use ml for international accuracy.
1 Australian tablespoon = 4 American, Canadian and New Zealand teaspoons.
1 Australian tablespoon = 3 1/2 British teaspoons
Ingredients
40ml

(2 tablespoons)*

honey or maple syrup

20ml

(1 tablespoon)*

garlic infused oil or oil of choice

20-40ml

(1 – 2 tablespoons)*

lemon juice

180-225g

block

good quality halloumi

30ml

(1 1/2 tablespoons)*

water

1/4 – 1/2

teaspoon

cornstarch (see notes)
Instructions
Combine the honey or maple syrup, lemon juice and garlic infused oil in a small pot. Set aside.

Thoroughly preheat a saucepan over a medium high heat. Once thoroughly heated, add a very light splash or spray of oil. This is an extra insurance policy against the haloumi sticking, a but thoroughly heated pan is the best way to ensure this.

Slice the haloumi and add it evenly spaced to the pan – it should sizzle on impact. Allow it to cook for 10-15 seconds before flipping the first piece. The idea is for the haloumi to develop a golden brown crust and become gooey inside. You don't want it to get too brown before it becomes gooey, or not get any colour, so adjust the heat accordingly.

Flip each piece of halloumi and repeat on the other side. While you're flipping, turn the heat on for the pot of honey sauce and allow it to come to a simmer (this should happen quickly).

In a small bowl, combine the water and cornstarch. Once a slurry forms, pour this into your honey sauce and stir to combine. It should thicken quickly, but cook it until it reaches your desired consistency.

Once all the pieces of halloumi are off cooked, take the pan off the heat.

Taste and adjust your sauce to your preferences, and add any extra seasonings. Pepper and chilli flakes are what I generally use.

When the sauce has thickened to your liking, remove it from the heat and pour it over the pan of halloumi. Serve immediately.
Notes
Read the body of the post for my tips on cooking halloumi and brand suggestions.
Use maple syrup for a lower FODMAP alternative to honey. See the body of the post for FODMAP notes. 
Add lemon juice according to the acidity of your lemons and your preference.
If you like a thinner sauce, use 1/4 teaspoon cornstarch. If you like a thicker sauce, use 1/2 teaspoon cornstarch.
Make sure the cornstarch is gluten free if it needs to be.
See the body of the post for suggested added flavourings.