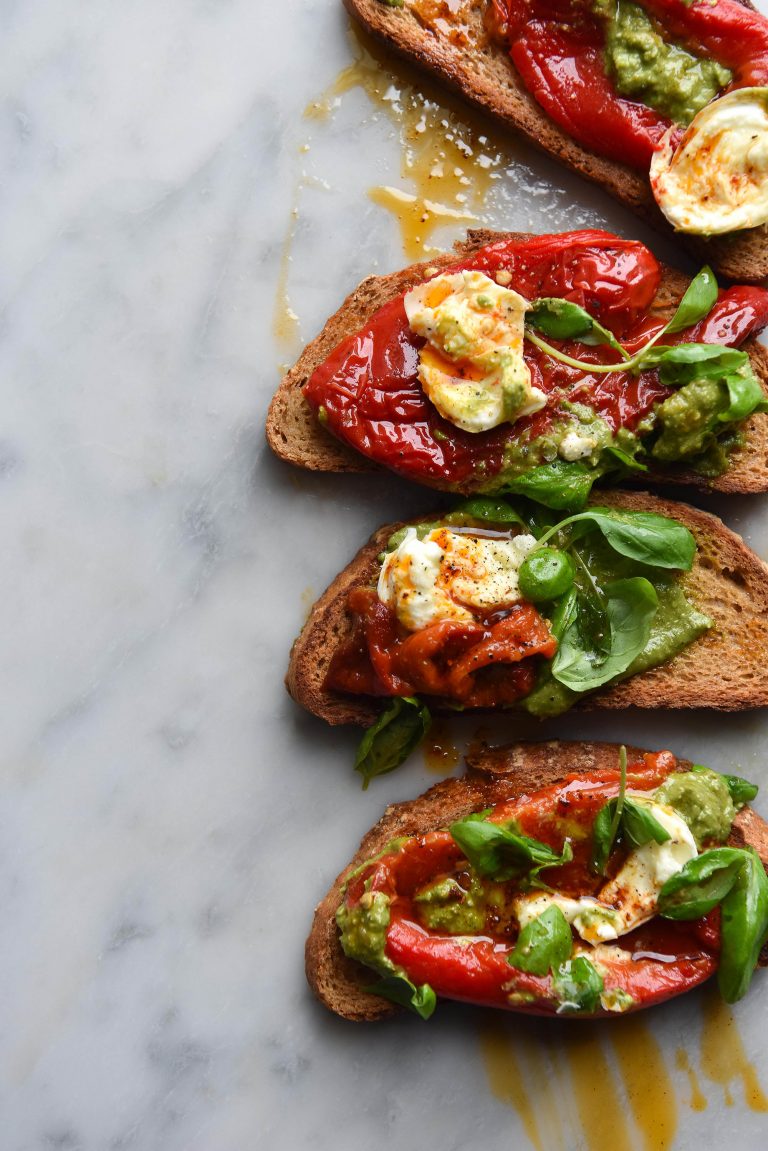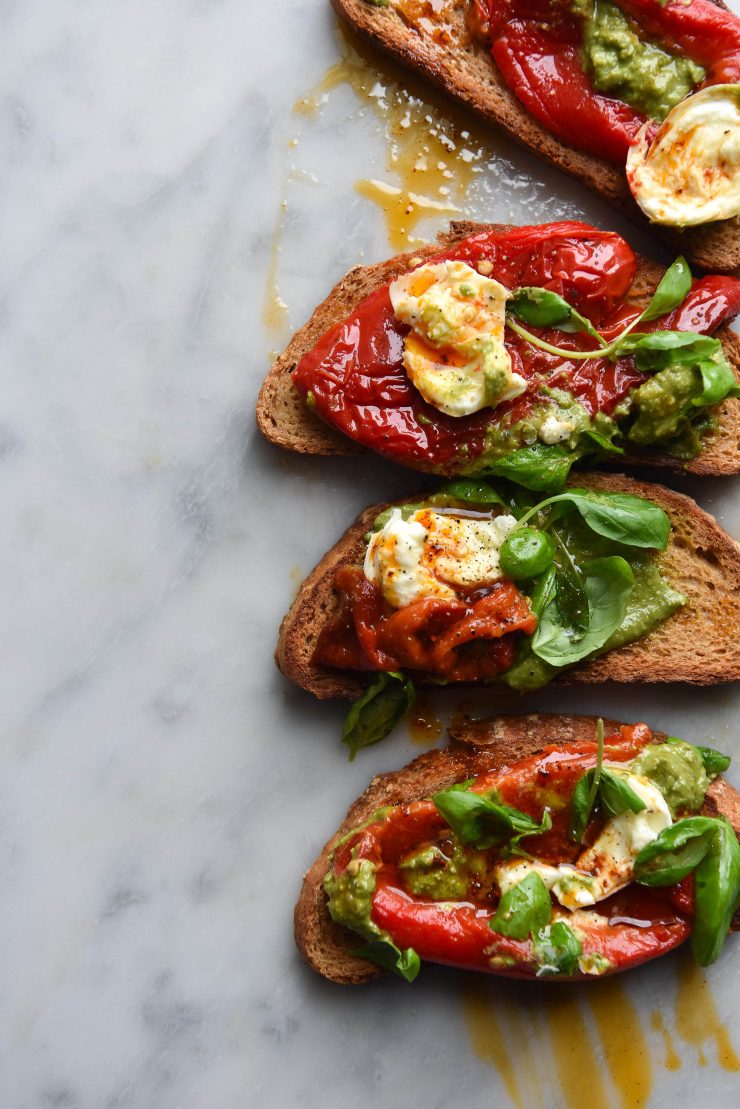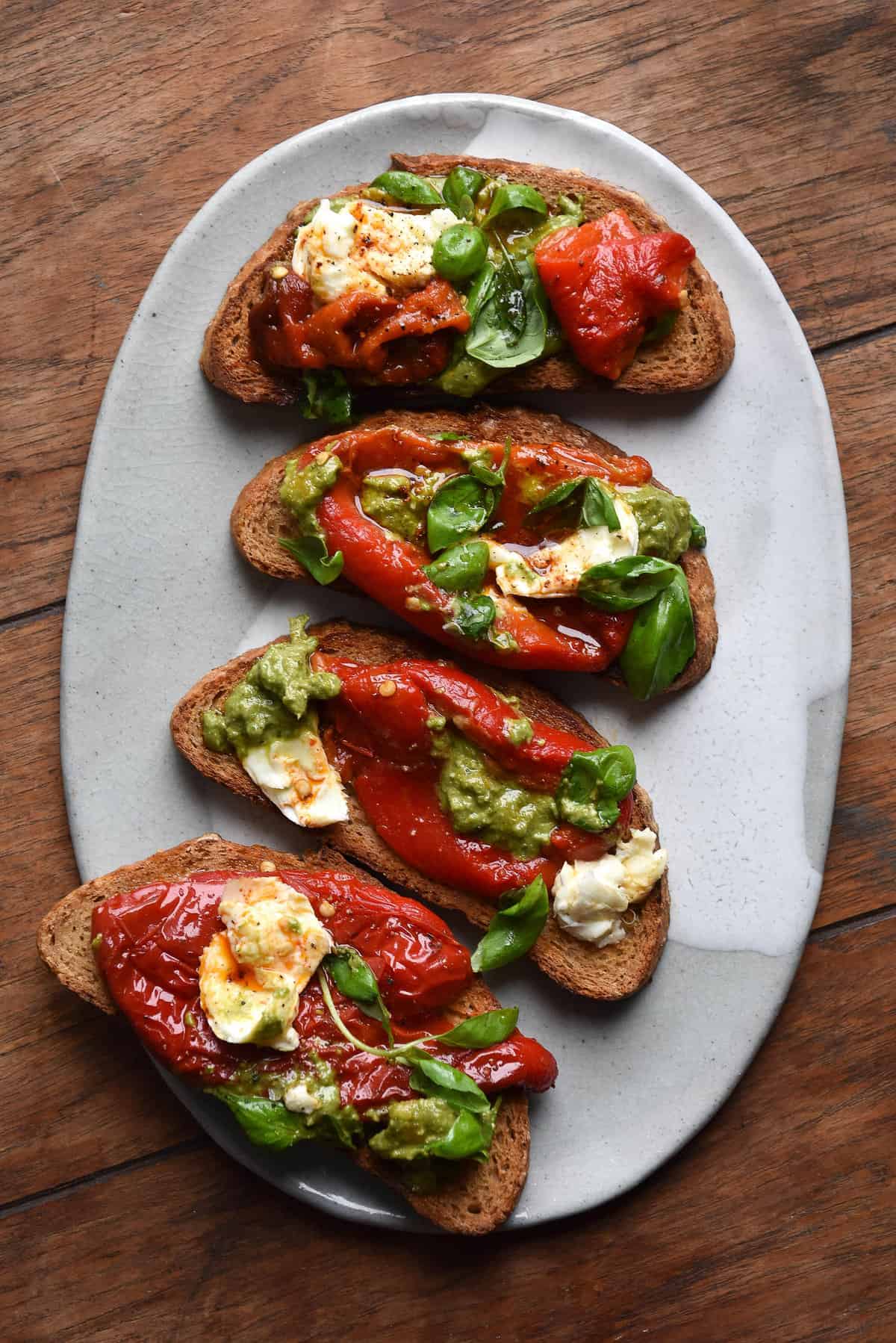 Initially, this recipe was intended to be a roasted capsicum salad, the likes of which you have seen (multiple times) before on my Instagram. However, I foresaw that many might take umbrage with cheese and capsicum being titled salad. More than that, though, I realised that bread underneath the salad was what really made it pop. So, not roasted capsicum salad, but roasted capsicum tartines.
I made these roasted capsicum tartines for a few reasons. Firstly, I managed to score 2kg of red capsicums for a mere $8! That in itself deserves a celebration. Preferably, one that involves burrata. Secondly, I will take any excuse to put something on bread and call it a recipe.
This roasted capsicum salad is gluten free, FODMAP friendly and vegetarian. You could also make it vegan by flicking over to this frighteningly similar recipe for roasted capsicum with vegan labne. What can I say, a girl loves her roasted cap.

RECIPE NOTES FOR YOUR ROASTED CAPSICUM TARTINES
This salad works best on your wallet if you find capsicums on sale. Here in Australia, the red ones (aka the best ones) tend to be quite expensive.
For those overseas, capsicum is also known as red pepper.
As many of the photos demonstrate, my favourite way to eat this salad is on toasts. I believe, in the fancier circles, one calls these 'tartines'. My gluten free sourdough bread is perfecto for the toast, the recipe for which you can find here.
I used my recipe for FODMAP friendly pesto, which you can find here. However, you can also use a nut free or vegan variety.
If you're in the mood to be 'healthful', I also have a recipe for a veggie packed FODMAP friendly pesto.
On the note of pesto, you'll have plenty leftover, depending on how much of a pesto fiend you are.
You can use buffalo mozzarella if you can't find burrata (which I had, in the end). You can also use labne or whipped ricotta in it's place, if you would prefer.
Aleppo chilli is a super lovely smoky and fruity chilli variety from Syria. It's very mild, which is great for a chilli pleb like me. You can find it in specialty stores or online. I bought mine from Herbies.


TIPS AND TRICKS FOR THE ROASTED CAPSICUM TARTINES
Never rinse your roasted capsicums as a quick way to get the seeds off. The juices are where all the flavour is at, and you'll strip them if you wash it off. Seeds are edible, seeds are fine!
You can roast the capsicums the night before and either leave them in their skins for the next day, or marinate them overnight.
Needless to say, the salad can be served warm or cold. Whatever suits the season you're in.
For this dish, I like to use roasted capsicums with a bit of bite to them. How long you roast the capsicums depends on your tastes and the size of the capsicums in question. Whatever you do, make sure you cover them after roasting – this makes them sweat, which allows for easy peeling off of the skin.
To de-seed a roasted capsicum, I hold it stem down and pull the stem out. The seeds and a bit of water should pour out, after which you can apply some gentle pressure to encourage as many seeds as possible to slip away. As mentioned, don't even think about washing them!

FODMAP NOTES
There's no garlic in the pesto and no upper limit on capsicums, according to Monash. So, the only real discussion point is the burrata (or buffalo mozzarella). Burrata contains cream in the centre, so if you have an issue with lactose, you could consider using mozzarella.
Mozzarella is FODMAP friendly in 40g serves per person. If you have no issues with lactose, you have no need to avoid or limit the mozz.
Given that the salad doesn't use even half of the pesto, the walnuts aren't even worth talking about.
YOU WILL NEED:
1 loaf of gluten free sourdough
A batch of Aleppo chilli oil (I like to keep some in the fridge to put on everything, but you can make a half batch if you prefer)
1 batch of pesto (see above for links to the appropriate variety for you
Hopefully, some red capsicums that are on sale!
Roasted capsicum tartines with sherry vinegar, Aleppo chilli oil, burrata and pesto
FODMAP friendly, gluten free, vegetarian
Ingredients
1.5kg

red capsicums

1

tbsp

sherry vinegar (you could also use balsamic or red wine)

seasoning, to taste

1

tsp

honey or maple syrup, optional

1

batch

Aleppo chilli oil (see notes)

1

batch

FODMAP friendly pesto (see notes)

1

loaf

gluten free sourdough (surprise! See notes)

2

balls

of burrata or buffalo mozzarella

Generous freshly cracked pepper and see salt flakes, to finish

extra basil, to finish (optional)
Instructions
Preheat the oven to 180 degrees Celsius and line a large baking tray. Lightly oil the capsicums with the oil of your choice and place into the oven for 60-90 minutes, depending on their size and how well done you like them.

Once blistered and well cooked, remove from the oven. You can load them into a bowl to cover them or just leave them on the tray. Either way, cover them with a tea towel or wrap and allow them to sweat for 15-20 minutes. This makes their skins easier to remove.

Once the capsicums are ready, peel them and remove as many seeds as you can (see notes for tips). Place them in a bowl and add the sherry vinegar, seasoning, sweetener and 1-2 tablespoons Aleppo chilli oil. You can allow them to marinate or serve them straight away.

You can either arrange the ingredients on a serving plate to meld and make the tartines from there, or make them purposely off the bat. The bread can be fresh or toasted. You can also omit the tartine aspect and eat as a salad.

Either way, finish the tartines or salad with seasoning and perhaps a little more vinegar, to taste.