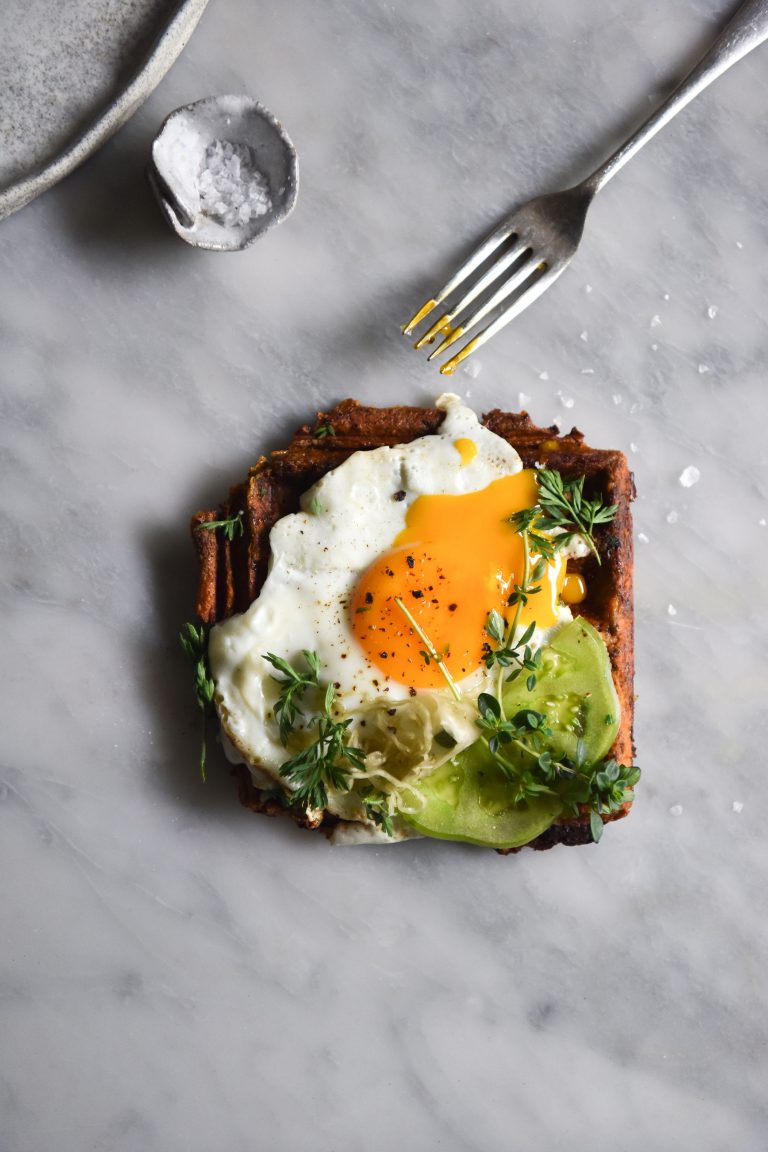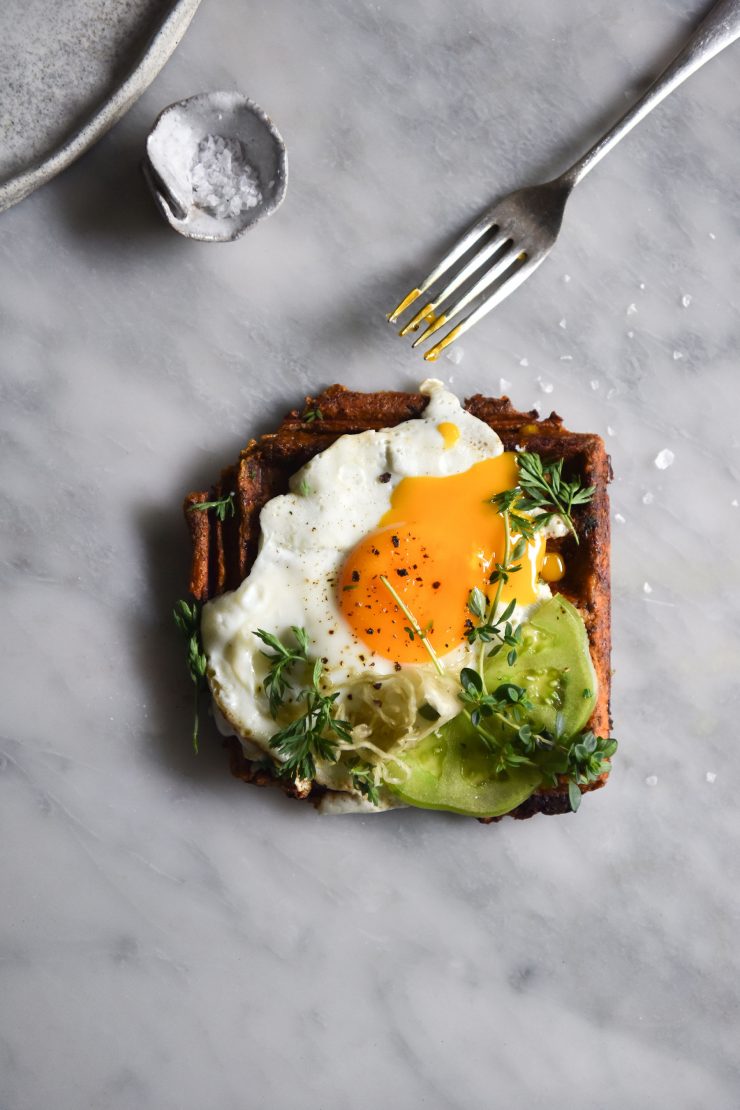 Waffles. You all know I love a waffle, but you probably also know that my there's no love lost between my digestive system and I. All the grain (even gluten free) and sugar in an average waffle can leave me feeling like an extremely average waffle. So, when Starlight asked me to create a recipe to celebrate their Sugar Free Challenge (which you can read about here) I figured it would be an excellent time to dabble not only in savory waffles, but in grain free waffles, too.
Making use of only sweet potato, parmesan and egg, these three ingredient sweet potato waffles are great for cutting down on sugar, gluten and grains. They're packed with all the good stuff, and their taste can be drastically altered by using different spices. My personal favourite is cinnamon and nutmeg, which actually tastes like a sweet but salty waffle (to me, the fervent cheese lover who will eat cheese in anything)
If you're worried about mannitol (FODMAP talk, your eyes can glaze over if this isn't relevant to you) you should also be consuming around 1/2 cup of cooked sweet potato per waffle, which is an acceptable amount. However, you could also potentially replace some of the sweet potato with carrot. Carrot will need less steaming than sweet potato, so be aware of that.
Three ingredient savoury sweet potato waffles
Gluten free, grain free, FODMAP friendly, vegetarian, nut free
Ingredients
350

g

sweet potato

grated (roughly one medium, skin on)

75

g

parmesan

freshly and finely grated

2

eggs

I use 700g sized eggs

1/2-1

teaspoon

salt
OPTIONS FOR SPICES
1

teaspoon

nutmeg

1

teaspoon

cinnamon

these basically taste like salty sweet waffles, they're probably my favourite

OR

1

teaspoon

garam masala

1

teaspoon

mixed spice

OR

Basically any spice you want to add
OPTIONAL TOPPINGS:
2

extra eggs

to top

Coconut yoghurt or sour cream

Sauerkraut

Vegetables

I used tomatoes
Instructions
Place the grated sweet potato in a sieve (make sure it's metal and not plastic or it might start to melt) and place the sieve atop a medium sized pot of water over a high heat. Place a lid over the top of the sieve, to steam the sweet potato.

Leave the sweet potato to steam cook for 10-15 minutes – it should be completely cooked, but still holding its form.

Turn off the heat, remove the lid carefully and take the sieve off the saucepan. Allow the sweet potato to cool slightly so you can handle it without burning yourself.

Place the cooled sweet potato in a nut milk bag, muslin cloth or a thin, clean tea towel. Squeeze the majority of the liquid out of the sweet potato. This will ensure the waffles are nice and crispy. Discard any liquid you squeeze out.

Place the sweet potato, parmesan, eggs and salt in a bowl, and mix well to combine. Add your spices of choice, if you're using them.

Heat the waffle maker as per the instructions. Once it's ready, grease it liberally with olive oil spray or butter, and pat the sweet potato mixture evenly into the waffle machine. You may end up with extra waffles, depending on the size of your maker.

Allow the waffles to cook for a cycle or two (no peeking!) before gently opening the waffle maker. The waffles will fall apart if you open the machine too early, but they're pretty resilient, so just close the machine and allow to cook a cycle more if you accidentally open them too soon. My waffle maker is a Breville and it took one and a bit cycles to get the perfect colour and crispiness.

Serve warm with whatever toppings you fancy!