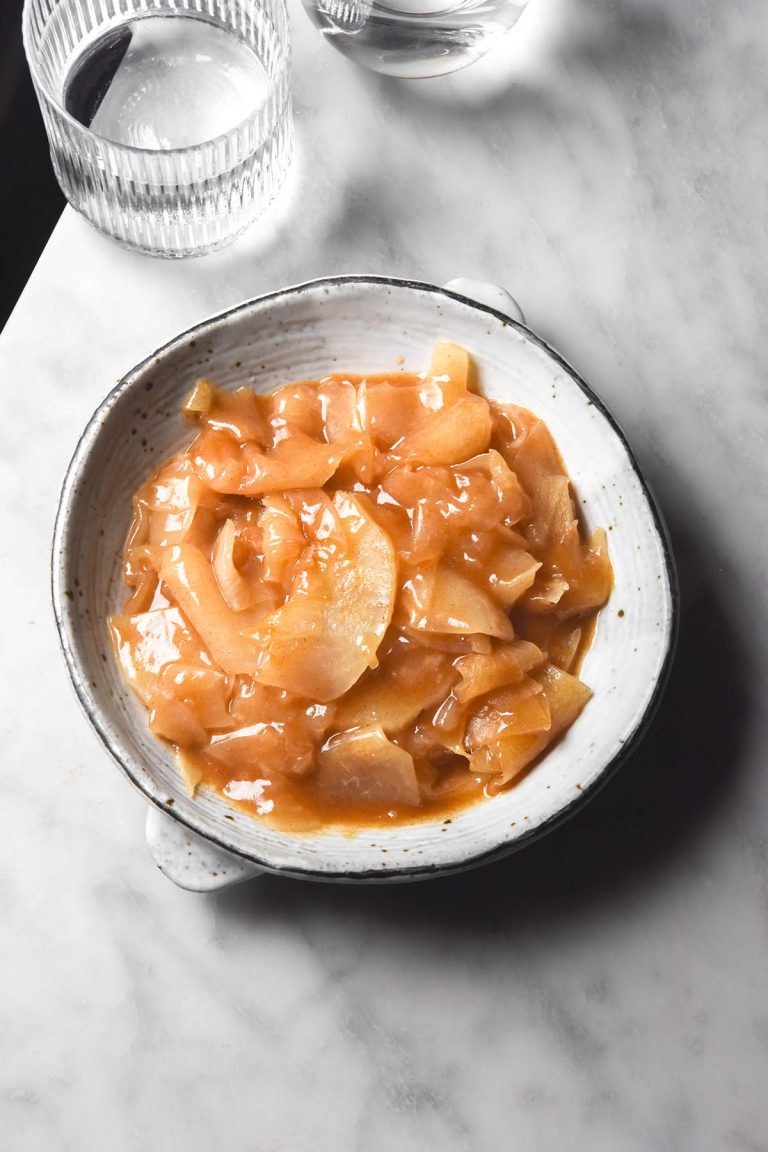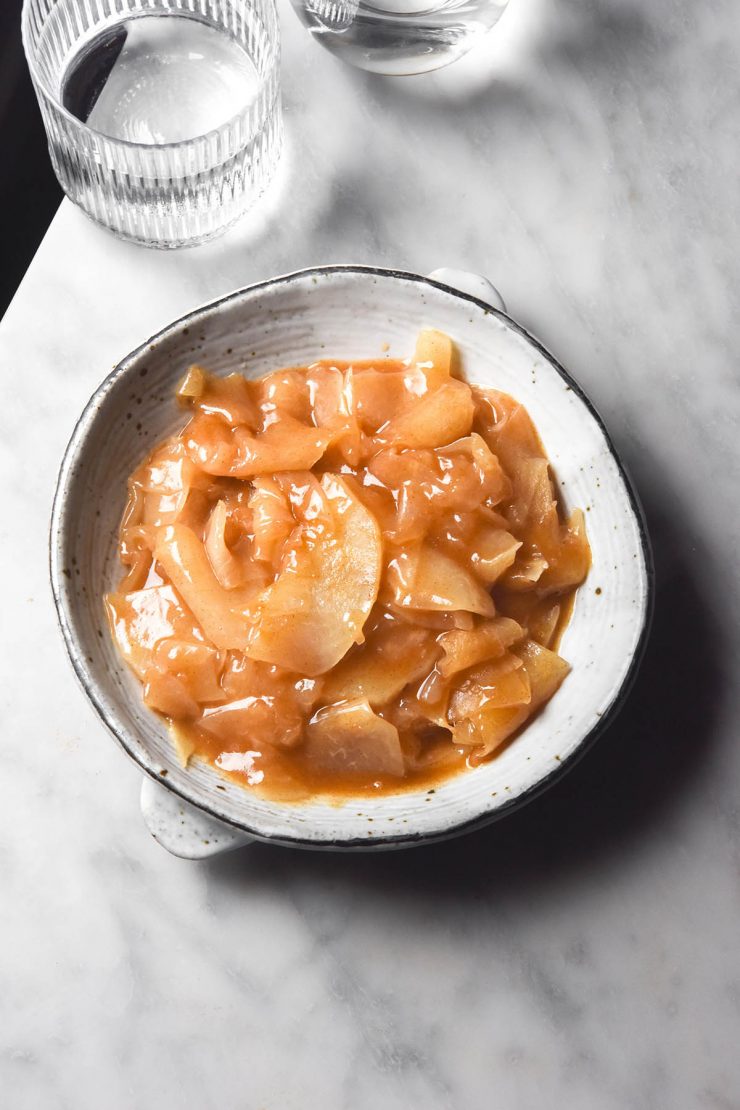 I love stewed apples. In another life, I'd make and eat them all the time (second only to caramelised onions – my preferred after school snack). Since my digestive system has become increasingly fragile, I've had to give both of these up. Until now, of course, courtesy these low FODMAP stewed apples.
So, let's start with the obvious sticking point. These stewed apples are not made with apples at all – but rather, jicama. Jicama is a root vegetable that has a low FODMAP content and a suspiciously crisp apple texture. It works like an absolute dream here to bring stewed apples back into your life.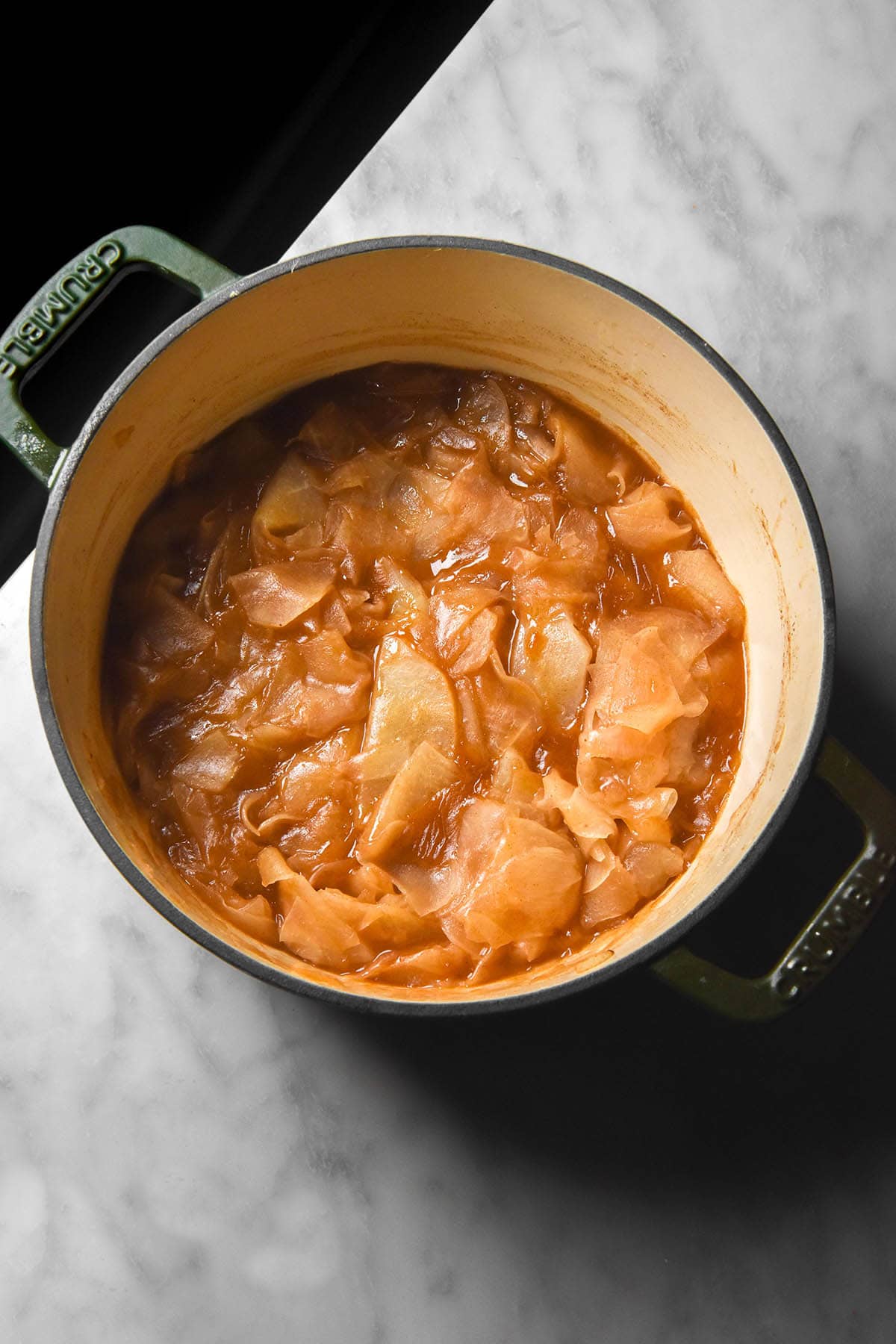 Low FODMAP stewed apples
These stewed apples are low FODMAP, fructose friendly and easily vegan. They are absolutely delicious as is, but would pair perfectly with some ice cream or custard. They are as at home on porridge as they are in a low FODMAP apple pie. While they take a bit of time to prepare, the result is well and truly worth it. Plus, this recipe makes plenty, so you'll always have some stewed apples ready to go.
These low FODMAP stewed apples use mandolined jicama as the apple portion of the dish. As we'll discuss, jicama are crunchy, fibrous and need a brute strength amount of cooking to soften them. This is why it's so important to mandoline (aka incredibly finely slice) the jicama. Anything less will not achieve an apple like result.
The jicama is then cooked with butter, lemon juice, sugar and cinnamon. These work in conjunction to emulate the flavour of apples. Finally, the mixture is thickened with a cornstarch slurry. The end result is an incredibly delicious take on stewed apples.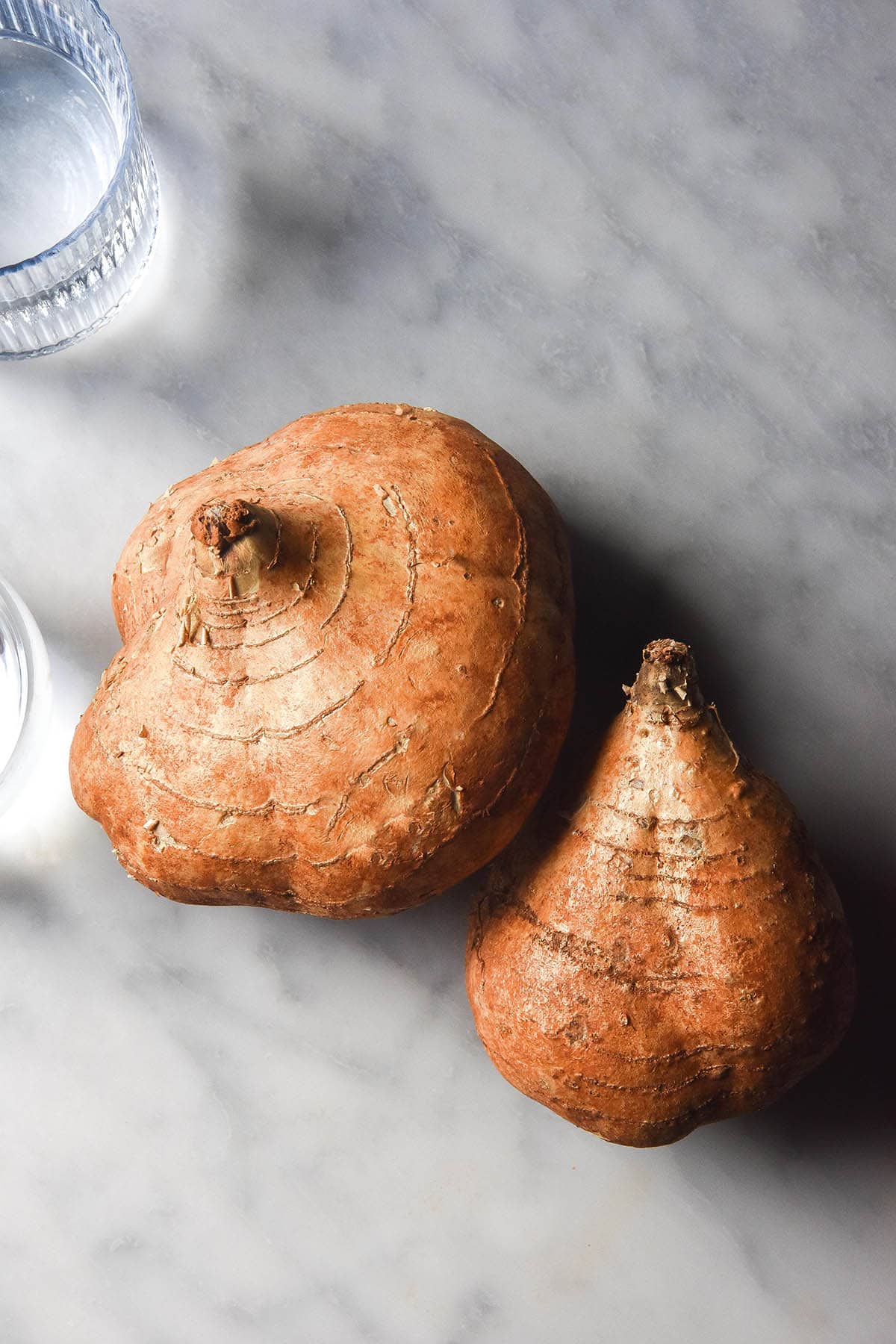 What is jicama?
Jicama is a root vegetable that originates in Mexico, and has since become common in Asia as well. It goes by a number of names depending on where you are – Mexican potato, Chinese potato or yam bean are just a few.
Jicama look a little like a a cross between a large bulbous potato and a turnip. They taste like a crispy apple that isn't sweet – some say a cross between a potato, an apple and a pear. They're used in salads, fruit salads and a host of other applications.
Jicama can be eaten fresh or cooked. If you like fresh and crunchy fruit and vegetables, I think you'll love jicama.
Tips for your low FODMAP stewed apples
My number one tip, and I cannot stress this enough, is to slice your jicama with a mandoline. I can guarantee you that anything thicker than the near thinnest setting on your mandoline will not result in a credible apple texture.
Jicama is fibrous and crunchy even when boiled to oblivion. To prove this, I left a pot of sliced (but not mandolined) jicama and boiling water on the stove for 30-45 minutes. It was the same texture when I took it off the heat. I don't think it's physically possible to cook jicama to become an apple consistency. Incredibly fine slices are the best way to overcome their texture.
I know it's annoying to require a niche kitchen gadget for a recipe. You can direct all your complaints to jicamas. I don't make the rules here – we're trying to make stewed apples out of a vegetable 🙂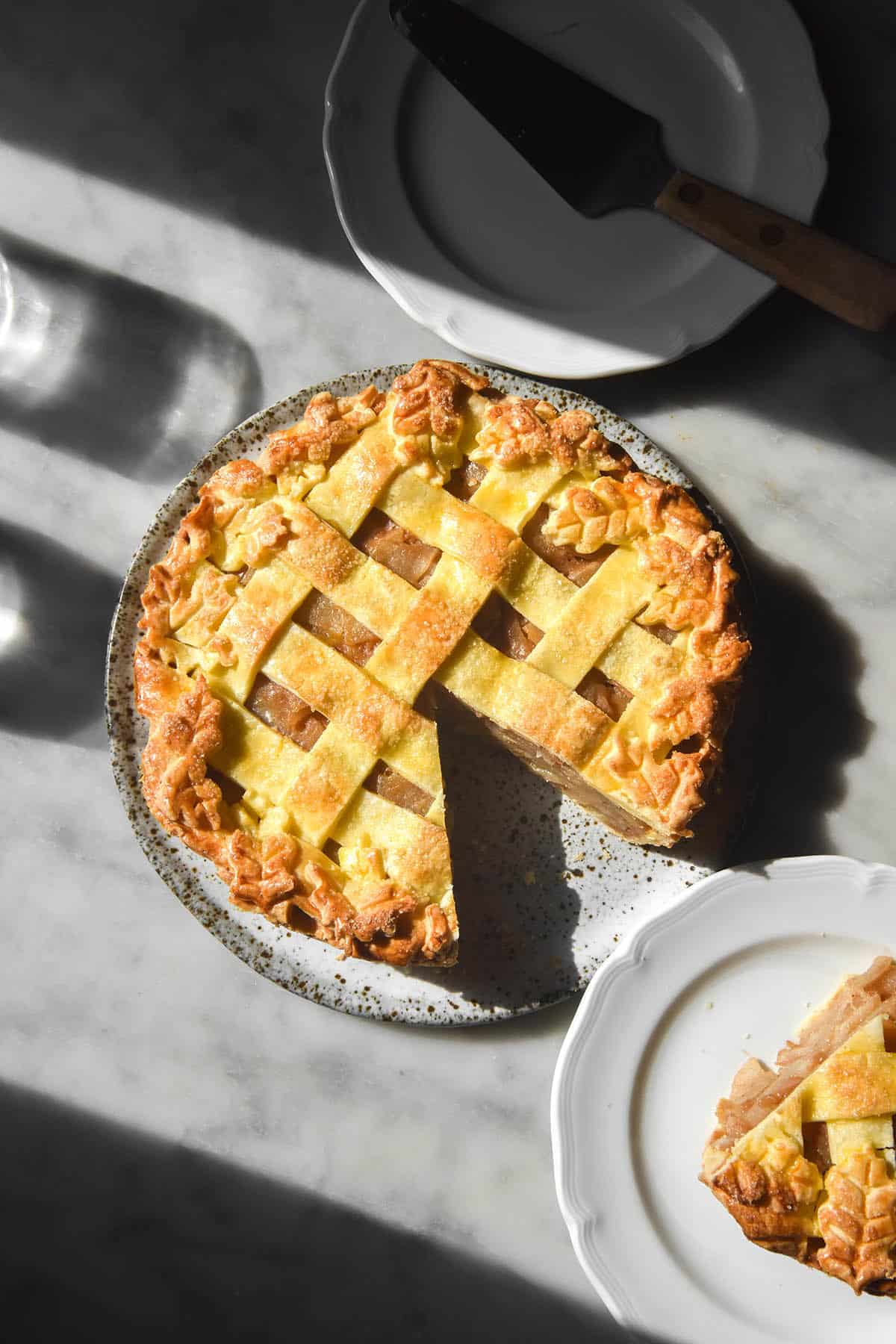 Is jicama low FODMAP?
Monash states that jicama is low FODMAP in serves of 75g per person. However, the app also says that they remain low FODMAP in serves of just under 250g per person. My understanding of this data is that we should assess our own tolerance in serves of between 75g-250g. At 250g, Monash writes that jicama becomes moderate for fructans.
Where can I buy jicama?
I can only speak from my experience in Melbourne, Australia. Jicama is not super straightforward to find here, but it is available. I have bought mine from Springvale at an Asian grocer and in Footscray at another Asian grocer.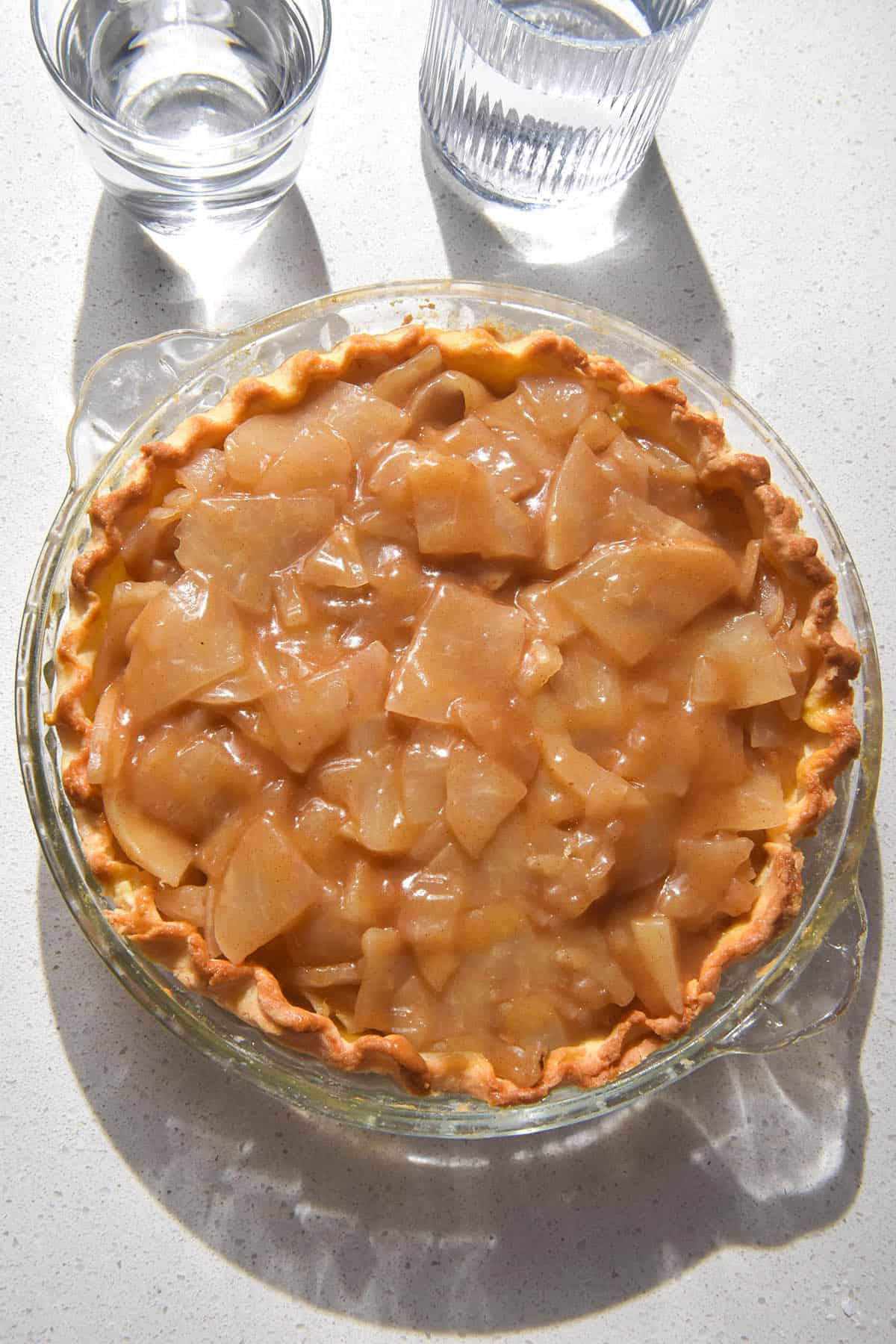 Substitution notes
I haven't tried any alternative sugars in this and I don't intend to. This includes artificial sugars. I didn't design this to be a low carb recipe and I don't find those sugars work for me, so I can offer no advice there.
Personally I think that white sugar is the best option here. It best emulates the clean sweetness of an apple.
Another thing I don't have a substitute for is the cornstarch. My best suggestion is potato starch, but I haven't tried it. Jicama are expensive in Australia so I can't afford to test endless variations, sorry!
Lemon juice is essential for replicating the acidity of apples. Cinnamon is essential for replicating the nostalgic taste of stewed apples. Unfortunately neither of these can be substituted.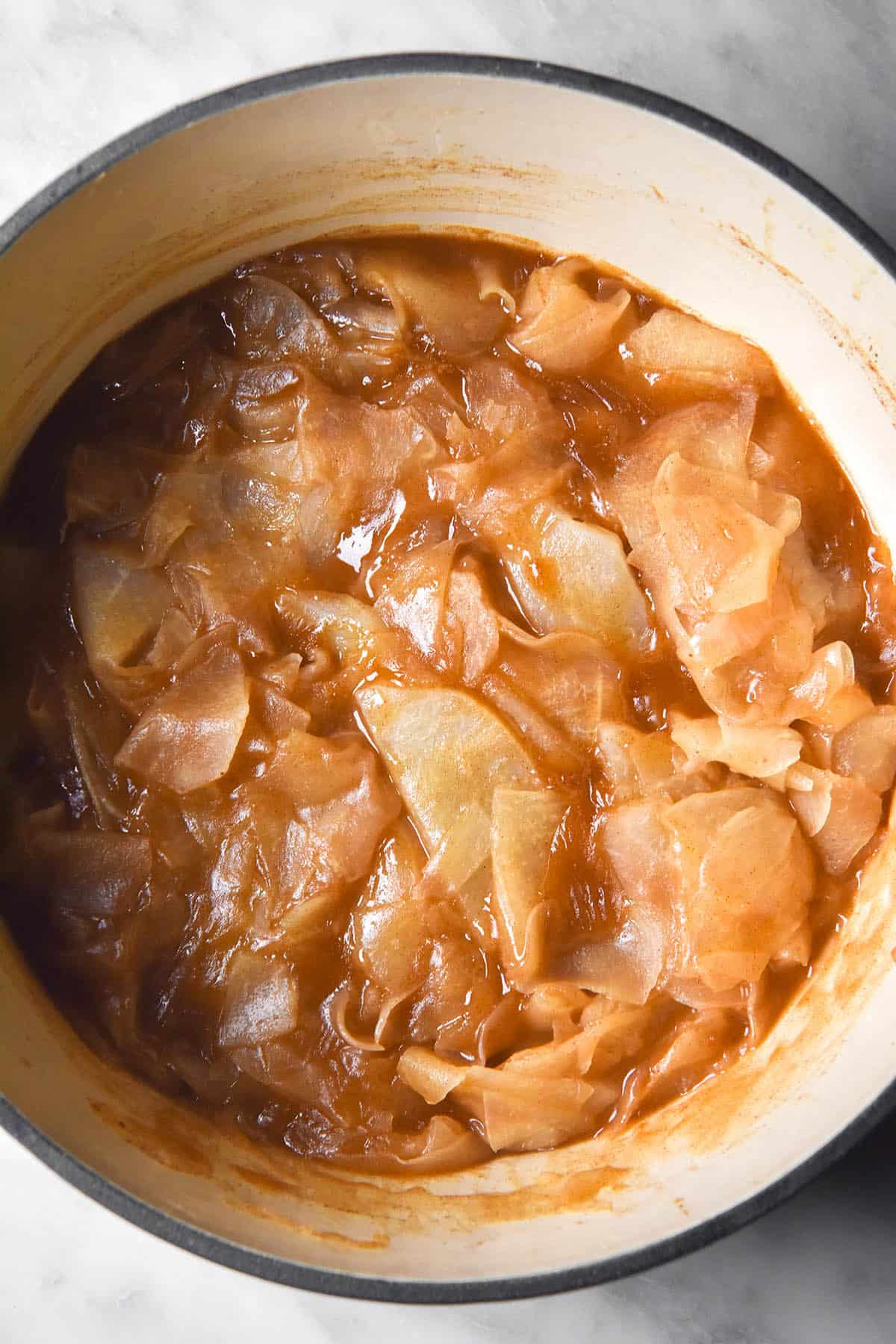 What can I do with these low FODMAP stewed apples
Use them to top gluten free porridge
Make this low FODMAP, gluten free apple pie
Top them with crumble (aka: my low FODMAP apple crumble)
Eat them right out of the pot (and/or with ice cream or custard)
Stay tuned as to how they fare in a cake (I'm testing the theory)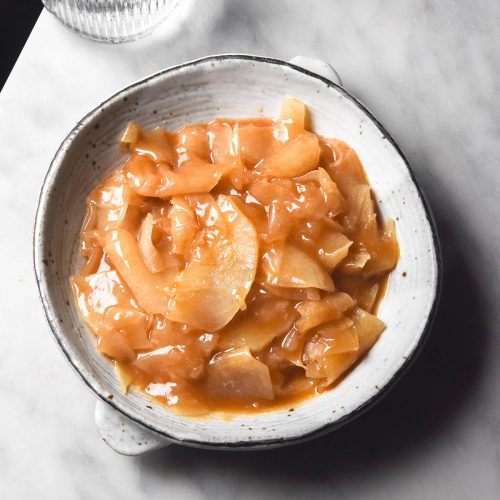 Low FODMAP stewed apple
*Cups are Australian cups. Use gram and ml for international accuracy.
Ingredients
1

kg

jicama (2.2lbs)

peeled and mandolined very finely (I buy about 1.3kg jicama to account for the volume loss from peeling)

1/2

teaspoon

baking soda

75

g

butter

salted or unsalted

125

ml

(1/2 cup)* lemon juice

220

g

(1 cup)* white sugar

2

teaspoons

cinnamon powder

60

ml

(1/4 cup)* water

20

g

corn starch

Pinch

of salt
Instructions
Peel the jicama and use a mandoline on the finest or second finest second to slice the jicama into very thin pieces. Each slice should be slightly translucent but still whole – this is how thin you want it.

Bring a large pot of water about 2/3 full to the boil. Once it is boiling, add the sliced jicama and stir to ensure all the jicama is submerged.

Sprinkle over the baking soda, keeping in mind that it will bubble a little. Stir to combine. The baking soda helps tenderise the jicama and also gives it a cooked apple colour. Any baking soda flavour should be neutralised by the lemon in the next step.

Continue to cook for 15-20 minutes or until the jicama looks visibly softened. Don't worry too much if jicama slices break up – I promise it won't turn into puree even if they do. Keep an eye out for the baking soda bubbles boiling over, and remove a bit of liquid if necessary.

Once the jicama is cooked, strain it over the sink.

Return the pot to a low medium heat. Add the butter and allow it to melt, then add the lemon juice, sugar and cinnamon. Stir to combine, then add the jicama back into the pot.

Cook for around 5 minutes or until it starts to bubble. Taste the sauce and adjust according to your preferences.

Mix the water and corn starch together in a small bowl until it becomes a smooth milky liquid. Pour this mixture over the jicama and stir to combine. The mixture should become glossy, slightly opaque and thicken up quickly. Allow it to cook for a minute or two until it reaches your desired thickness. Keep in mind that it will thicken as it cools.

Store in an airtight container in the fridge. Leftovers can be frozen and defrosted.
Notes
As discussed in the body of the post, finely slice jicama is critical for getting that apple like texture. Thick slices will not work – they will remain crispy.
See the body of the post for substitution options and where to find jicama.
Adjust the sweetness to your liking. 
You can make a half batch if you prefer. As this stewed apple is a little labour intensive, I prefer to make a big batch.
This makes enough for 1 apple pie.