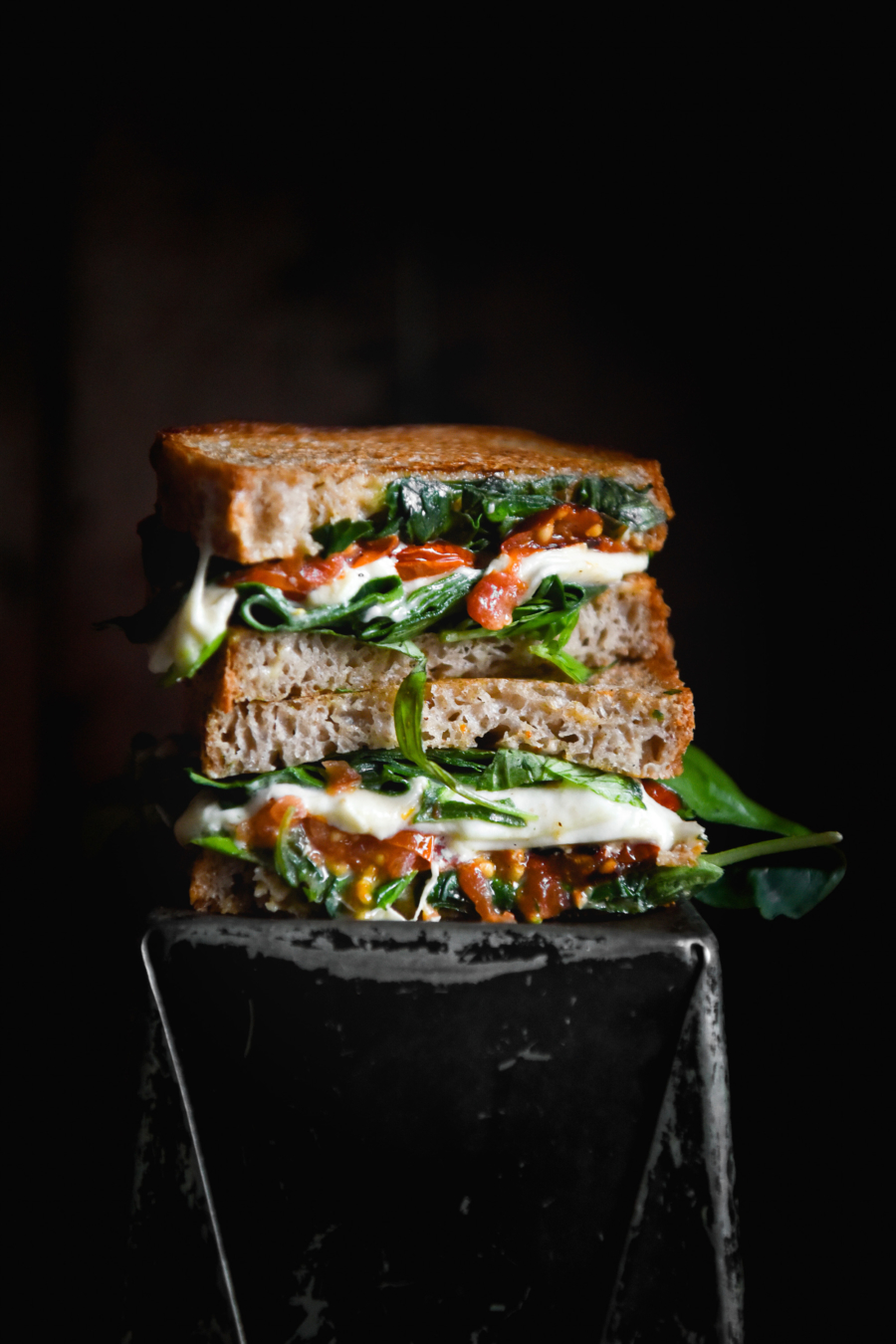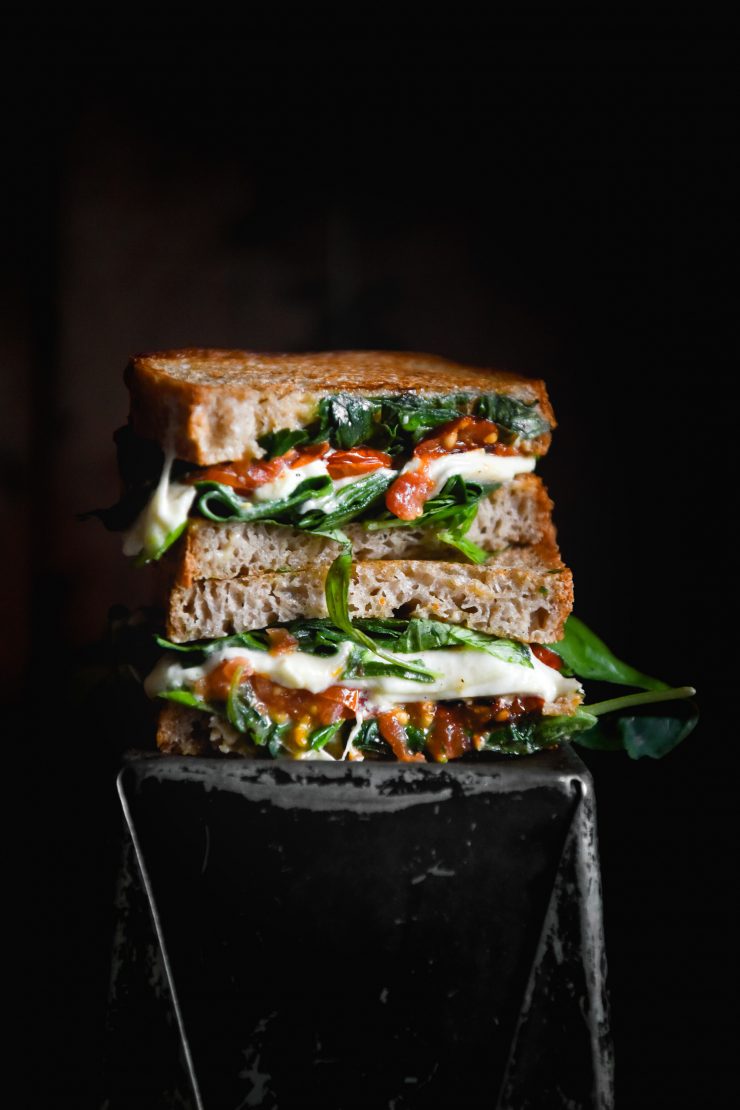 So I've been making toasties on Instagram recently like I myself discovered the toastie (I can confirm, I did not). What I did discover, though, is that toasties are a seasonally appropriate way to consume your favourite summer salads whilst in the depth of winter. There's something about winter that requires more carbs, and why not throw all hopes of a summer bod out the window by adding copious amounts of cheese, too? Am I selling the Caprese toastie?
Obviously, a caveat to this idea is that your favourite salad should potentially contain a heavy cheese (not strictly necessary, but relevant to me so I'll carry on). Thus far, I have had success with a haloumi, fennel and cucumber variety, as well as with, obviously, the humble caprese toastie. Except not humble at all, because cheesy and carby and delicious.
With gluten free bread and garlic-free pesto, this Caprese toastie is both gluten free and FODMAP friendly. The recipe makes 2 toasties, although I'll leave it up to you as to whether that means it serves two people.

Gluten free, FODMAP friendly Caprese toasties
Gluten free, FODMAP friendly, vegetarian
Ingredients
FOR THE TOASTIE (MAKES 2)
8-10

cherry or Roma tomatoes

keep in mind that Roma are slightly higher in FODMAPS

1

teaspoon

olive oil

1

teaspoon

balsamic vinegar

optional

Good pinch of salt and grinding of fresh pepper

4

slices

of good quality gluten free bread

I used a buckwheat loaf and a gluten free sourdough

1

ball of burrata or mozzarella

burrata melts a lot easier in the sandwich press - use 1/4-1/2 per person and save the rest (or don't)

Handful of basil

Handful of greens

I've used spinach and rocket
FOR THE PESTO:
1

cup

of pine nuts

1

bunch of basil

1/2-3/4

cup

olive oil

this depends on whether you like a firmer or a runnier pesto, use more oil for runnier

75

g

parmesan

Juice of 1 lemon

Generous salt and pepper
Instructions
METHOD:
Preheat the oven to 180 degrees Celsius. Lay the tomatoes on a baking tray lined with baking paper, and cover them with the oil, balsamic and seasoning. Once the oven is ready, place the tomatoes in for 20-30 minutes, or until juicy and blistered. Set aside.

Place the pine nuts on a dry baking tray and into the oven for 3-5 minutes. Too much longer and the pesto will be darker in colour, although still delicious. Place the pine nuts straight into a bowl to stop them cooking on the residual heat of the oven tray, and allow to cool slightly.

To make the pesto, place all the ingredients for it into your food processor, and blend until your desired consistency is achieved. If you store the leftovers in an airtight container, they last for at least a week. Unsure if I'm legally permitted to suggest longer but I've probably kept a batch for longer than that, just.

Use your sandwich press, if you're using one, to toast the individual slices of bread before assembly. If not, heat a pan with a SMALL knob of butter and salt, and cook the pieces over a medium heat, on all sides. The idea is to create crunch and crumb, not make it soggy, so use heat and butter accordingly, turning the heat up if necessary, and making sure not to overcrowd the pan, which will make the bread soggy. If you're using a small pan, toast the bread in batches.

Once the bread is ready, layer the toastie ingredients onto it. If you're using mozzarella, it's a good idea to place it down first or last, so it's close to the heat source. Burrata is often best in the middle, so the cream doesn't soak straight into the bread and make it soggy. Add the remaining ingredients, and season lightly with salt and pepper before closing the lid.

Cook using your preferred method until the cheese has melted or is done to your liking.