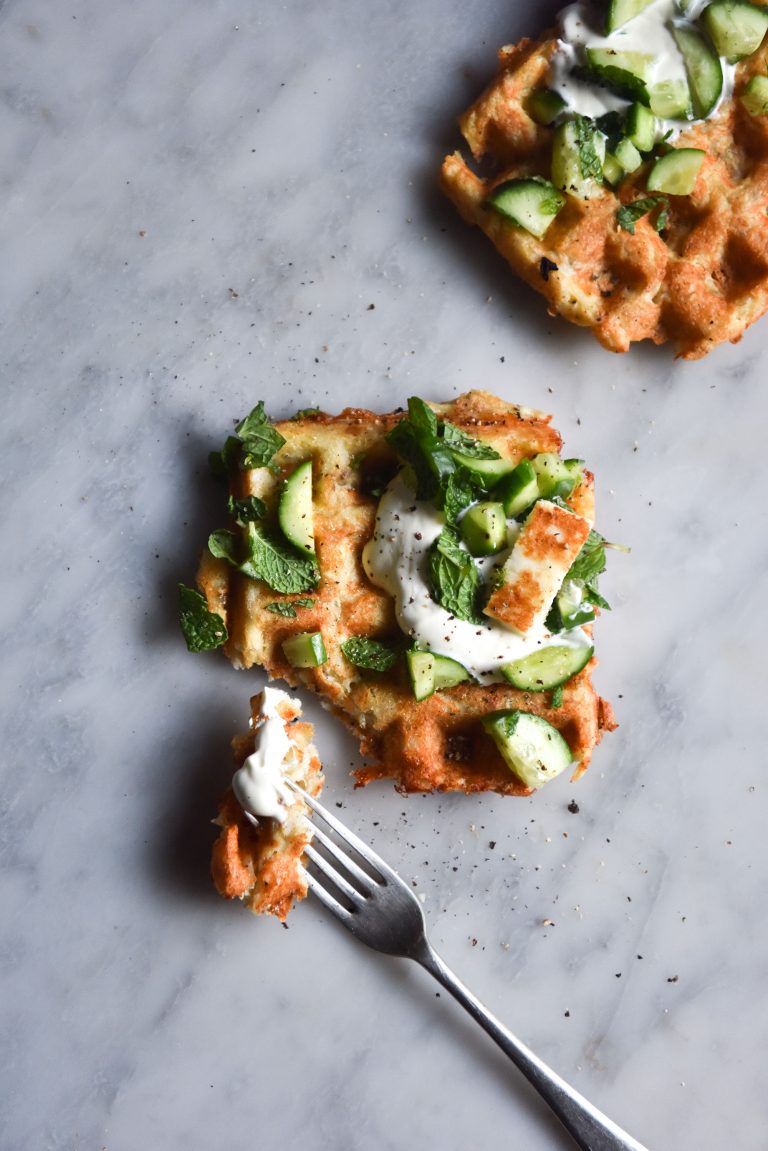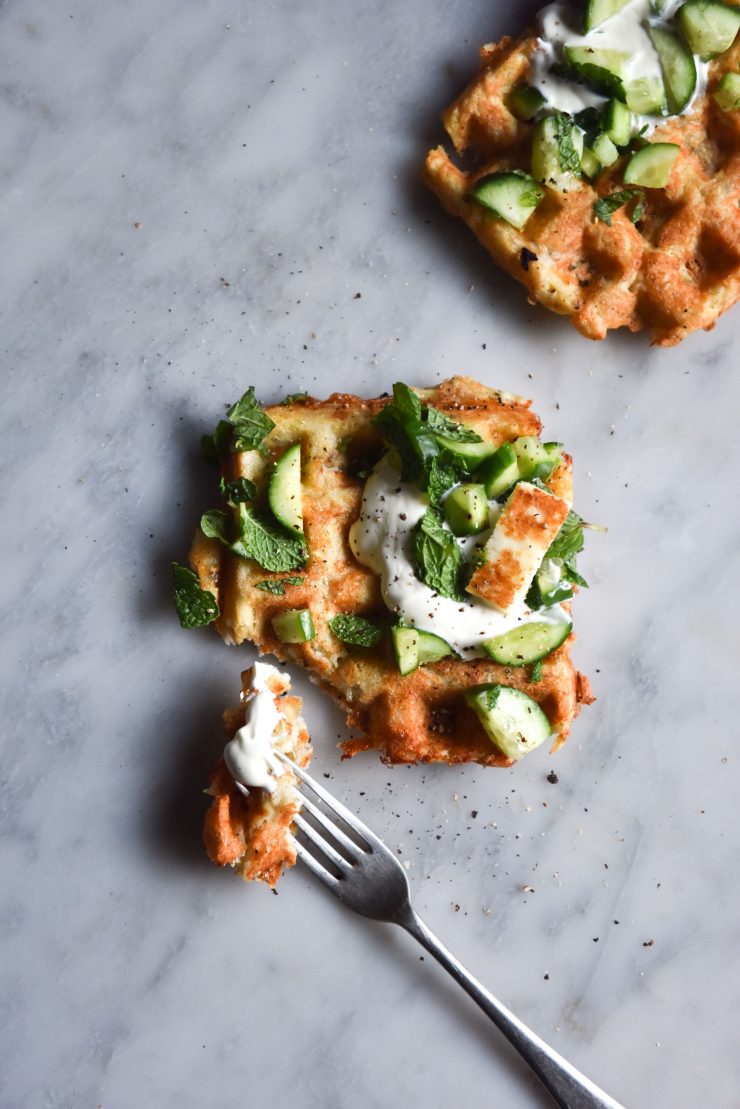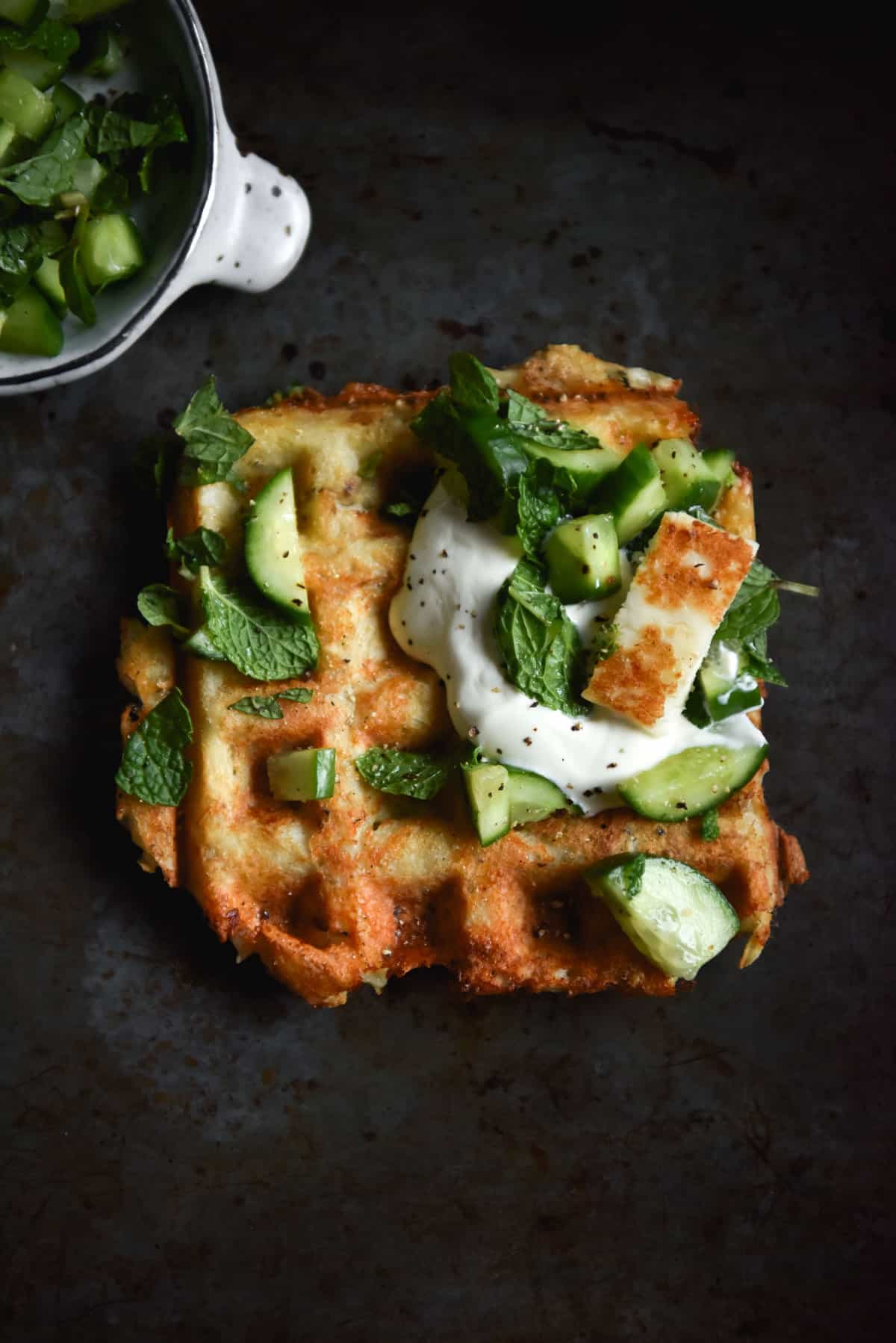 You know I love me a waffle. I've proved it with the ownership of two waffles machines. With these three ingredient sweet potato waffles. A sweet version, too. And now, evidently, with three ingredient potato waffles.
Unlike regular waffles, this potato varietal are a chunky, filling and delicious meal in one. Don't get me wrong, I love a regular waffle. My issue with them is, however, that I could easily eat about 7 before feeling remotely satiated. Three ingredient potato waffles? They're a different story.
So what is the best thing about this recipe, that I've clearly ripped off a previous one? The benefits are threefold. First, the aforementioned satiety factor, which is important to me, as someone who eats a small nation worth of food daily. Secondly, the fact that they contain potatoes and cheesy, salty parmesan. No explanation necessary. And thirdly (arguably most importantly) – the topping options.
Isn't the best thing about waffles the topping options? Of course it is. Because these waffles are cheesy, salty and crispy, they go with pretty much anything you throw at them. Think of them as a more delicious version of toast – they are but a vehicle for your favourite flavour combination.
FODMAP notes for the three ingredient potato waffles
As we've discussed, these waffles are gluten free, grain free, FODMAP friendly and vegetarian.
On the last note, however, make sure you buy a parmesan without animal rennet if you follow a vegetarian diet. They are increasingly easily found at supermarkets, despite it being 'impossible.' Parmesan isn't supposed to be called parmesan without animal rennet, but I have seen plenty that are. Make sure the label says 'non-animal rennet' or 'plant derived rennet' or something akin to either of those.
There are no real other FODMAP issues to be concerned with here – unless you plan to top your waffles with raw garlic.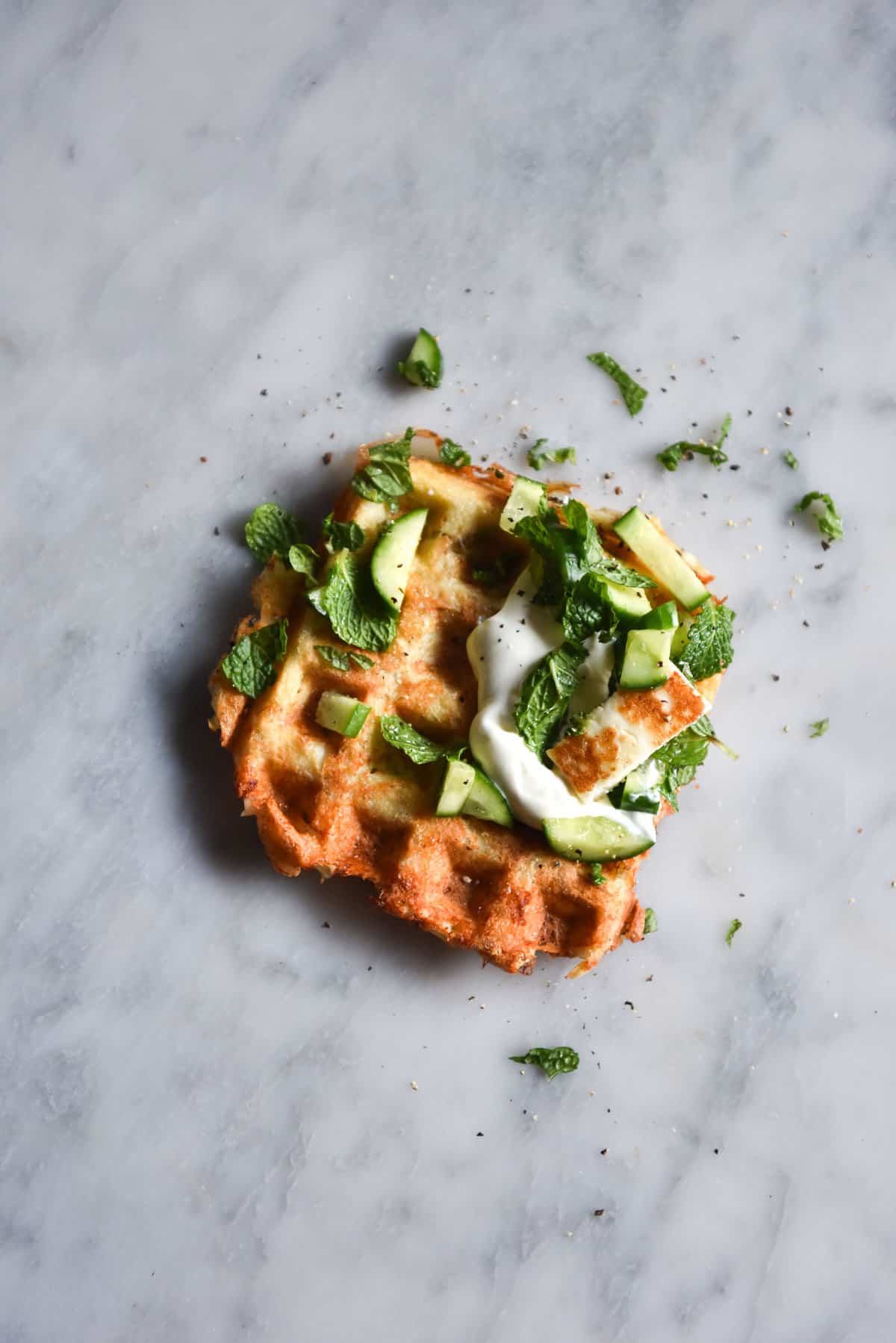 Topping suggestions
I don't really need to tell you what you like on your waffles, but here I am regardless. I topped my waffles here with lactose free sour cream and a cucumber, mint and lime salsa with sea salt flakes, and plenty of pepper.
Other FODMAP friendly suggestions include:
A fried egg with sauteed spinach and sauerkraut
Smashed avocado with lime juice and sea salt
Haloumi and greens
Nothing, because they're delicious plain
Whatever else your heart desires because I'm bored of coming up with hypotheticals you won't read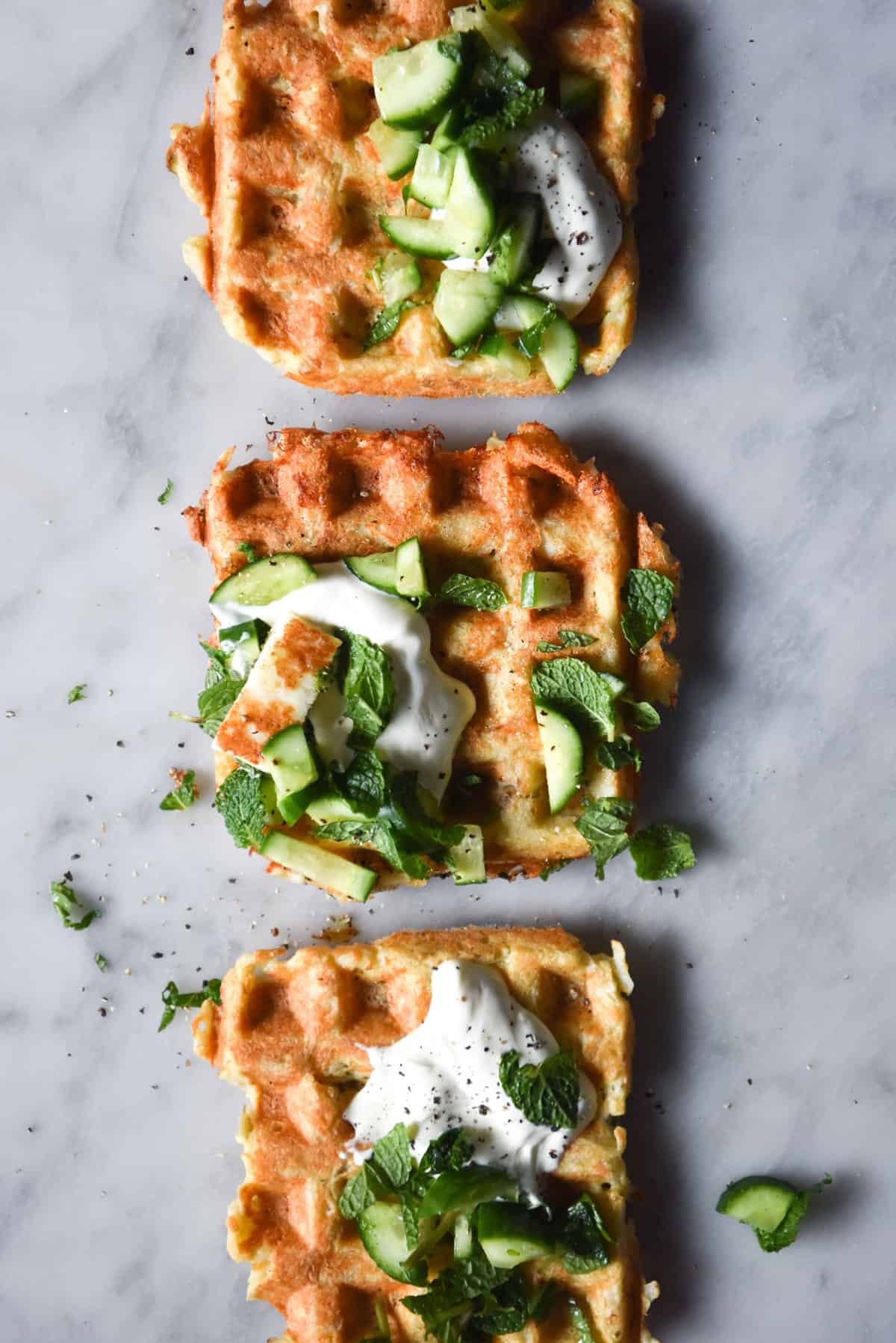 Recipe notes
As always, I use extra large eggs, or the 700g pack in Australia. I don't think extra large are actually that large, but anyway.
I used Sebago potatoes for these waffles, which are considered an all rounder. Here is a little refresher of the potatoes and their qualities, if you need it.
If you can't find Sebago, use a waxy variety of potato. Starchy won't stand up well to being grated and cooked – they'll end up like mash.
I buy my potatoes brushed and at the health food store. They last a long time, and they carry more potato varieties than 'white' and 'red'.
As mentioned, find a non-animal rennet derived parmesan, if you can/need to.
I use table salt in this recipe, because sea salt flakes wouldn't disperse well in the mixture.
More gluten free breakfast recipes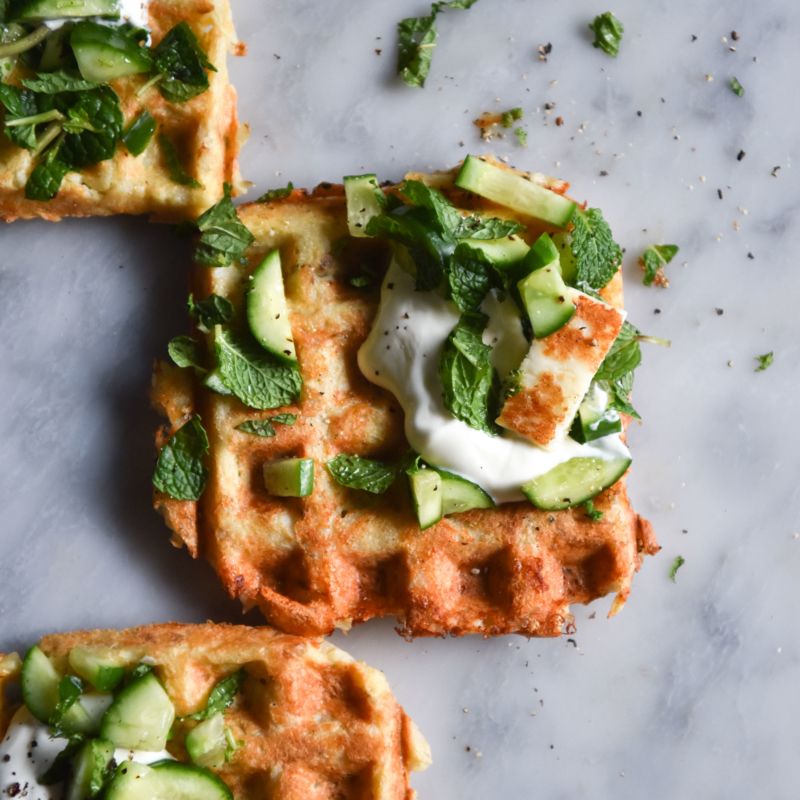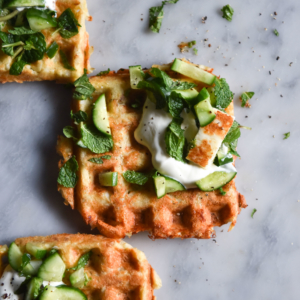 Three ingredient potato waffles
Gluten free, grain free, FODMAP friendly
Ingredients
FOR THE WAFFLES:
450

g

all rounder or waxy potatoes

skin on

100

g

parmesan (see notes) freshly and finely grated

1/2-1

teaspoon

salt

2

extra large eggs
TO FINISH:
Butter or oil

for greasing the iron

Whatever
Instructions
Grate the potato and place it in a metal sieve over a medium sized saucepan, filled with water. Think of it as a double boiler, but with a sieve of grated potato on top. Gently squeeze the potato to remove as much moisture as possible, without damaging the potato bits. Place a lid on top of the sieve.

Heat the water to a medium – high heat for 10-15 minutes. The potato should be cooked but firm. Allow it to cool a little so it doesn't cook the eggs and melt the cheese in the next step.

In a large mixing bowl, combine the potato, parmesan, salt and eggs. Mix extremely well until you have a uniform batter. You could also add freshly cracked pepper here for some cacio pepe vibes, if you like.

Heat your waffle iron as per the instructions. Mine is a Belgian waffle maker from Cusinart with pretty basic functions – on or off. Yours might be fancier, so you'll have to do some testing. Hottest heat possible, I'd say.

Once the iron is ready, add just enough batter to fill the waffle iron. Make sure both sides are even, or else one waffle will be undercooked. Again, this is very waffle maker dependent, but allow the waffles to cook for at least 5 minutes, until they have formed a crispy edge and are holding together. If you open the machine too soon, you'll be greeted with a total mess. Mind you, close it again, wait another 5, and you should rectify the problem.

Continue to cook the waffles until they are golden brown and have a crispy parmesan edge. Mine were in for about 7 minutes, and although they were perfect, they probably could have stayed in longer if they needed.

Top with whatever you fancy and go wild.

These waffles, unlike other waffles, crisp up as they cool. You could keep them in the fridge for a couple of days, or probably even freeze them. To heat them up to their crunchiest potential, put them on your oven rack on a high heat until hot and crispy as hell.