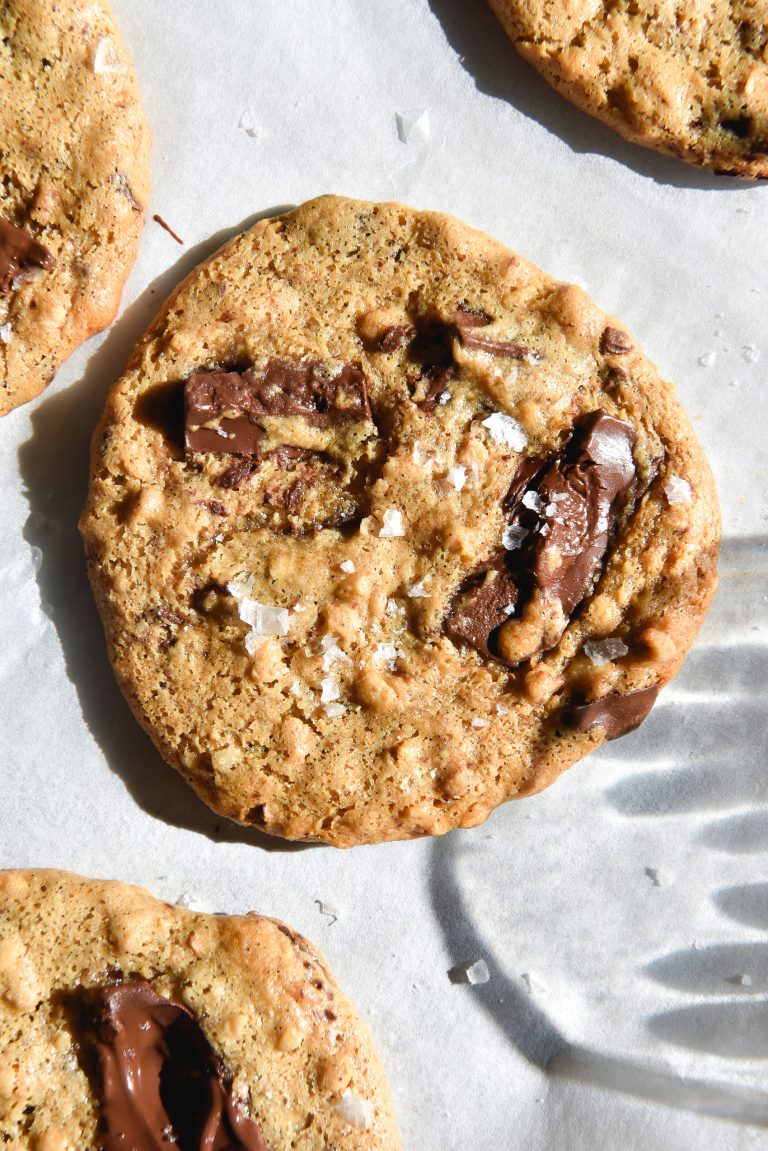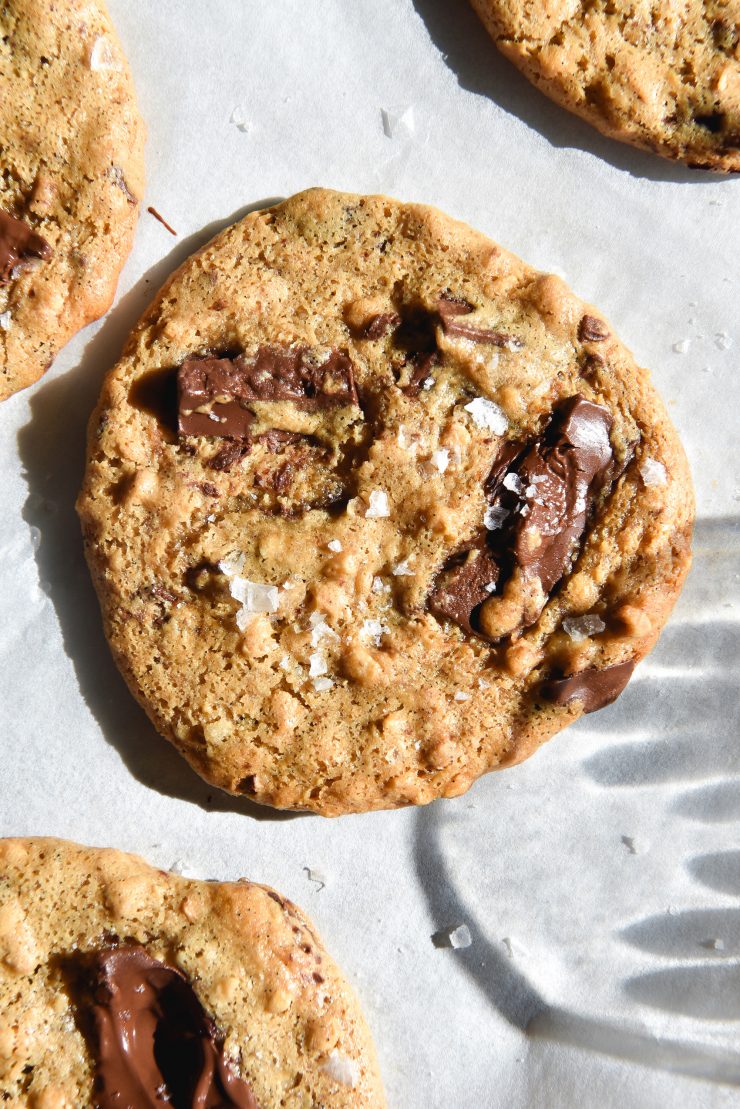 Ok so I know that I've just posted the recipe for these almond butter choc chip cookies, and these are a riff on that recipe. Sorry. This was wholly necessary, however, because these vegan peanut butter cookies needed their own space. Why? First and foremost, they taste like a snickers. A vegan, gluten free, grain free and refined sugar free snickers.
What is the legality of me envoking the name of a well known bar? Unsure. Haven't checked. Don't tell on me. But seriously, these vegan snickers cookies are snicker-sy. While they don't have the nougat centre, the chewy crispiness of the cookie emulates that sensation fantastically, without any effort on your part.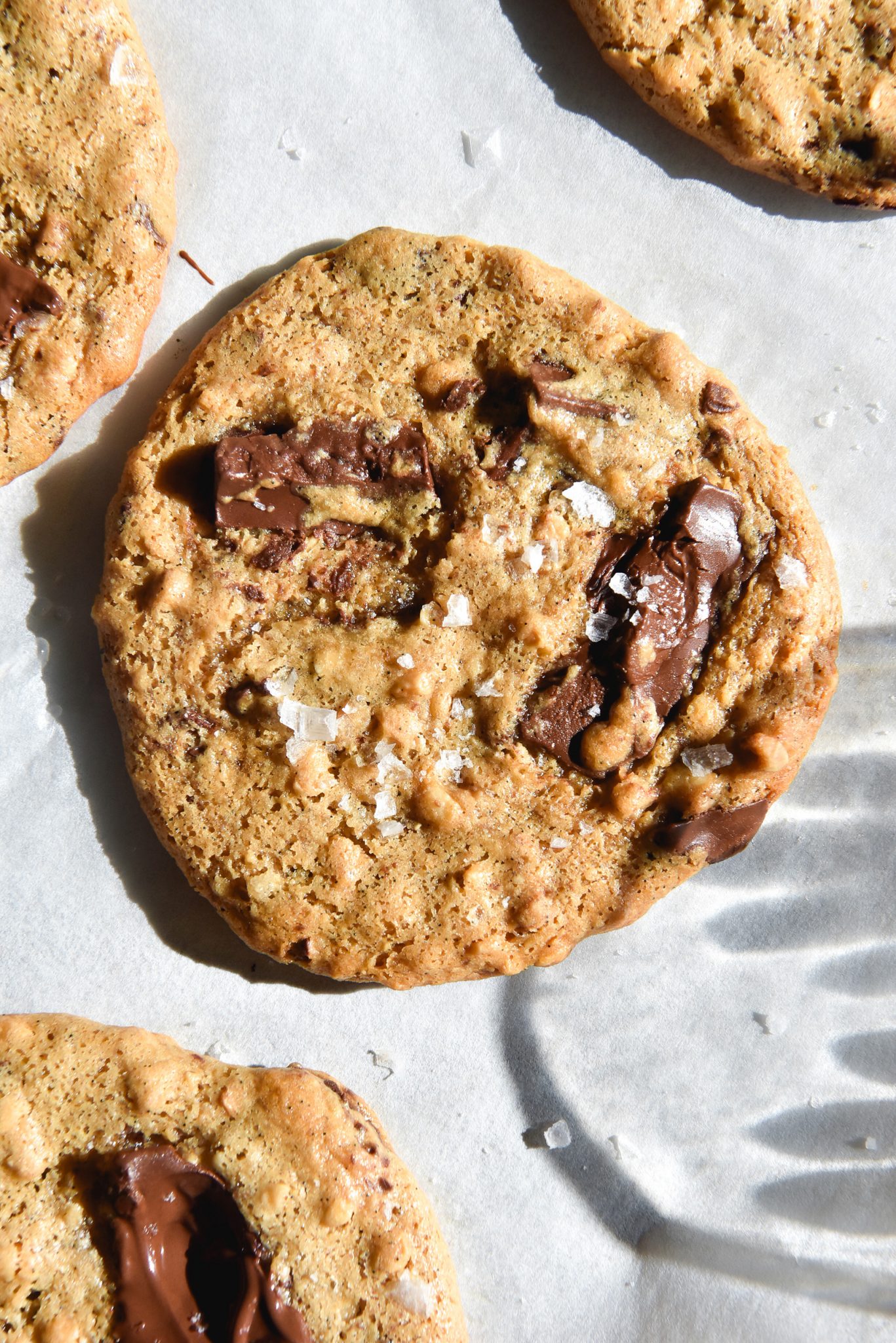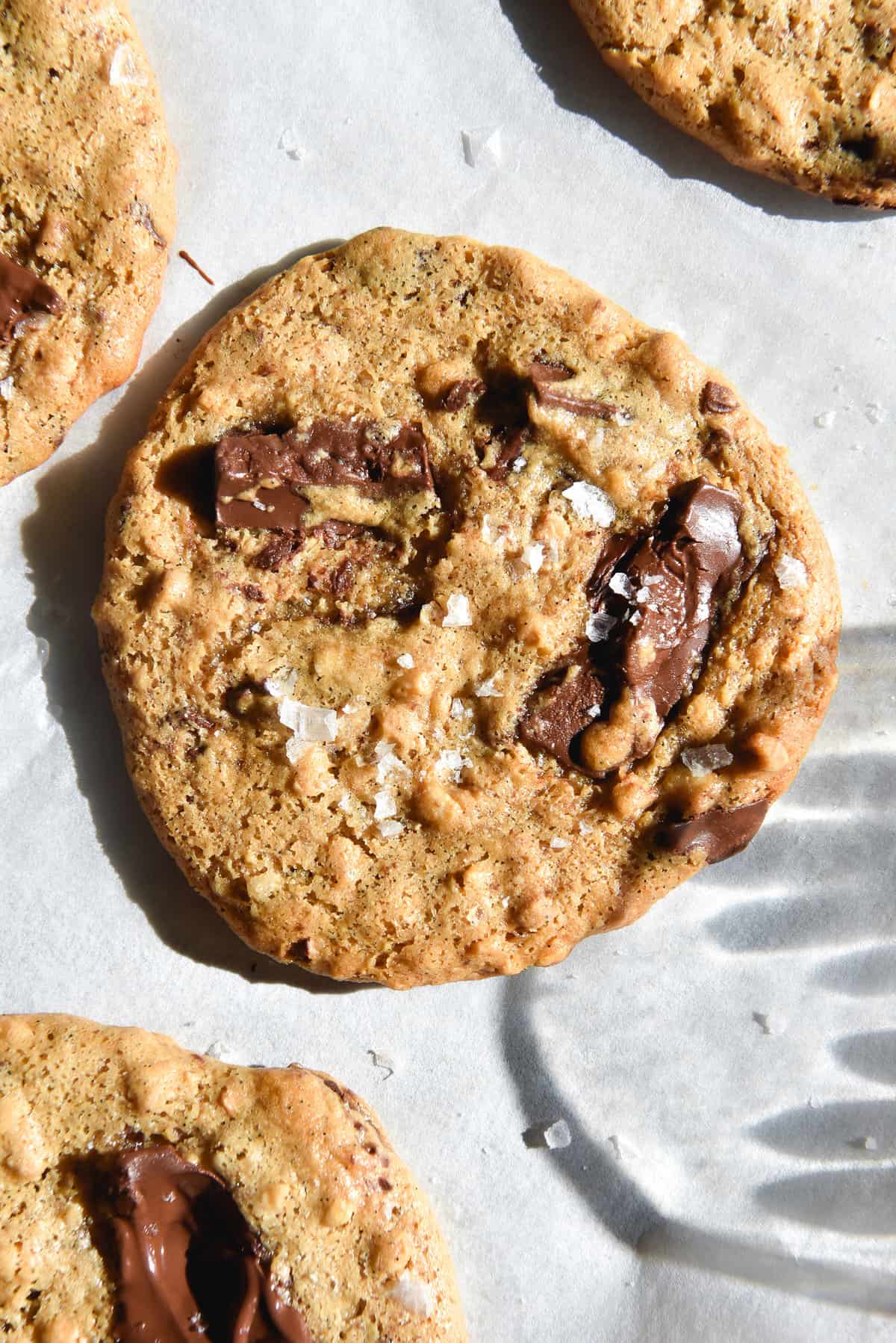 Tips for your vegan peanut butter cookies
Use natural, salted peanut butter. I haven't tested these cookies with any other variety and I don't intend to. The peanut butter needs to have some oil, so I don't recommend the drier bulk food store types.
I prefer crunchy peanut butter in this instance because it adds texture to the cookies. If you're team smooth however, feel free to use it.
I recommend Ridiculously Delicious peanut butter. I buy the 1kg jar to save the excess strain on the recycling system with lots of little jars.
You can use maple syrup or rice malt syrup as FODMAP friendly sweeteners. If you use maple, ensure that you're buying 100% maple syrup and not 'maple flavoured syrup.'
If you love a thin, crunchy cookie then follow the recipe instructions. If you like thicker cookie see the below section on thick cookies.
I haven't tested these cookies with agave syrup. I can't imagine why they wouldn't work, however. The viscosity of agave is not my strong suit, but add it gradually until you have the desired consistency. To substitute out vanilla bean paste, try using a little extra maple syrup to add extra liquid. Weirdly enough, it's the liquid that turns the peanut butter solid, so more is more (until your cookies are horribly sweet and inedible.)
Salt is mandatory! It balances everything out and adds a real depth of flavour. Flakey salt on top also mandatory. I don't make the rules.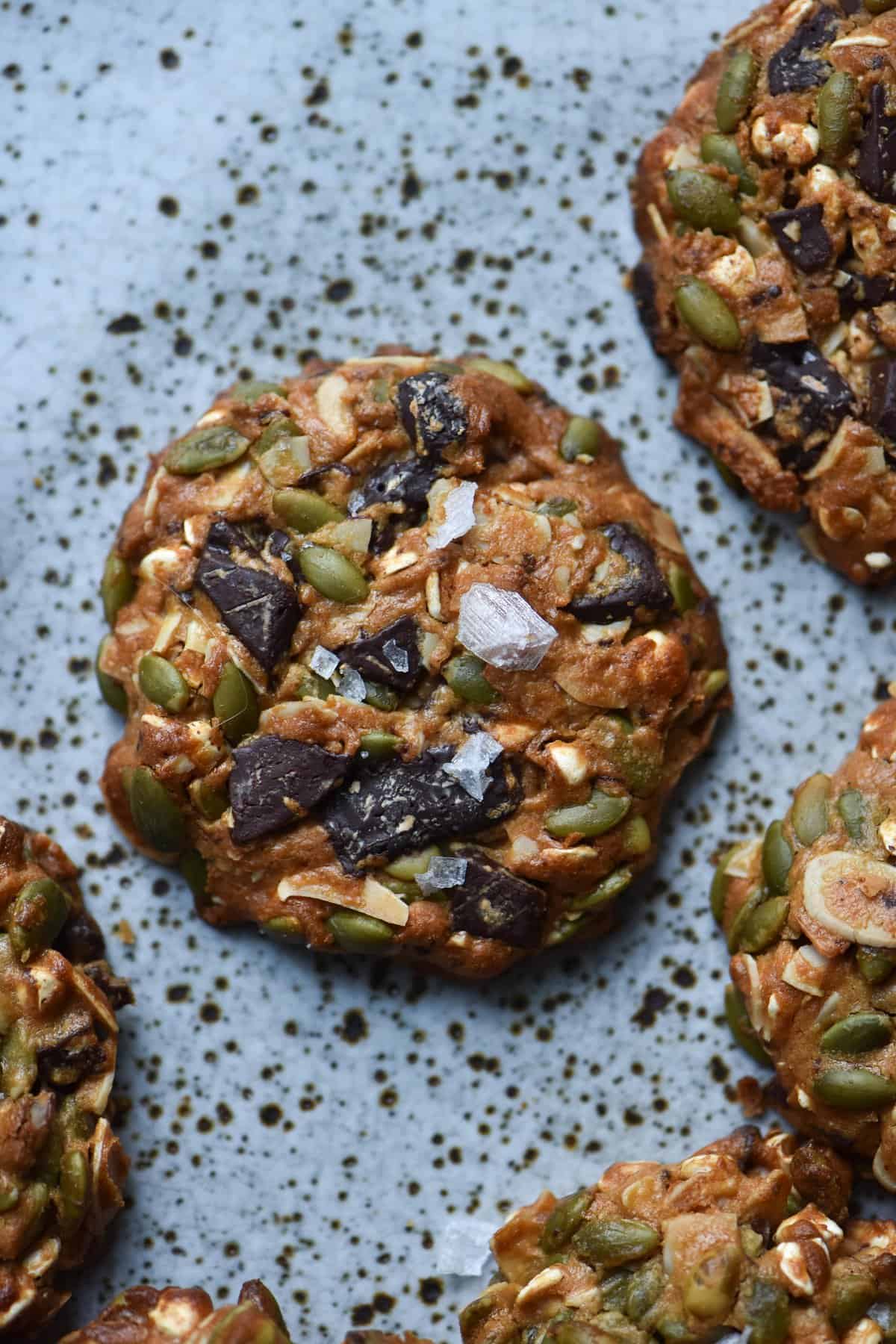 FODMAP notes for your vegan peanut butter cookies
As we've discussed, these vegan snickers cookies cover all sorts of dietary requirements. In terms of their FODMAP content:
Peanut butter is deemed friendly in 2 tablespoon serves.
It contains only moderate amounts of excess fructose in quantities 140g or higher. This recipe contains roughly 80g of peanut butter.
If you're looking to lower the FODMAP content, you can use rice malt syrup instead of maple syrup.
Choose a dairy free/vegan chocolate if necessary. Lindt make some great chocolate pieces that are sold in bulk at Source Bulk Foods which are incidentally vegan.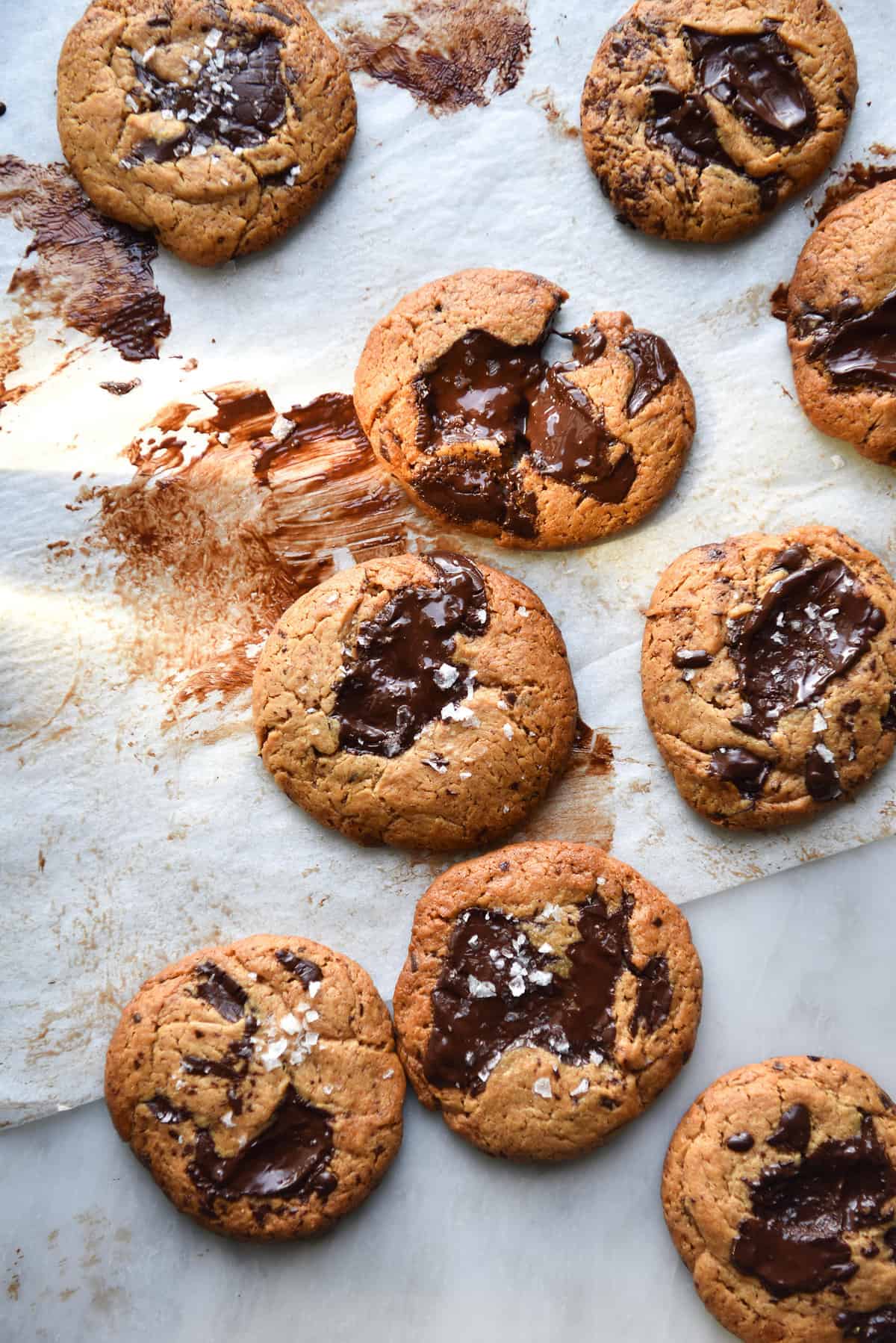 Optional additions for your vegan peanut butter cookies
Protein powder. I used plain whey protein (not vegan!) because I find the other varieties quite irritating to my digestive system. I started with 1 tablespoon, but you might like to use less if your protein is very flavoursome.
Vegan Nutella (I recommend Vego!) Swirl some in at the last minute after the batter is sufficiently stiff. You'll need to make fat cookies if you add this as it will be too hard to press them down otherwise.
Nuts. I reckon some chopped toasted almonds or extra peanuts would go down a treat.
Tips for making thicker peanut butter cookies
So you want thicker cookies. I feel ya. If that's more your style than the thinner, crispier style pictured above, follow long.
I have only tried this with a rice malt syrup batch, although I can't imagine why it wouldn't work with maple syrup.
Mix the raw batter until you can pick it up with your hands with just a bit of stickiness. Next, very roughly roll it into a circular, cookie shape. It can be craggy on top.
Plop the balls of cookie dough onto the baking tray without flattening them or touching the top. Proceed as usual. Voila! Thick, delicious cookies.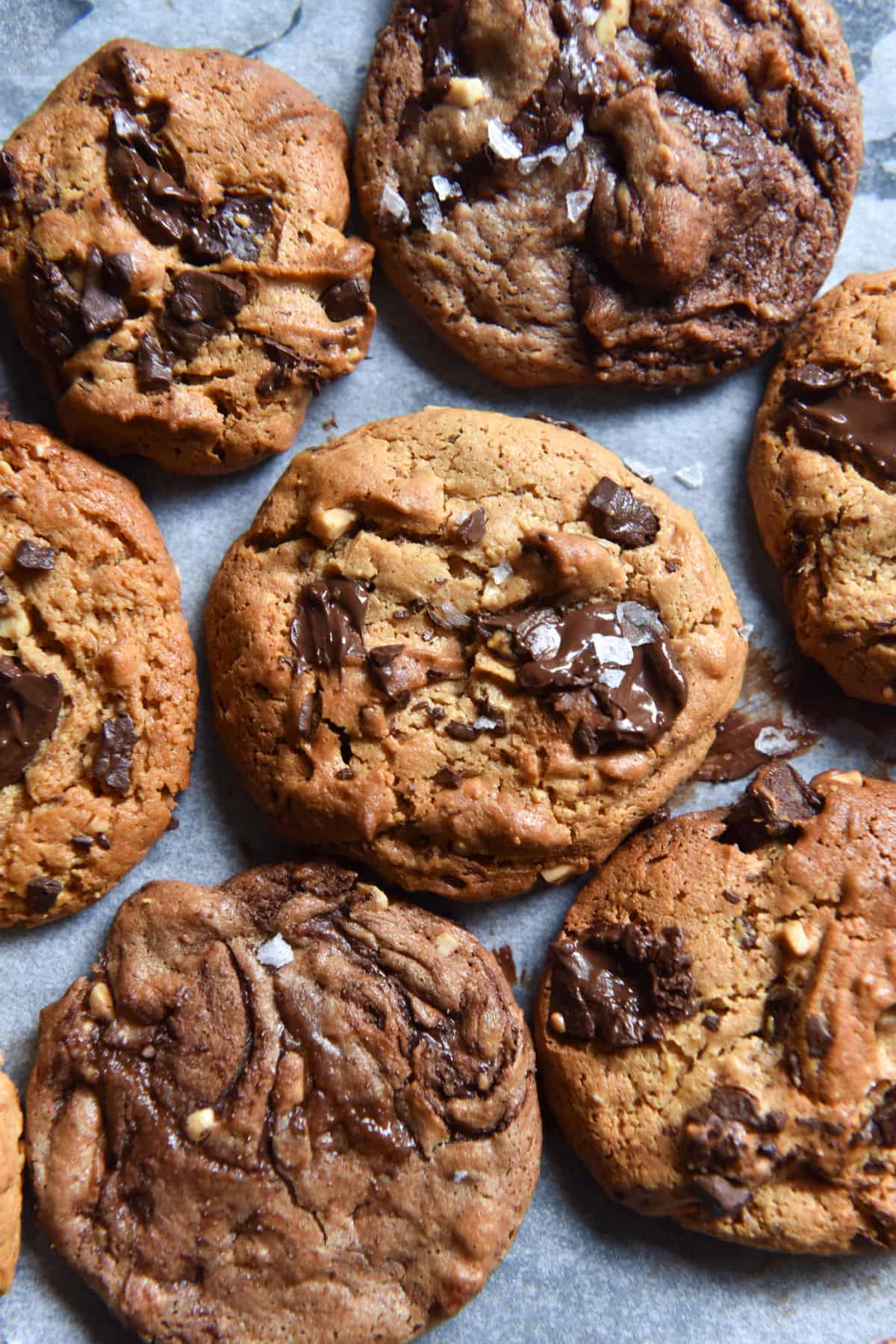 I deem sea salt an essential addition here – it really rounds out the sweet flavours and brings the cookie to the level it deserves. Trust me on this.
I also deem CRUNCHY peanut butter an essential in this instance. How can you emulate a snickers without having peanut chunks?
Make sure you buy natural roasted peanut butter – the only ingredients should be peanuts and salt. I haven't tested this recipe with an artificial ingredient loaded peanut butter, and I don't intend to.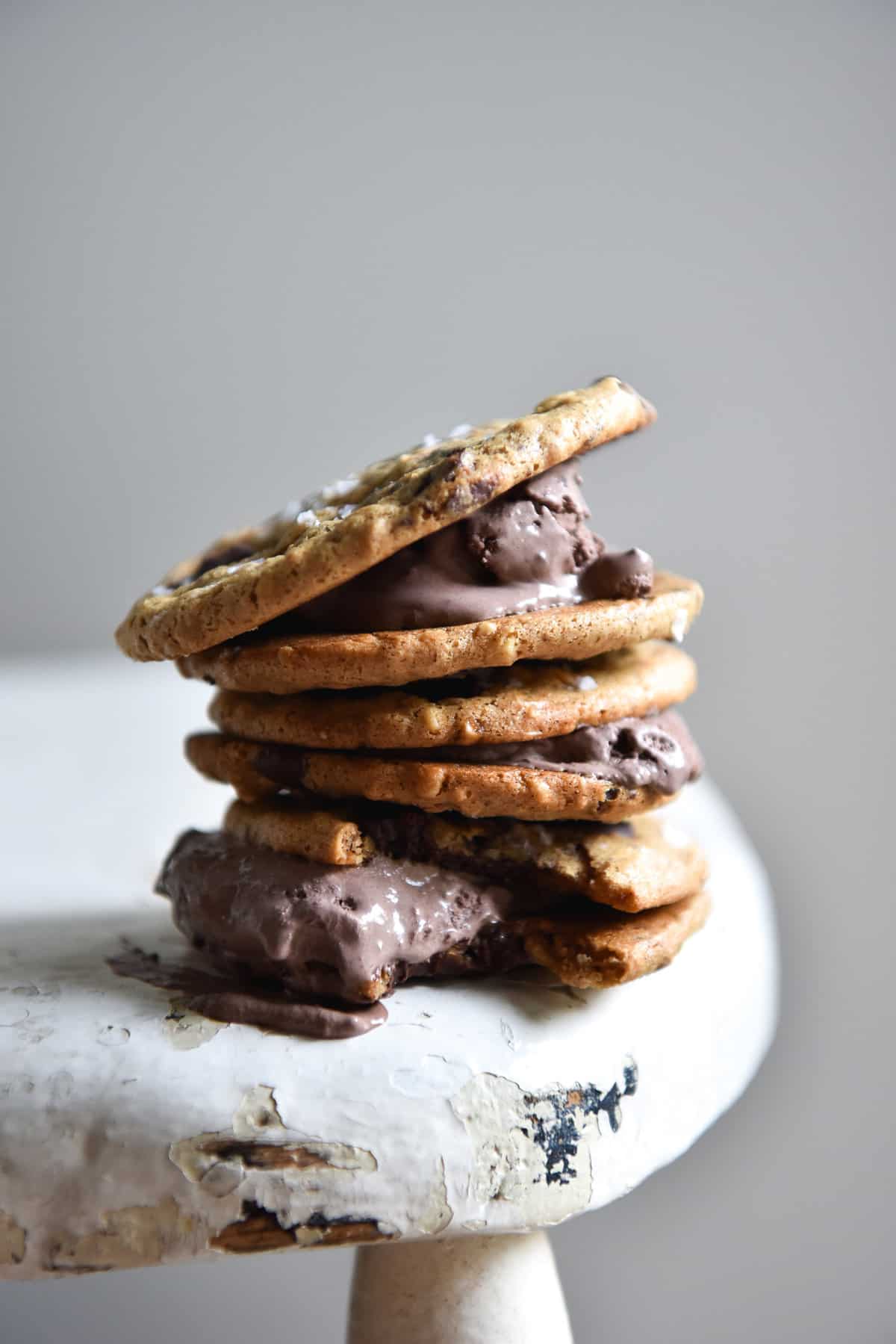 How to make nut and seed peanut butter cookies
Simple! Prepare the cookies up until the point of rolling them out. Add 1 – 1 1/4 cup of add ins. I used 1/2 cup pepitas (pumpkin seeds), 1/4 cup shredded coconut, 1/4 cup puffed buckwheat and 1/4 cup slivered almonds. I then added 3-4 squares of Lindt 70% dark chocolate, chopped.
Other suggestions include peanuts, sunflower seeds, linseeds, cacao nibs, etc. You can use any nut you fancy, although if you use larger ones I might recommend chopping them roughly.
Another hot tip: add up to 1 tablespoon of rice flour to make a crunchier cookie with more of a traditional texture. I haven't tried this with the original version but I can't see why it wouldn't work.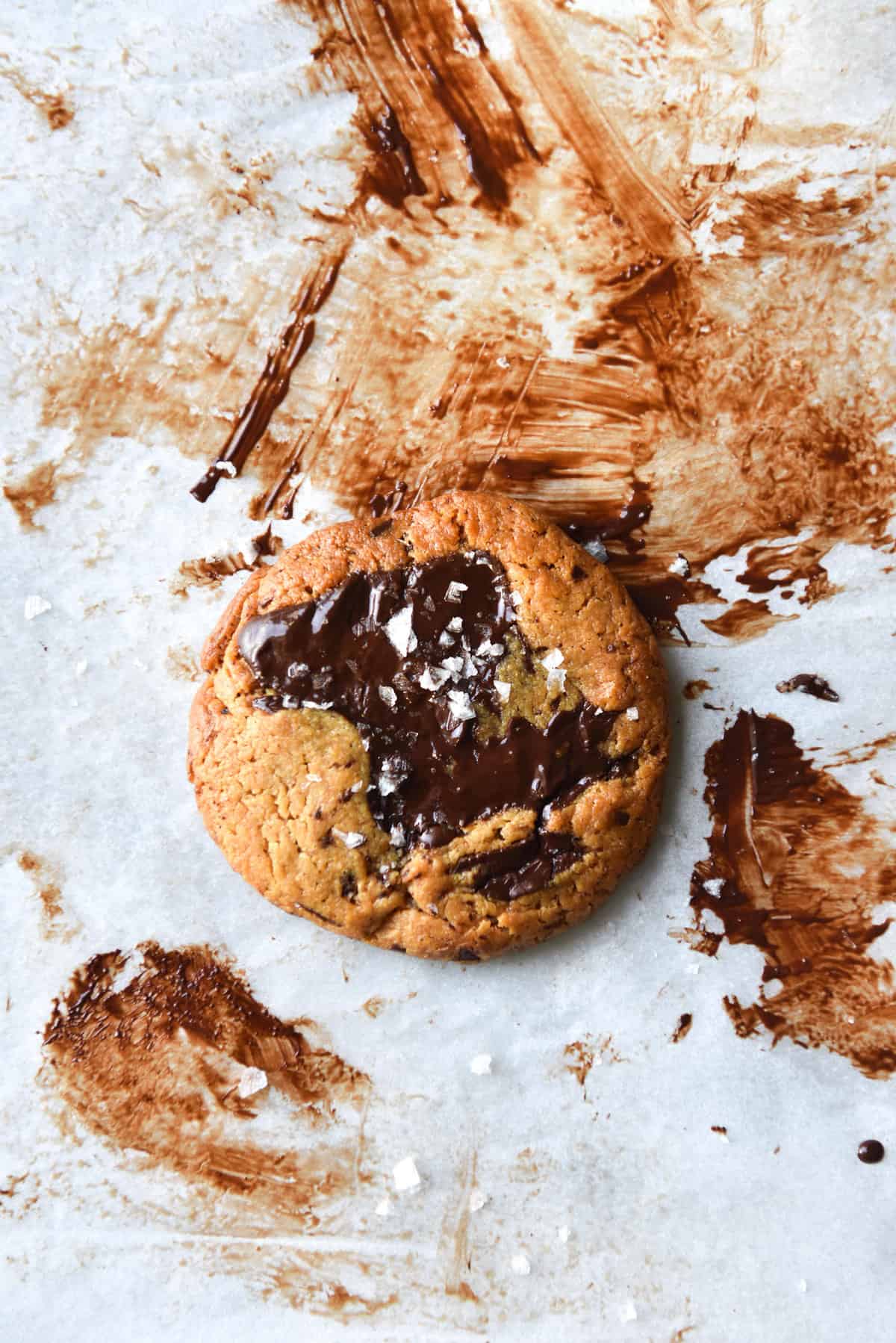 More vegan and gluten free dessert recipes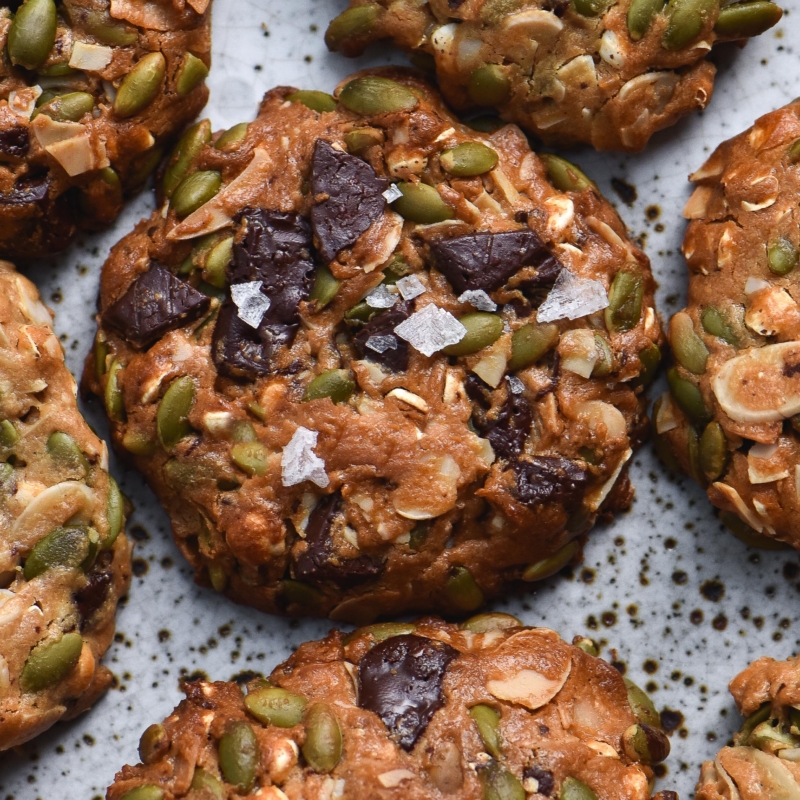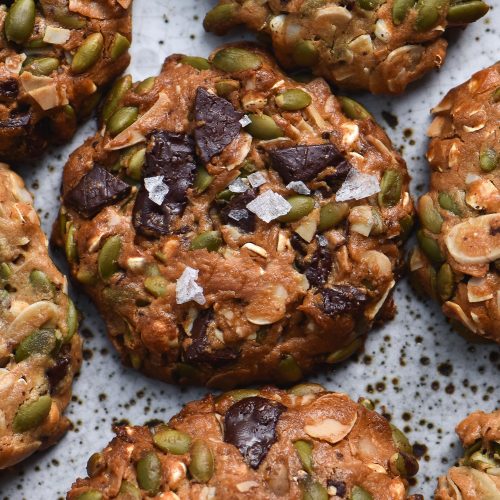 Vegan peanut butter cookies (with a nut and seed option)
Vegan, gluten free, FODMAP friendly, refined sugar free
*Measurements are in Australian cups and tablespoons. Use gram and ml for international accuracy.
4-5 Australian tablespoons = 5 1/4 – 6 1/2 American tablespoons
Ingredients
To make the cookies:
2/3

cup (160g)*

crunchy natural peanut butter

80-100ml (4-5

tbsp)*

maple syrup (pure)

1

tsp

baking powder

1-2

tsp

vanilla bean paste (optional)

sprinkle of sea salt flakes

50-75

g

chocolate (vegan if it needs to be) chopped or in buttons
To make a nut and seed version:
1 – 1 1/4

cups

additions (I used 1/2 cup pepitas, 1/4 cup puffed buckwheat and 1/4 cup slivered almonds)
Instructions
Preheat the oven to 180C/356F. Line a baking tray with baking paper or a silicon mat. 

Combine the peanut butter and maple syrup in a small mixing bowl. Sprinkle over the baking powder. Stir vigorously until it begins to thicken and harden. I've discovered that taking mixing breaks (when your arm gets tired) seems to help the mixture thicken, so take them as appropriate. 

Once the mixture has thickened, add the vanilla bean paste and a pinch of salt, and continue to mix until it forms a shiny-ish cookie dough. Mix in 3/4 of the chocolate, reserving some for the tops. 

If you're making the nut and seed version, add them now and stir thoroughly to combine.

Lightly wet your hands with water. This will enable you to divide the mixture into 6-8 balls, and create a ball shape by rolling it between your hands. Lay as ball evenly spaced on the baking tray. 

Use the (lightly oiled) palm of your hand to gently press each ball into a cookie shape. They spread a little but not much, so press them into the shaped cookie you'd like to end up with.

Sprinkle the tops of each cookie with the remaining chocolate chunks and sea salt flakes. Place them in the oven for 5 minutes.

At the five minute mark, open the oven and gently drop the tray against the oven rack. The cookies will flatten out a little. Return them to the oven for 3-4 minutes.

Once the cookies are cooked, allow them to cool on the oven tray for a while, as they harden up while cooling. For crispiest results, store them (once completely cool) in an airtight container in the fridge.