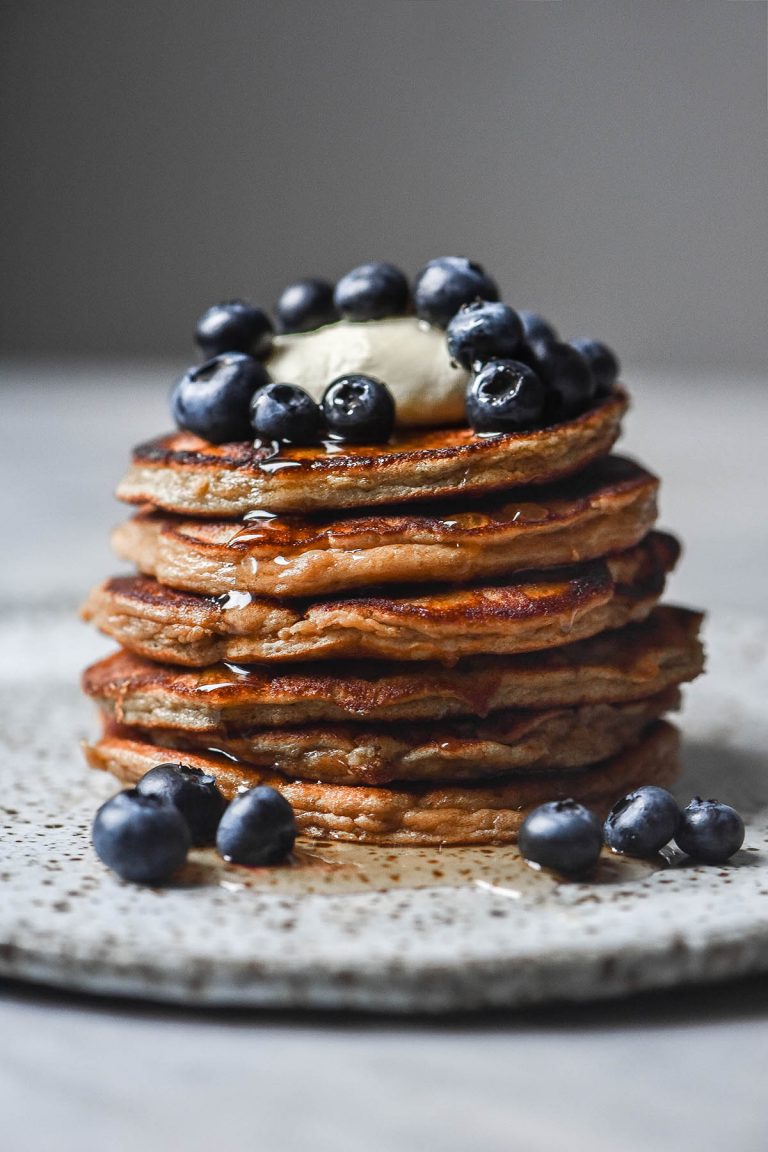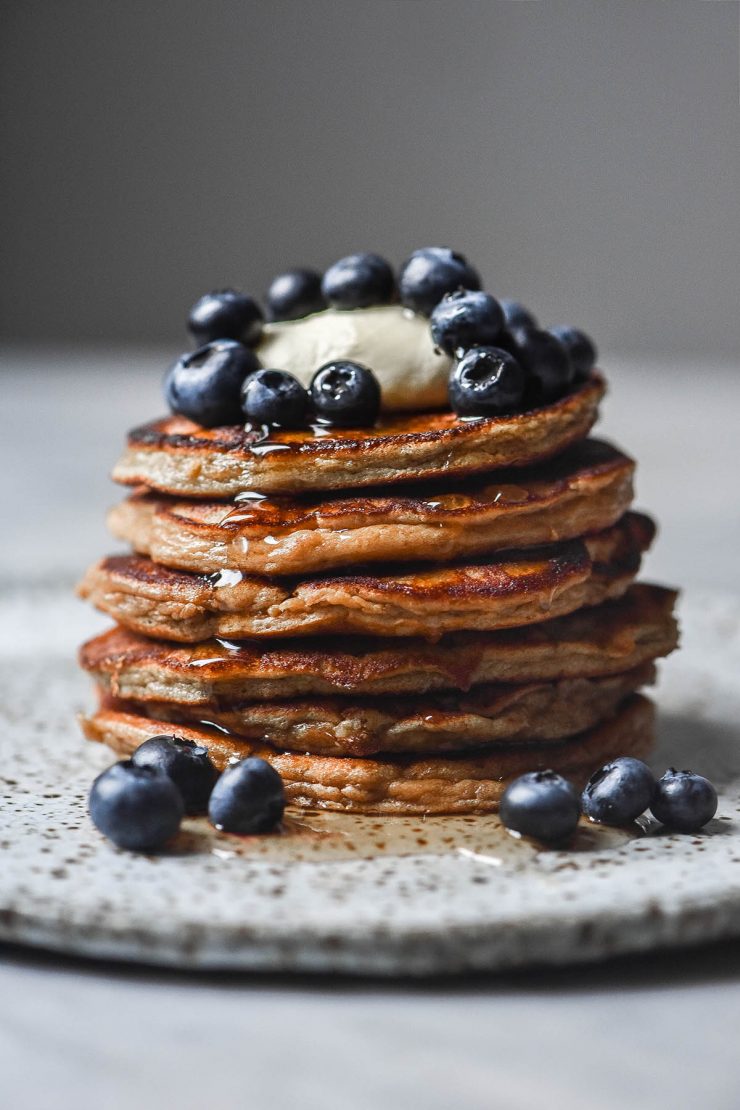 These protein powder pancakes are the dairy free cousin of my banana protein pancakes. These pancakes use a pure plant protein (as opposed to whey protein isolate) to form the backbone of the pancake. They contain no added sugar and are flourless. The pancakes are also SIBO bi-phasic diet friendly and low FODMAP with some little adjustments.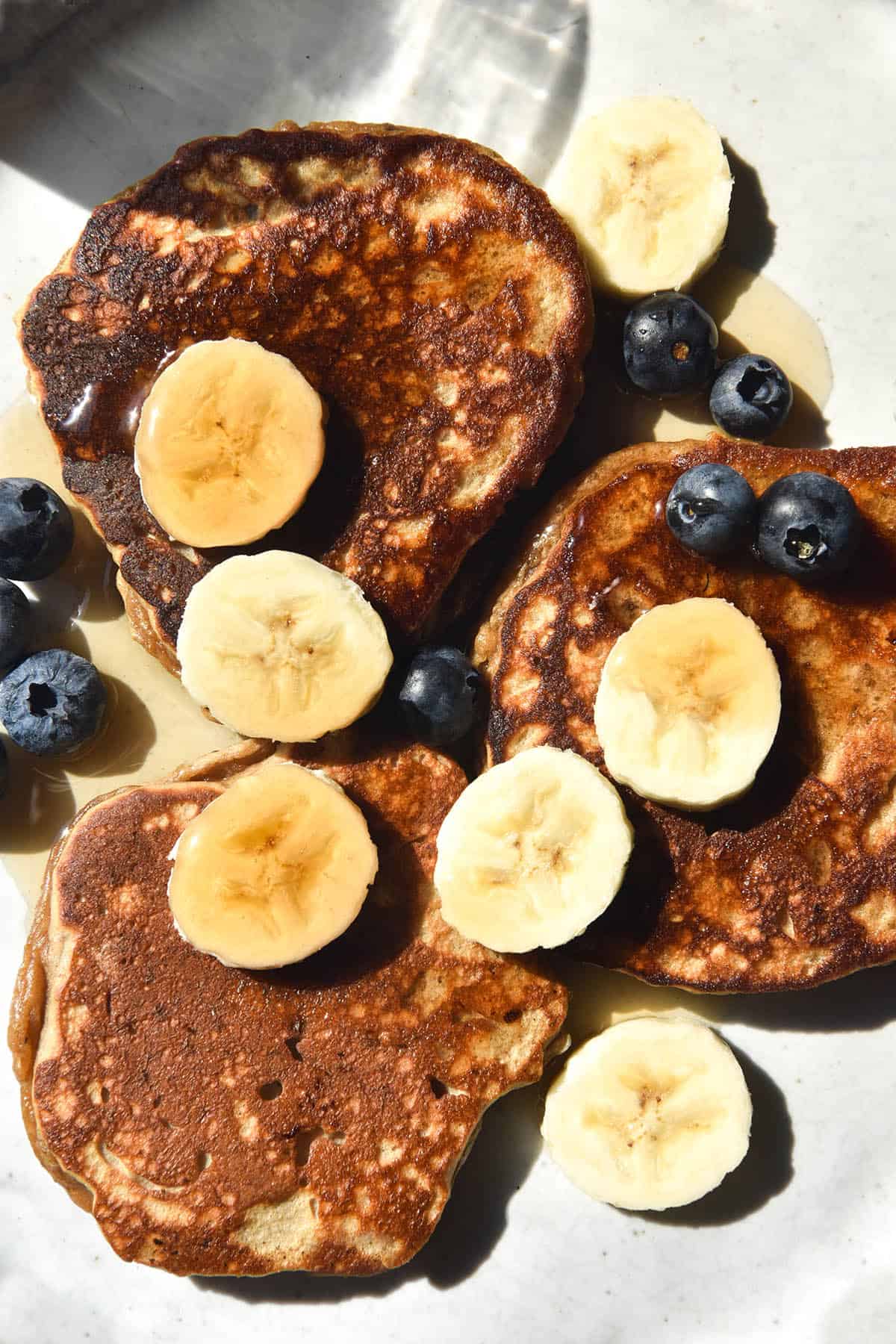 Protein powder pancakes (dairy free, flourless)
I have tested a LOT of protein powder pancakes in the last few weeks. Because I am currently on the SIBO bi-phasic diet, protein pancakes are the one little 'sweet' treat I can look forward to. I wanted to perfect a recipe, so I worked on my banana protein pancakes with whey.
What I discovered during the process was that recipes that say 'use any protein powder you like' are LYING. I found that different varieties of protein powder yielded incredibly different results. We'll go into those below, but for now I'll say that this recipe uses plain, pure plant protein. It also uses a simple mix of nut butter, an egg and half a banana to form a single serve batch of easy, protein packed pancakes.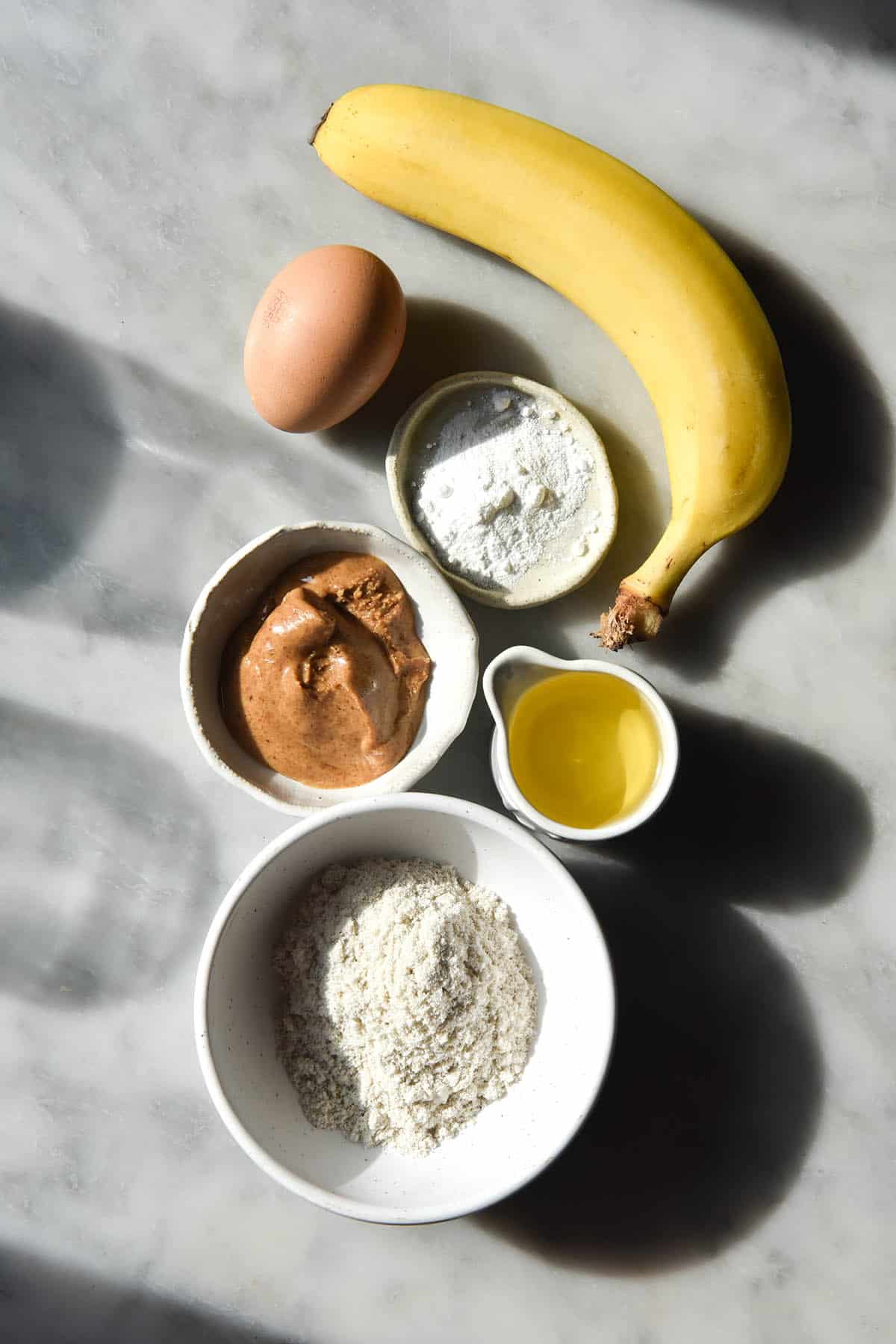 Protein powder notes
Looking online, a lot of recipes for easy protein pancake use protein powders with added xanthan gum, fibres and milk powders. What this means is that the protein essentially has binders and emulsifiers already included.
Xanthan gum doesn't agree with me, so I only use it where it's essential (like in gluten free croissants). I don't think xanthan gum is essential to a protein powder. Another consideration for me is that I can't have added fibres or gums while on my elimination diet. This is why my protein powder recipes all use pure proteins without any extra ingredients.
If you'd like to try a protein powder with additives in this recipe, you can. I can't vouch for the success of it, but I'd love to know how you go if you do.
The other thing with protein powders (plant based ones particularly) is that they're all made from different ingredients. Just as white rice flour and sorghum flour have very different absorbencies, so too do different plant proteins. As an example, whey protein is a lot drier and more thirsty than hemp protein.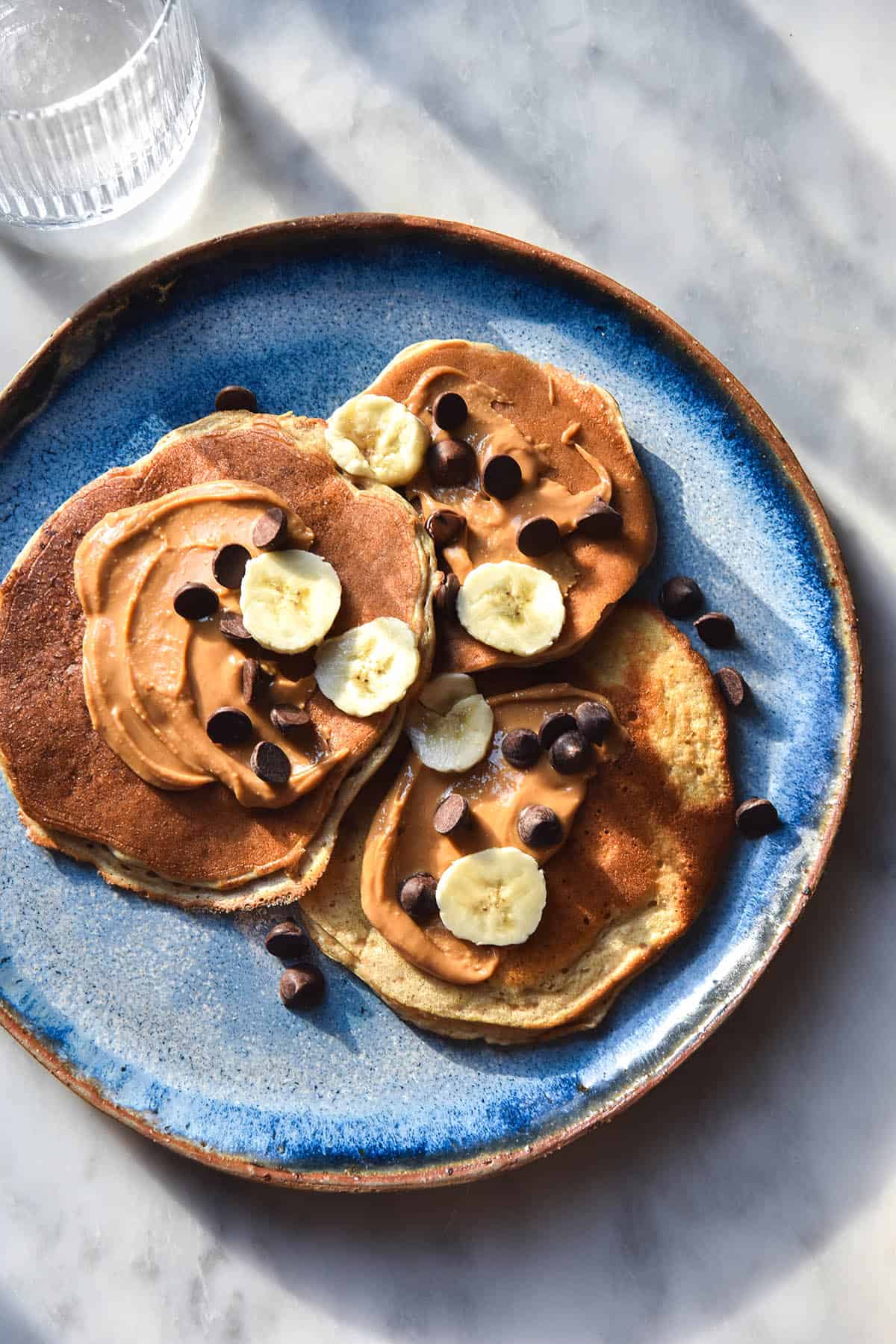 Plant based protein powders I have tried in this recipe
In order to make this as helpful as possible, I have tried a number of different plant protein powders in this recipe. If you're using a whey protein, use this recipe here.
100% hemp protein (nothing else added)
100% sunflower seed protein (nothing else added) – I don't recommend this option as the pancakes go green and are quite floppy
100% soy protein (nothing else added)
Macro Mike vanilla protein (a number of additives including sweetener and guar gum)
If you try any different varieties and have success, let me know. Something to note: different proteins are thirstier than others here. While I found I didn't need to add any milk to the hemp seed protein pancakes, I needed to add 4 Australian tablespoons (80ml) to the soy protein pancakes.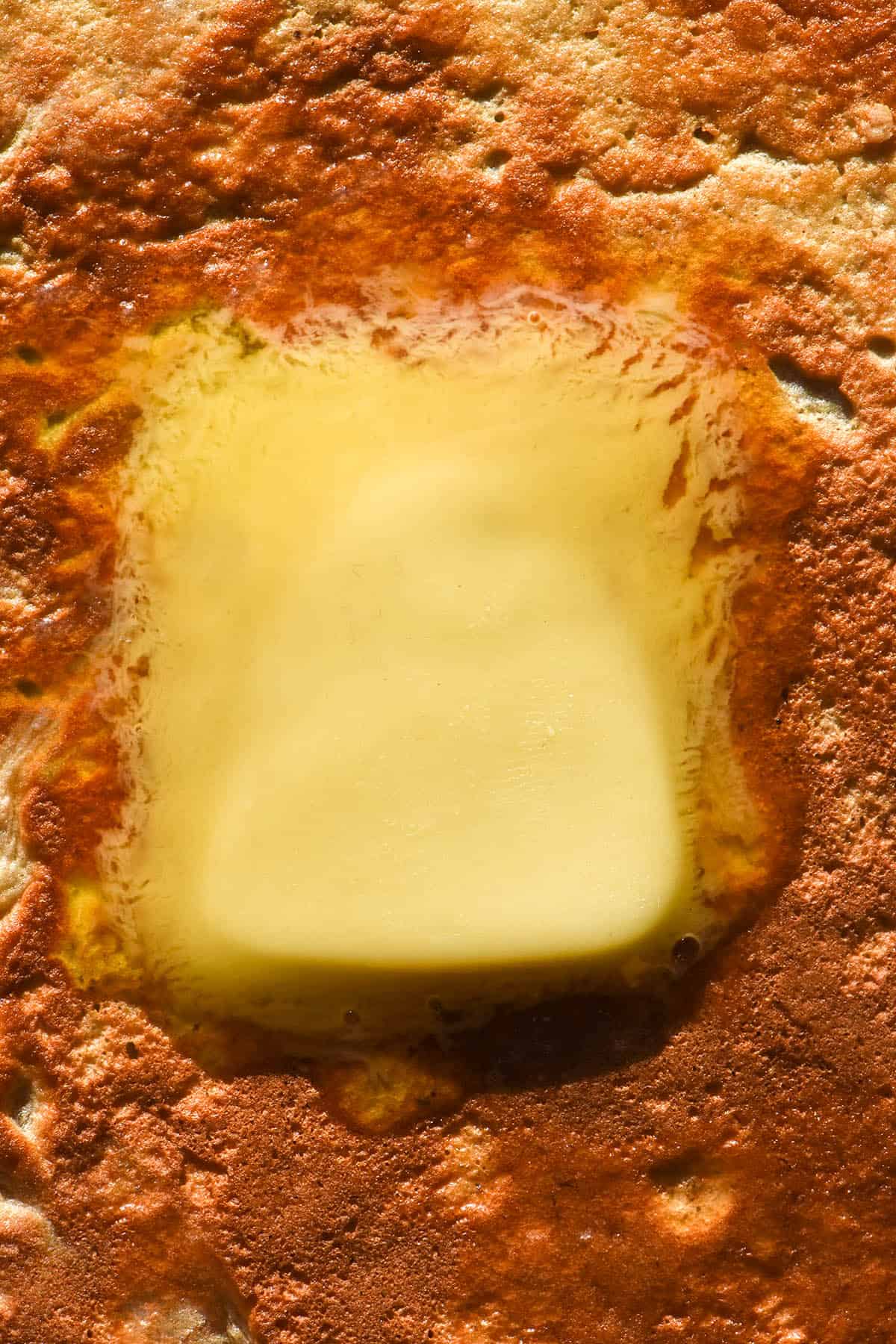 SIBO bi-phasic notes
If you're on the SIBO diet, make sure the protein you are using has no added sugar, cocoa, fibres or gums.
You can use almond butter, coconut butter (not oil) or macadamia butter.
Sadly, you can't use maple syrup to finish the pancakes. If you are on stage 2, you could use a little drizzle of honey.
These pancakes are suited to stage 1 adapted (to include the 1/2 banana) or stage 2.
For stage 2, you can also top the pancakes with 1/2 cup of berries, if you want to go all out and use up your fruit serves for the day.
Technically speaking, baking powder contains rice flour and isn't on the SIBO approved list. I would have pulled my hair out without some sweet treats, so I use 1/4 teaspoon baking soda and 1 teaspoon vinegar or lemon juice.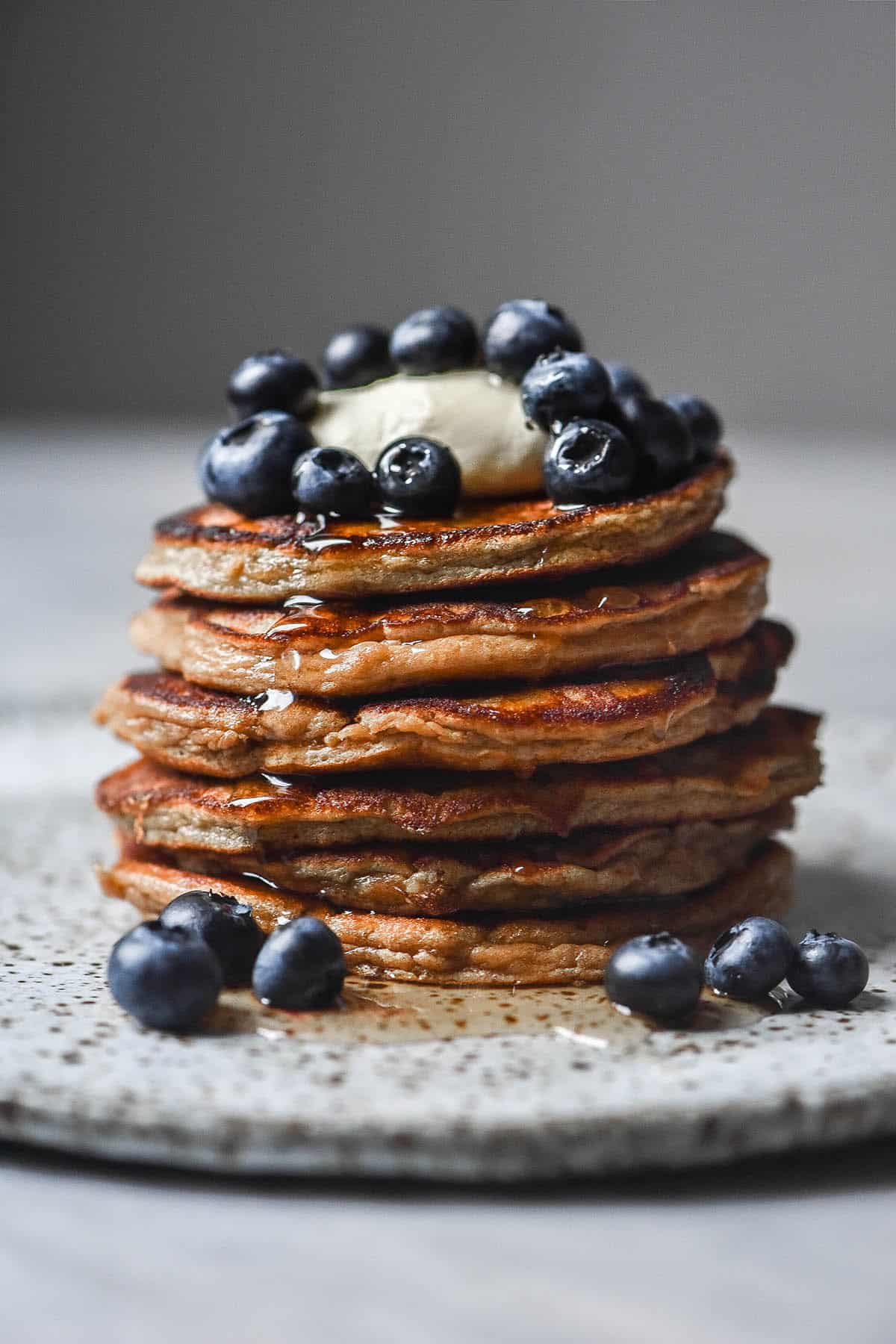 Tips for your pancakes
Beating the egg white makes these pancakes taller and fluffier. It doesn't work with whey protein (they become too spongy) but it works here.
These are flourless, unsweetened pancakes made with protein powder. Don't expect them to taste like something they aren't.
That said, the flavour of the protein powder you use will really help add flavour to the pancakes.
At the moment, I have no substitute for the banana. You could try using 75g pumpkin puree, but I haven't tested the theory myself.
If you are using a protein that contains gums or fibre, you will probably find the batter is quite thick before you add the whipped egg whites. That's fine if you like thick little pancakes, but if prefer medium thickness, add 15-20ml dairy free milk or water.
More protein powder recipes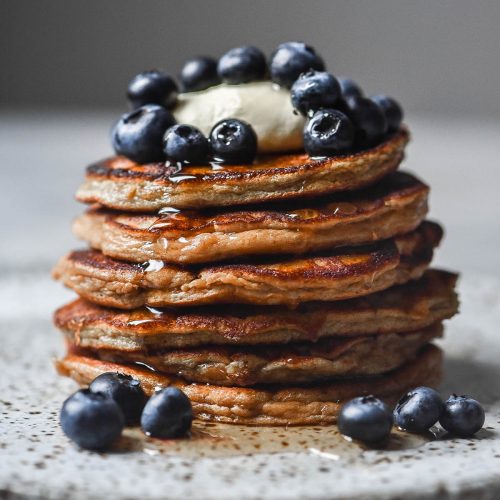 Protein powder pancakes
Makes 3-4 pancakes
Serves 1
Measures are in Australian tablespoons
Ingredients
1

extra large egg

55g weighed out of shell

30

g

plant protein

see notes and body of post

75

g

1/2 large banana, mashed

25

g

(1 tablespoon) nut butter of choice

1/4

teaspoon

baking soda

1

teaspoon

vinegar or lemon juice

Oil or butter, for cooking

20 – 80ml

plant based milk of choice (see notes)
Instructions
Separate the egg white from the yolk. Place the white in a small clean mixing bowl, and the yolk in another small mixing bowl.

Add the protein powder, mashed banana, nut butter and baking soda to the egg yolk. Whisk until a smooth batter forms, then set aside.

Depending on the protein you use, you might find your mixture is very thick at this point. If so, add 2-4 teaspoons of milk of choice or water. It should be roughly the consistency of a medium thickness yoghurt.

Use a hand beater to whip the egg white until stiff peaks form.

Add about 1/3 of the egg white and the vinegar or lemon juice to the protein mixture. Use a spatula to gently fold the egg white into the mix, trying to preserve bubbles while mostly incorporating the whites. The bubbles will help keep your pancakes fluffier and taller.

Add the remaining whites and fold until incorporated.

Preheat a pan on a medium heat, then add a small amount of oil or butter. You can cook the pancakes one at a time or all together (depending how thick your batter is). Cook for 1-2 minutes on the first side or until the top begins to bubble. Flip and cook on the other side for 2 or so minutes or until cooked through. Adjust the heat as necessary.

Repeat with the remaining batter. Serve with yoghurt, fruit, maple syrup or butter.
Notes
Whether you use a pure plant protein (like 100% hemp protein) or a protein with gums and fibres added (like Macro Mike) will effect the thickness and flavour of your pancakes. I have only tested pure powders and Macro Mike, so I can't say how other proteins will perform in this recipe. If you're using whey protein isolate, see this recipe.