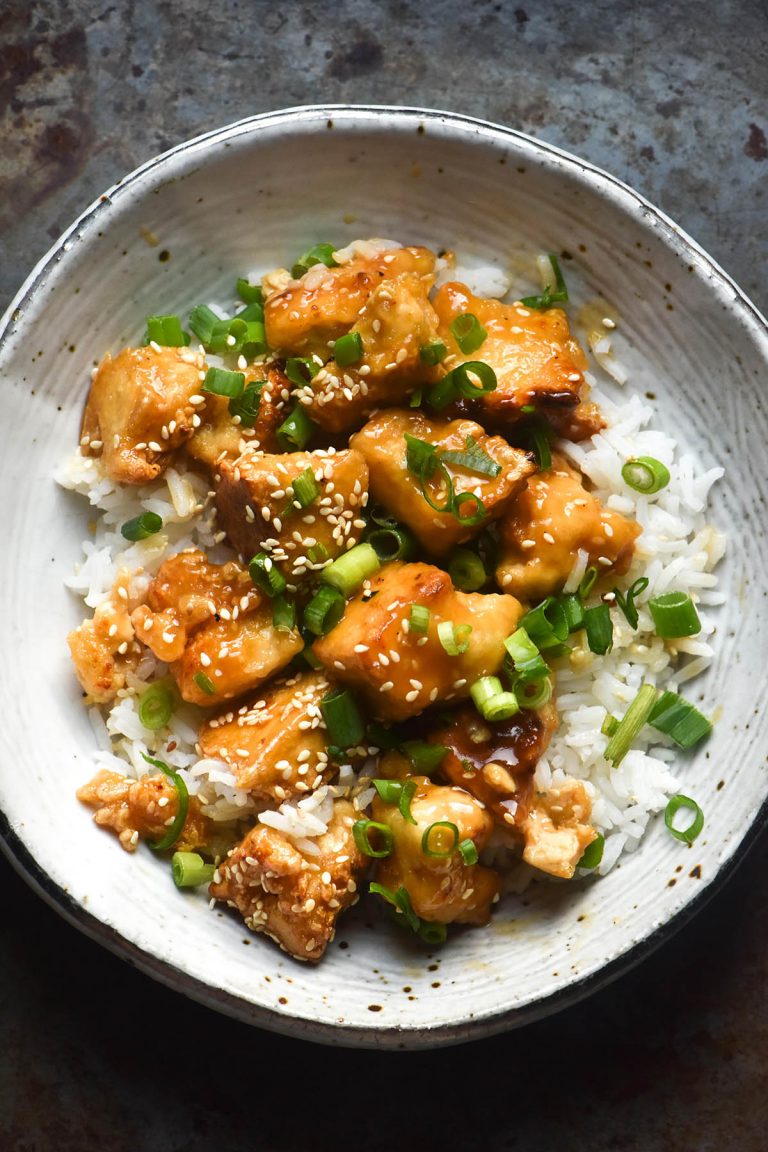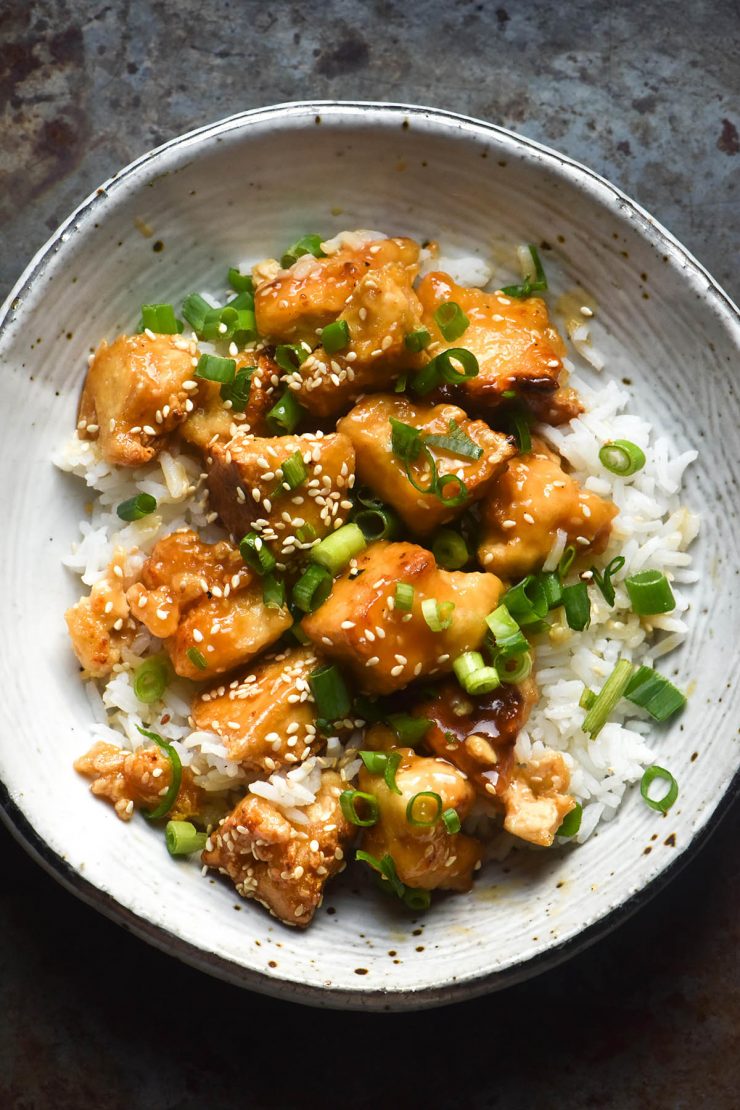 This lemon tofu recipe has it's origins in an impossibly big bag of Meyer lemons I was given recently. I'm working on a grain free self saucing lemon pudding, but I needed a quick easy weeknight meal in the mix there too. This easy recipe fits that bill. It also happens to be gluten free, easily vegan and full of lemon flavour.
Lemon tofu that is gluten free and low FODMAP
This tofu dish is made of two simple components: the crispy tofu and the sauce. I use my regular crispy tofu method here, which we will go into below. The sauce is a simple mix of lemon juice, water, sugar, toasted sesame oil, gluten free soy sauce and corn starch. Ginger and asafoetida powder are two optional flavour enhancers, but the dish is delicious either way.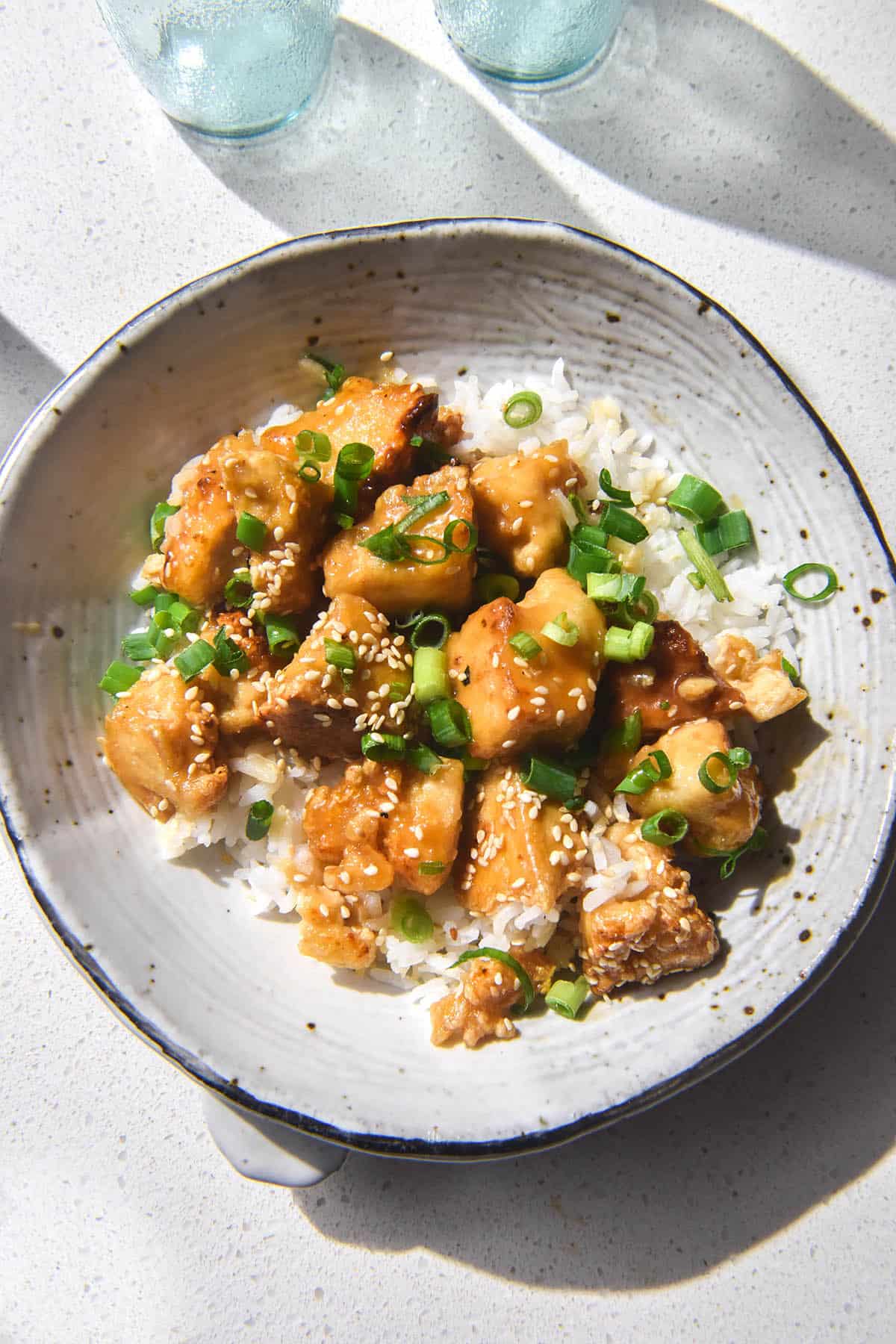 Tips for crispy pan fried tofu
I love crispy tofu. In fact, I've written all I know thus far about crispy tofu in this post. However, I wanted to touch on it here because this is a speedy weeknight meal. You probably don't want to be learning all about the science of vodka in crispy crusts on a Tuesday.
I highly recommend freezing your tofu the night before, then boiling it for 15-20 minutes. This creates a super spongy tofu that expels liquid easily. Liquid is the enemy of a crispy crust, so we want as much of it gone as possible.
Cornstarch is, I think, the best starch for a crispy tofu. I like to season mine well, but you can also leave it plain. Make sure you choose gluten free cornstarch if it needs to be. See below for substitution options.
A thin layer of oil is the best bet for crispy pan fried tofu. You can get away with 1/2 centimetre or less if you are trying to limit your oil intake, but more is more.
Fry the tofu in 2-3 batches. Adding too many pieces to the pan will lower the heat and add more steam. Again, we don't want too much liquid here.
Fry the tofu thoroughly on all sides to ensure it is cooked through and crispy. Getting a mouthful of pasty cornflour is never a fun time.
Recipe notes for your lemon tofu
Use firm tofu here. Medium and silken tofu won't have the same result and have not been tested.
I have tested this recipe using Meyer lemons, which are less sour than regular lemons. You might need to add some extra sugar (or less lemon) to suit.
On that note: every lemon is different and everyone's tastebuds are different. Make the sauce with a view to adjusting it as per your preferences. You might like it more or less sour than I do.
I like to use plain old white sugar here. Personally, I love the clean sweetness of white sugar in lemon dishes. See the substitution section below if you want to use something else.
Ginger and asafoetida powder are two optional but delicious flavour enhancers. Ginger adds a base note of flavour, while asafoetida powder replaces the onion garlic flavour in non-FODMAP recipes. See the section below for more information on asafoetida.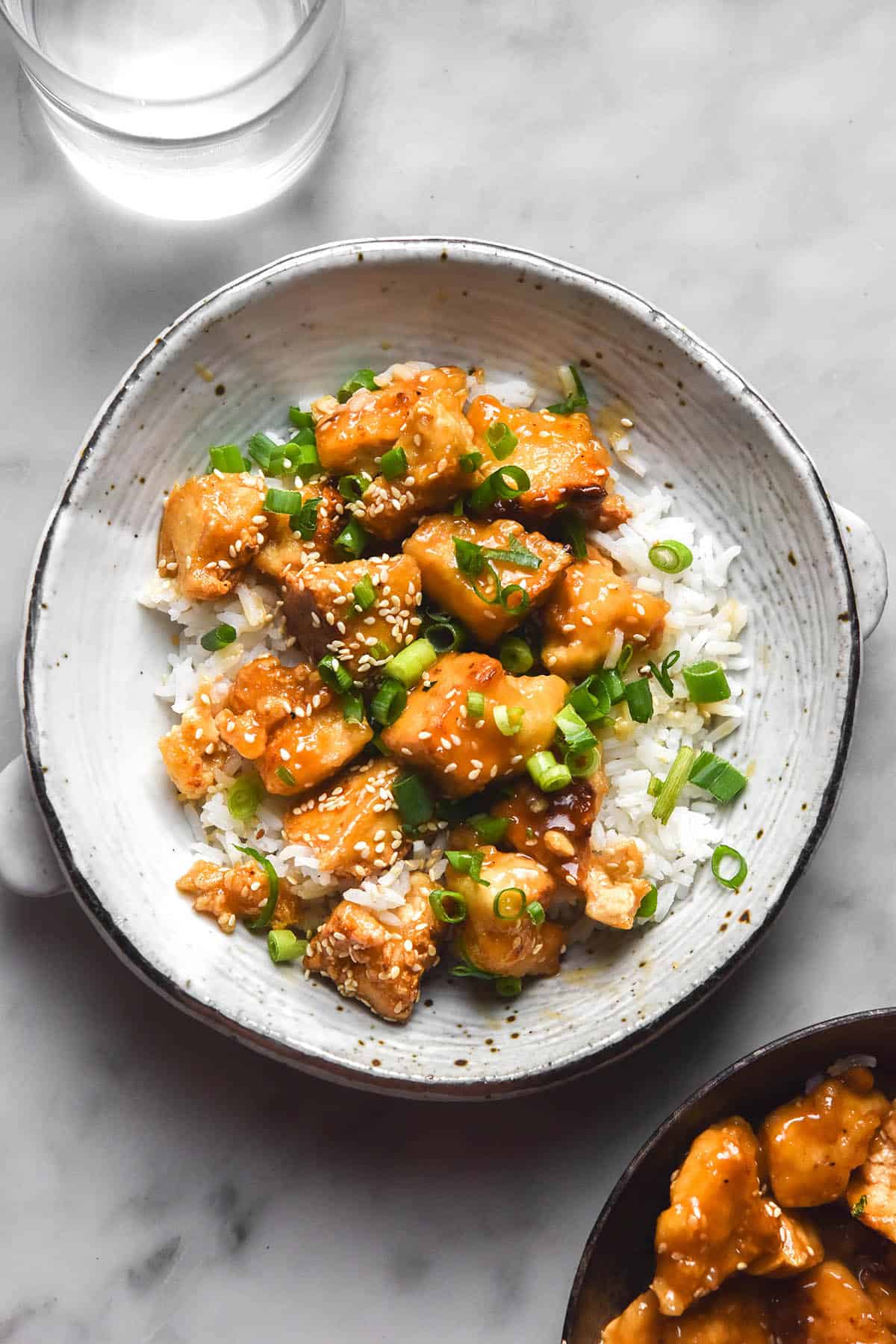 Recipe substitution options
Because this is such a simple recipe, there aren't too many substitution options. However, I did want to briefly discuss two elements of the dish: the starch and the sugar.
I am aware that some people cannot have corn. As such, I have tested the most common starches as a replacement, and found that potato starch performs the second best after cornstarch. Personally, I found tapioca flour to be a bit too gluey.
Secondly, the sugar. You can experiment with other sugars, with some caveats. Firstly, know that using brown sugar, maple syrup or another brown sweetener will effect the appearance of your lemon tofu. The sauce will no longer be a clear yellow.
As a follow on from this: using a different type of sugar will change the flavour of the dish. Because there are so few ingredients, any flavour change will have a tangible impact. I haven't tried any other sugars in this, so I can't say if it will taste any good. I recommend white sugar as it's neutral sweet but buildable to account for the varying sourness of lemons.
FODMAP notes
There are a few quick things to discuss in relation the low FODMAP aspect of this dish. Firstly, firm tofu is low FODMAP in 170g serves per person. This means that the lemon tofu can safely serve 3 people with FODMAP constraints.
Secondly, the honey. Regular honey is low FODMAP in 1 teaspoon serves per person. This means that you can use 3 teaspoons of honey for a dish serving 3 people with FODMAP constraints.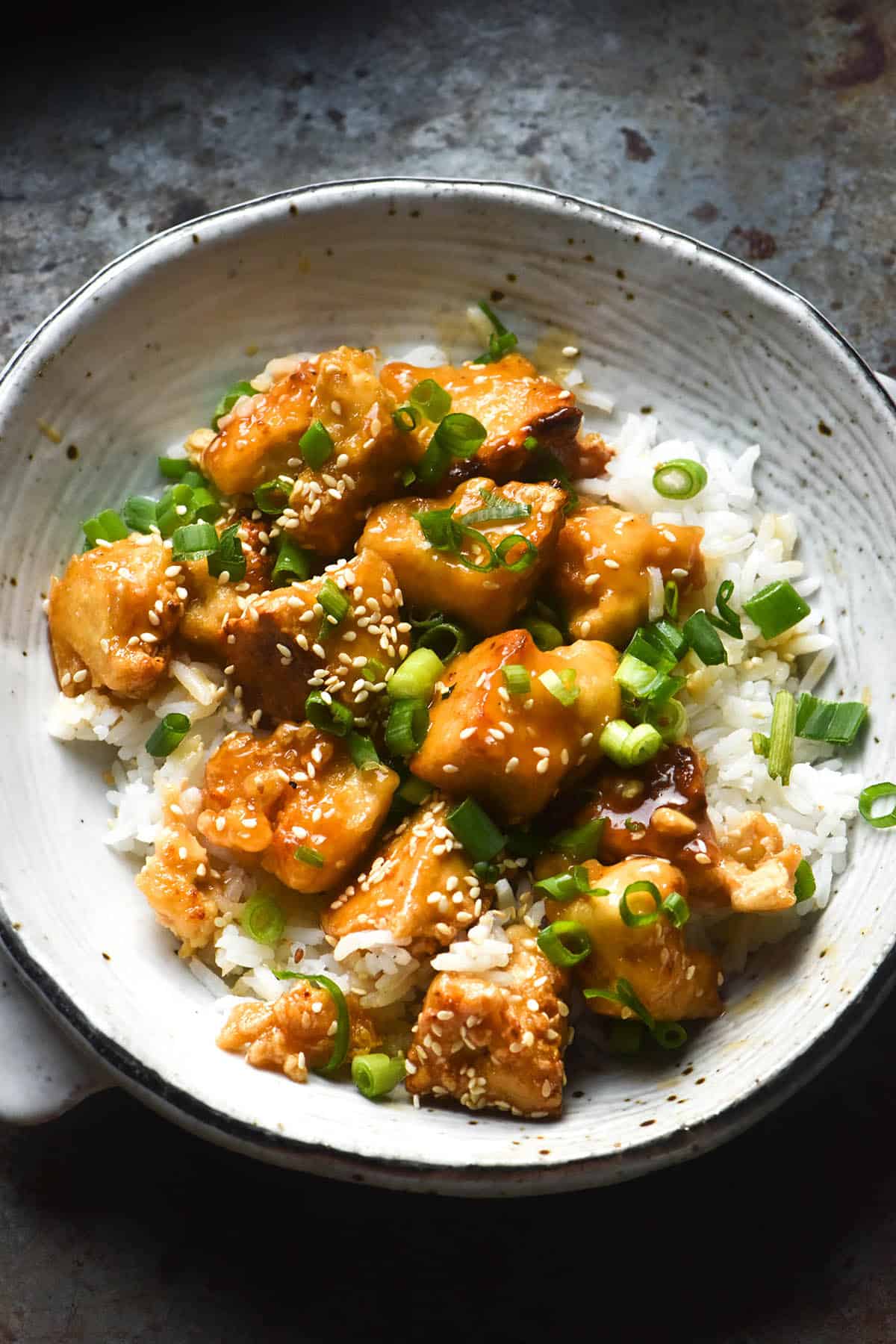 What is asafoetida powder?
Asafoetida powder, sometimes called Hing, is made from a variety of giant fennel. It has a pungent onion and garlic taste, and is a real coup for adding in flavour without onion and garlic. It is often used in Indian cuisine, although I see it pop up in more and more places these days.
Asafoetida powder makes a great substitute for onion and garlic powder, too. Because it is so pungent, the powder is often 'cut' with flour to lessen it's potency. This can mean that the asafoetida is not gluten free, so make sure to read the labels. Don't use too much, either – it is very strong.
For more information on substituting onion and garlic, see this post here.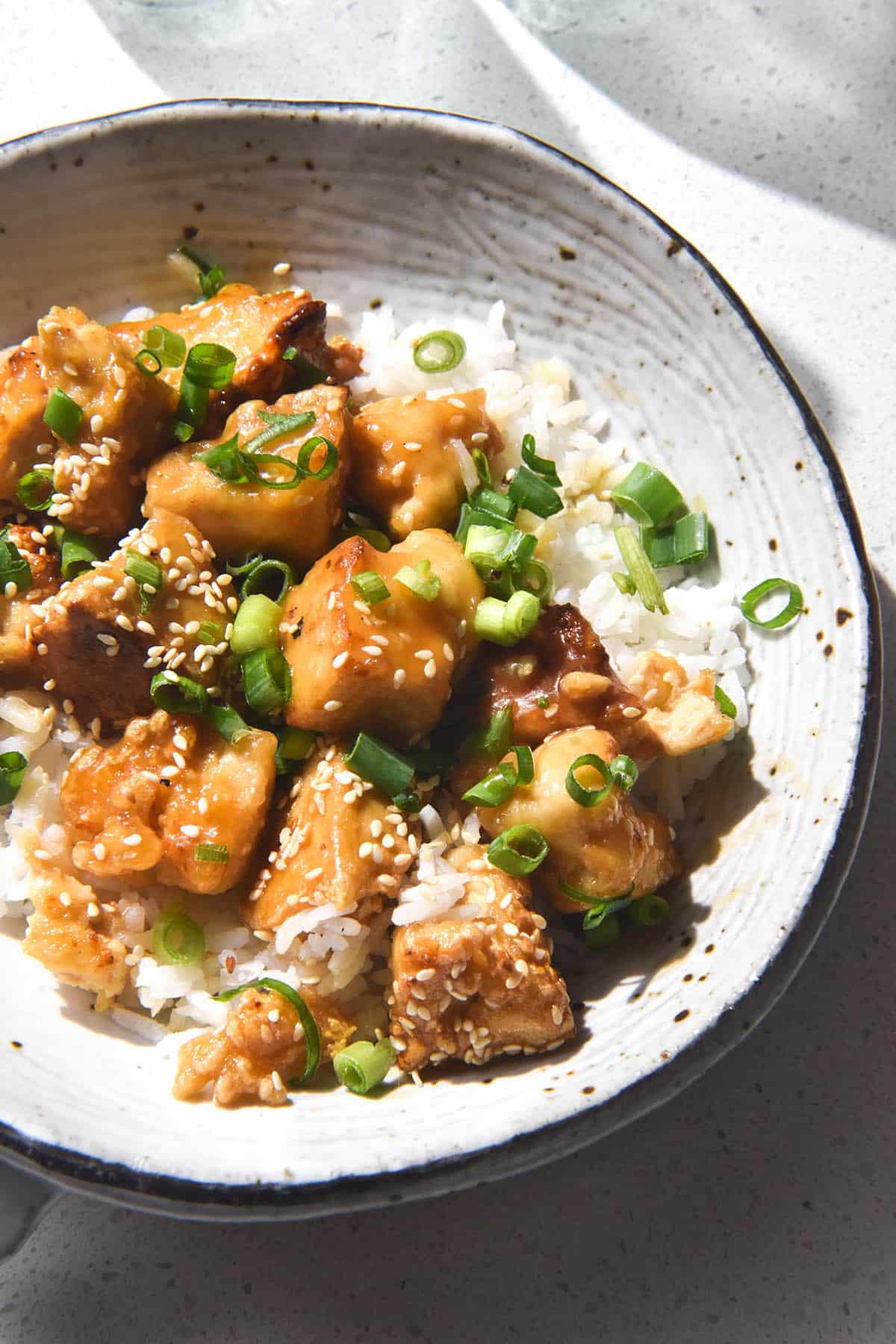 More gluten free low FODMAP tofu recipes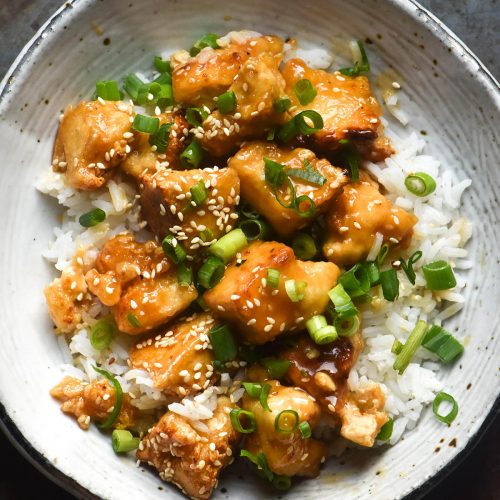 Lemon tofu (gluten free, low FODMAP, vegan option)
Serves 3-4
*Cups and measures are in Australian cups and measures. Use gram and ml for international accuracy.
Ingredients
For the tofu:
450-500

g

firm tofu

ideally frozen the night before

30-75

g

gluten free corn starch

see notes

Seasoning

to taste

Neutral high smoke point oil

for frying (I use vegetable)
For the lemon sauce:
80

ml

(1/3 cup)* fresh lemon juice

60-80

ml

(1/4 – 1/3 cup)* water (see notes)

50-75

g

white sugar

see notes

20ml

(1 tablespoon)

toasted sesame oil

2

+ teaspoons honey

hot honey or maple syrup, as needed (see notes)

1

teaspoon

gluten free dark soy sauce or Tamari

10

g

(1 tablespoon) corn starch

10

ml

(1 tablespoon) water
Optional flavourings:
Freshly grated ginger

to your taste

Lemon zest

to your taste

Pinch

of asafoetida powder
To serve (optional):
White rice

Toasted sesame seeds

Spring onion greens

chopped
Instructions
To make the tofu:
Remove the tofu from any packaging and place it in a pot of salted water. Bring to the boil over a medium heat and allow the tofu to cook for 15-20 minutes. This helps create a spongy textured tofu that is easy to wring excess water out of. The results are more pronounced with frozen tofu, but it works with tofu out of the fridge too.

Place the corn starch for the tofu in a medium/large mixing bowl and season it to taste. I like to use white pepper here, but you can use whatever you have on hand.

Once the tofu has boiled, carefully remove it from the water and place on a cake rack to cool. It should feel a little airy and the corners might flick upwards a little.

Once cooled, either tear or slice to tofu into small, bite sized chunks. I like to tear it to create craggy tofu edges.

Preheat a large skillet with a thin layer of neutral high smoke point oil.

Toss the tofu pieces in the corn starch thoroughly to coat.

Place about 1/3 of the tofu in the pan. Cook on all sides until the tofu is crisp and browned.

Cook the tofu in batches to allow for maximum crispiness. Once cooked, remove and place on a cooling rack or a plate.
To make the sauce:
In a small/medium saucepan, combine the lemon juice, water, sugar, toasted sesame oil, honey or maple syrup and soy sauce. Add any optional flavourings here if you are using them. Taste and adjust the sauce here to account for the acidity of your lemons and your own personal preferences.

Place them over a low/medium heat and allow to cool for 5 or so minutes until they begin to bubble.

In a small bowl, combine the corn starch and water to form a slurry. This will prevent the corn starch from distributing unevenly or forming little gritty balls.

Once the sauce is bubbling, pour in the corn starch mix. It should begin to thicken almost immediately. Stir well to incorporate and allow to cook for a few minutes until it reaches your desired consistency. Note that it will thicken further as it cools.

Drizzle your desired amount of sauce over the tofu cubes. This batch makes a generous quantity of sauce – you can use it all on the tofu (even if it looks runny to begin with, it will thicken as it cools) or save some for drizzling over vegetables/rice.

I like to serve the lemon tofu with rice, spring onion greens and toasted sesame seeds, but you can serve it with whatever you like.
Notes
Tofu that is frozen the night before and then boiled has a super spongy and light texture. It's optional but I love the texture so much more than regular tofu.
Corn starch helps create a craggy, crispy textured tofu. You can use as little or as much as you like.
Lemons vary dramatically in their acidity and sourness. If you are dealing with some particularly sour lemons, consider using a little less lemon juice or more sugar.
If you prefer a thick sauce, use 60ml (1/4 cup) water as opposed to 80ml (1/3 cup). You can also experiment with making the sauce before the tofu, as the sauce thickens up as it cools.
Regular honey is low FODMAP in 1 teaspoon serving sizes. This means you can safely use 3-4 teaspoons of honey, depending on how many people this dish will serve. For a vegan option, use maple syrup to taste.