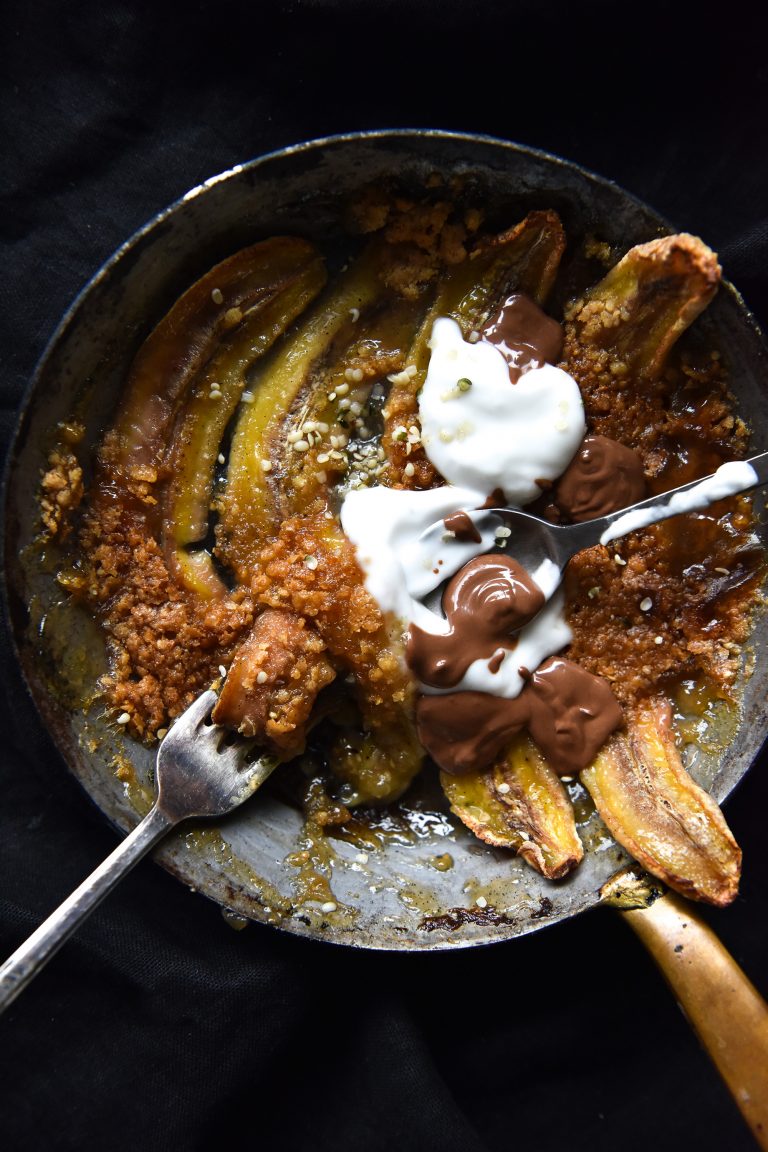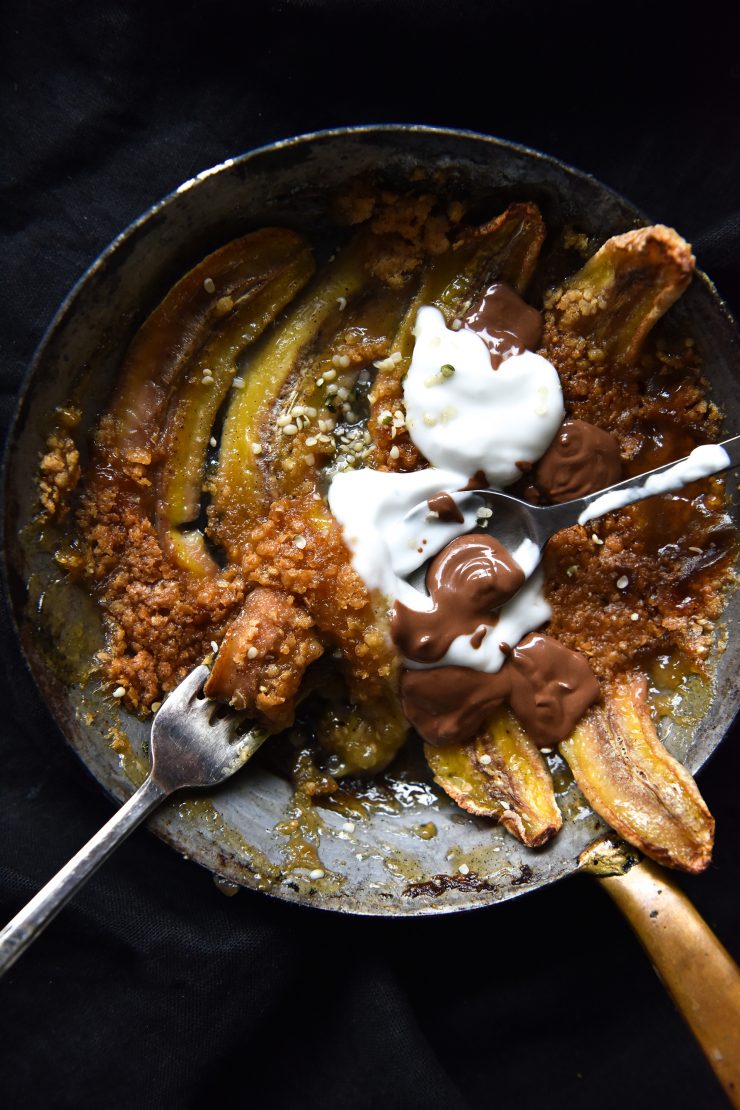 As you can most likely tell from my Instagram haloumi tangent, I am renowned for latching onto a flavour combination or ingredient and going full pelt at it until I can't look it in the eye. By the time I press publish on this recipe, I will have already tested a quinoa flake and roasted banana granola and a banana galette (which conveniently includes quinoa flour in the pastry.) You know what they say, if it ain't broke, continually remake variations of it until it is.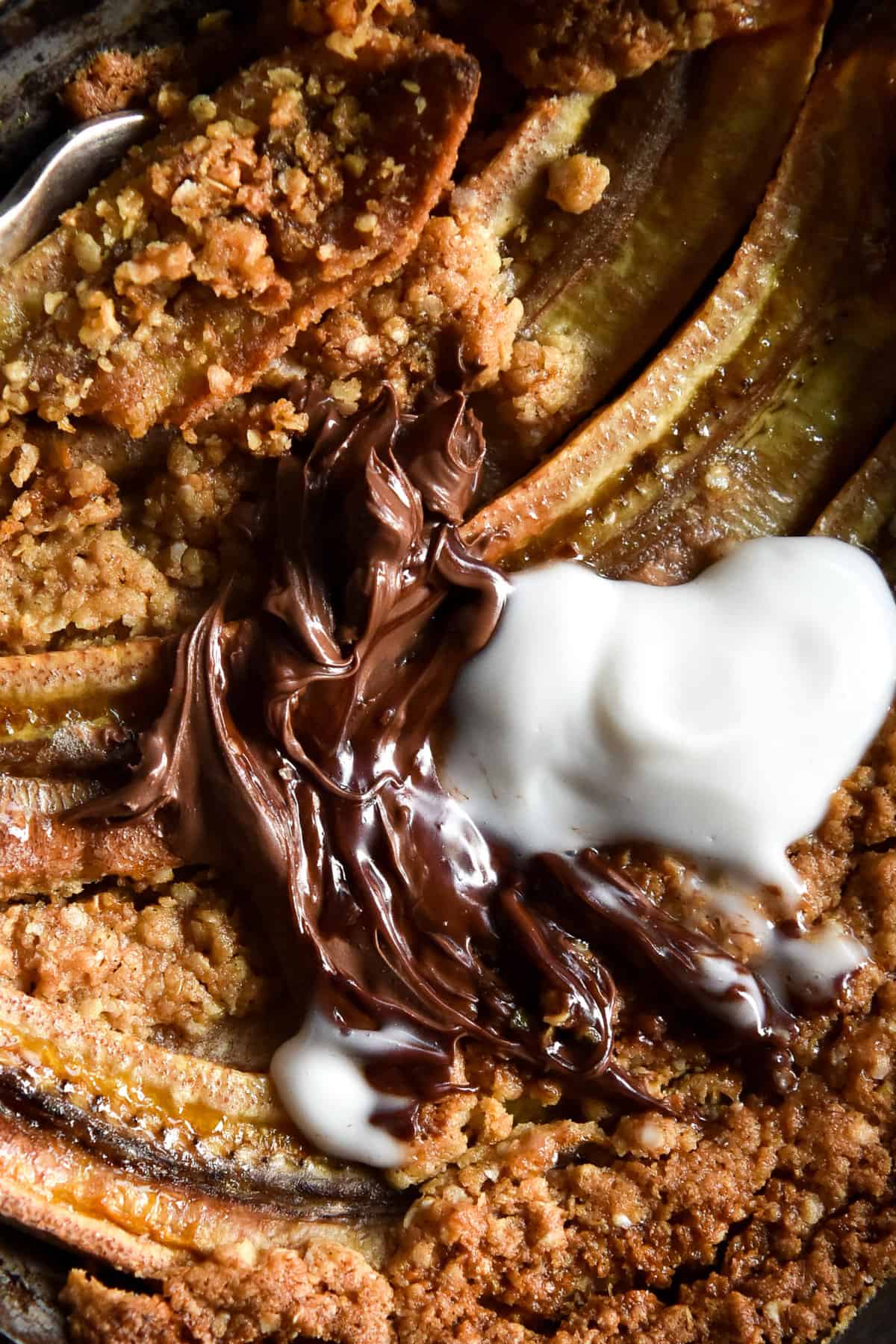 Gluten free breakfast crumble
This recipe is almost embarrassingly simple, except for the mitigating factor of it's deliciousness. It is gluten free and FODMAP friendly, and could probably be made vegan by rubbing solid coconut oil into the crumble as you would the butter. I've tested this with all sorts of bananas – ripe, small, underripe, overripe, enormous.
They all work, so adjust to your preferences and dietary requirements. You could even (though I don't necessarily condone this) omit the bananas, and use a lower fructose fruit, such as berries or blueberries.
Blueberries are suitable in heaped 1/4 cup serves per person – I'd use 1/2 heaped cup, and divide the crumble into two serves.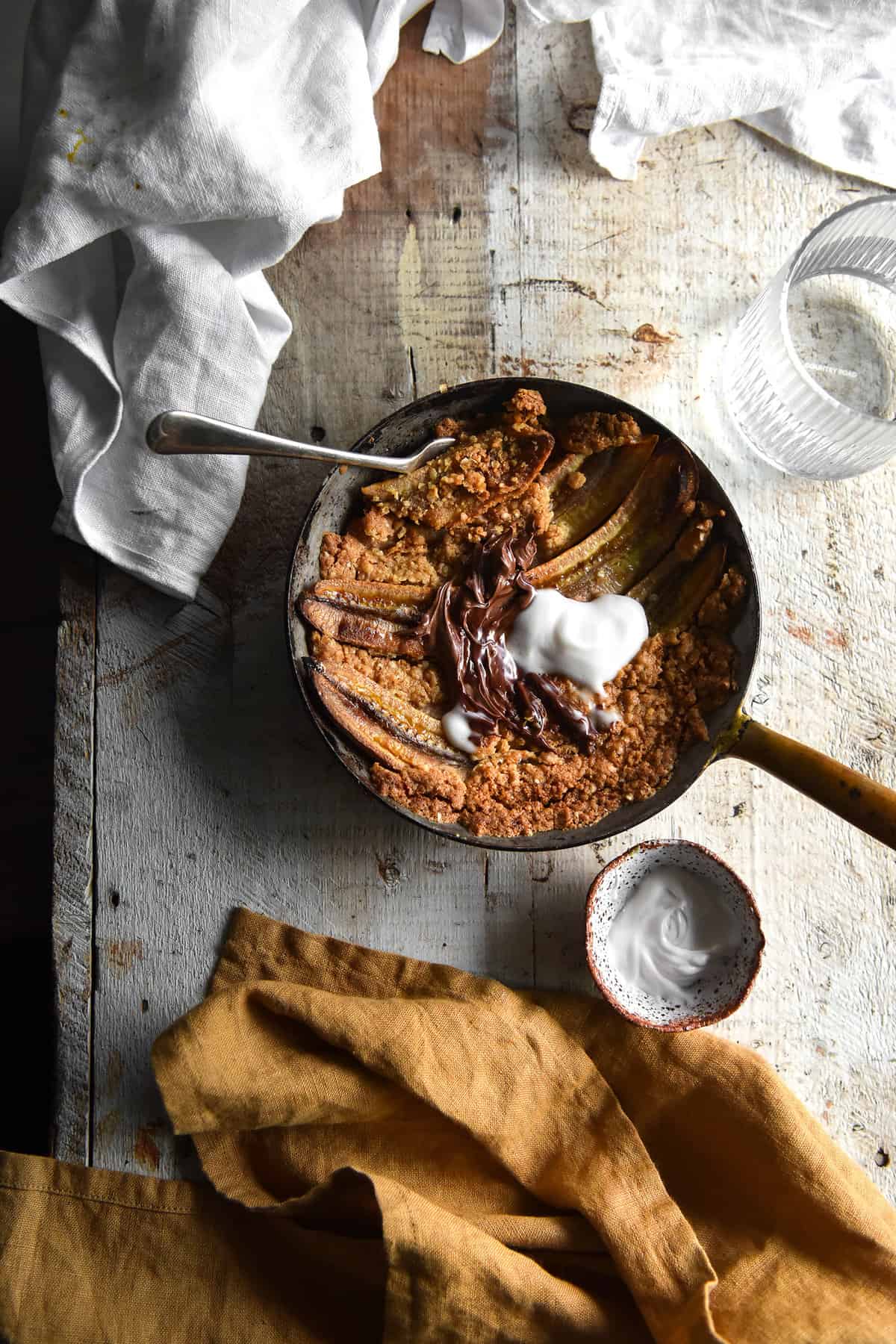 More gluten free banana recipes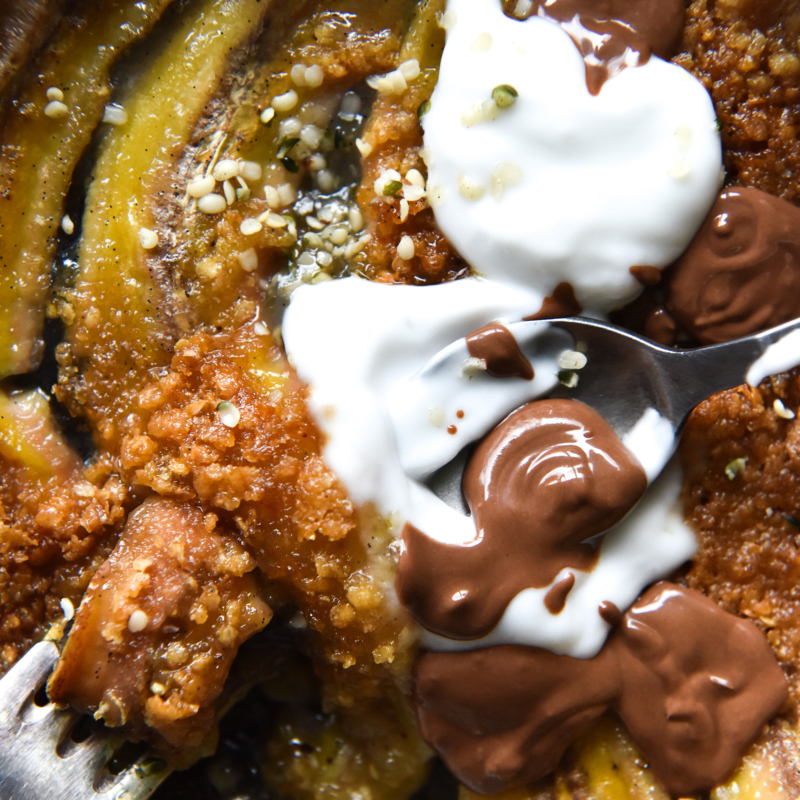 Gluten free breakfast crumble
Gluten free, FODMAP friendly, vegan adaptable, low lactose
Ingredients
INGREDIENTS:
4

bananas of your choosing (or berries, see intro)

there is enough crumble for large or small, underripe or overripe

3

tablespoons

quinoa flakes

2

tablespoons

tapioca flour

1 

tablespoon

brown sugar

1/2

teaspoon

baking powder

30

g

good quality butter

room temperature

1/2

teaspoon

vanilla bean paste

optional: 1/2 teaspoon of the spice of your choice

I'm looking at you, cinnamon or nutmeg
Instructions
Preheat the oven to 180C/356F.

Gently peel and slice the bananas lengthways (I hold the curve of the bare banana in my hand and gently slice down from the top down, longest side of the banana first) and place them on a lined baking tray. Cook for 20 minutes or until golden and cooked through, but still firm-ish.

Mix the dry ingredients together in a small bowl, add the vanilla bean paste, and use your hands to rub the butter into the mixture, until it is crumbly but still in solid form (rather than melty butter)

Next, arrange the cooked bananas in a small oven proof vessel of your choosing, and sprinkle the crumble over the top. Keep in mind that the crumble spreads, in the event that you want to see banana. I get it. Aesthetics.

Place the crumble in the oven for an additional 10-15 minutes, depending on how crisp you like your crumble. Serve with coconut yoghurt and Nutella or melted dark chocolate. Or you know, whatever the hell you want to serve it with.