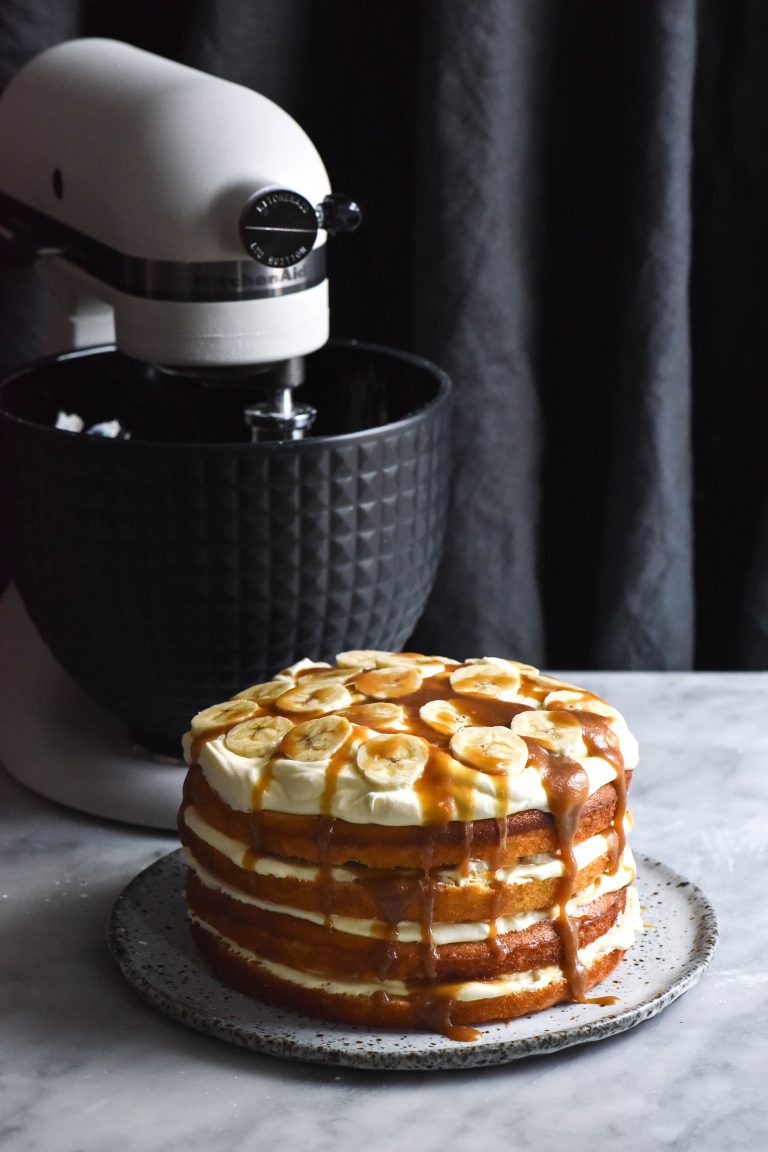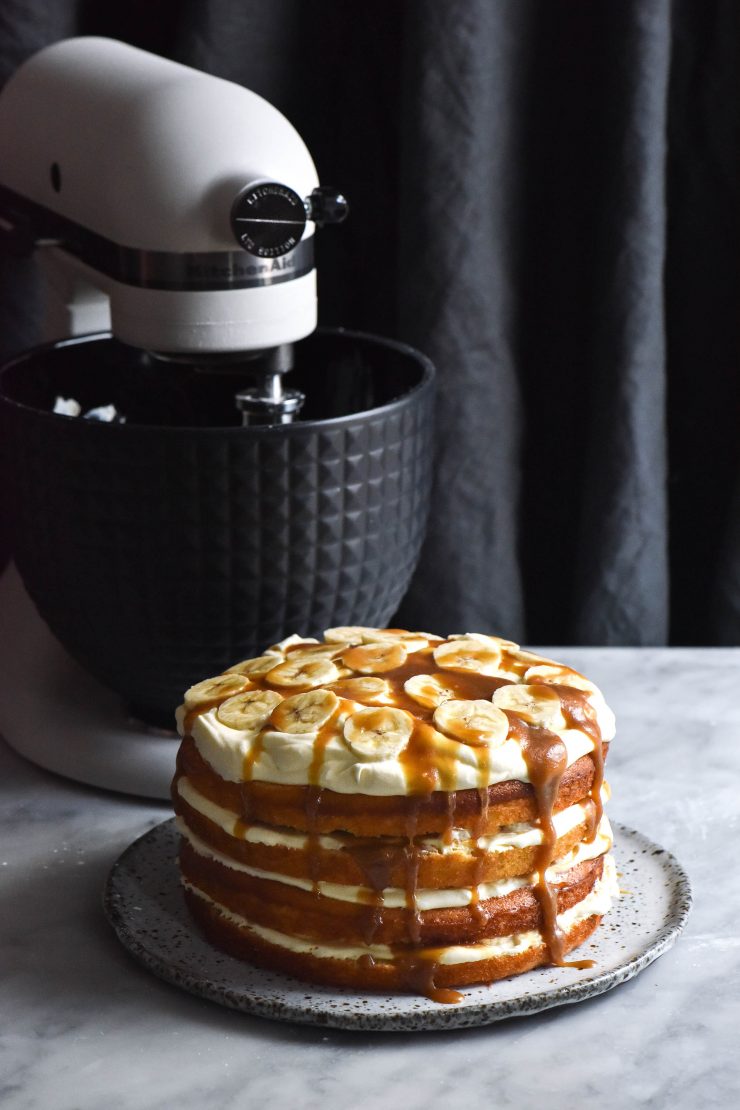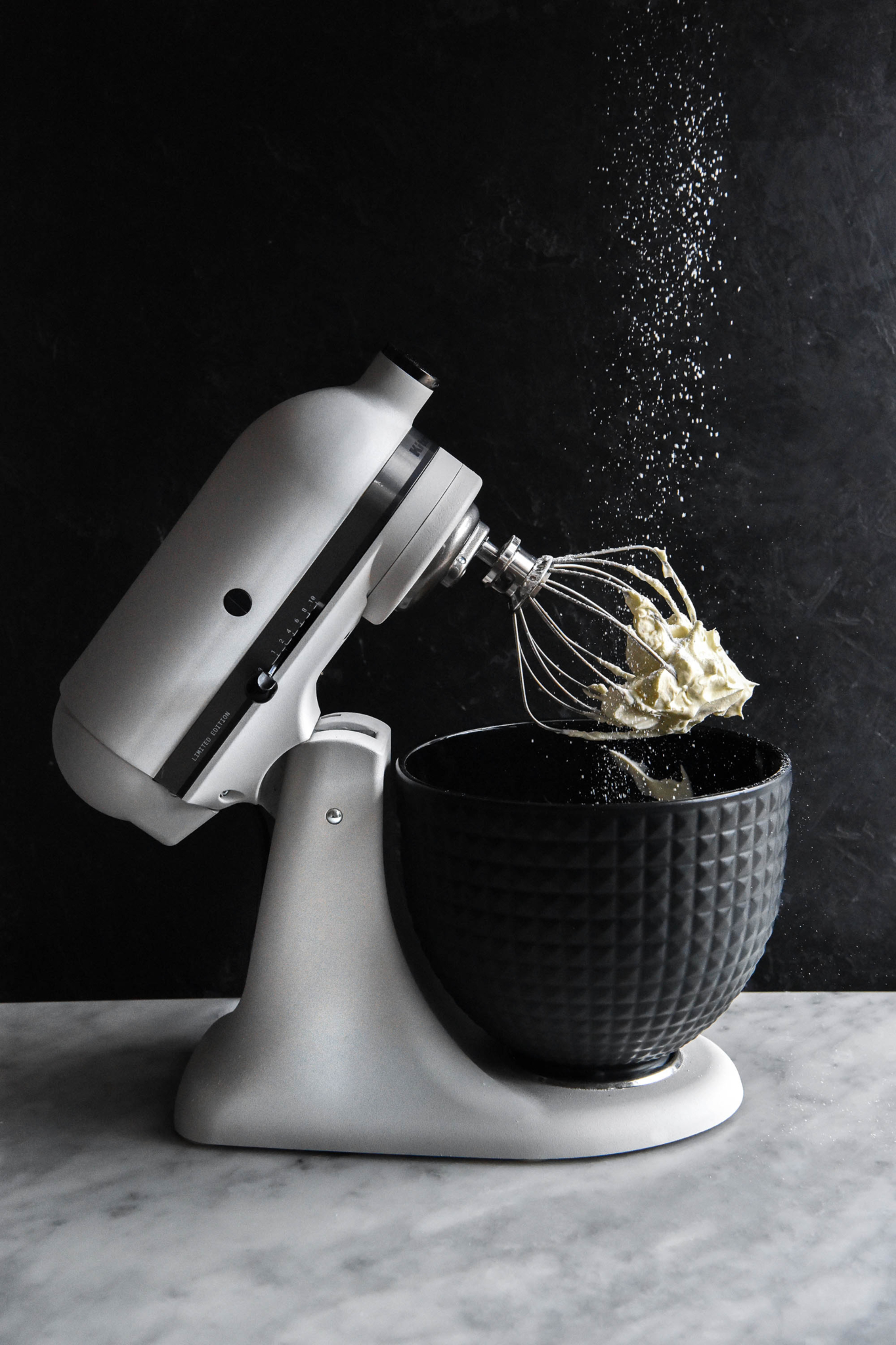 Recently I was asked by my friends at KitchenAid to create a dessert to celebrate their limited edition Light and Shadow stand mixer. I knew I had to make this gluten-free banoffee layer cake. The cake is an easy, gluten-free vanilla cake that is nut, gum and starchy flour free. It is topped with lactose free chantilly (sweetened whipped cream) a super simple caramel sauce and fresh banana. This cake is an easy and delicious showstopping addition to your Christmas table.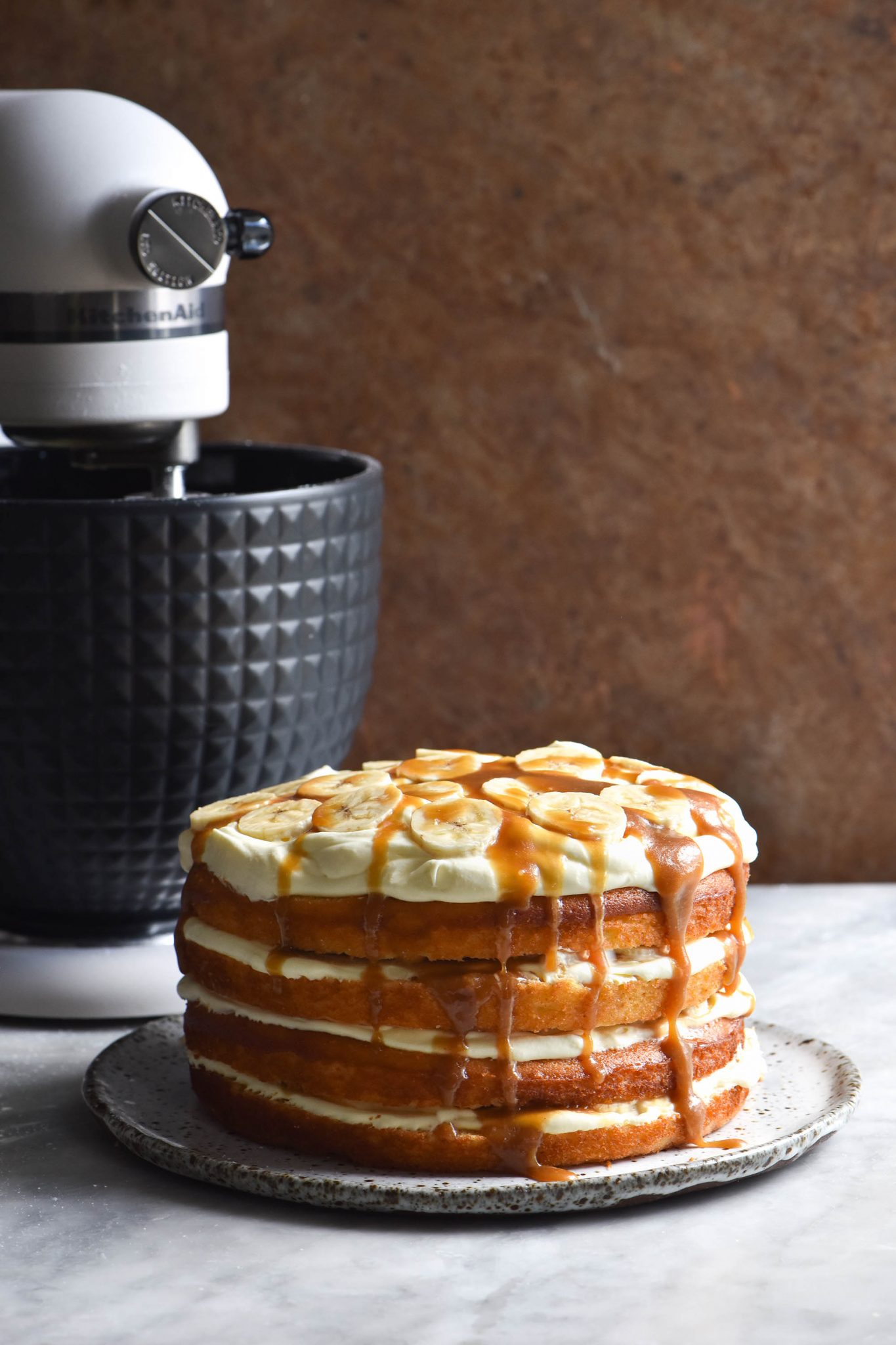 Gluten-free vanilla cake notes
The vanilla cake used in this recipe is a simple, single flour recipe. It uses only one flour – a fine, good quality white rice flour. The cake is made light, fluffy and moist through the use of lactose free full cream yoghurt and vegetable oil. It's an easy and quick cake that requires no creaming, only mixing.
As always, I recommend buying white rice flour from a bulk food store, if you can. It's the best way to ensure the flour is fresh. White rice flour should smell vaguely like milk, or of nothing. Stale white rice flour has a musty, almost floral smell, which will translate into your baked goods. If you can't get to a bulk food store, I have found Tonkah foods to be a good brand in Australia. I buy it from Woolworths.
I tried making this cake without yoghurt, and the results just weren't as light, fluffy or moist. My recommendation (in Australia) is for Jalna foods lactose free full cream Greek Yoghurt or plain yoghurt. It's pot set so it is creamy and thick. Other lactose free brands on the Australian market are often Greek 'style' (AKA not real Greek yoghurt) and, in my experience, much more thin and watery.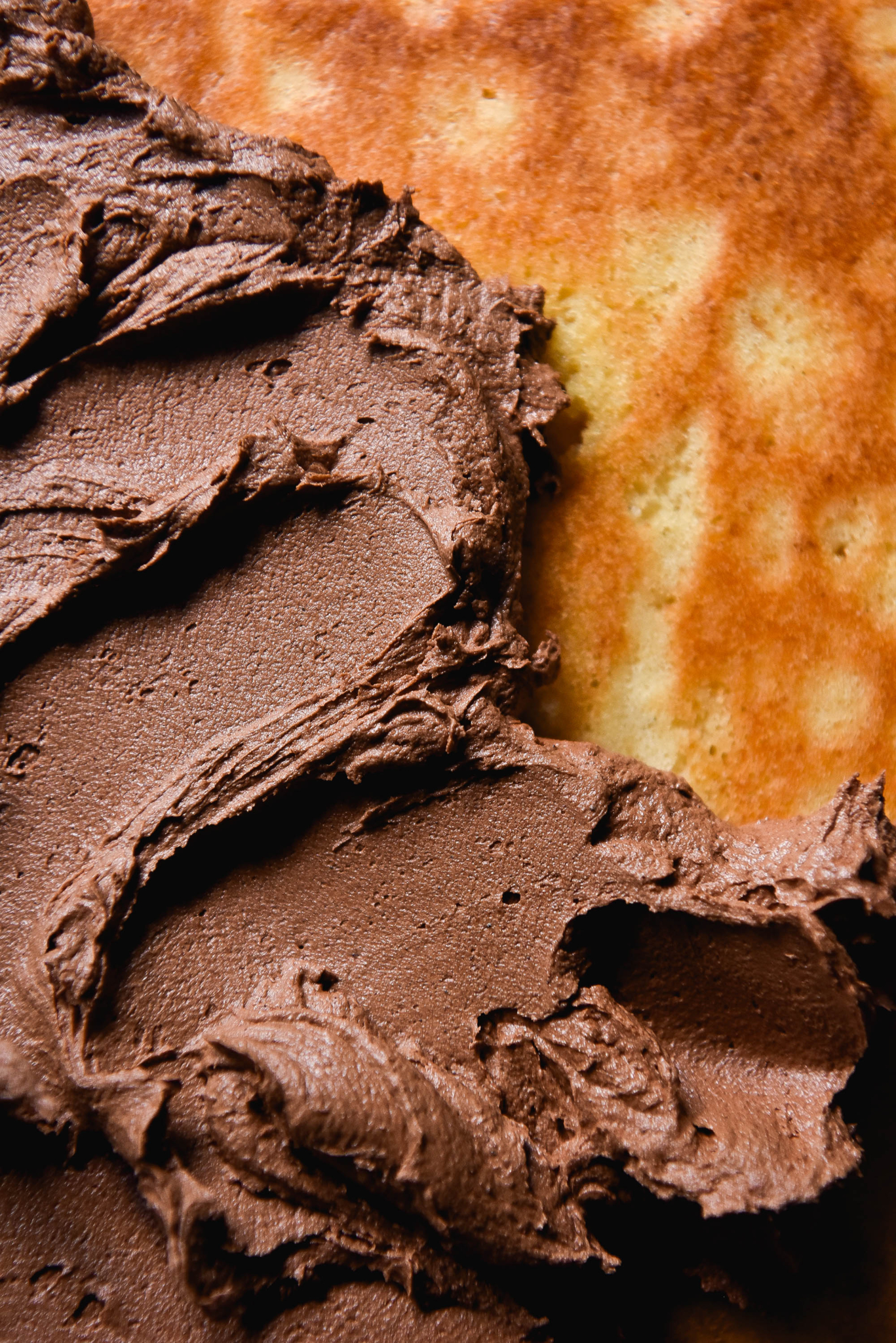 Caramel notes
Technically, I believe this is called butterscotch sauce, but whatever. WHAT A REVELATION! I have a fear of cooking sugar dry, so I decided to riff on this recipe for easy caramel sauce. IT IS SO EASY. All you need to do is cook the mixture over a medium heat until the sugar has dissolved completely. Once cooled, it will form a thick and viscous, ingredibly delicious caramel sauce.
This recipe works really well here because of the chantilly. I generally try not to use small quantities of cream in a recipe. This is because I know most people (myself included) don't keep it on hand. I also know (from experience) that it's easy to forget about the remaining cream in the back of the fridge. So, I like to use it all or not use it at all. Here, though, we're already using cream in the chantilly. Scoop a little off the top and you're good to go! No waste necessary.
Light brown sugar is necessary in this recipe to create a caramel flavour. We're technically cheating by not caramelising the sugar, so the light brown sugar adds that caramel flavour back in. For the most authentic gluten-free banoffee cake, I don't recommend using any other sugar here (nor in the cake itself).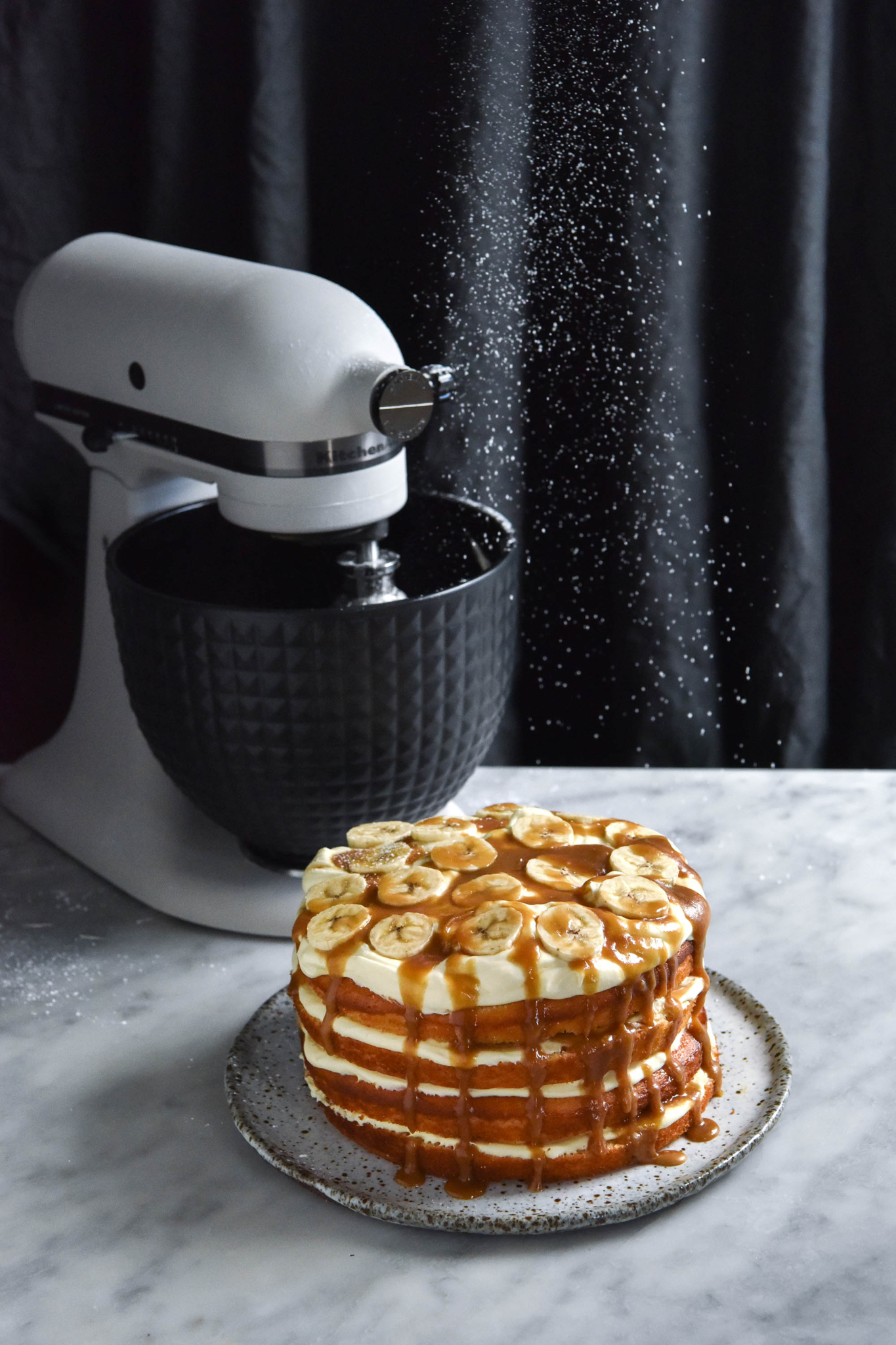 The whipped cream
I have recently become aware that Australia is one of the few places where you can easily buy lactose free cream. Stay tuned for a post on making your own lactose free cream, if this isn't available where you live.
One thing to keep in mind is that you will need lactose free whipping cream for this gluten-free banoffee layer cake. Pouring cream will not whip! I'm working on a how-to guide for making your own lactose free whipping cream as well, but for now make sure you look at the label. Keep in mind that whipping cream generally contains gelatin, which is not vegetarian. I plan to make one with agar agar, so I will keep you in the loop with that.
On that note: onto the cream stabiliser. Because this is a layer cake that relies on the cream to hold steady, I highly recommend using a cream stabiliser. The stabiliser I chose? Milk powder.
Milk powder is such a great cream stabiliser because it blends right into the cream without leaving any taste. In fact, it enhances the creaminess. Other options for stabilisers include cornstarch, gelatin and agar agar powder. I find cornstarch leaves a starchy taste in my mouth, so it's my least preferred option.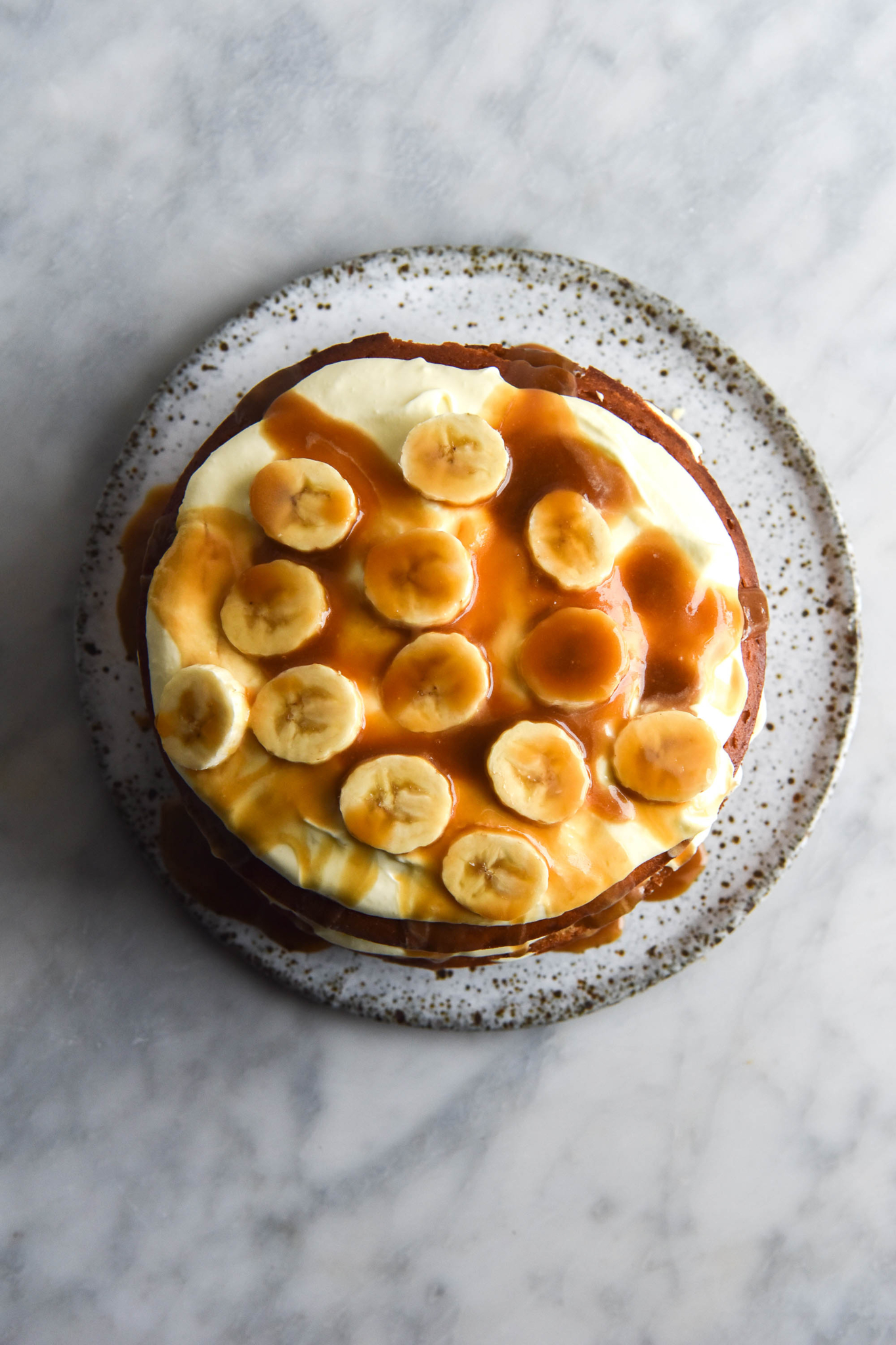 FODMAP notes for your gluten-free banoffee layer cake
First off, the bananas! Bananas are not known for their FODMAP friendly qualities. However, Monash tells us that an unripe banana is FODMAP friendly in xxg serves. This cake serves 8-10, so that should be well within FODMAP limits. A hot tip though – if you slice the banana really thinly, you can use less and still get that banana hit. When I sliced the banana really thinly, I only needed to use two just ripe bananas.
Secondly, the cream. Make sure you buy lactose free cream if it needs to be. More than that, make sure it's whipping cream and not pouring cream. Pouring cream won't chip and it will slide right off the cake. You need whipping cream to hold it's shape, so make sure you read the label.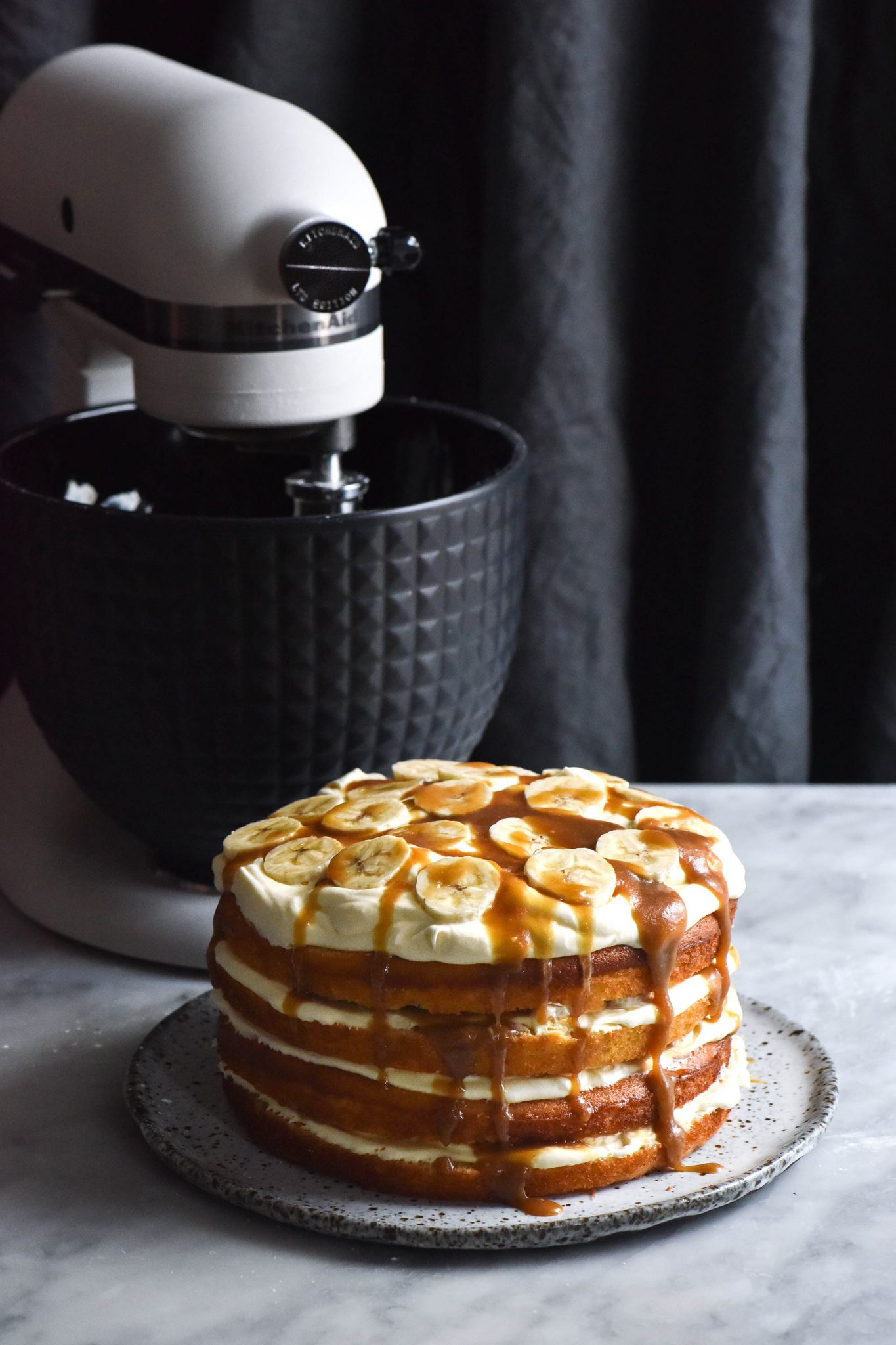 In the mood for cake? Try:
My easiest ever gluten free chocolate cake. It's easy, uses only a single flour and looks an absolute treat.
This single flour lemon drizzle cake. Dramatic and delicious.
Every cake list has to contain a carrot cake, right? This one uses lactose free cream cheese for a FODMAP friendly end result.
This flourless, nut free chocolate cake I developed entirely by accident. While attempting to make my flourless chocolate cake, I realised you could make it nut free by simply forgetting to add the almond meal. The more you know!
Another thing every list of cakes needs? A good quality cheesecake. This one uses a homemade gluten free shortbread base for the ultimate festive decadence.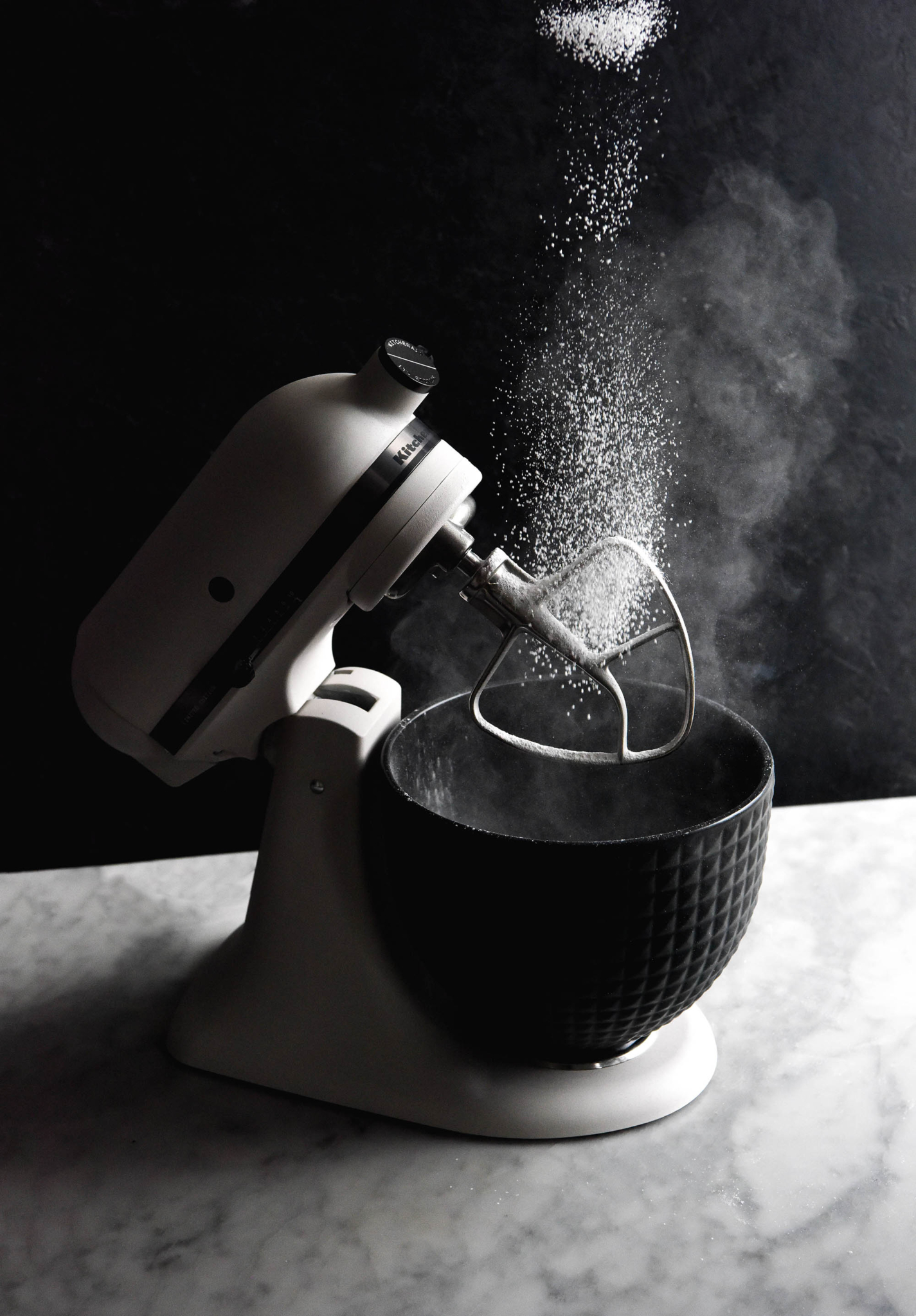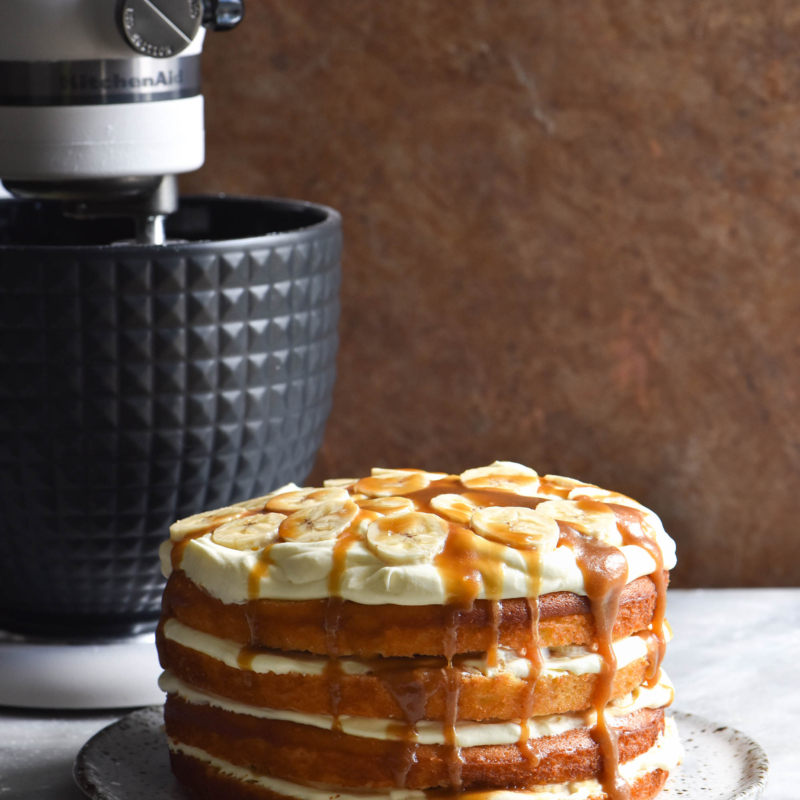 Gluten free Banoffee cake
No added nuts, gum free
Ingredients
For the cakes (makes 2 X 20cm cakes)
350

g

(2 1/4 cups minus 1 tablespoon) fine white rice flour

300

g

caster/superfine sugar

1

teaspoon

baking powder

1

teaspoon

baking soda

Pinch

of salt

400

g

full fat thick lactose free yoghurt

see notes

1

cup

(250ml) milk of choice (I used lactose free full cream milk)

1

tablespoon

white vinegar or lemon juice

2/3

cup

(170ml) vegetable or sunflower oil

4

extra-large eggs

2

teaspoons

vanilla bean paste
For the caramel:
200

g

light brown sugar

100

g

salted butter

100

ml

cream
For the cake soak:
1/4

cup

(60ml) milk of choice (I used lactose free full cream)

1

teaspoon

vanilla bean paste

optional

2

tablespoons

caramel

from the caramel recipe above
For the sweetened whipped cream)
400

ml

lactose free full cream

50-80

g

icing sugar

3

tablespoons

milk powder

see notes
To finish:
3-4

bananas

use just ripe or slightly unripe for a FODMAP friendly option sliced into coins.
Instructions
To make the cakes:
Preheat the oven to 180C/356F. Place an ovenproof dish or cake tin half filled with boiling water in the base of your oven. This will create a steamy environment to keep the cakes moist and prevent them browning too much.

Grease two 20cm cake pans (not spring form) with a small amount of oil and line them with baking paper.

Combine the flour, sugar, baking powder, baking soda and salt in the bowl of your KitchenAid. Use the paddle or whisk attachment on a low speed to combine.

In another medium mixing bowl, whisk together the yoghurt, milk and vinegar or lemon juice. The mixture should become smooth and thicker quite quickly.

Add the yoghurt mixture, eggs and vanilla bean paste to your KitchenAid. Beat the mixture on a low smooth until you have a smooth and fluffy batter, free of any lumps.

Divide the mixture between the two cake tins, then place them into the oven. Bake for 15 minutes, then swap them around in the oven (to account for any heat spots that might cook one cake more quickly) and bake for an additional 15-25 minutes. A baked cake should be well browned and not wobbly if you shake the cake tin. A skewer should come out clean.

Set the cakes aside to cool completely.
To make the caramel:
Combine the light brown sugar, butter and cream in a medium saucepan. Place it over a medium heat and whisk continuously for about 5 minutes. The mixture will first become smooth, then darken in colour. It should bubble up all over a couple of times. You can dip a small spoon in and allow to cool before rubbing a little between your fingers – there should be no undissolved sugar. If there is, put it back on the heat. If there isn't, remove from the heat and allow to cool. If the caramel becomes grainy at any point after cooling, simply cook it again until smooth.
To make the cake soak:
Whisk all the ingredients together and set aside.
To make the whipped cream:
Place the cream, sugar and milk powder (if you're using it) in the bowl of your KitchenAid. Use the whisk attachment to beat the mixture on speed 4-6 until medium peaks form. You can overbeat cream easily, so I find a medium speed and a watchful eye best.
To assemble:
Take your cooled cakes and place them on a flat surface. Get down to eye level with your cake and use a long knife to cut each cake evenly in half. I find it easiest to stick the knife in, then cut around in a clock-like motion. Trim the top of each cake so it will sit flat (the trimmings are the chef's spoils).

Paint each piece of exposed cake with the cake soak. This will add flavour and keep it nice and moist.

Place the bottom piece of the bottom cake on your serving plate. Top it with 1/4 of the whipped cream, 1/4 of the caramel and 1/4 of the banana. Place the top of that cake on top (aligned with it's bottom piece) and then repeat. Repeat again for the second layer of cake.

If it's hot out, transfer the cake to the fridge for 10-15 minutes to set the cream a little.

Top the cake with the remainder of the banana coins and caramel and serve. Cake keeps well in an airtight container in the fridge for a day or two.
Notes
You can easily halve this recipe for a more modest, single layer banoffee cake.
Milk powder is added to the whipped cream to stabilise it. This allows it to set a little, which is really helpful in a layer cake, or if the cake will be sitting out for any length of time. You can buy lactose free milk powder online. Other options for a cream stabiliser are cornstarch, gelatin or agar agar powder. I really recommend stabilising the cream for layer cake purposes.
For a FODMAP friendlier option, use unripe bananas. Slice the banana thinly, too, so that you get less fructose per serving. Although it defeats the concept, you could also use berries to keep the FODMAP content low.
Make sure you buy good quality, fresh and finely milled white rice flour. Supermarket white rice flour is often gritty and rancid, which will make your cake taste terrible. I recommend buying it at the bulk food store if you can. If you need the flour to be coeliac friendly, I recommend Tonkah Foods brand at the supermarket or Erawan Foods.