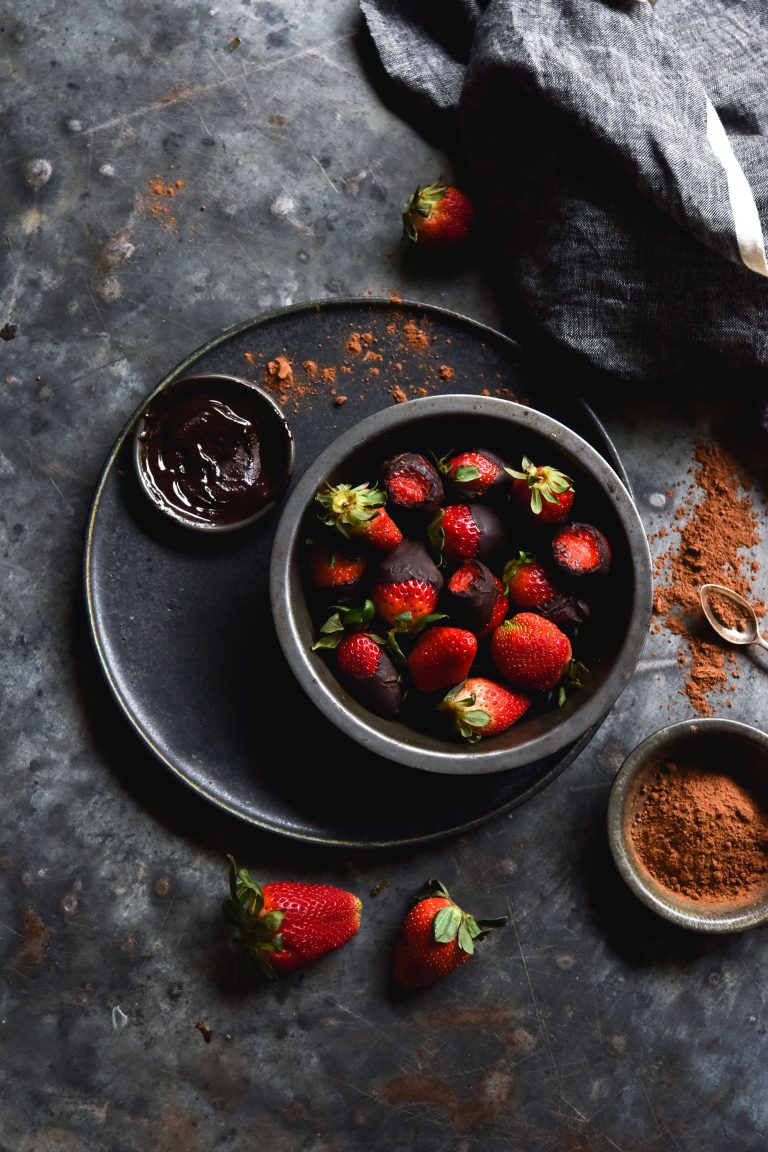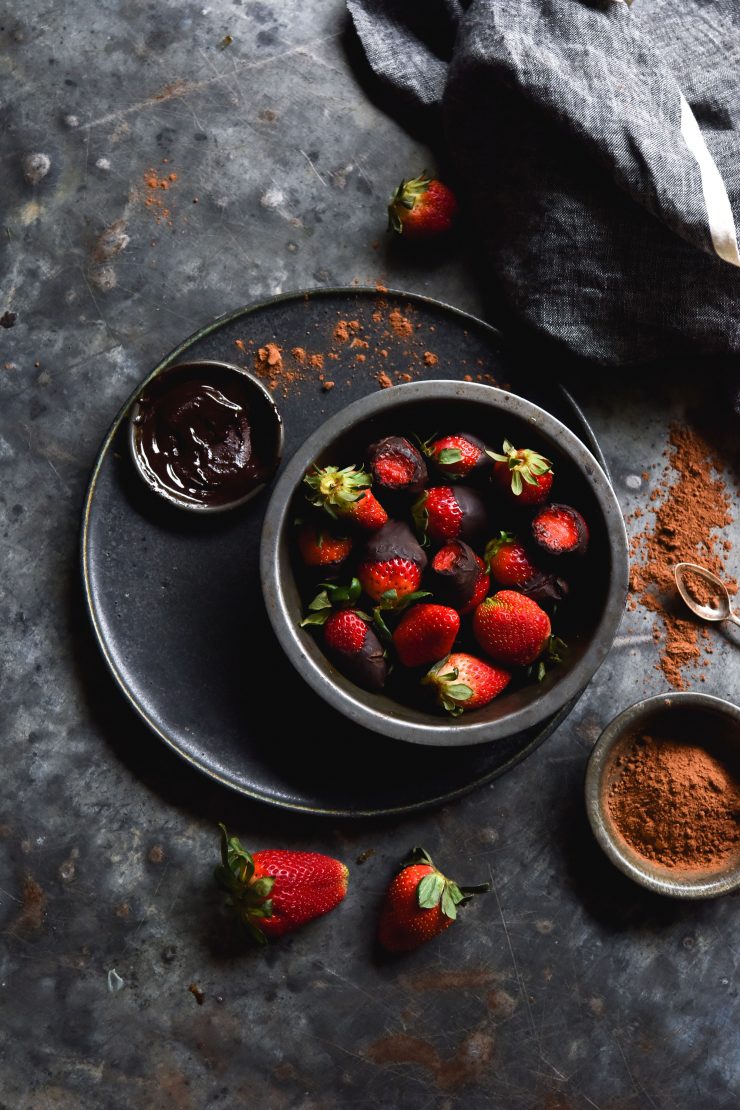 citrus or other berries, as I did here, or use the chocolate for other purposes
. SO MANY OPTIONS.

FODMAP UPDATE
Monash have recently introduced a threshold for strawberries, which is !rude! They used to be 'eat according to appetite' whereas now a FODMAP friendly serving is 65g. If you have previously eaten large quantities strawberries with no issues, then you don't need to change anything. If they have given you issues, I recommend sticking to the 4-5 or 65g serving size.
4 ingredient vegan chocolate covered strawberries
Gluten free, vegan, FODMAP friendly, refined sugar free
Ingredients
FOR THE 4 INGREDIENT VEGAN CHOCOLATE STRAWBERRIES:
50

g

cacao butter

1/4

cup

cocoa

1-2

tablespoons

maple syrup

1

punnet of strawberries
Instructions
METHOD:
Melt the cacao butter using the double boiler method. Once it has melted, add in the cocoa and maple syrup. Whisk until smooth, and remove from the heat.

Dip the strawberries into the chocolate mixture, and transfer to a wire rack to cool. I like to freeze my strawberries for a little while first, so that the chocolate solidifies quickly on contact. I also like to place the strawberries on a wire rack, stem side down, to allow the chocolate to harden evenly, without getting stuck to a plate. You can sprinkle something on the chocolate as it's hardening - crushed nuts or a little bit of sea salt would be ideal.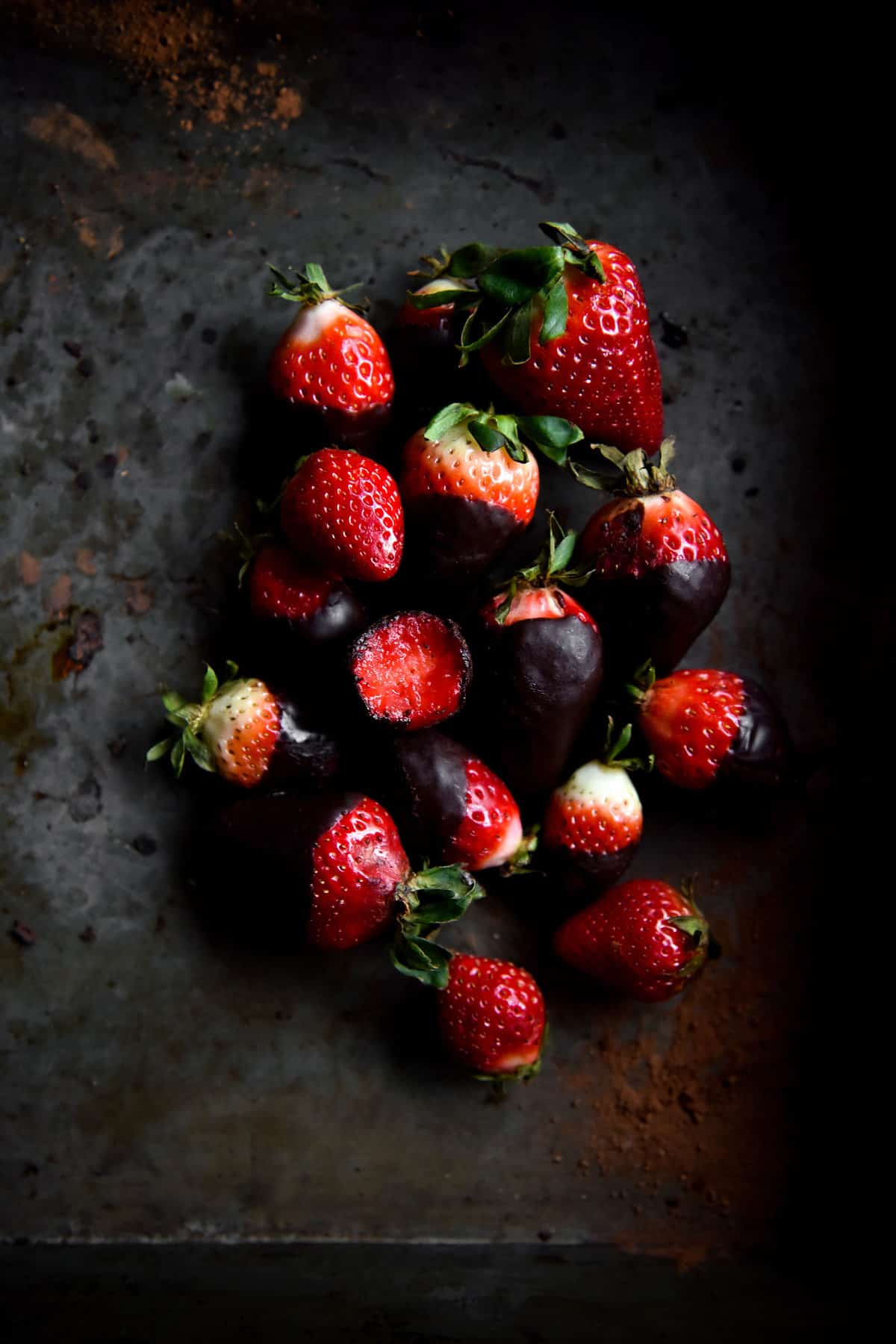 You might be thinking 4 ingredient vegan chocolate strawberries seem too simple to warrant a recipe. I mean, that's fair. The thing is, though, everybody loves a chocolate covered strawberry. I went to a Galentine's Day celebration in February year, to which somebody brought chocolate strawberries. Despite the fact that we had all collectively slaved away over intricate and beautiful desserts, we all went wild for the humble choc strawb. Why is this? I figure, without even a shred of research or critical thinking, our fondness for chocolate strawberries exists for a number of reasons. Firstly, they're intolerance friendly. Secondly, they're somewhat 'healthy' given that the main component of the dessert is fruit. Thirdly, they're snack size and portable, meaning we can mingle and eat, and we can control our portions (but like also definitely not.) So, chocolate strawberries have been done. But what about 4 ingredient vegan chocolate covered strawberries? Yeah look they've probably also been done, but here we are. They are super easy to whip up, refined sugar free, vegan (obviously) FODMAP and fructose friendly, gluten free, grain free, THE LIST GOES ON. They really are the ultimate dessert. You can also use them on