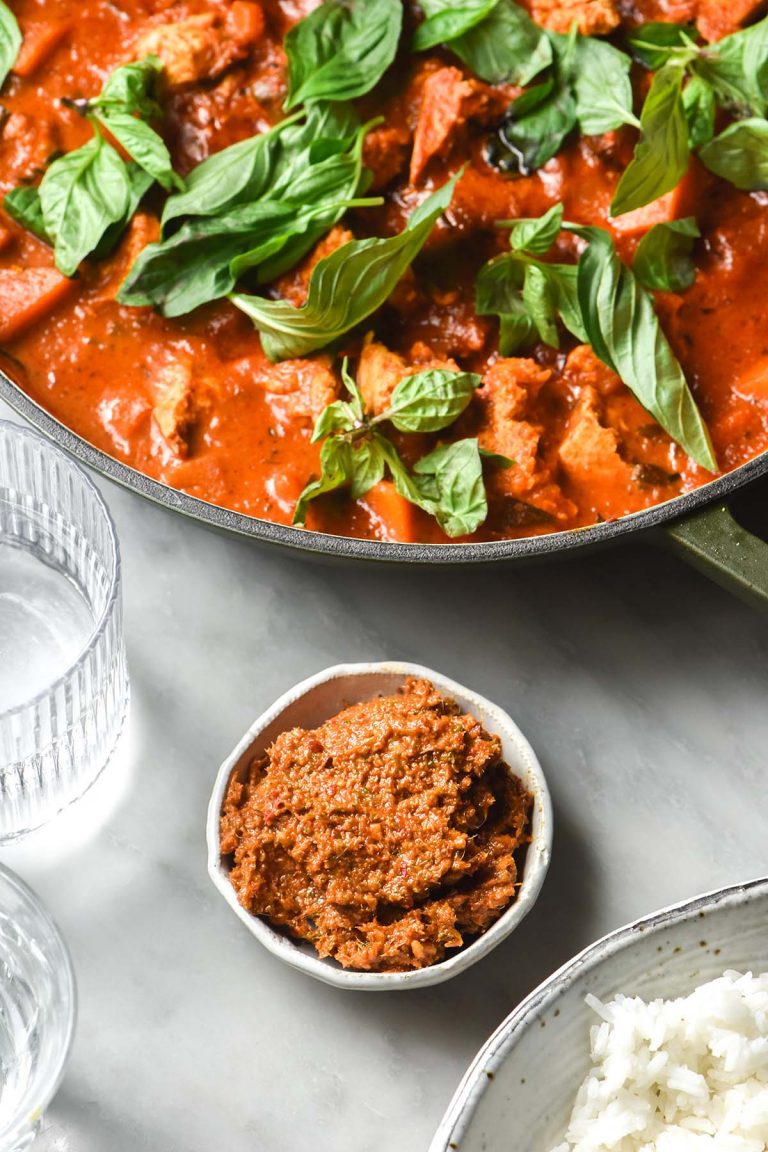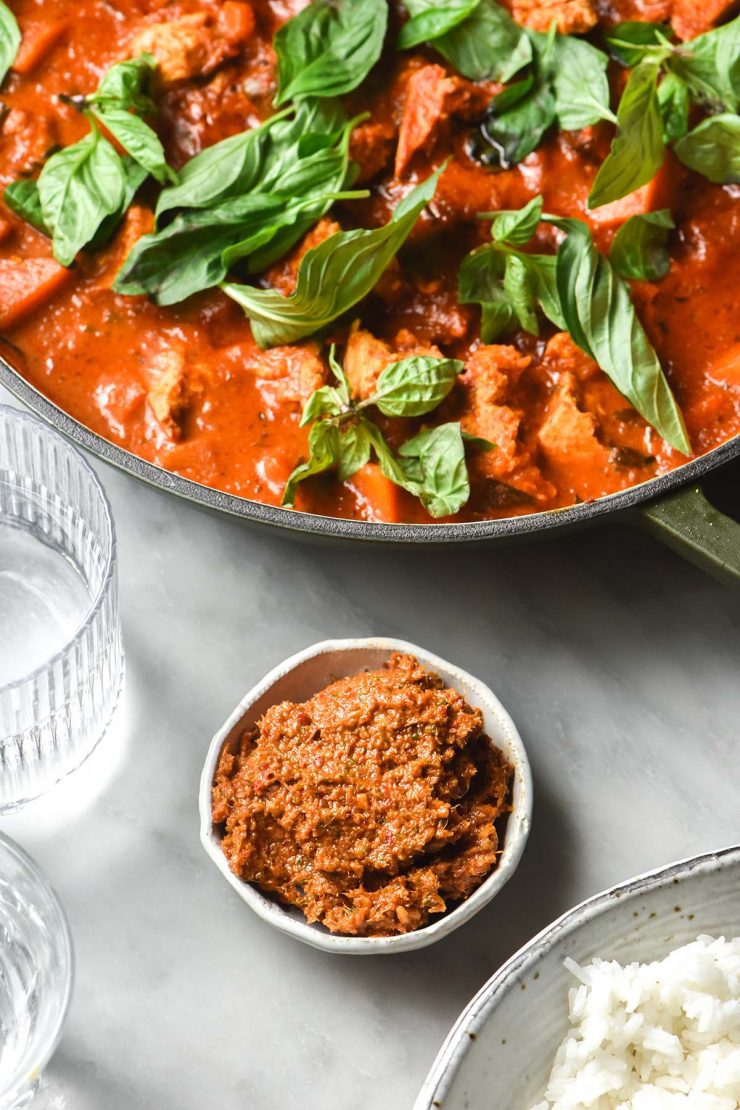 I'm sharing this recipe for low-FODMAP Thai red curry paste separately to my low FODMAP Thai red curry recipe. This is because there's a bit I want to chat about paste wise, and nobody likes an excessively long post. It's also because there's a lot you can do with curry paste aside from curry itself. I've got a delicious peanut satay style sauce in the works, so stay tuned for that one, too.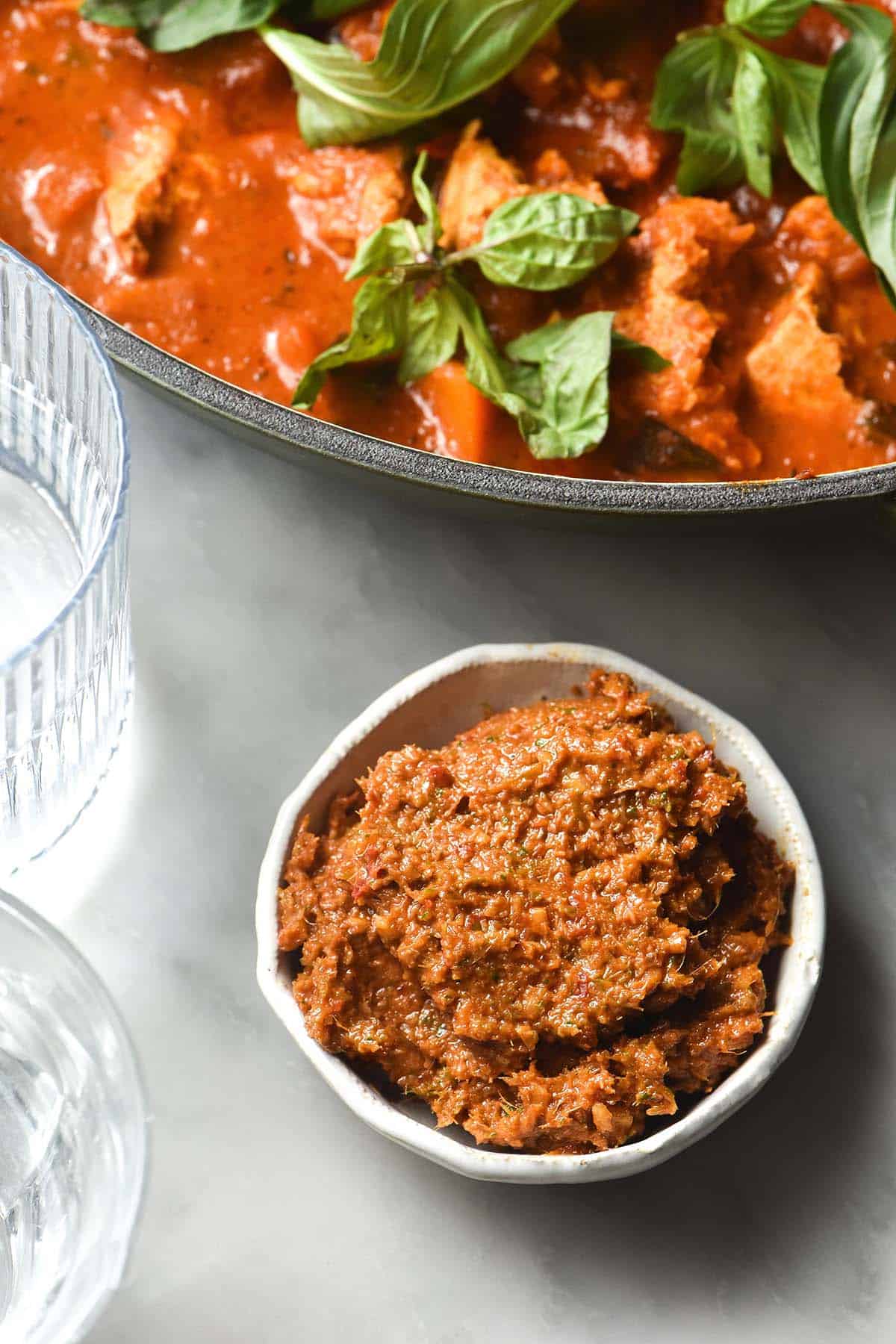 Low-FODMAP Thai red curry paste
This low FODMAP Thai red curry paste is a great option for a number of dietary requirements. It is low FODMAP, meaning no onion or garlic (except optional pickled garlic, see below). The curry is also nut free, vegan and vegetarian, so it is suitable for lots of different diets. Most of the ingredients are naturally low FODMAP, but there are a few substitutions we've made to a traditional paste. Without further ado:
I have started experimenting with using pickled garlic in recipes. Monash recently updated their app to say that 1 clove (3g) of pickled garlic is low FODMAP. The moderate serve for pickled garlic starts at 10 cloves (30g) which suggests there is significant room for movement in what constitutes a low FODMAP serve. Try it and see what works for you. Or don't! This is an optional ingredient.
Chilli is low FODMAP in 28g or 11cm pieces of chilli. It becomes moderate at 35g (1 1/4 chillies) per serve. Personally, I am a chilli wuss anyway, so this curry paste uses significantly less chillies than regular pastes. You can use what works for you.
I use Vincent the Vegetarian brand of vegan shrimp paste. They don't use onion or garlic in any of their products, so it's a great option. I bought mine at KFL supermarket in Springvale, Melbourne.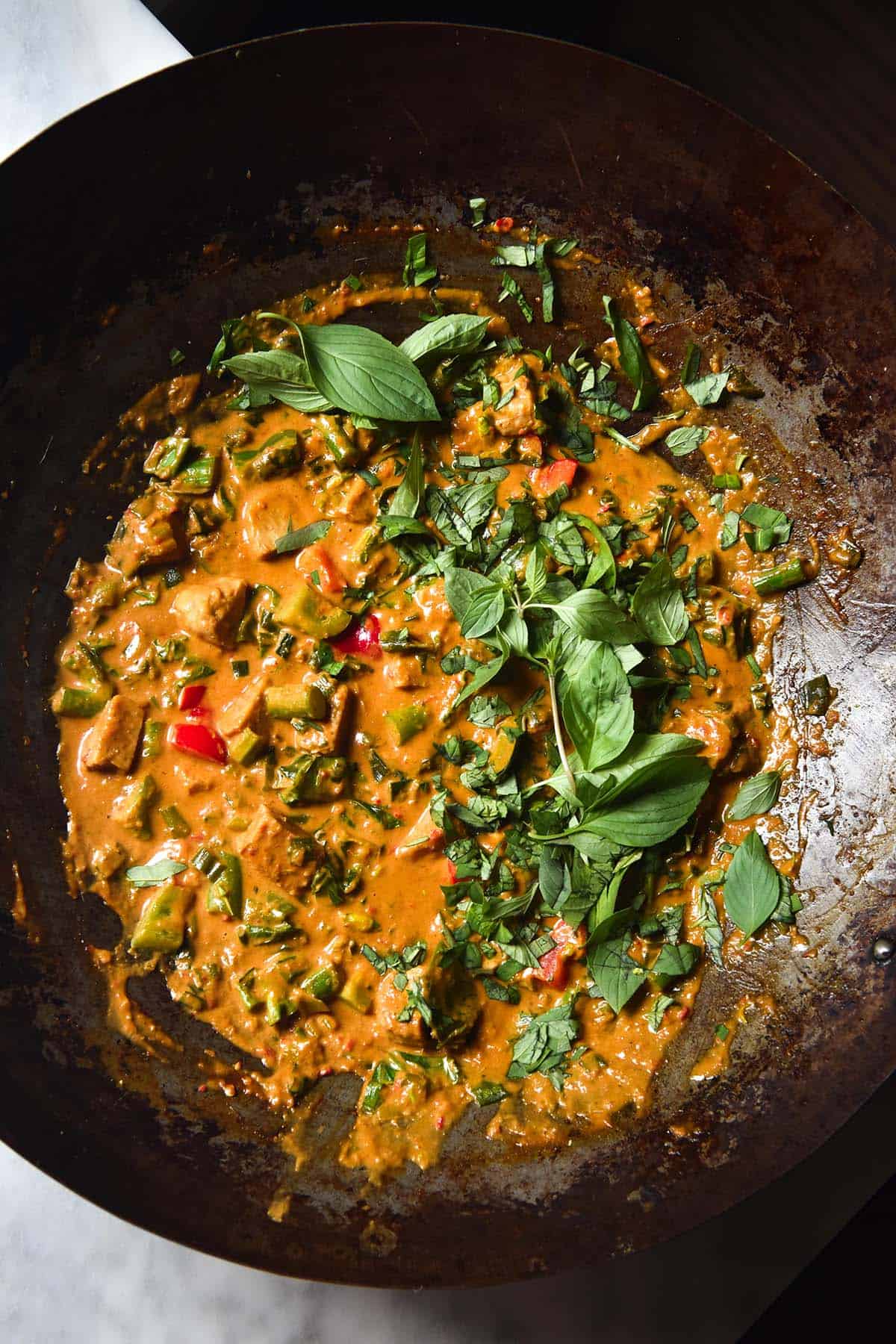 Substitution options
Depending where you live, some ingredients may be harder to find than others. Although these are not authentic swaps, you do have a few options if you can't find something.
You can use ginger instead of galangal if need be. Definitely not authentic and it does taste different, but it still tastes nice. You could consider upping the lemongrass to account for the taste difference.
If you can't find Thai Basil (it's so worth finding, but I understand if you can't) you can use the coriander leaves leftover from the roots in the curry paste. If you don't like coriander, tough luck! Kidding, ish. The roots add so much flavour to the curry paste without tasting like coriander.
If you can't find makrut limes, use the lime leaves. I see them often at the big supermarkets in Australia these days. Buy some and pop the rest in the freezer for a future curry. If you can't find them anywhere, use a bit of regular lime zest.
For those who don't need the curry to be vegan, you can use regular fish sauce and shrimp paste. For those who do, I highly recommend Vincent The Vegetarian brand. It adheres to jain principles, which means it is an onion and garlic free brand. Both the fish sauce and shrimp paste are great and they are what I have used here.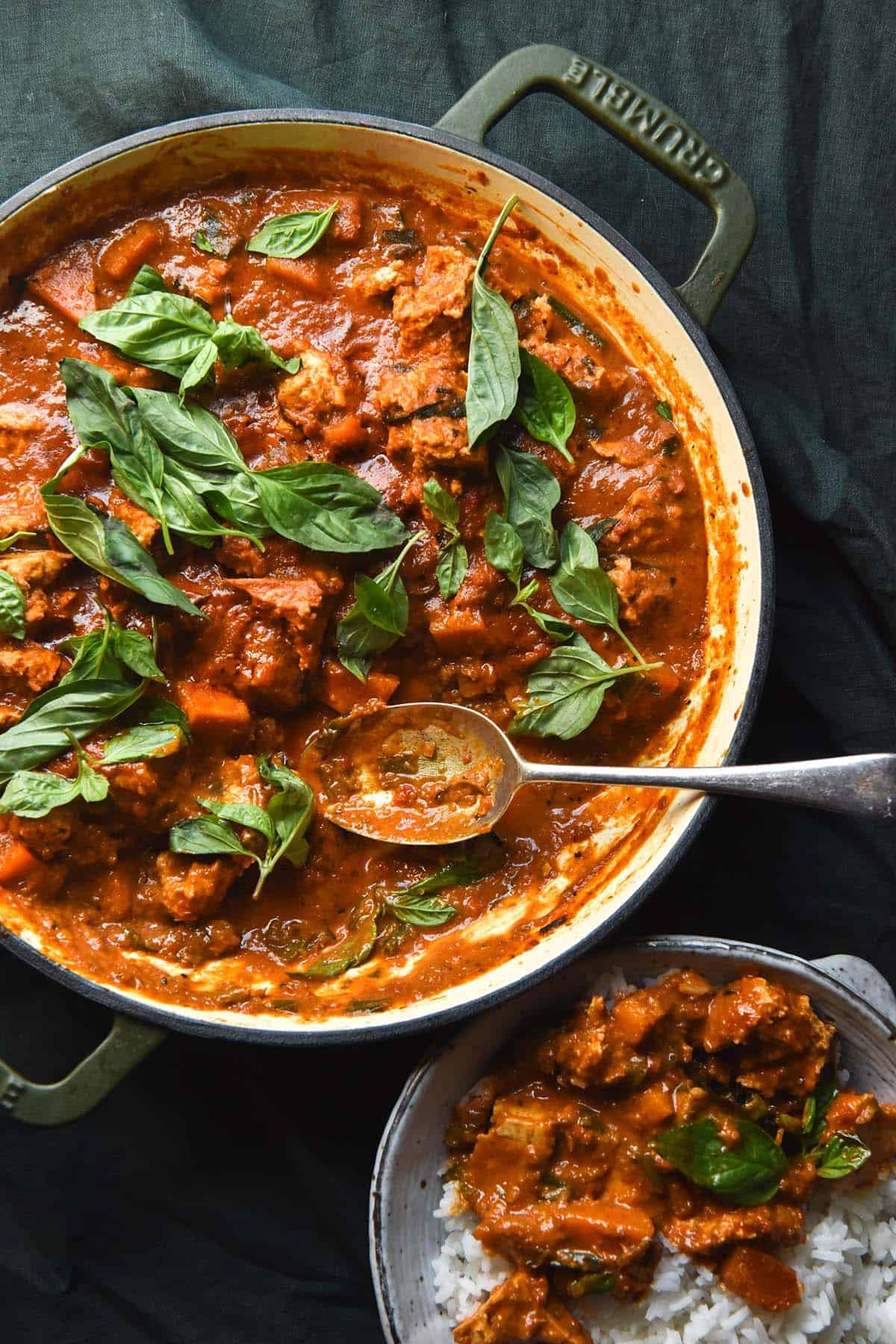 Tips for your low-FODMAP Thai red curry paste
Authentic recipes often use a mortar and pestle to grind the ingredients to a paste. I've decided that I am just not that person. I have a terrible attention span and terrible arm strength. If you'd like to use a mortar and pestle, be my guest.
For this recipe, I used my mini Kitchen Aid food processor. It didn't fully chop everything (particularly the fibrous galangal, despite the fact I grated it) but it did an OK job. The main thing is that blender bowl is small enough to blend a small volume of curry paste.
Unless your blender is incredibly powerful, I highly recommend chopping your ingredients finely to begin with. If you can get your hands on pre-grated galangal, do it. Grating galangal is up there in my least favourite kitchen jobs.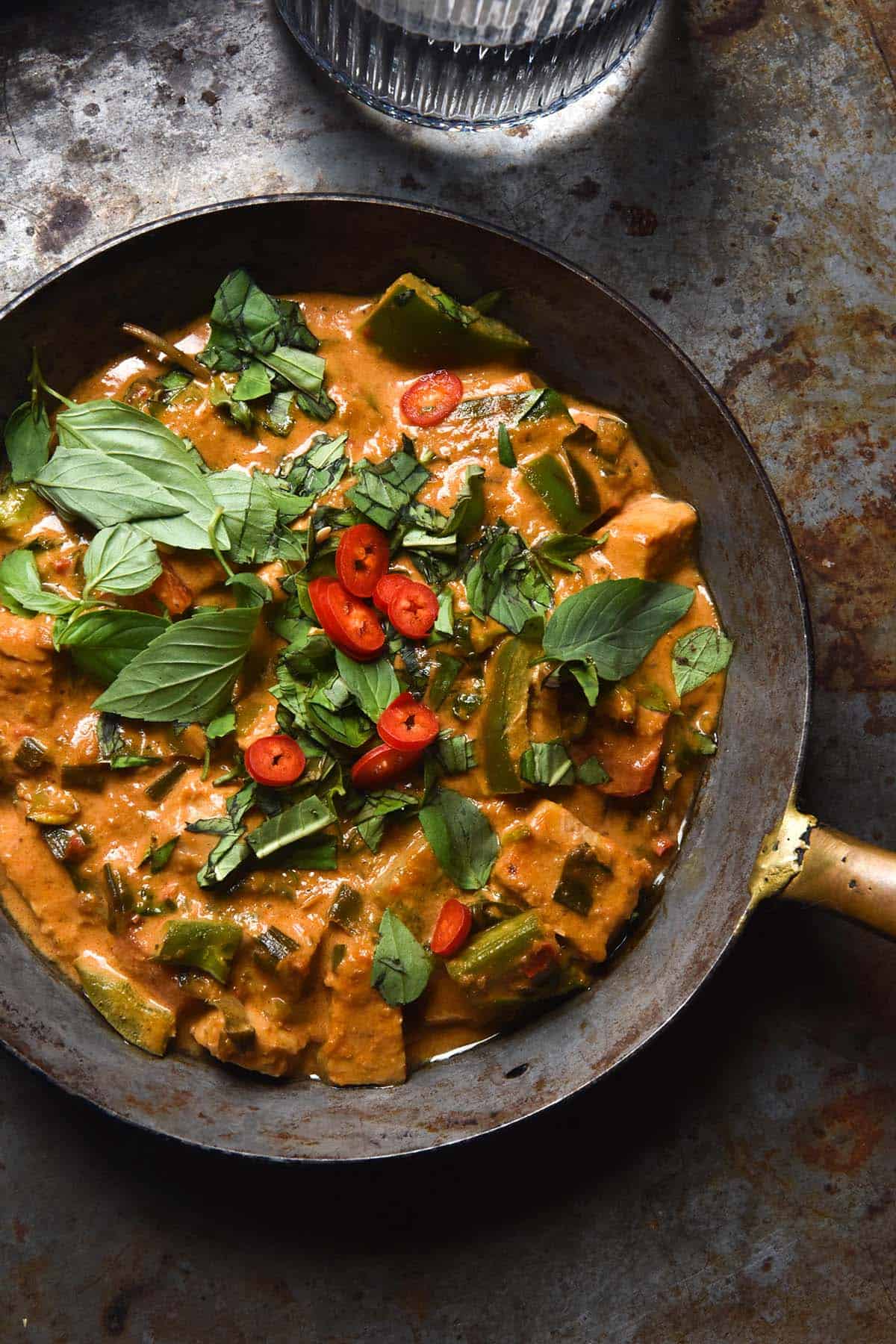 More low FODMAP vegetarian and vegan recipes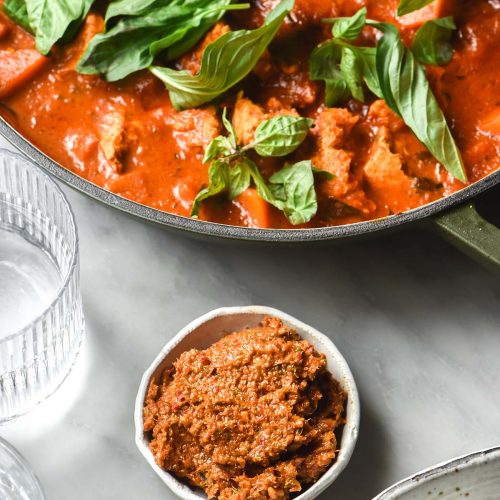 Low FODMAP Thai red curry paste
Vegan, gluten free

Makes enough for 1 red curry
8-10 Australian tablespoons worth of curry paste
*Cups are in Australian cups. Use ml for international accuracy.
Ingredients
1-2

large red chillies

de-seeded and chopped (see notes)

50

g

galangal or ginger

grated (see notes)

50

g

lemongrass

finely sliced (the white parts of approx 2 large stalks of lemongrass)

Good grating of makrut lime zest

(see notes)

4

pickled garlic cloves

(optional, see notes)

1/2

teaspoon

ground cumin or freshly ground cumin seeds

1/2

teaspoon

ground coriander

1

tablespoon

sweet paprika

for colour

1/2

teaspoon

fine salt

or to taste

White pepper

to taste

3-4

finely chopped Thai basil leaves

(see notes)

1

bunch of thoroughly washed and chopped coriander roots

60

ml

(1/4 cup)* water

40

ml

(2 tablespoons)* neutral oil (I use vegetable)

1

tablespoon

vegan shrimp paste

I use Vincent the Vegetarian, which contains no onion or garlic
Instructions
Finely chop all your ingredients prior to using your food processor, as this makes for a much easier time. It's particularly important to chop the lemongrass and galangal finely as they are hardy ingredients.

Blend thoroughly until a mostly smooth paste forms. Taste and adjust for seasonings.

Use to make red Thai curry straight away, or store in an airtight container in the fridge. Leftovers keep for a couple of days or can be frozen and defrosted.
Notes
This curry uses significantly less chillies than regular Thai curry for FODMAP reasons. You can use 28g or 11cm of chilli per person. A low FODMAP Thai red curry made with this paste serves 4-5 with rice, so you can use up to 4 chillies if you like it spicier. 
Galangal is authentic to Thai red curry, but ginger works here too. It does taste different, but it is an option as I know galangal can be trickier to find.
Makrut lime has a heavenly fragrant flavour that adds so much depth to this dish. If you can't find the whole limes, use 3-4 of the lime leaves, either finely chopped or whole in the curry itself (and then removed, like a bay leaf.) They are often sold at the supermarket here in Australia, sometimes as lime leaves and sometimes as kaffir lime leaves. 
Monash has recently added 1 pickled garlic clove as a low FODMAP serve per person. It's optional but it does add another layer of low FODMAP flavour. Read the body of the post for more information.
Thai basil is another beautiful addition to this dish. If you can't find it, simply omit it from the paste.