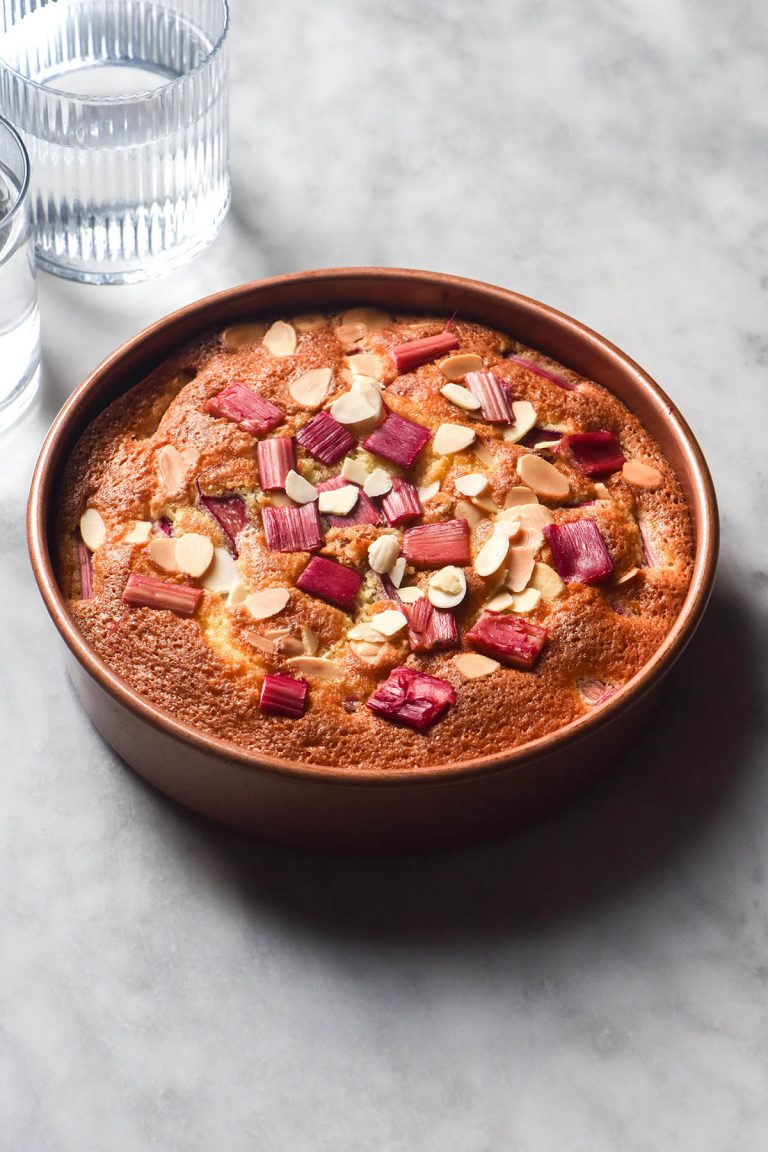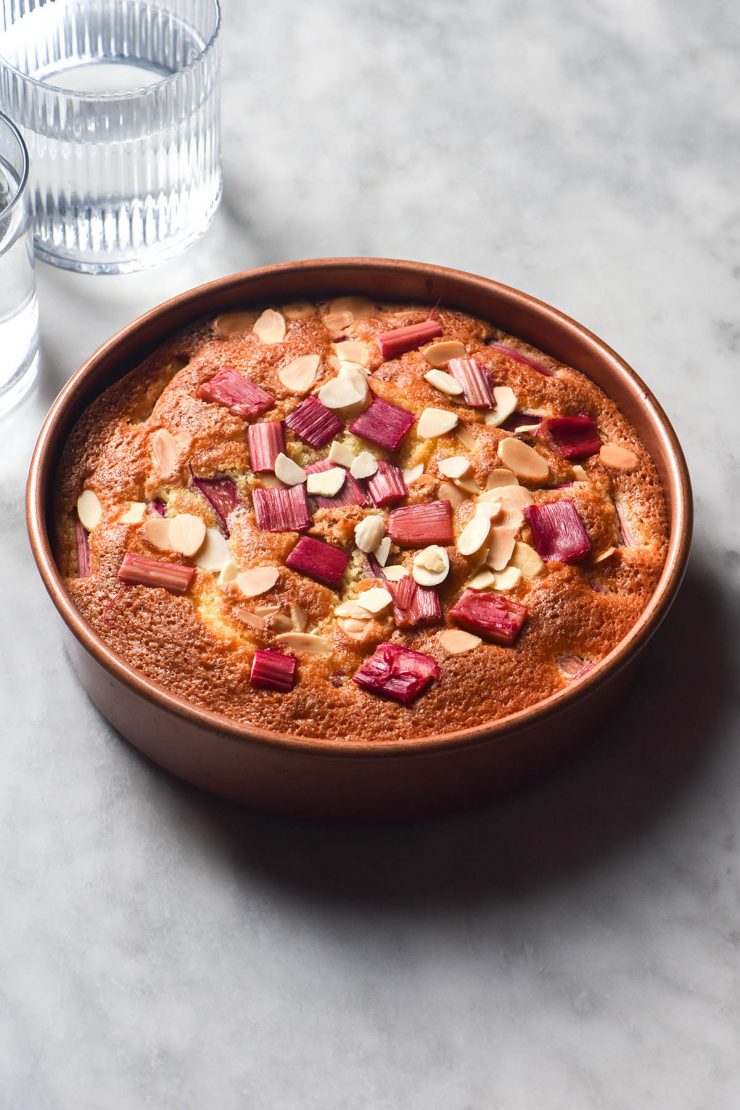 Autumn is upon us here in Australia, which is peak season for rhubarb. Today's recipe is this gluten free rhubarb cake, to make the most of the autumnal produce. This is an easy yet beautiful cake that looks as good as it tastes.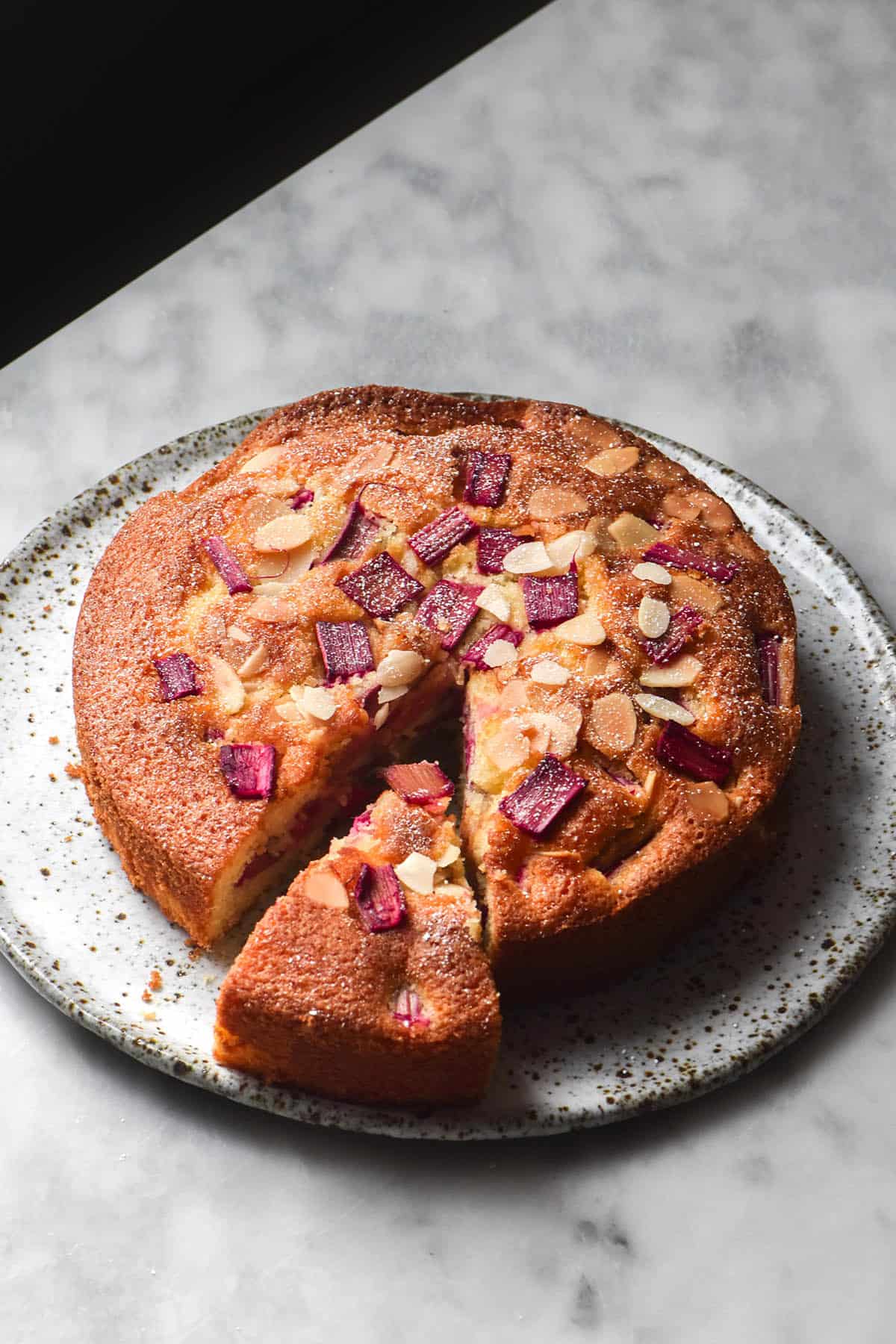 Gluten free rhubarb cake without xanthan gum
This cake is xanthan gum free and low lactose. It uses a simple mix of tapioca flour, white rice flour and almond meal for a light crumb with the perfect amount of bite. The cake is flavoured with vanilla, allowing the rhubarb to really shine.
Like my similar cake recipes, this gluten free rhubarb cake uses a mixture of butter and oil. Through my years of recipe testing, I've found that the combination produces a moist cake with a buttery mouthfeel that keeps fresh for longer. Butter stales more quickly than oil, but they have that classic rich buttery taste. Oil cakes stay fresher longer, but sometimes lack that nuanced flavour. Combining them creates the best of both worlds.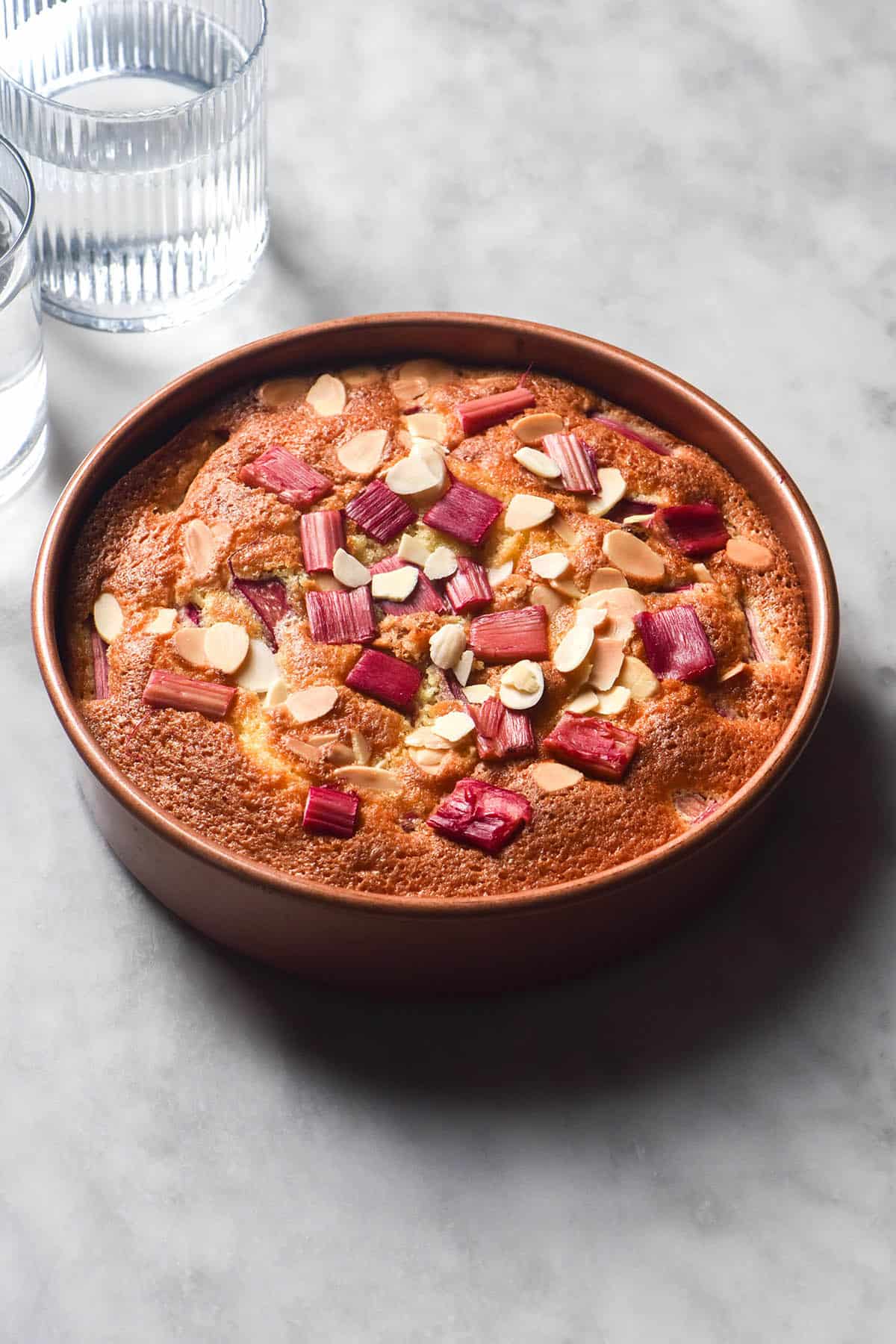 Tips for your gluten free rhubarb cake
Using a cake pan significantly larger or small than the one the recipe specifies (20cm or 8 inches) usually spells trouble. Larger cake pans result in a thinner cake that is more likely to be dry and burnt. Smaller cake pans generally result in a cake that takes longer to cook in the middle and ends up with a raw centre but a browned outside. I advise against it – 20cm cake pans are available at the supermarket here in Australia. I always use 20cm, so if you use my recipes often you will get good use out of it.
Small slices of rhubarb will make the cake easier to slice. You can create any sort of pattern you like, but it's best to use a sharp knife for longer pieces of rhubarb.
On that note, allow the cake to cool fully and slice with a small serrated knife for even slices. I found that slicing the cake too early made for a crumbly end result.
The more rhubarb you add, the longer you might need to cook your cake. Keep that in mind.
If you choose the nut free option, use 80 (1/3 cup) oil instead of 60ml (1/4 cup). This will replace the fat from the almond meal.
A little bit of cinnamon or nutmeg would be lovely in this cake. A streusel on top would also be lovely.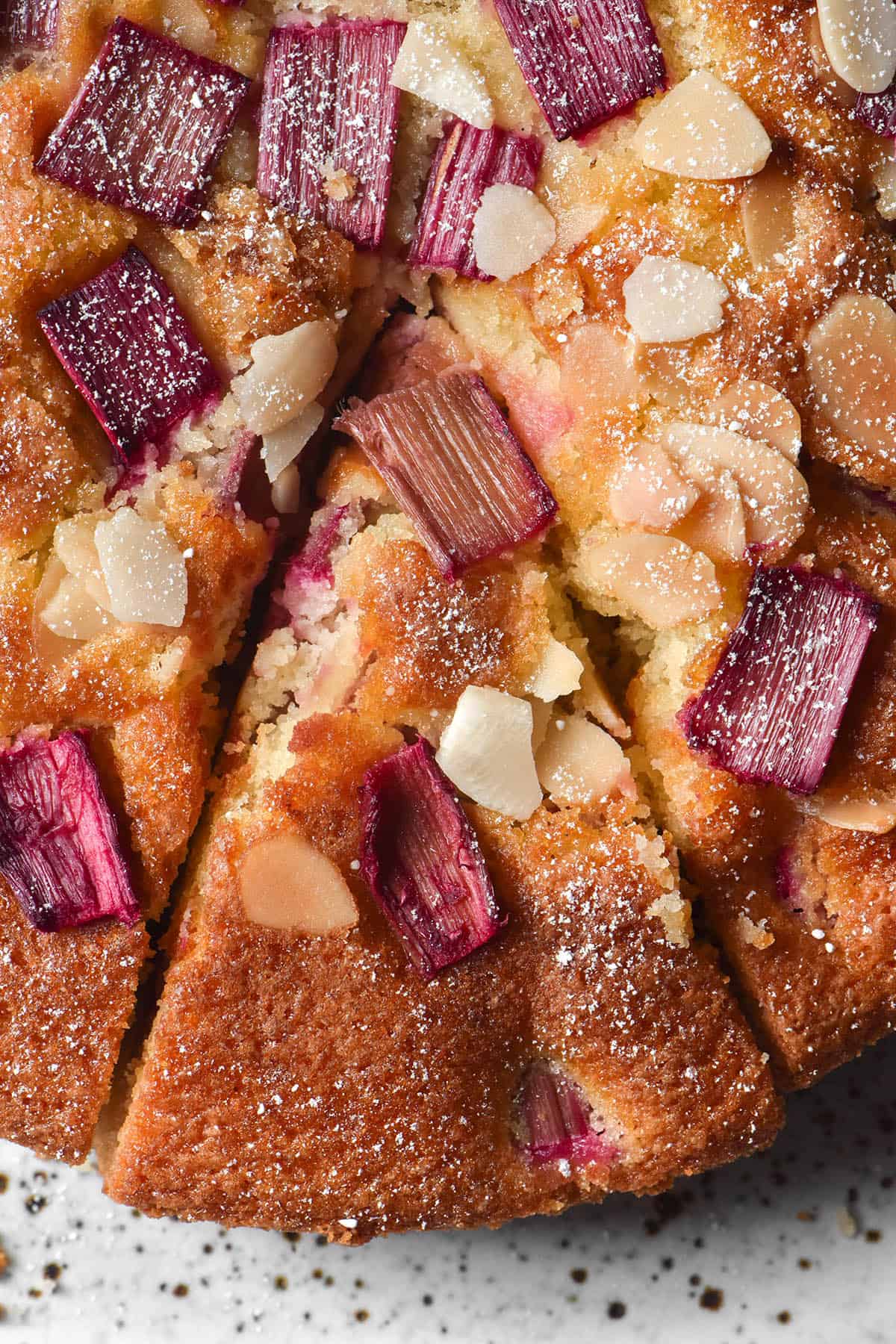 Can I make this cake without almond meal?
Yes! You can make a nut free version of this cake. Simply use 25g rice flour and 25g tapioca in place of the 50g of almond meal. Use (1/3 cup) oil instead of 60ml (1/4 cup) and omit the optional almond topping. If you are using a dairy free milk option, make sure it is not a nut based milk.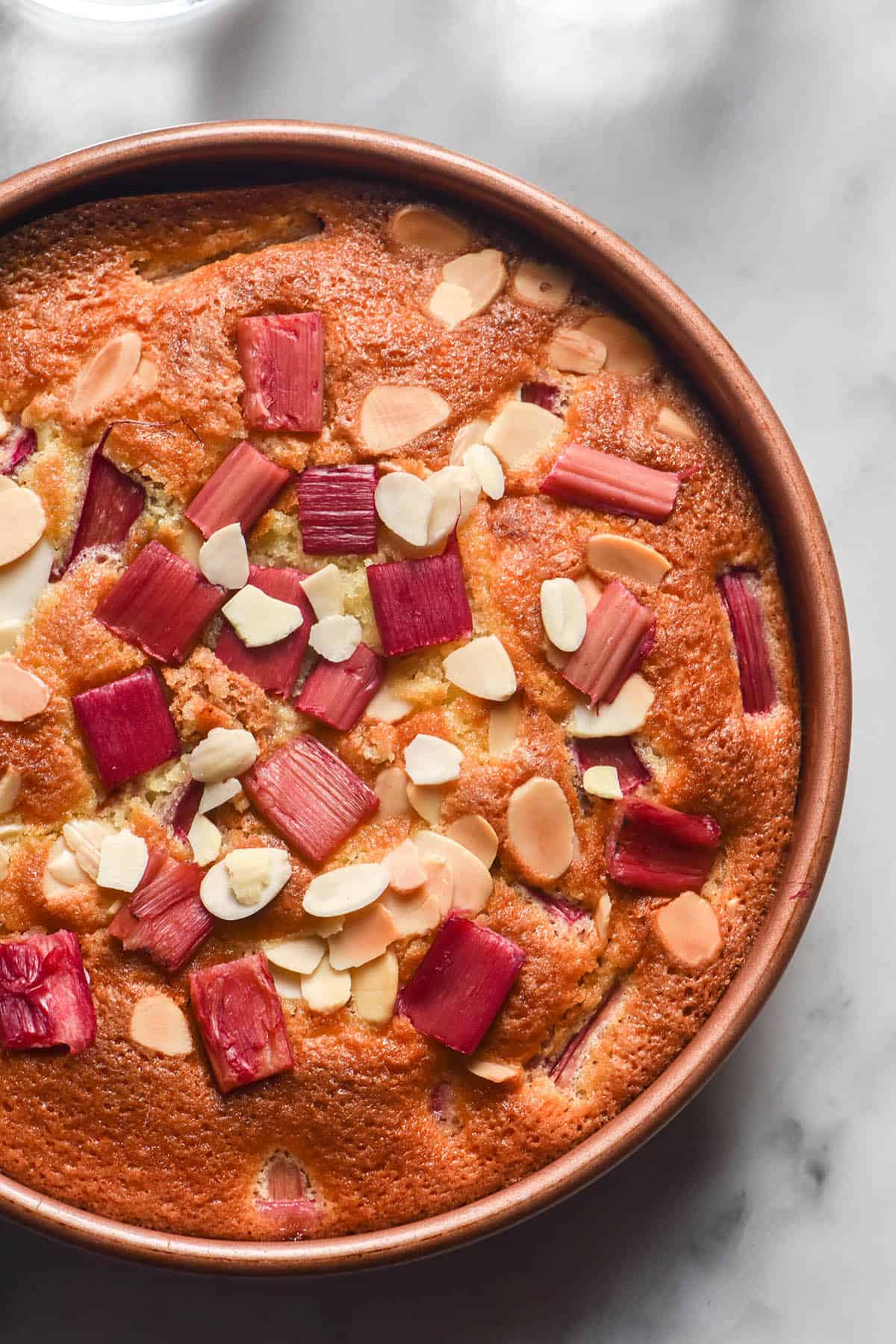 More gluten free cake recipes without xanthan gum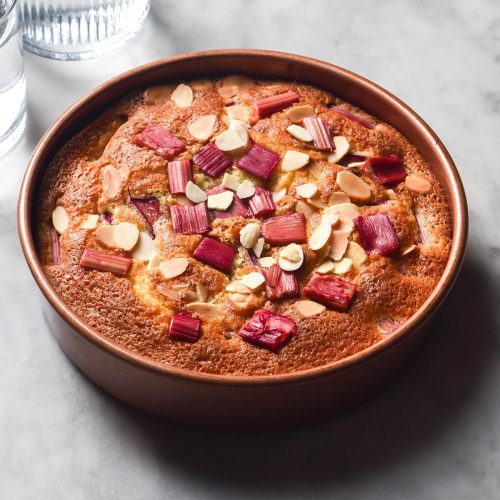 Gluten free rhubarb cake
Nut free option, low FODMAP, low lactose option, xanthan gum free
*Cups and measures are in Australian cups and measures. Use gram weights for international accuracy
Ingredients
150

g

fine white rice flour

30

g

(1/4 cup)* tapioca flour

50

g

(1/2 cup)* almond meal (see notes)

5

g

(1 1/4)* teaspoon baking powder

(1g)

(1/4 teaspoon)*

fine salt

60

ml

(1/4 cup)* neutral flavoured oil

50

g

room temperature butter

salted or unsalted

2

extra large eggs

45-55g each, weighed out of shell

175-200

g

caster sugar (see notes)

1

teaspoon

vanilla bean paste (optional)

125

ml

(1/2 cup)* milk of choice (I used full fat lactose free milk)

150-250

g

rhubarb

washed and chopped into square pieces

Flaked almonds for garnish

optional
Instructions
Preheat the oven to 180C/356F. Grease and line a 20cm/ 8 inch cake tin.

Combine the flours, almond meal, baking powder and salt in a medium mixing bowl and whisk to combine.

In a large mixing bowl, combine the oil, butter, sugars and eggs.

Use a hand beater or stand beater to beat the mixture for 1-2 minutes or until lighter and foamy. The butter should have incorporated completely into the mixture, with no chunks remaining. Add the vanilla here, if you're using it.

Turn the beaters to low and alternate between adding the flour mixture and milk. Continue until you have used up all the flour and milk.

Pour the batter into the prepared cake tin. Stud with the pieces of rhubarb, noting that they will mostly sink. If you'd like some on top, I reserved a few, sliced them finely and stewed them ever so slightly on the stove, reserving for garnish.

Top with the almonds, if you're using them, and place into the oven.

Bake for 30 minutes, then very loosely tent the cake with foil and continue baking for 15-20 minutes. If you place the foil flush against the cake it will pull off the top of the cake as you remove it, so give it plenty of space.

Allow to cool for 5-10 minutes before sliding a knife around the cake, flush with tin, and removing from the tin. Cool on a wire rack and serve alone, with some icing sugar, with some cream or ice cream, or both!
Notes
Some rhubarb is more tart than others, so depending on the season, I like to use a little extra sugar to counteract any excess tartness.
See the body of the post for notes on making a nut free version.
I haven't tried plant based butter in this recipe, but I assume it would work nicely. There is no substitute for the eggs, though.