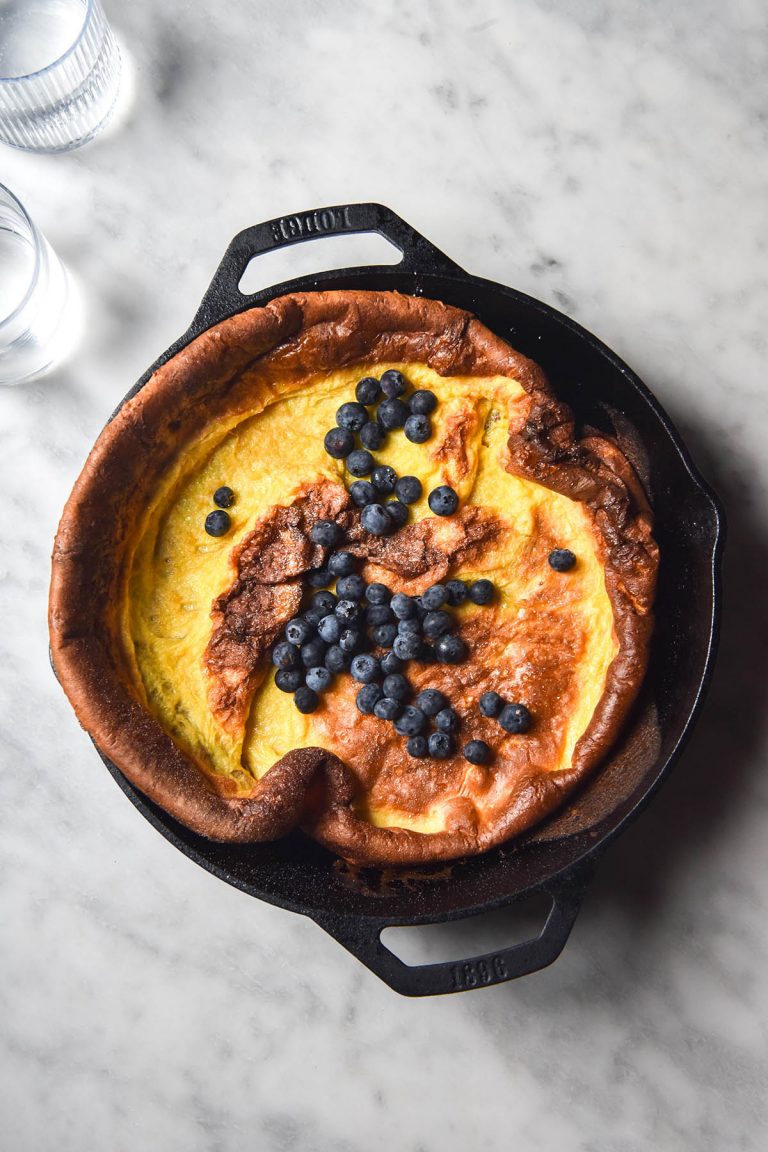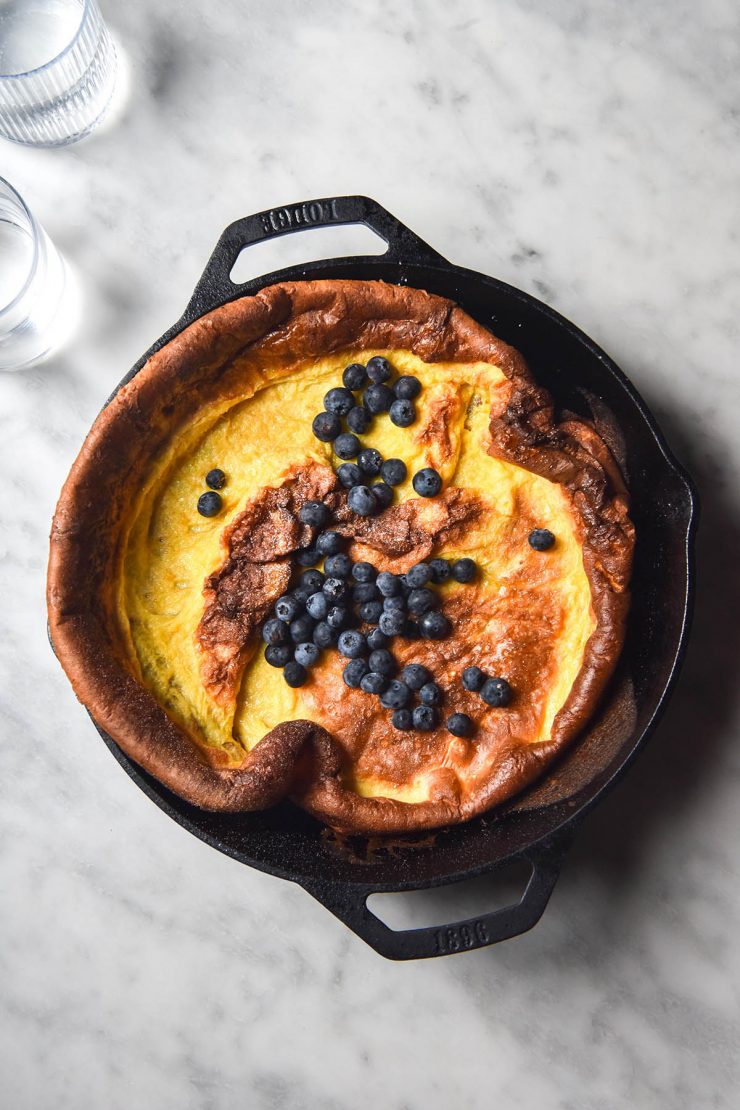 Sometimes making pancakes feels a little bit too much like a chore. By the time the last pancake is cooked, the pancakes are cold. And if you're the designated pancake chef, everyone has eaten and left by the time you sit down. The solution? A Dutch baby. Specifically, today; a gluten free Dutch baby.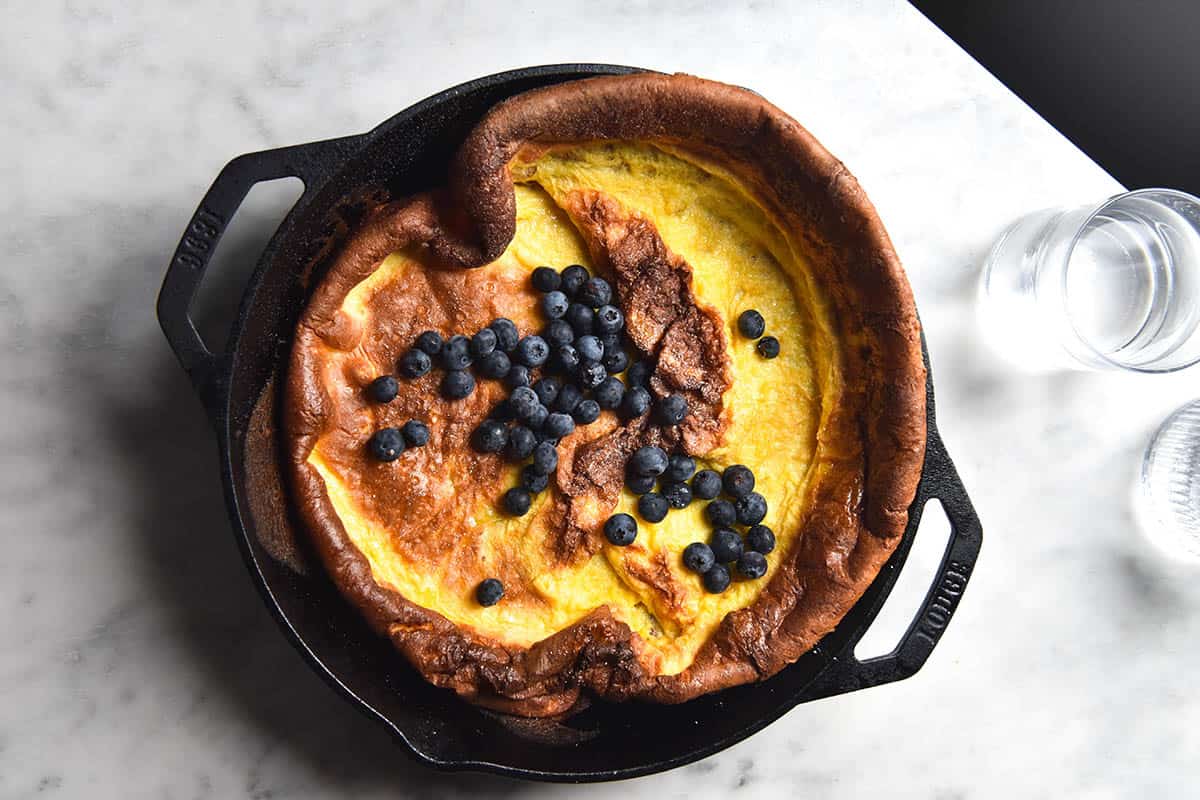 Gluten free Dutch baby
This Dutch baby is gluten free, xanthan gum free and nut free. It is made with a simple mix of white rice flour and tapioca well, as well as a little sugar for sweetness. In my testing, I found that white rice flour and tapioca flour are the perfect combination here. They provide elasticity and browning, which is what we need for a big and beautiful Dutch Baby.
Interestingly, I found that other gluten free wholegrain flours did not substitute well. Following the same recipe but with buckwheat or sorghum flour, I found that the Dutch baby didn't rise and was dense and chewy.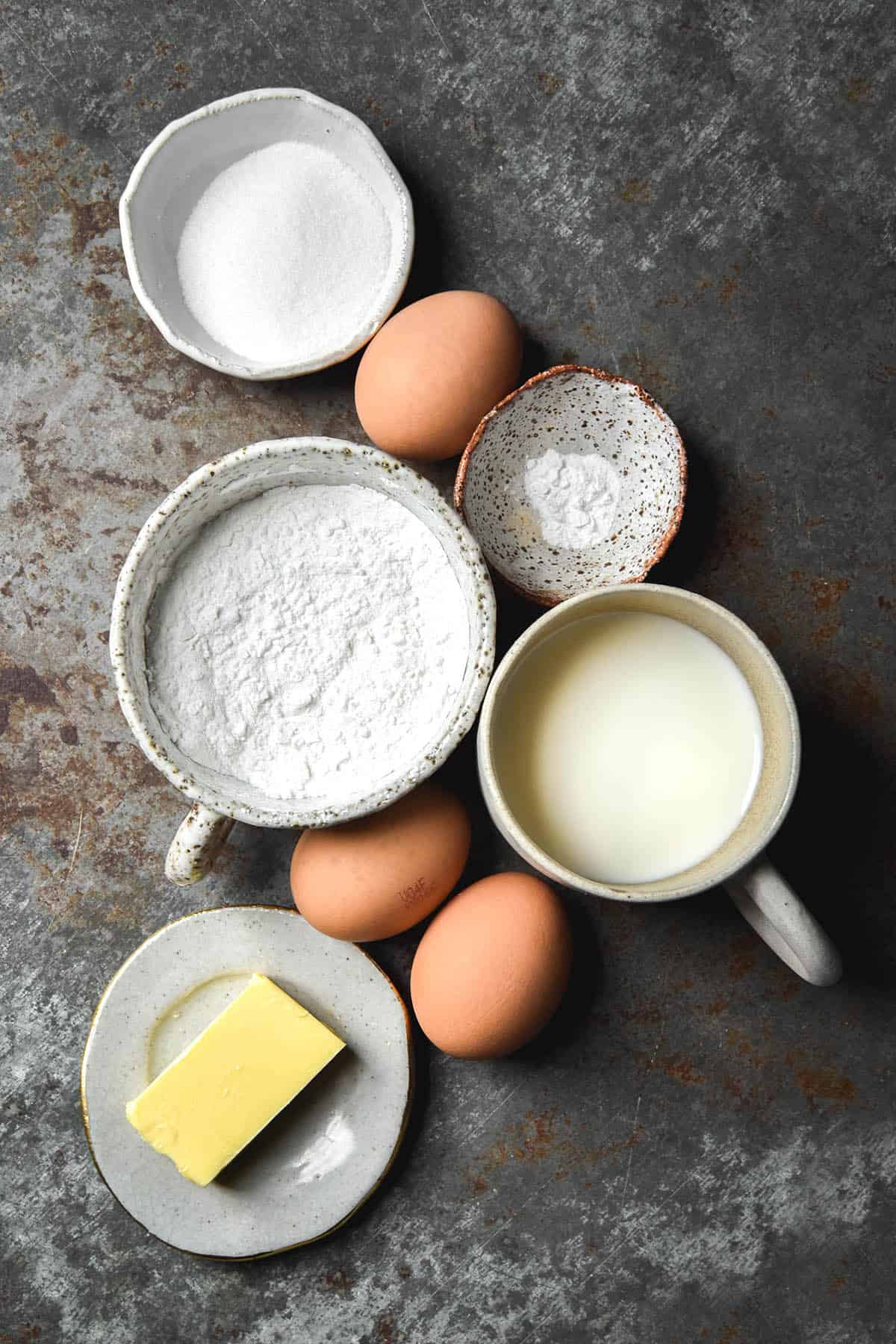 What is a Dutch baby?
A Dutch baby is a large, singular pancake that is made in the oven. It is sometimes called a German pancake or a popover. They are essentially the sweet version of a Yorkshire pudding (I have a recipe for those in my cookbook, Intolerance Friendly Kitchen).
A Dutch baby is a custardy, thick crepe like pancake with crispy, browned edges. It puffs up dramatically in the oven, creating a beautifully billowy breakfast dish that can be served straight from the skillet.
This dish is not overly sweet, and has a custardy, more eggy texture than a pancake. It's such an easy way to make a weekend breakfast.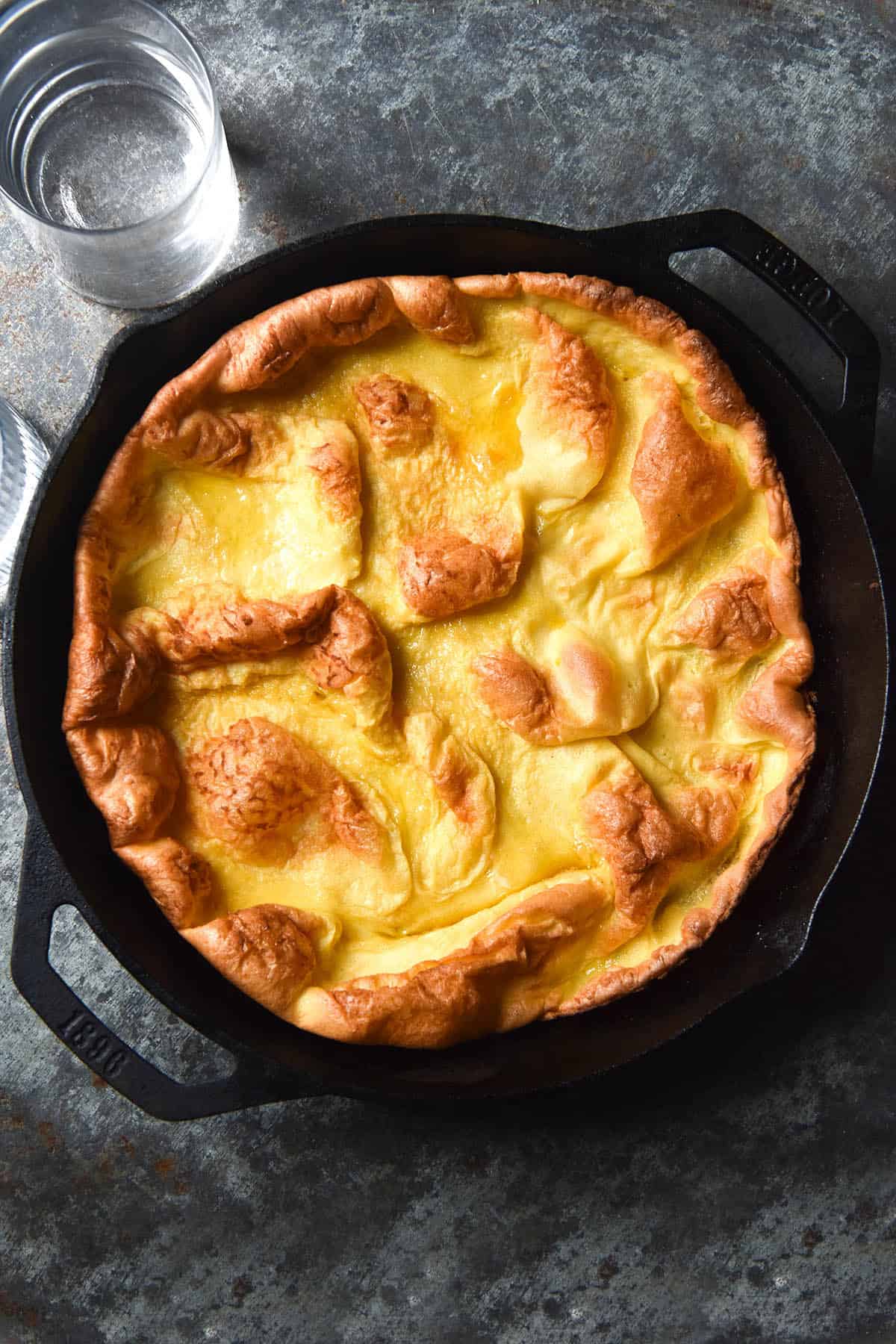 Tips for making a gluten free Dutch baby
The most important thing I have found for a successful Dutch baby is a thoroughly preheated skillet. This is particularly important for a gluten free Dutch baby, because it lacks the elasticity that a regular Dutch baby has. As such, it needs all the help it can get in puffing upwards.
Most recipes say to blend the mixture, but I didn't find any notable difference between blending and simply whisking up thoroughly. Make sure the batter is completely lump free before baking, if you whisk up the batter.
Pouring the batter into a jug with a lip is the final key element. This allows you to pour the batter into the skillet quickly and without letting too much heat escape the oven. There's no time to remove the skillet, pour in the batter and return it to the oven, so the jug really helps.
Follow the recipe as written, paying attention to the batter consistency. This batter should be really thin and almost liquid, so if yours is thicker add a bit of extra milk.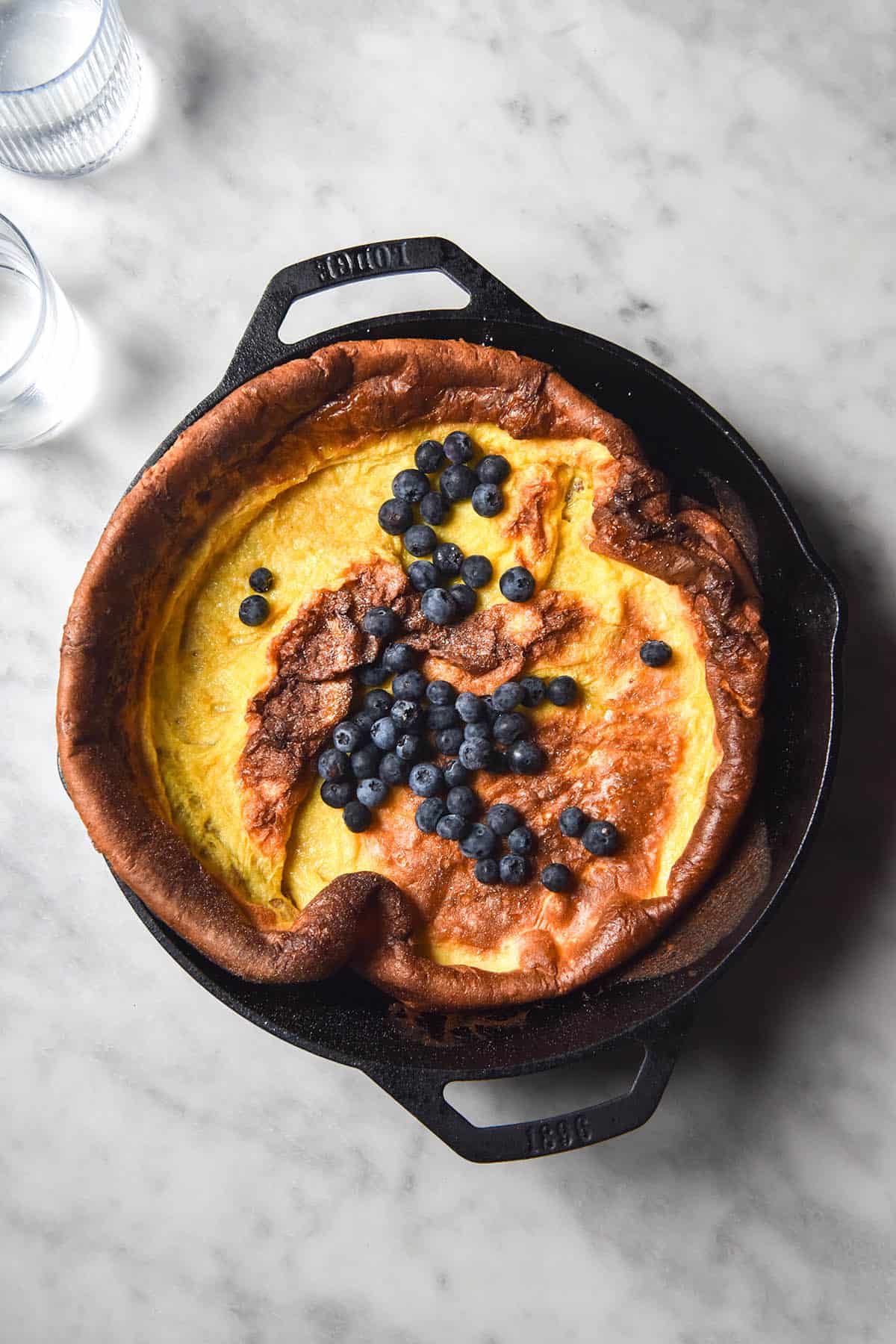 Do I need a skillet to make a gluten free Dutch baby?
No, you don't need to own a skillet to make a gluten free Dutch baby. You can use any large oven safe dish, like a casserole dish or two large cake tins. I would go large to avoid the batter spilling over the edges before it sets, though.
Can I use other gluten free flours?
I have done a lot of experimenting and found that no flour combination works quite like white rice flour and tapioca flour. I wanted to see if I could offer a rice free version for those who need it, but alas. For whatever reason, rice flour seems to be important for the success of this Dutch baby.
As for the starch component, I have only tested cassava flour thus far. Others might work, but I have been busy trying to find a wholegrain alternative. If you try a starch and it works for you, let me know in the comments.
Can I make this a gluten free dairy free Dutch baby?
Yes, this gluten free Dutch baby can also be dairy free. Simply use a plant based milk of choice and a dairy free butter of choice. Make sure you choose a nut free plant milk if your Dutch baby needs to be nut free. In Australia, oats are considered wheat free but not gluten free, so use a milk other than oat milk for coeliac.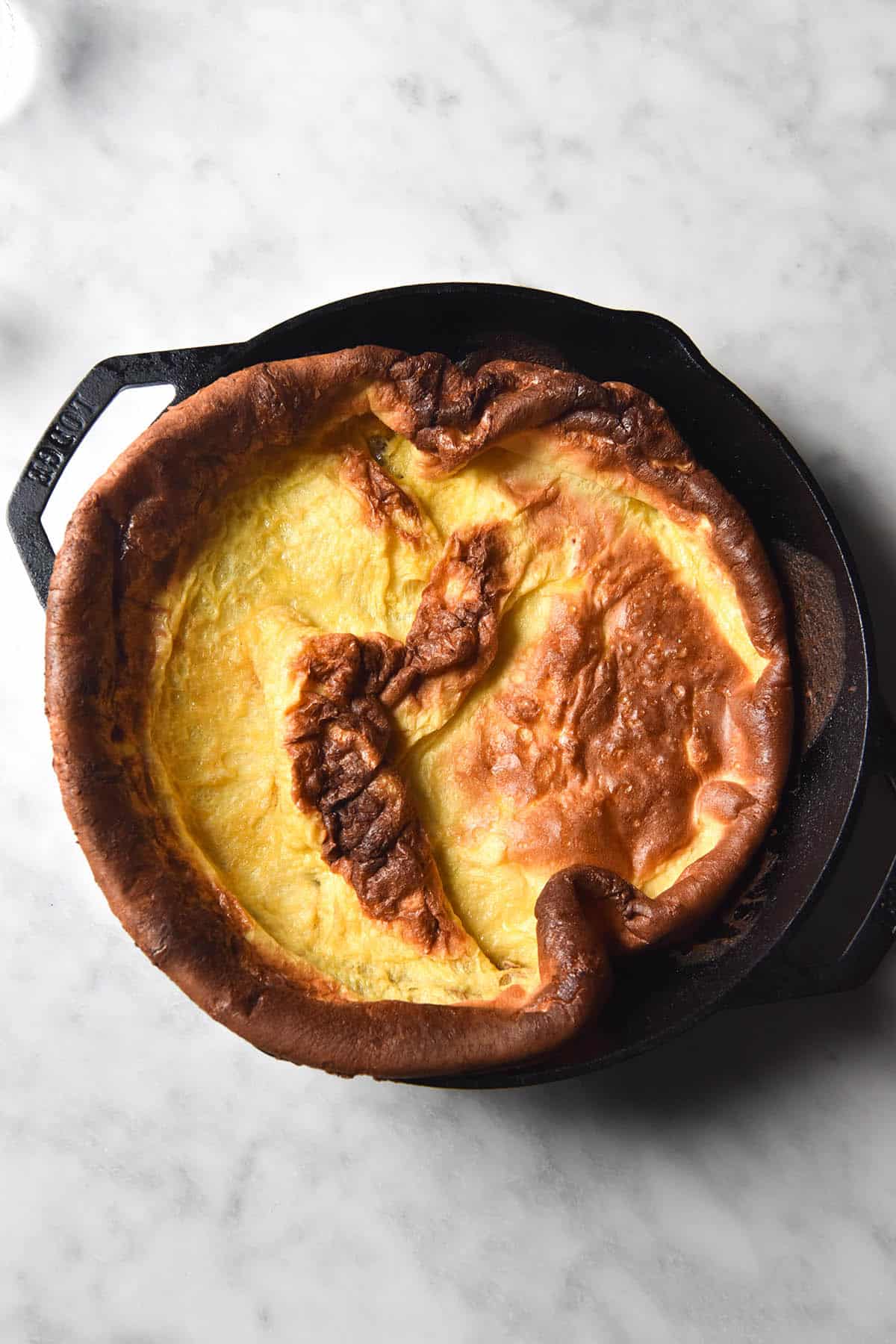 More gluten free breakfast recipes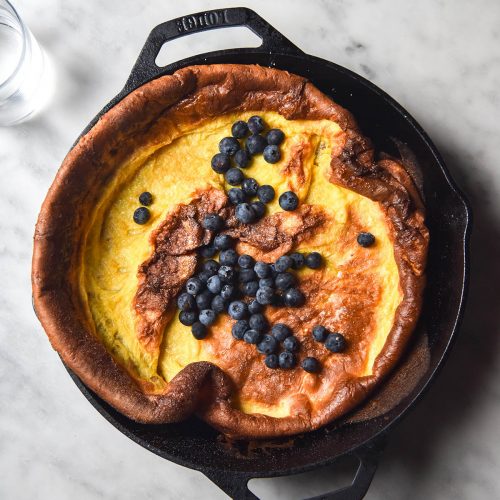 Gluten free Dutch Baby
Ingredients
40-50g

white rice flour

40-50g

tapioca flour or cassava flour

1/4

tsp

baking powder

30g

caster sugar

3

extra large eggs (45-55g each, weighed out of shell)

180ml

milk of choice (I used full fat lactose free)

30g

butter
Instructions
Preheat the oven to 200C/400F with your skillet inside for 20 minutes.

Whisk your dry ingredients together in a medium mixing bowl. Add the eggs and milk and whisk until a smooth, thin batter forms. Transfer the batter into a large jug with a lip.

Add the butter to the hot skillet and carefully but quickly swirl it to coat the base with butter. Once butter is melted, pour in the batter. I like to quickly shuffle the skillet so the butter floats across the top of the batter rather than remaining in one corner.

Close the oven and bake for 10 minutes or until puffed, golden brown and cooked through. Serve immediately as the pancake will quickly fall as it leaves the oven.