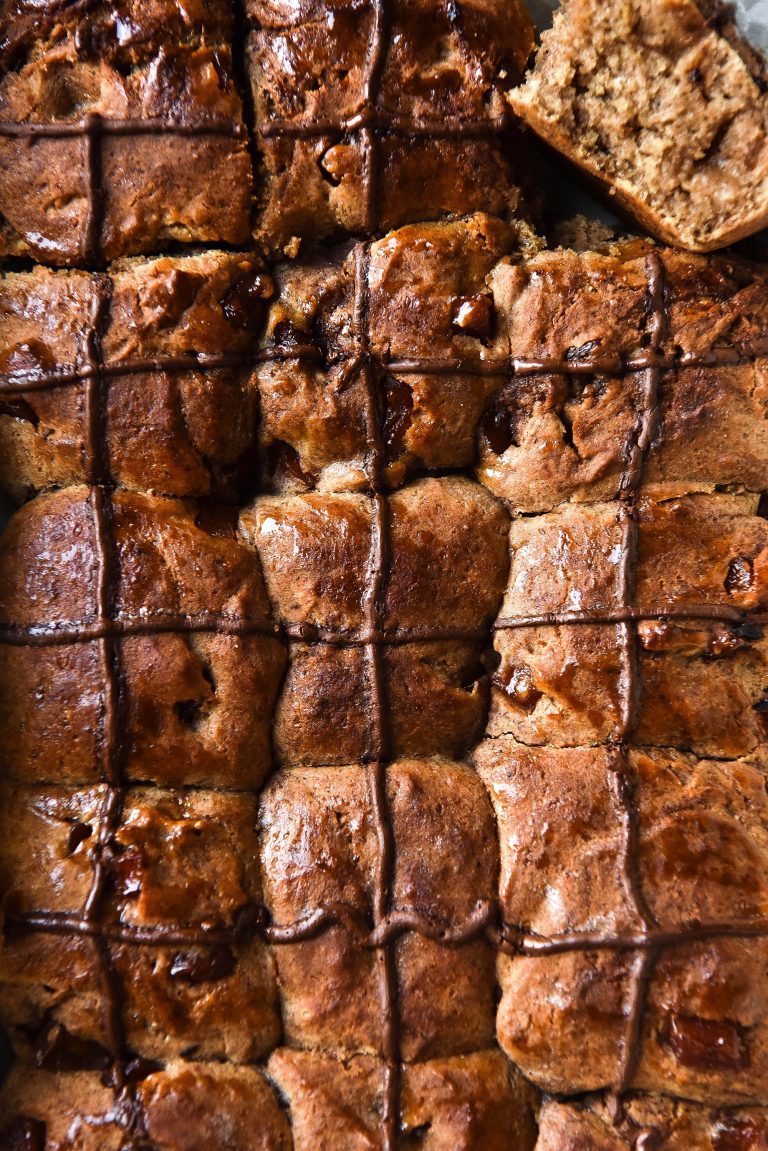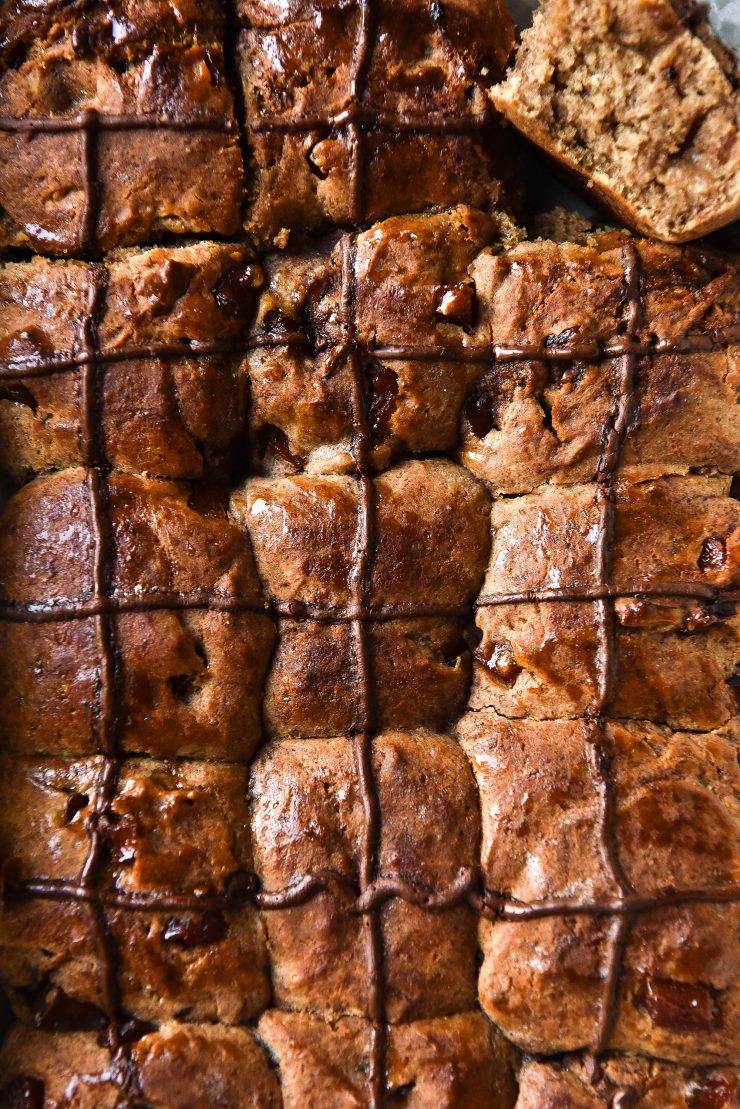 After many many tests, today I'm finally sharing my recipe for gluten-free sourdough hot-cross-buns. These buns are a delicious gluten free take on the traditional hot cross bun. They use an optional fruitless fruit mince if you have FODMAP constraints, which makes them taste just like the originals, minus the gluten free FODMAPs.
Gluten free sourdough hot cross buns
These hot cross buns are gluten free, nut free and xanthan gum free. They use a simple blend of gluten free flours to form the base, and psyllium husk for binding. They are rich and delicious, with a mix of eggs, yoghurt, butter and oil to bind and enrich.
If you're reading this, I'm assuming you've already read my gluten free sourdough starter guide. You might have even made some of my sourdough bread! The process I use for these gluten-free sourdough hot-cross-buns starts in a similar fashion to the sourdough. Once we've made the preferment, however, we use a kitchen mixer to combine the sugars, eggs and other bits into an extremely wet and sticky dough.
Wet and sticky is fine, however, because this is sourdough! I've designed the recipe so that it undergoes a retarded fermentation in the fridge overnight. This means a few things. Firstly, the bulk of the work is done the day before eating. This would generally be useful on an Easter morning, although I'm not sure it matters as much right now. Secondly, the dough develops it's sourdough flavour in the fridge overnight. The result is a bun that is more pronounced in flavour than it would be if made on the same day.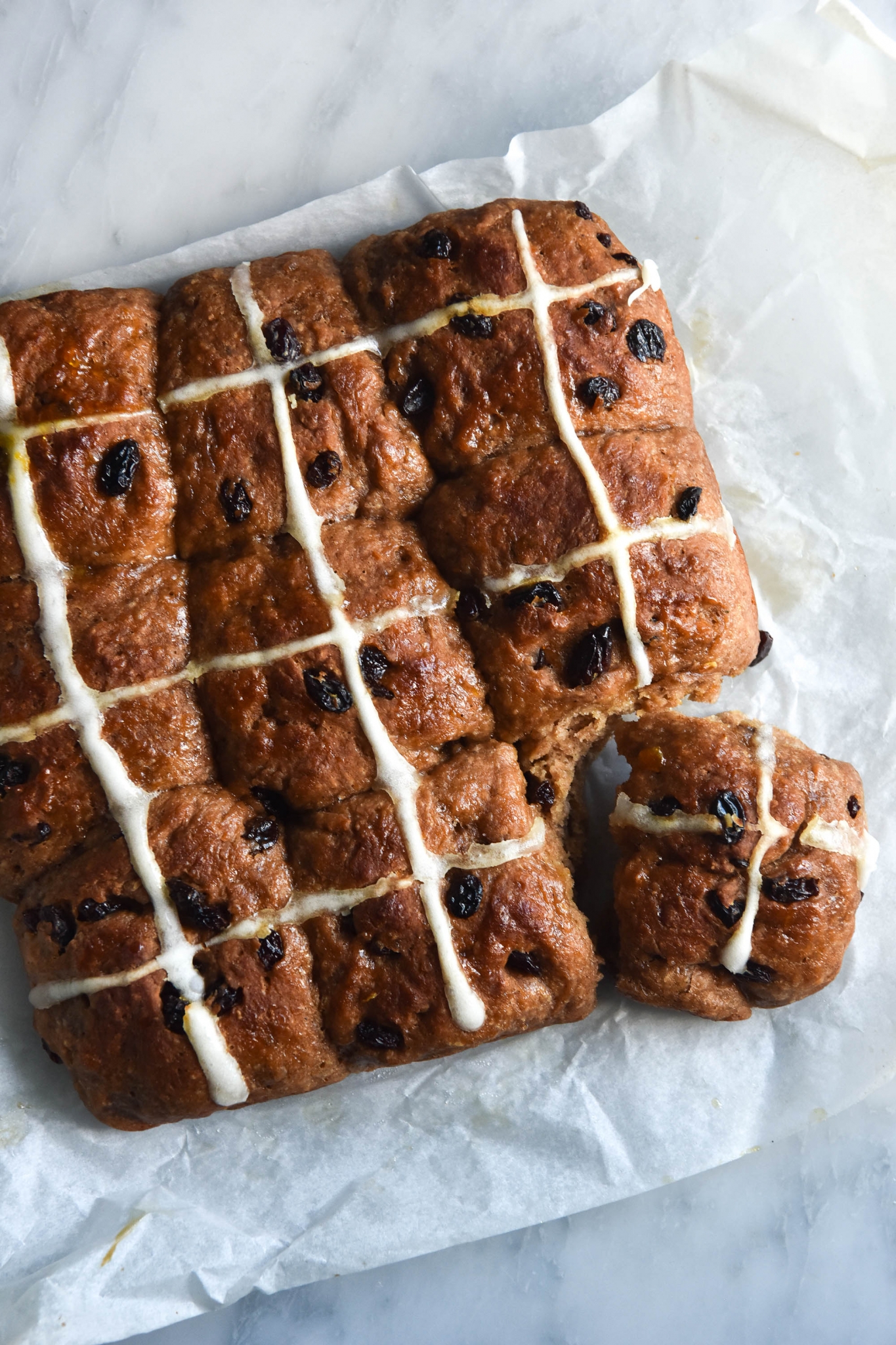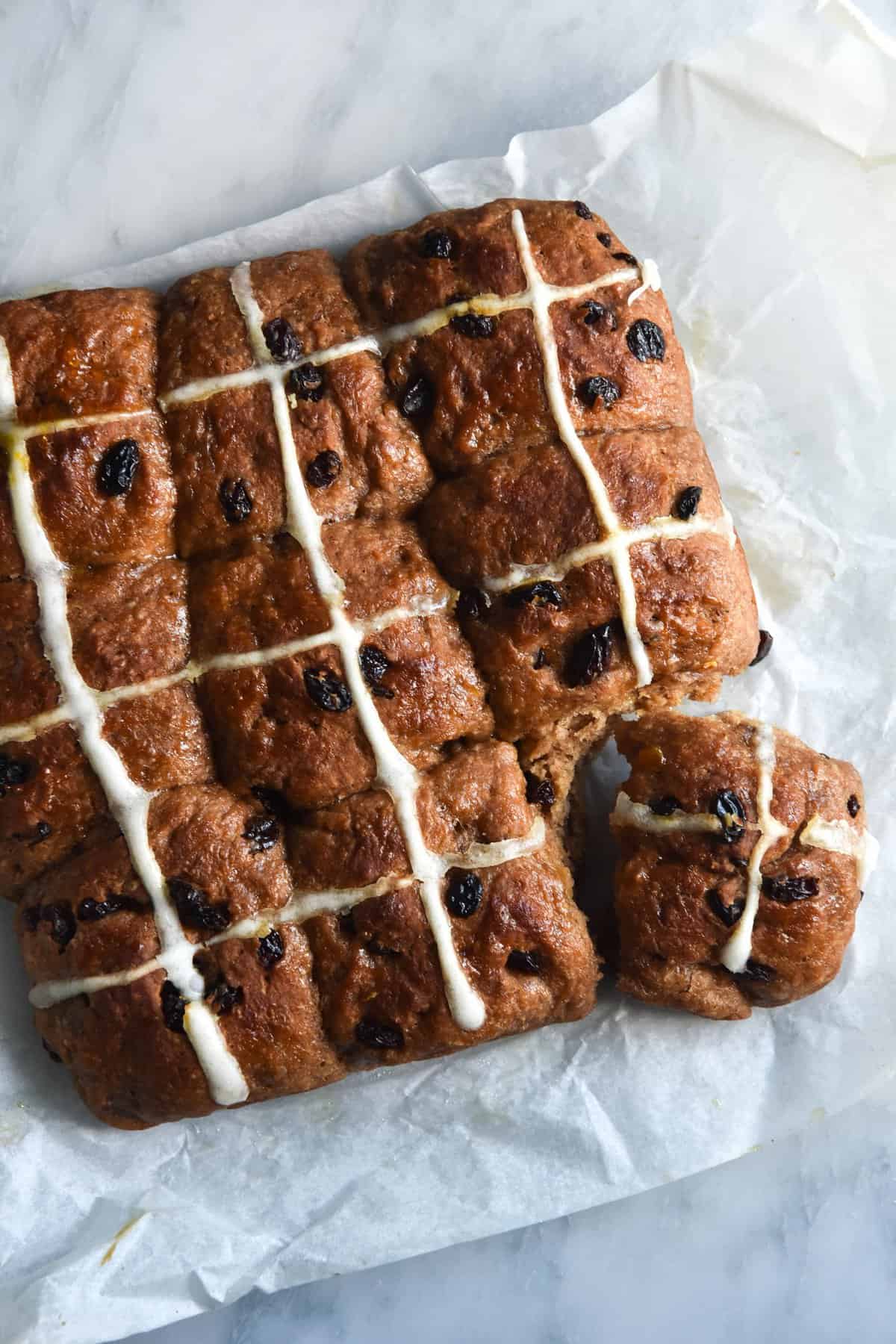 Recipe notes for your gluten free sourdough hot cross buns
As always, make sure you weigh your ingredients. This is the only way to ensure good results in gluten free baking.
Make sure you've fed your starter and it is at the peak of rising when you make the preferment. If you're in a cold climate, you can boost your starter by putting it in the oven with just the light on, if you have the option to do so (some ovens don't have a separate light switch). Leave it there for around 15-20 minutes.
I've included zanthan gum in this recipe. Generally I'm not a gum fan, but in these crazy times I can concede you'd want your baked goods to last as long as possible. Zanthan gum aids in preservation of baked goods, as well as giving them a better texture. It stops them from crumbling and provides structure in a similar way to gluten.
At the moment I don't have any suggestions for a vegan version. Gal's gotta preserve her flour these days, and my freezer is already filled with gluten-free sourdough hot-cross-buns!
This recipe depends heavily on your starter. Whether or not it's active and at the right consistency will determine the success of the buns. The ideal starter consistency you're looking for it paste like without the top looking dry or a bit crackly.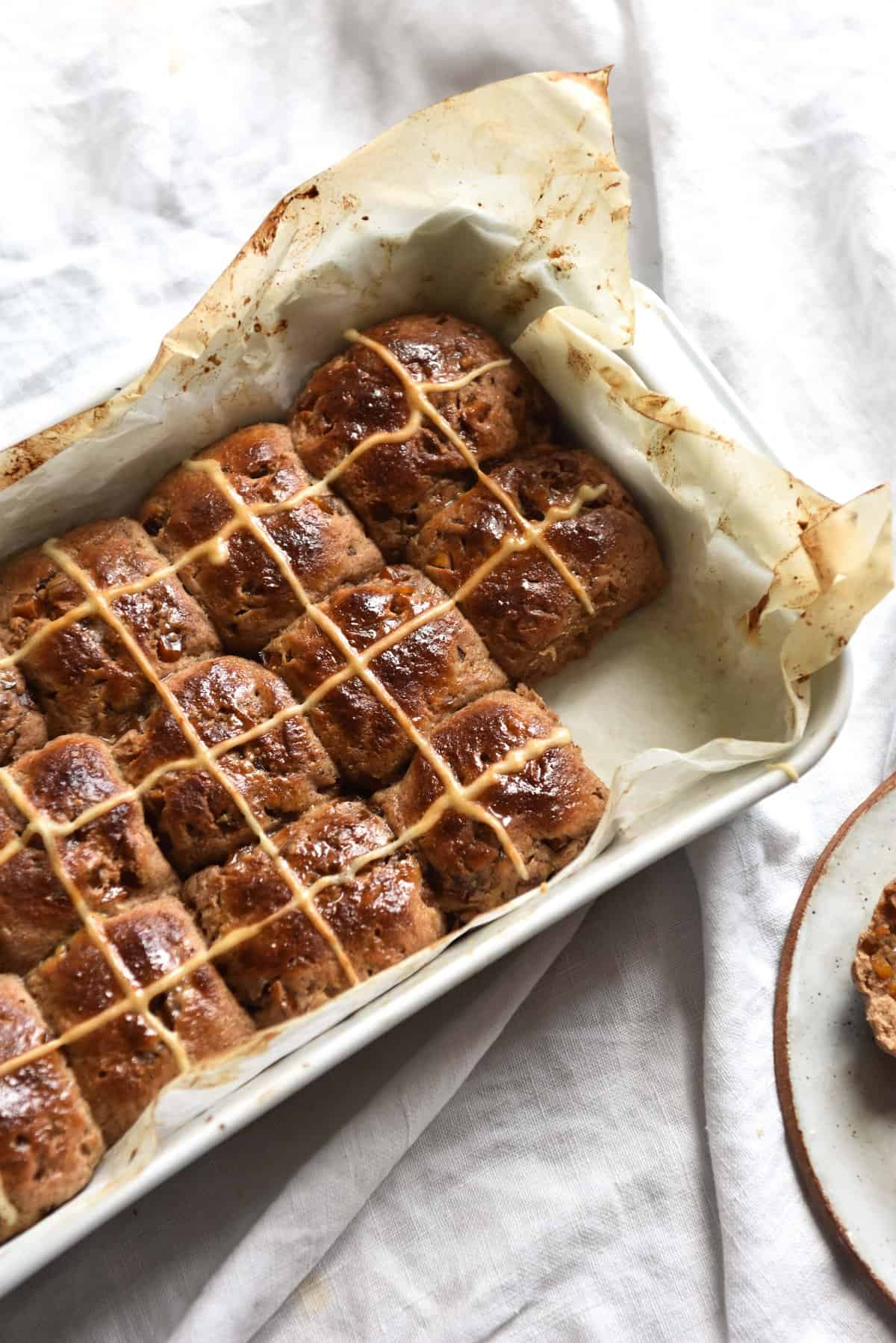 Gluten free sourdough notes
I've added powdered ginger to this preferment of this recipe to act as a dough enhancer. There's a bit of evidence that cinnamon and yeast don't play well together, and gluten free sourdough needs all the help it can get.
I trialled adding the cinnamon to the dough after it had proofed in the fridge overnight. Personally, I found the uneven distribution of spice to be quite unsatisfying, so I'd prefer a less smaller HCB. You can play around and see what you prefer.
Getting a sour flavour in an enriched dough is a bit of a balancing act. You need to leave the dough out to develop but people get squeamish about leaving a raw egg dough out. Go as far as you're comfortable, but know that a shorter time in the fridge and on the bench will equate to a less sour flavour.
Feeding the preferment with a whole grain (in this case, sorghum) can help develop a sour flavour. If you'd prefer a less detectable sourness, you could experiment with using white rice flour. You may need to adjust the liquid quantities to suit (and I haven't tried this so I can offer no guarantees).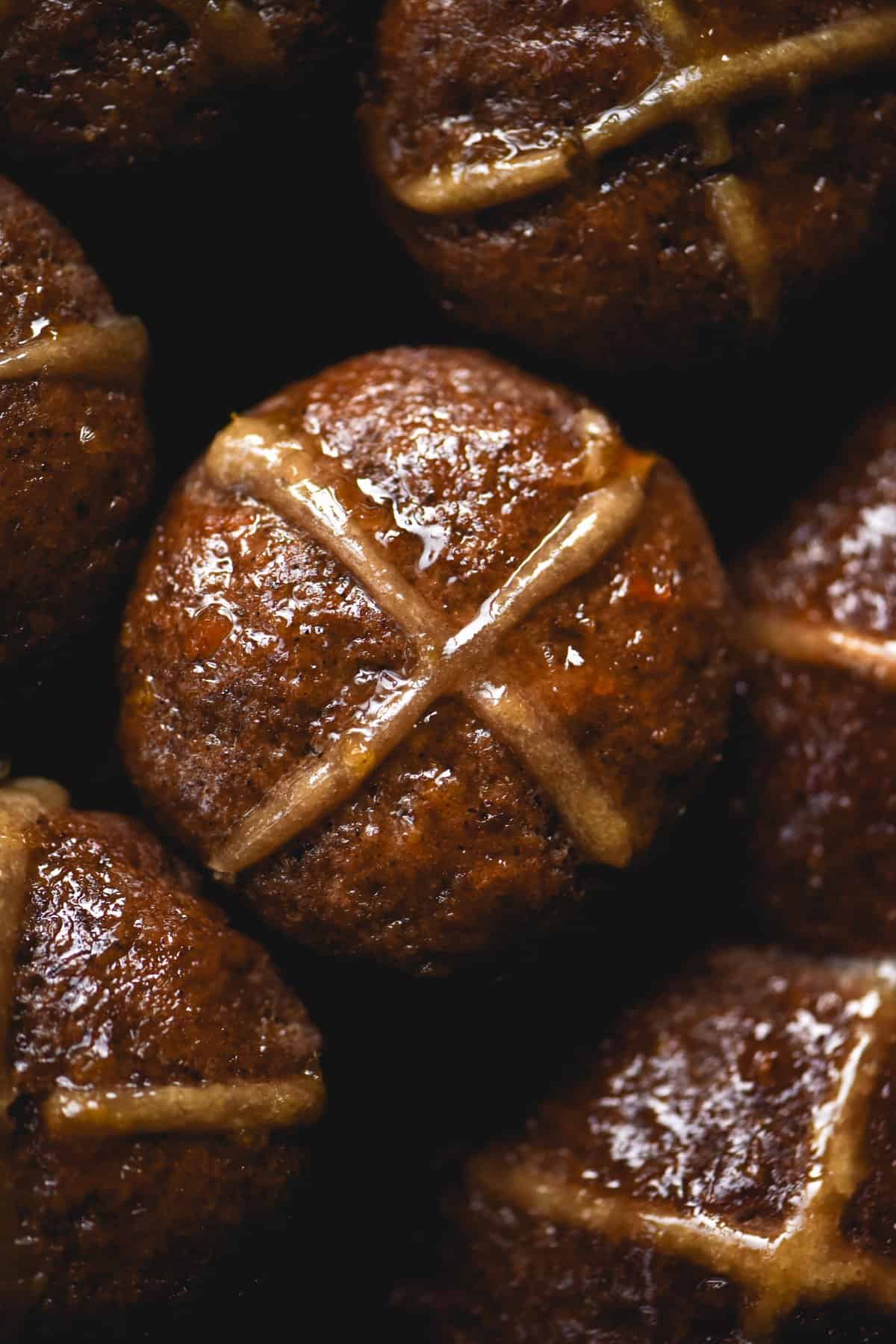 Recipe substitutions
Please note that I currently don't have any substitution suggestions for flours. It took me long enough to nail down this version!
If you don't have any, you can omit the zanthan gum. Zanthan gum helps baked goods retain moisture and assists in adding structure. I'd recommend adding a little extra psyllium husk and a little extra yoghurt in it's place.
I can't give a substitution for psyllium husk because it's all I ever use as a gluten free binder/structure giver.
Yoghurt adds a lot of moisture to baked goods. You can use full fat regular, full fat lactose free, and maybe plant based plain coconut (although I haven't tried that). If you don't have any yoghurt, you can use milk. Consider adding a little olive oil or extra butter (as well as the milk) to compensate.
Although I highly highly recommend the fruit mince (for sugar, spice, moisture and deliciousness) you could use dark chocolate in it's place.
If you omit the fruit mince but like a well spiced bun, consider adding 1/2 teaspoon extra of each spice. I actually like to add extra regardless, because buns are never spicy enough for me.
The red wine in the fruit mince makes it taste so much like a regular fruit mince – something about that grape flavour. If you don't want to use it, however, just omit it. You can add extra lemon juice (1/2 cup instead of 1/3 cup) to compensate. You can also use half maple syrup and half sugar in the mince.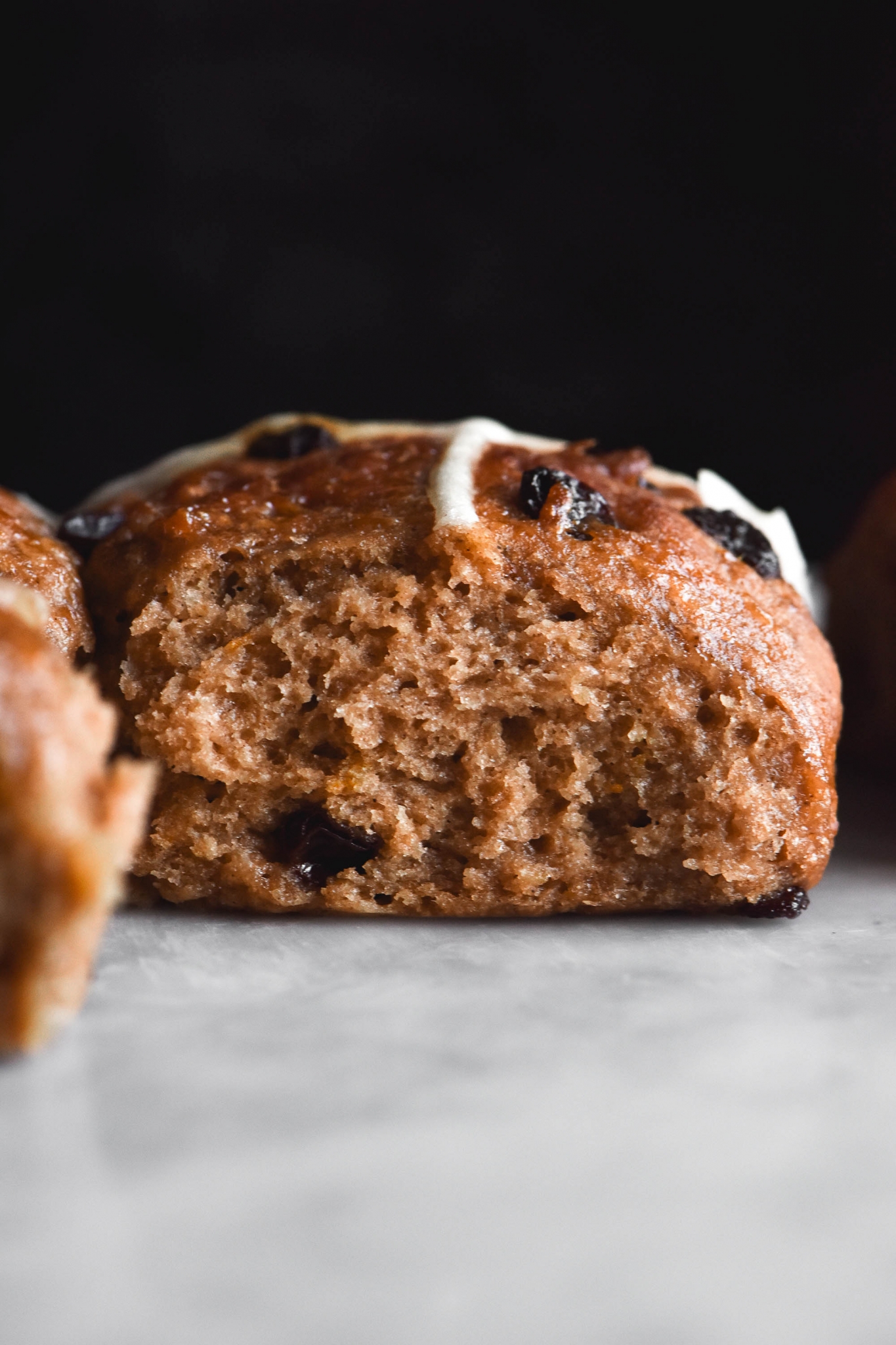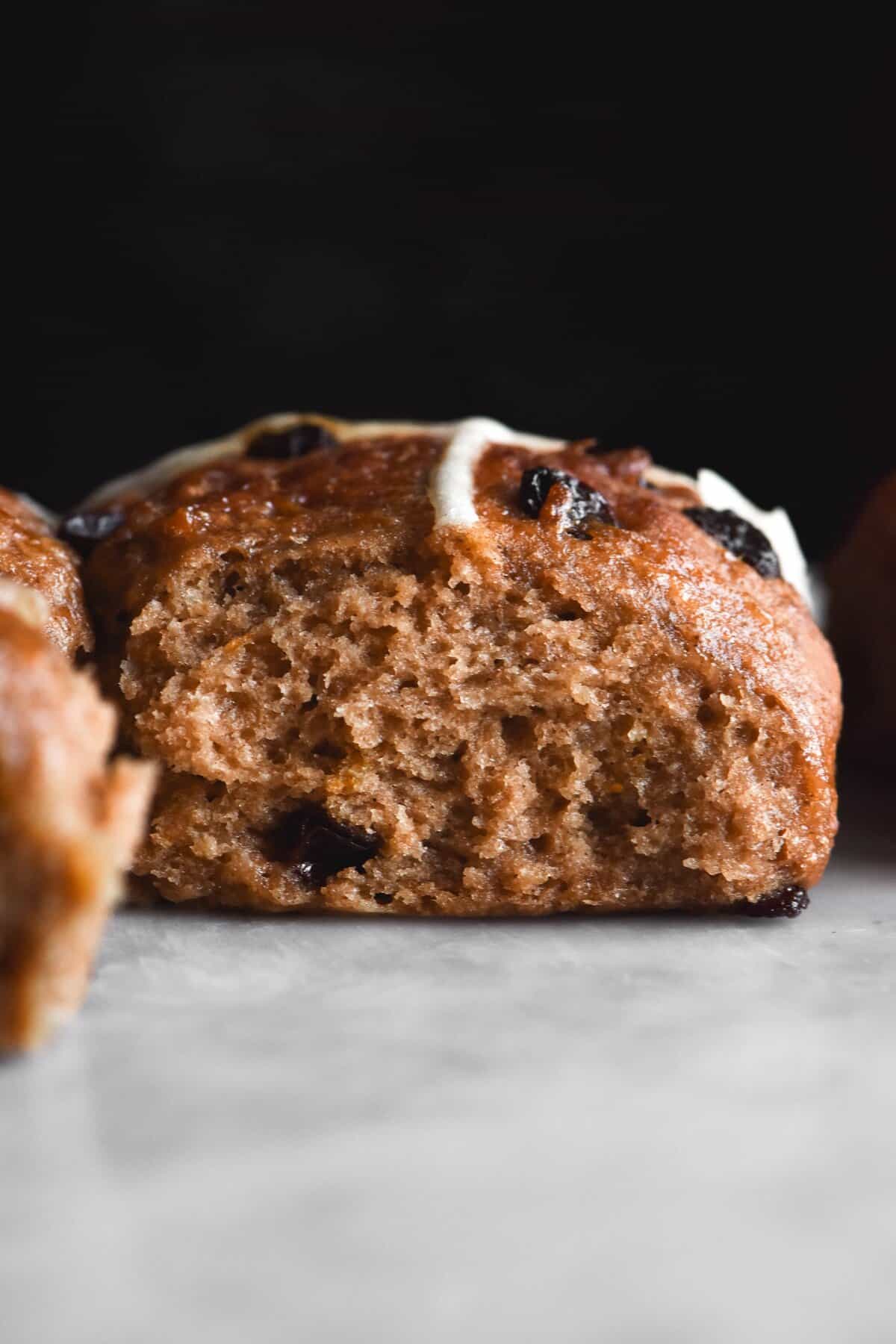 More gluten free sourdough recipes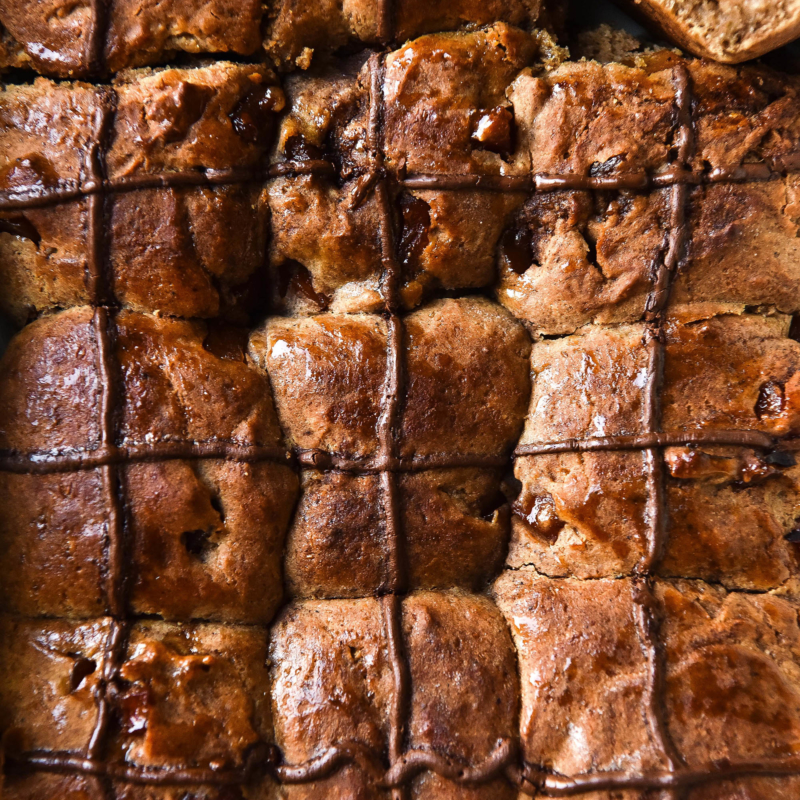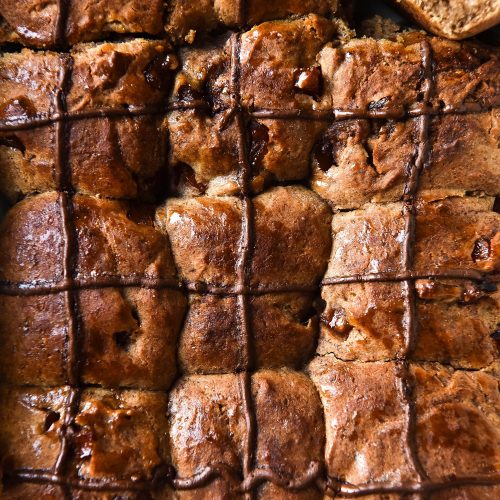 Gluten free sourdough hot cross buns
Gluten free, FODMAP friendly, nut free
Requires an overnight preferment
Ingredients
For the FODMAP friendly fruit mince: (optional)
250

g

pumpkin chopped into fine cubes

preferably Japanese or Kent

1/2

cup

(110g) caster sugar

1/3

cup

(80ml) fresh lemon juice

1/2

cup

(125ml) red wine

see notes

1 1/2

teaspoons

cinnamon

1 1/2

teaspoons

nutmeg

1/2

teaspoon

clove
For the preferment:
200

g

starter, active bubbly and fed 2-3 hours prior

60

g

sorghum flour

150

g

water
Dry ingredients for the buns:
1

cup

(130g) white rice flour

1

cup

(100g) sorghum flour

1/2

cup

(50g) tapioca flour

1/2

cup

60g potato starch

1

teaspoon

xanthan gum

2

tablespoons

(12g) psyllium husk

150

g

cup light brown sugar

1/4

teaspoon

ground ginger

2 1/2

teaspoons

cinnamon

2 1/2

teaspoons

nutmeg

1/2

teaspoon

ground clove

1 1/2

teaspoons

baking powder

Pinch

of salt
Wet ingredients for the buns:
4

extra large eggs

75g

full fat plain yoghurt

lactose free if necessary (or plant milk, see substitutions)

1/2

tablespoon

oil (I use olive)

2

teaspoons

vanilla bean paste

100

g

softened butter

cubed
To finish:
1

egg

for eggwash

Maple syrup

for glazing

75

g

dark cooking chocolate

if you want chocolate crosses

OR

2

tablespoons

tapioca flour

1

tablespoon

rice flour

1

teaspoon

plain tasting oil

I used olive

1

tablespoon

+ water

JUST to make a paste
Instructions
To make the fruitless fruit mince:
The afternoon before, combine all the ingredients in a non-reactive bowl. Stir, cover and leave on the bench or in the fridge overnight. Stick to the fridge if you're in a warm climate

The next day, cook the fruit mixture in a large pan over a low heat. Over the course of about 30 minutes, the liquid should reduce down and become a syrupy glaze. When there's only about 1-2 tablespoons of syrup, remove the mince from the heat and decant into a lightly oiled bowl. Set aside to cool.
To make the hot cross buns
To make the preferment:
The afternoon before (same time as you make the fruit mince) combine the ingredients for the preferment in a large, non reactive bowl. Cover with cling film (I save the pieces of plastic that my pumpkin comes wrapped in) and place in a warm spot for 2-3 hours. I like to put mine in oven with just the light turned on because we're coming into winter here in Australia. This won't be necessary if you're in a warm climate.

The preferment is ready when it has a bubbly, slightly domed surface (as a yeast mixture would).
To make the buns:
Combine all the dry ingredients for the buns in a large bowl, and stir to combine. Place the dry mixture into the bowl of your kitchen stand mixer. Add the preferment and all the wet ingredients except for the butter into the mixer, and use the paddle attachment to combine on a low speed. Add a few chunks of butter at a time and wait until they're incorporated before adding the next lot. Repeat until all the butter has been added. The mixture will look quite wet (like a thick cake batter) and be very sticky. Don't panic.

Lightly oil a non-reactive bowl and use a spatula to transfer the mixture into the oiled bowl. Lightly oil the top of the dough and cover with the plastic you used earlier. Pop in the fridge overnight.
To finish the buns (the next morning):
Line a baking dish with scrunched up baking paper. Scrunching helps it adhere to the tin nicely so your buns will fit snugly.

Bring the dough out of the fridge. Pour the fruit mince into the dough and use your hands to distribute it evenly through the dough. It should be sticky but quite firm. Lightly oil your hands and divide the bun mixture into 12-15 small buns. Fit them tightly into the baking dish – it will encourage them to rise up, not out. It will also keep them nice and moist.

Cover with the same plastic as last night, lightly oiled if it's touching the buns. Leave the buns in a warm, draft free spot to rise for anywhere from 3-6 hours. Time = sourdough flavour development.

The buns won't rise as dramatically as yeasted or regular ones, but there should be a tangible difference. They should look increasingly snug in the dish, and feel light and airy when (gently) prodded.

When they're ready to bake, preheat the oven to 220C and fill a small oven proof dish with water. Brush the buns liberally with egg wash, before piping on your cross of choice (chocolate or traditional).

Place the buns in the oven next to the small dish of water. The steam from the water will help give the buns lift.

Cook for 20-25 minutes before turning the function to grill and browning the tops to your liking. If you use the traditional crosses, you can go over the buns with extra egg-wash every 10 or so minutes to keep them shiny and moist.

Once the buns are cooked to your liking, remove them from the oven and brush them liberally with the melted butter. This provides one final hit of moisture.

Finish by brushing them with the maple syrup until they're sufficiently shiny. The buns are best served warm and fresh out of the oven or reheated on subsequent days. I use a sandwich press for mine, but a microwave works equally well. Serve them with a big hunk of good quality butter.