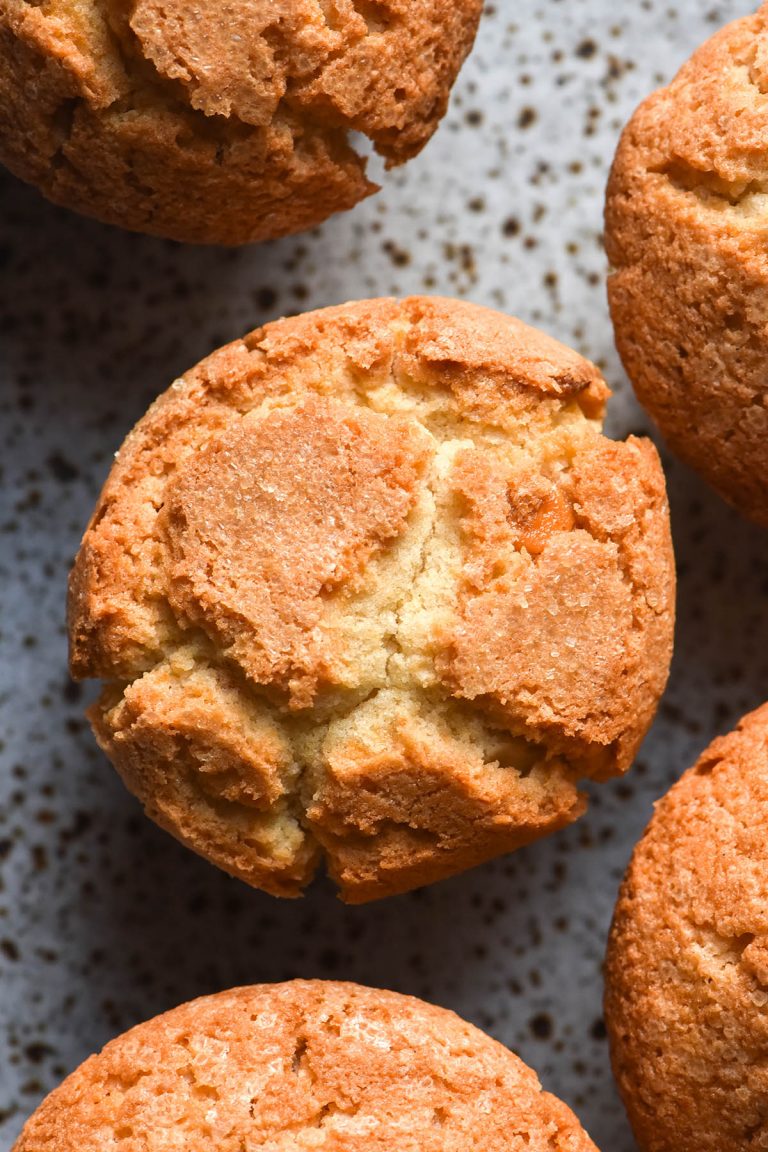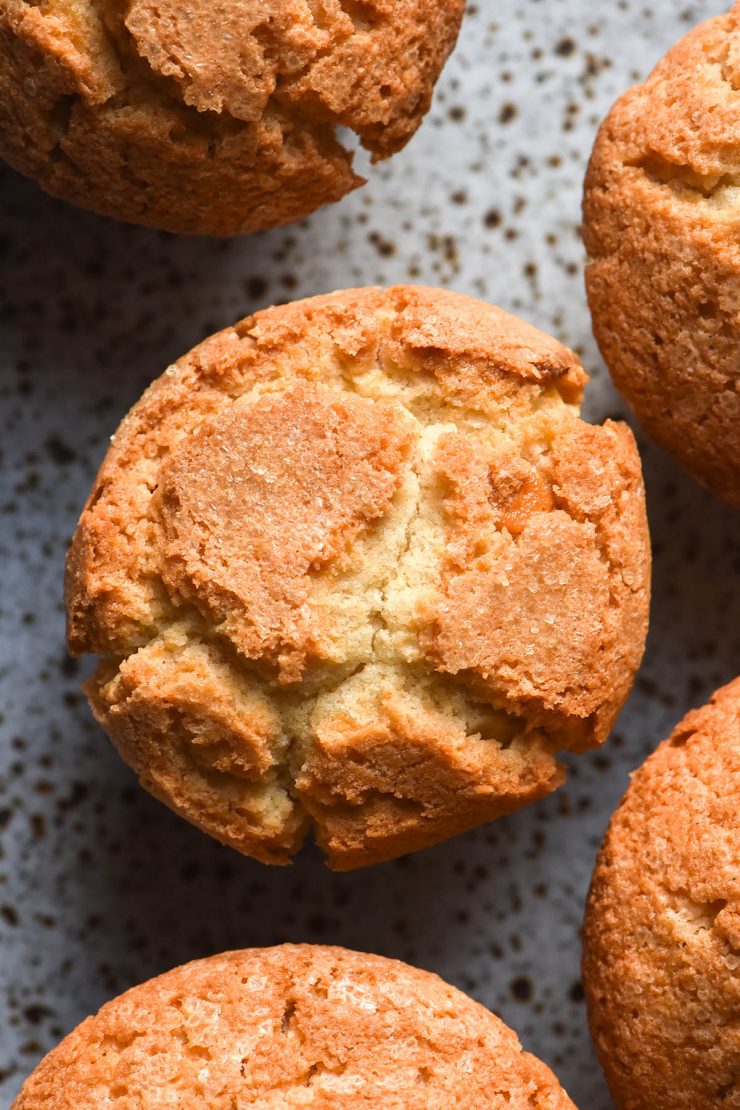 I love vanilla. Vanilla ice cream, vanilla cake – there's not many occasions I'd chose a flavour over vanilla. Today's recipe for gluten free muffins is just that: vanilla flavoured.
This muffin recipe is really a choose your own adventure for muffin making. Personally, I love it as is. That said, you can add fill ins as you see fit, and make this muffin recipe your own.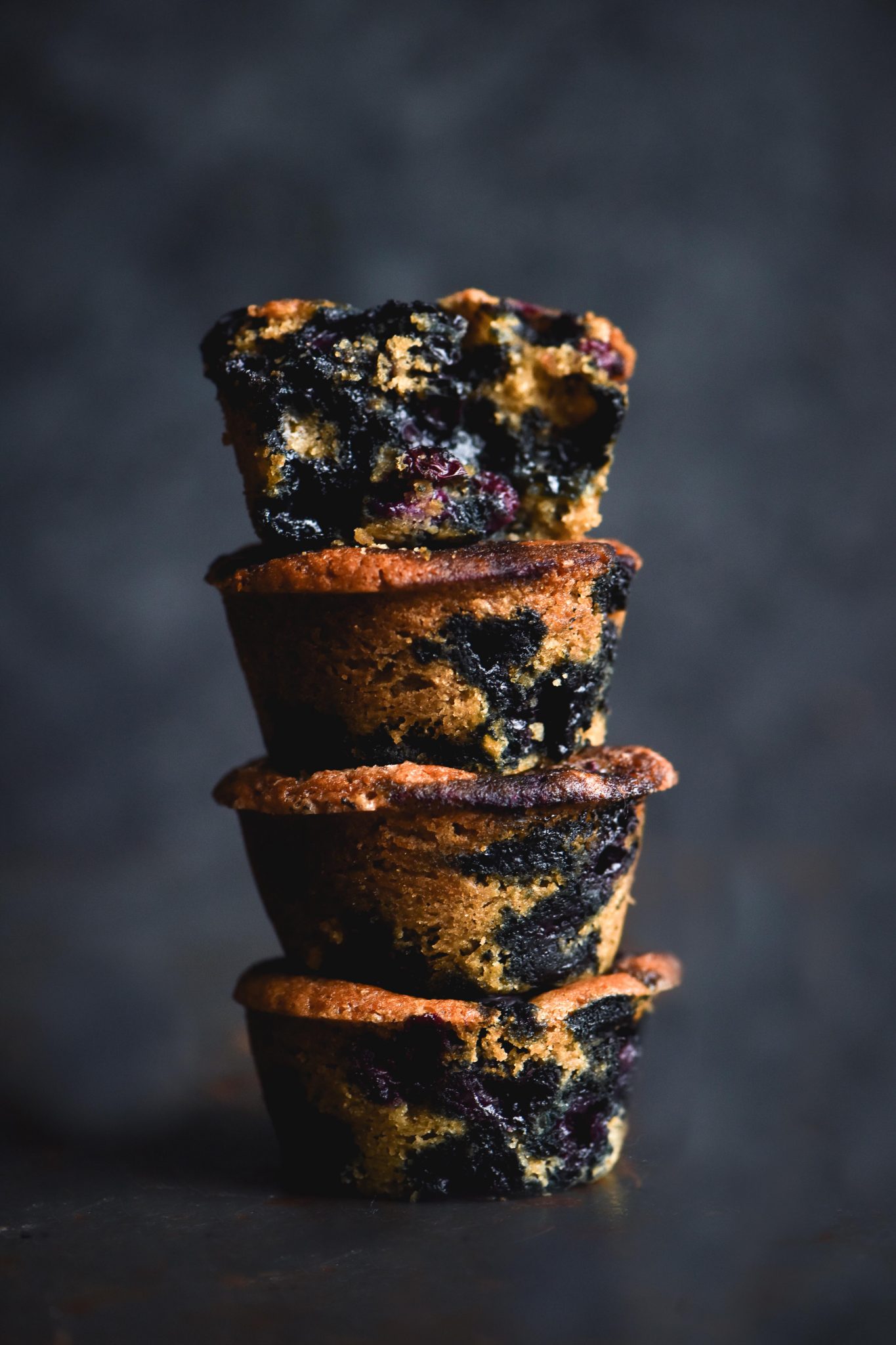 Gluten free muffins
These muffins are nut free and easily made dairy free. They are made from a quick and easy batter that comes together without the need for creaming butter and sugar, which can be time consuming.
The muffins use a simple blend of white rice flour and tapioca flour for a cottony light crumb. To achieve maximum flavour AND moisture, they use a combination of butter and oil. Butter adds that classic flavour and mouthfeel, while oil ensures they stay moist on the counter for days.
The use of both white and brown sugar provides a caramel like sweetness but also that classic clean sugar flavour. These gluten free muffins use a small amount of baking soda and powder, as well as one egg, for leavening (and the egg for binding).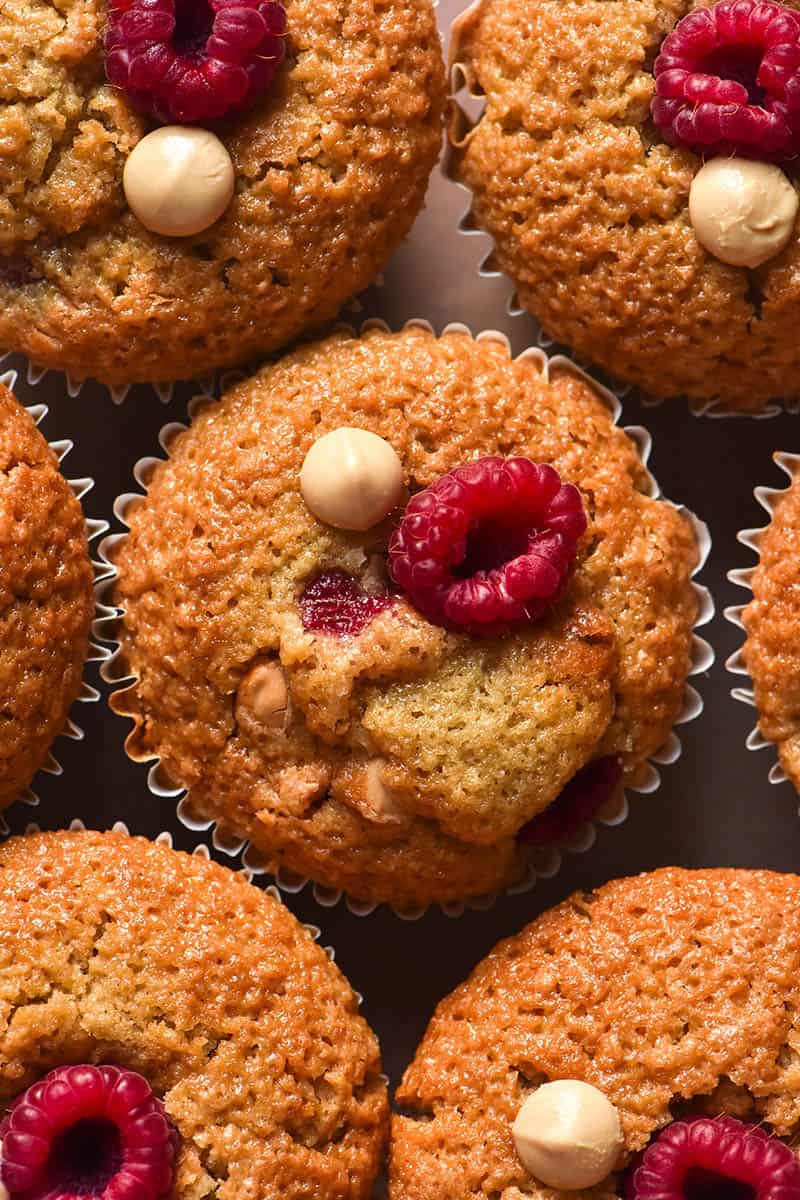 Recipe tips for your gluten free muffins
While I was working on this recipe, I found that chocolate chips tend to sink in this batter. Gluten free batters have less strength, so are less able to suspend weighty things in the batter. Yoghurt batters often help, but I wanted to develop a muffin recipe without yoghurt.
So, some tips for adding chocolate chips to your muffins:
Use mini chocolate chips or chopped chocolate. The less it weighs, the more likely it is to be able to hold itself up in the batter.
Sprinkle the chocolate chips on top of the muffins just before baking, then allow them to sink during the baking process.
I have read that tossing the chips in a little bit of the liquid (reserved from the recipe) helps hold them up in the batter. I am yet to try it but it sounds promising.
Honestly, xanthan gum will solve all your problems here. I highly recommend using it in these muffins.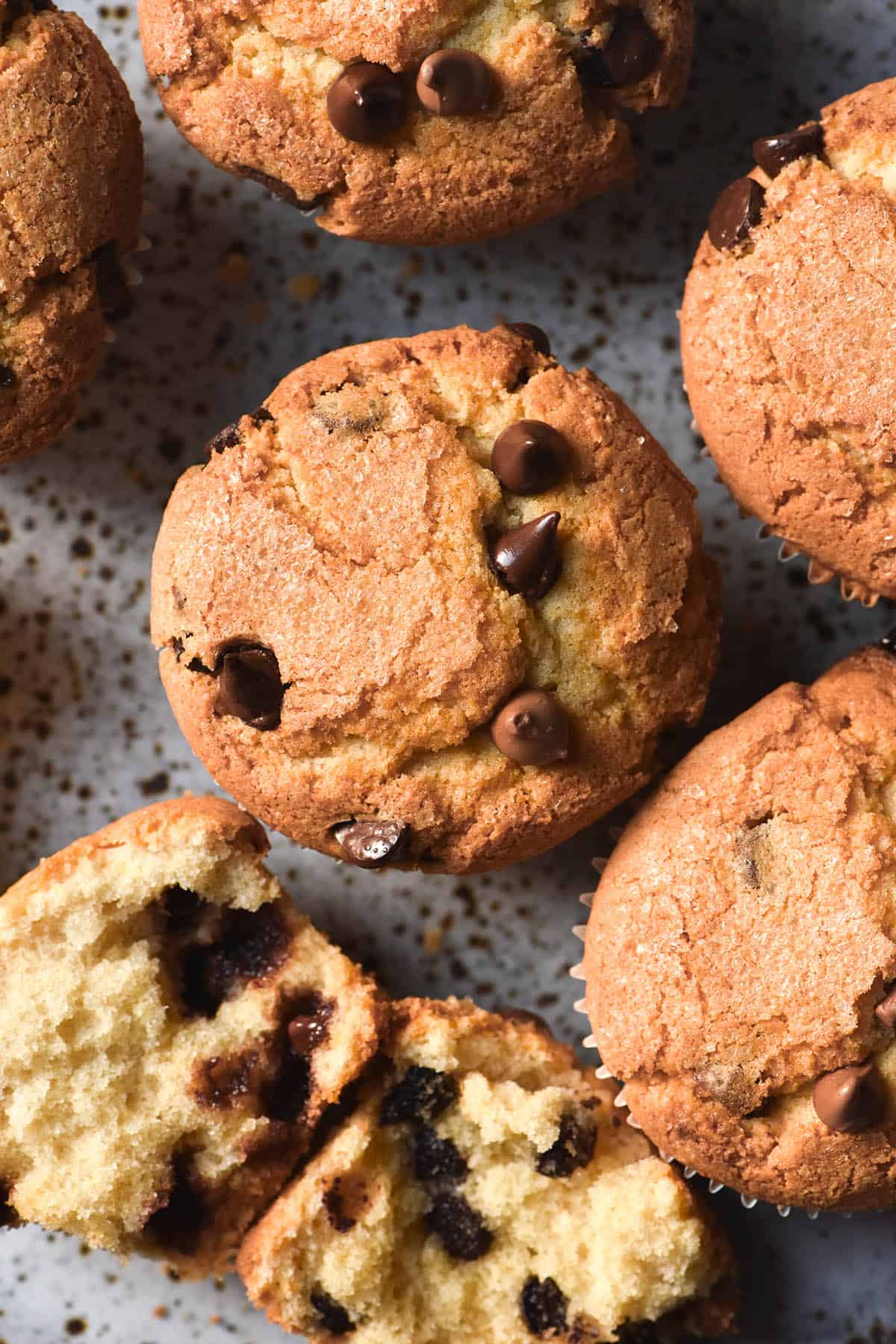 Do I need to use xanthan gum?
I don't include xanthan gum in my recipes unless they absolutely need it. There is generally another option (psyllium husk, fat, or a creamy dairy like yoghurt) for most baking applications. However, in the case of these gluten free muffins, there are a number of tangible benefits to using xanthan gum.
Firstly, the xanthan gum emulsifies the ingredients and brings them together to a creamy, thick batter. In practice, it makes batter taste more moist with less liquid, which is perfect here, especially if you plan to add berries or chocolate to the batter.
Which brings us to the next point: xanthan gum suspends the add ins in the batter. This means that they don't all sink to the bottom of the muffin as it bakes. This is important for dispersing ingredients equally, but also for muffins that weren't baked in a liner. If all the ingredients sink to the bottom, it's generally harder to get the muffins out of the tin without losing the bottoms (and all the add ins!).
Thirdly, it stops the outer edges of the muffin (and indeed, the muffin itself) from being too crumbly. I have made this recipe without the xanthan gum and it did work, but the edges were just a bit too crumbly for my liking. Xanthan gum stops that from happening.
Finally, xanthan gum keeps baked goods fresh for longer. This means that these gluten free muffins will take longer to stale. So, for these reasons, I highly recommend using it here. If you'd like a recipe without xanthan gum, use this one (it's also egg free!).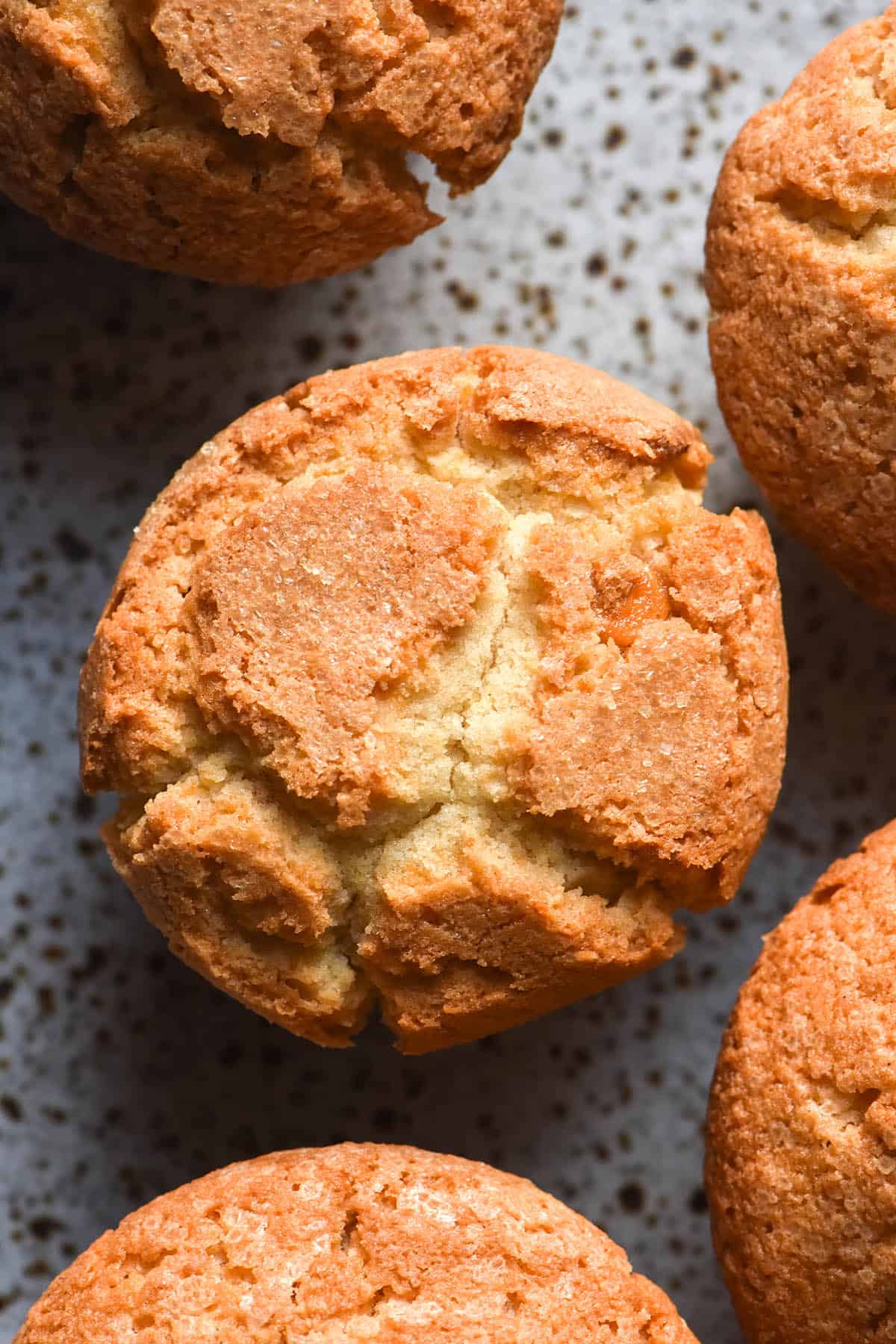 Substitution options for your gluten free muffins
If you'd like to make dairy free muffins, use a good quality plant based butter and dairy free milk. If you choose to use chocolate in the muffins, make sure it's a dairy free option.
For nut free muffins, ensure the milk you use doesn't contain nuts.
A low lactose option is to use lactose free milk or a plant based milk. Butter is very low lactose.
This recipe does not have a vegan option, but you can find my gluten free vegan muffin recipe here.
I highly recommend using the salt and vanilla in these muffins, no matter what additions you choose. They add so much nuance to the crumb of the muffin.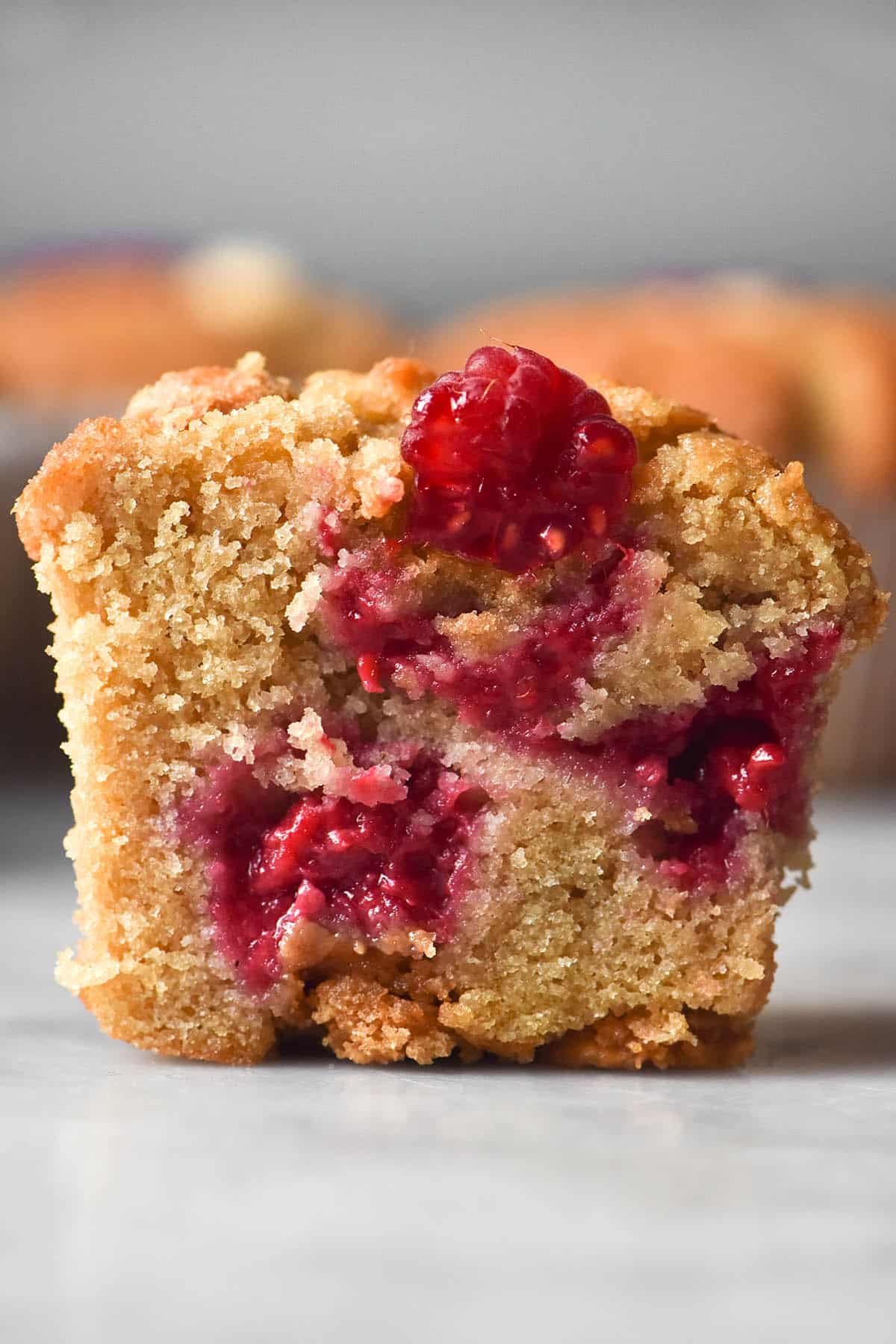 Flavour suggestions
Chocolate chips or chopped chocolate – white chocolate, milk chocolate or dark chocolate
Chopped strawberries, raspberries, blueberries or chopped banana
A hint of cinnamon or nutmeg
A gluten free streusel (I'm working on a recipe)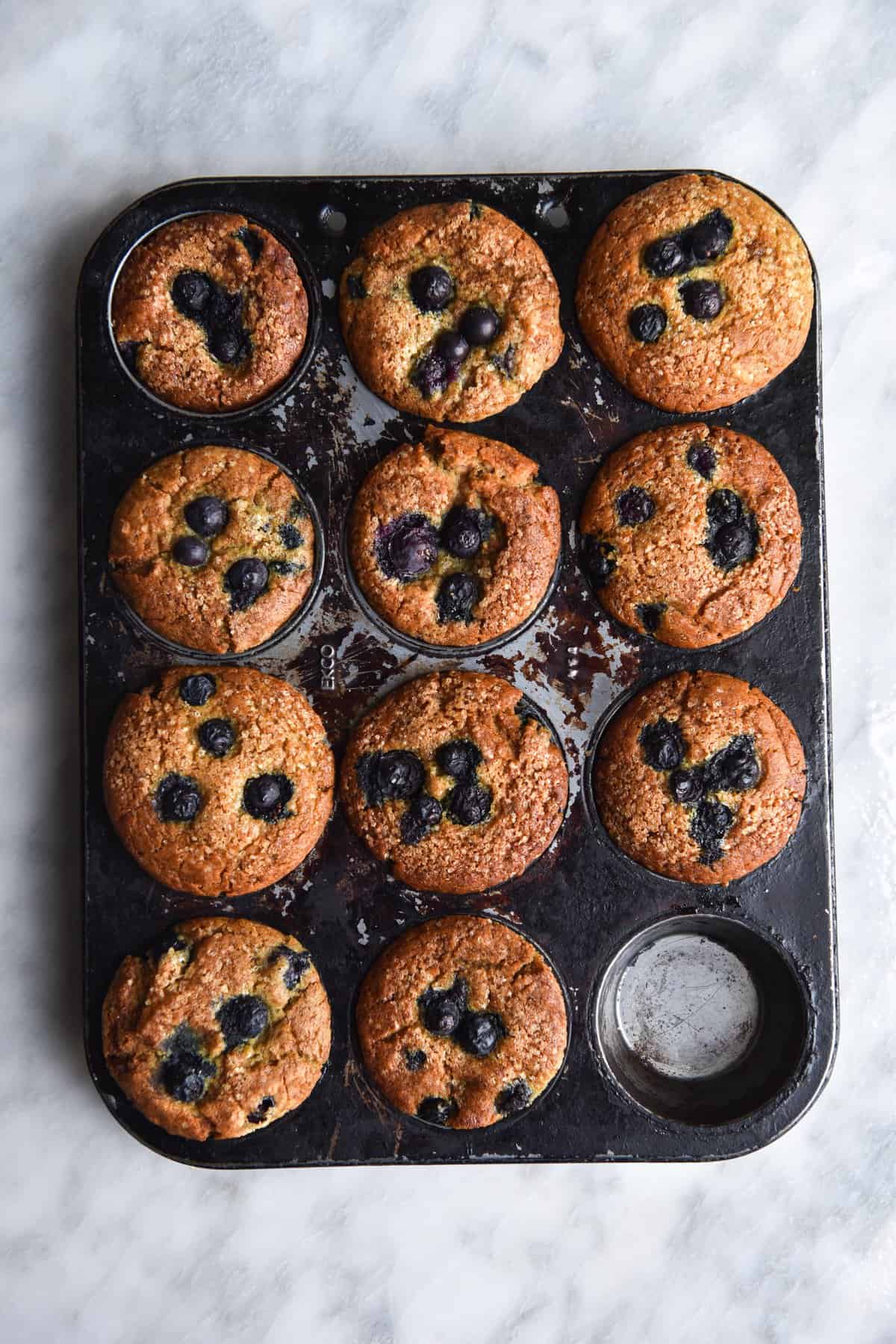 More gluten free muffin recipes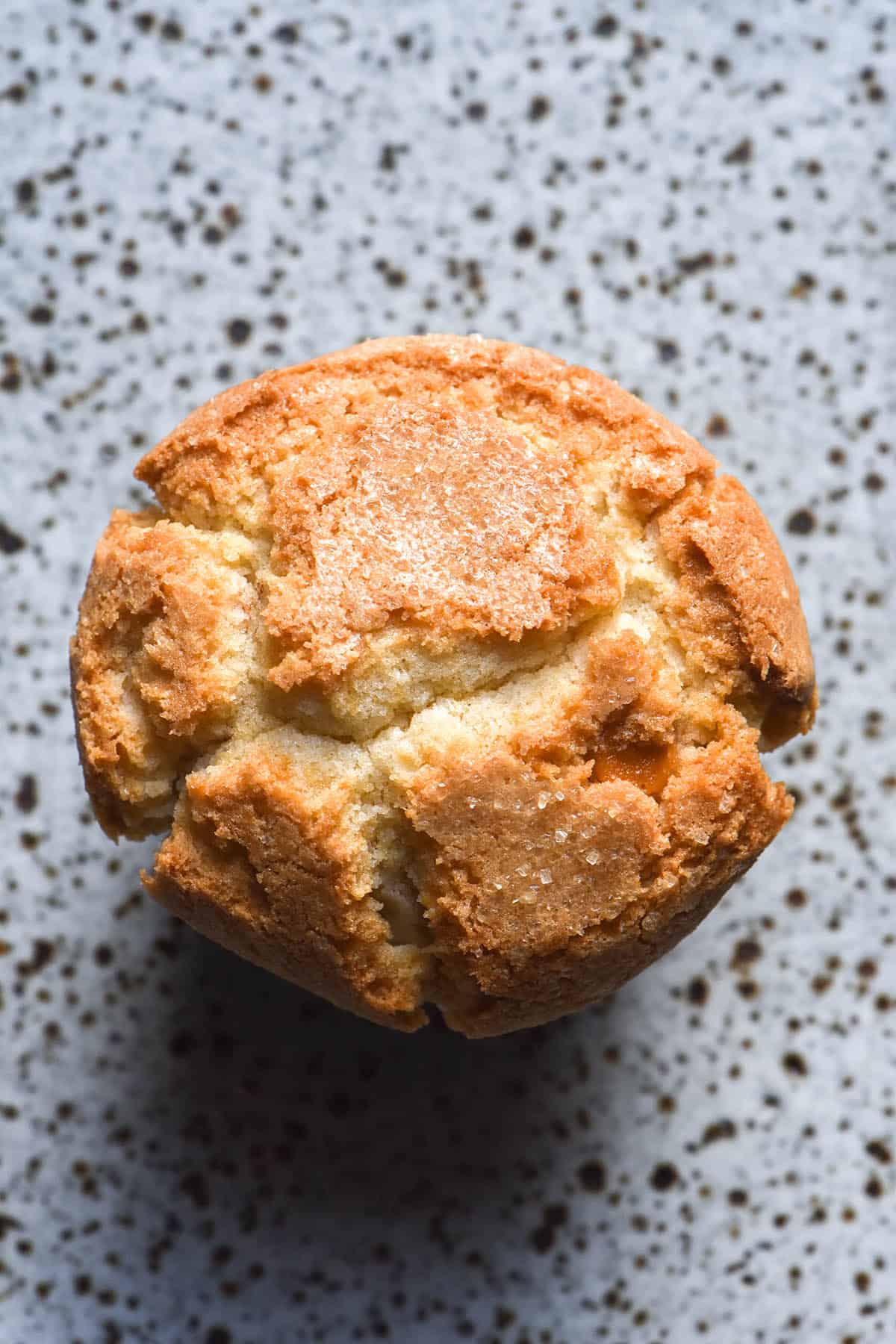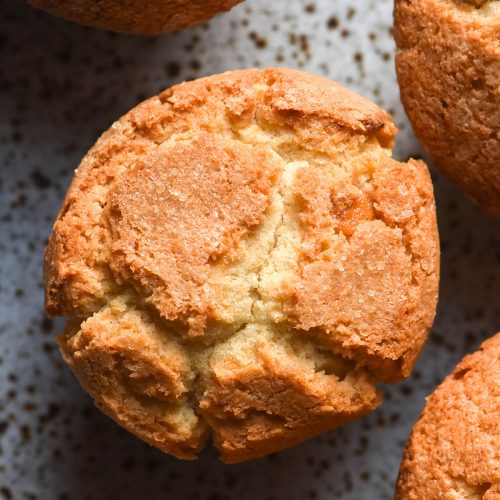 Gluten free muffins
Makes 6-7 muffins
*Cups and measures are in Australian cups. Use grams and ml for international accuracy
Equipment
Hand beaters or a stand mixer

12 hole muffin tin with 7cm (w) x 4cm (h) holes (roughly 80ml or 1/3 cup capacity)
Ingredients
160

g

(1 cup)* fine white rice flour

90

g

(3/4 cup)* tapioca flour

1

g

(1/4 teaspoon) baking powder

1-2

g

(1/4 – 1/2 teaspoon) xanthan gum

1.5

g

(1/4 teaspoon) baking soda

1.5

(1/4 teaspoon) fine salt

60

ml

(1/4 cup)* vegetable or neutral flavoured oil

75

g

room temperature butter salted or unsalted

1

extra large egg

45-55g weighed out of shell

100

g

caster sugar

50

g

light brown sugar

1

teaspoon

vanilla bean paste optional

125

ml

(1/2 cup)* milk of choice

Add ins of choice

100-200g

Finishing sugar

sanding sugar for the tops (optional)
Instructions
Preheat the oven to 180C/356F. Either grease or line your muffin tin with 6-7 liners. For whatever reason, I find that muffin liners result in muffins with a more rounded muffin top that doesn't spill out so much, but both options work well.

Combine the flours, baking powder, baking soda, xanthan gum and salt in a medium mixing bowl and whisk to combine.

In a large mixing bowl, combine the oil, butter, sugars and egg.

Use a hand beater or stand beater to beat the mixture for 1-2 minutes or until lighter and foamy. The butter should have incorporated completely into the mixture, with no chunks remaining.

Turn the beaters to low and alternate between adding the flour mix and milk. Continue until you have used up all the flour and milk.

Add your add ins and vanilla bean paste (if you are using them) to the batter and stir gently to just combine. Pour the batter into the prepared muffin holes, then garnish with the reserved add ins if using. I also like to finish mine with sanding sugar or finishing sugar for a crunchy top, but this is optional.

Bake for 20-25 minutes or until golden brown and cooked through.

Allow to cool for 5-10 minutes before removing from the tin. Cool on a wire rack and serve.
Notes
I highly recommend the xanthan gum in this recipe. If you'd prefer to make muffins without it, see this gluten free vegan muffin recipe here. 
1g (1/4 teaspoon) xanthan gum creates a soft muffin that is a tiny bit crumbly around the edges. 2g (1/2 teaspoon) creates a solid yet fluffy muffin with a slightly smoothed out muffin top. Choose whichever options works for your dietaries and preferences.
To make these muffins dairy free, use a good quality plant based butter and a dairy free milk. If you need them to be nut free as well, make sure you use a non-nut based plant milk.
The salt and vanilla go so such a long way in developing the flavour. I don't recommend omitting them