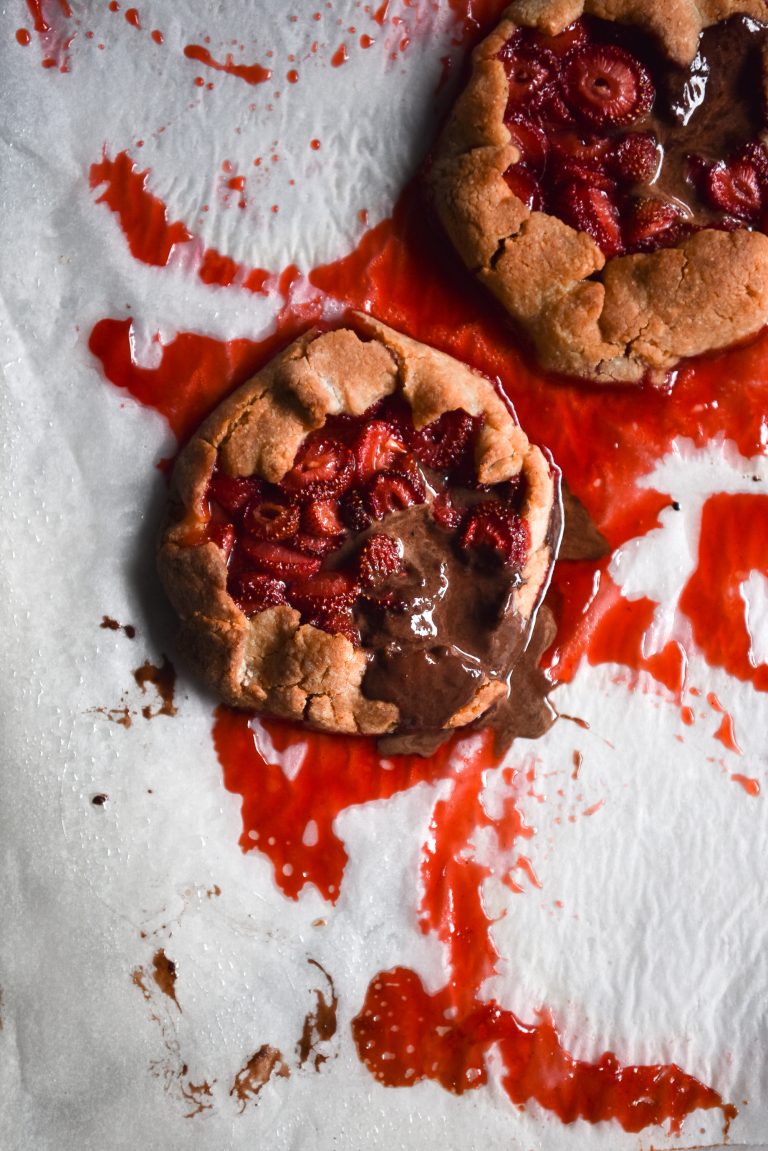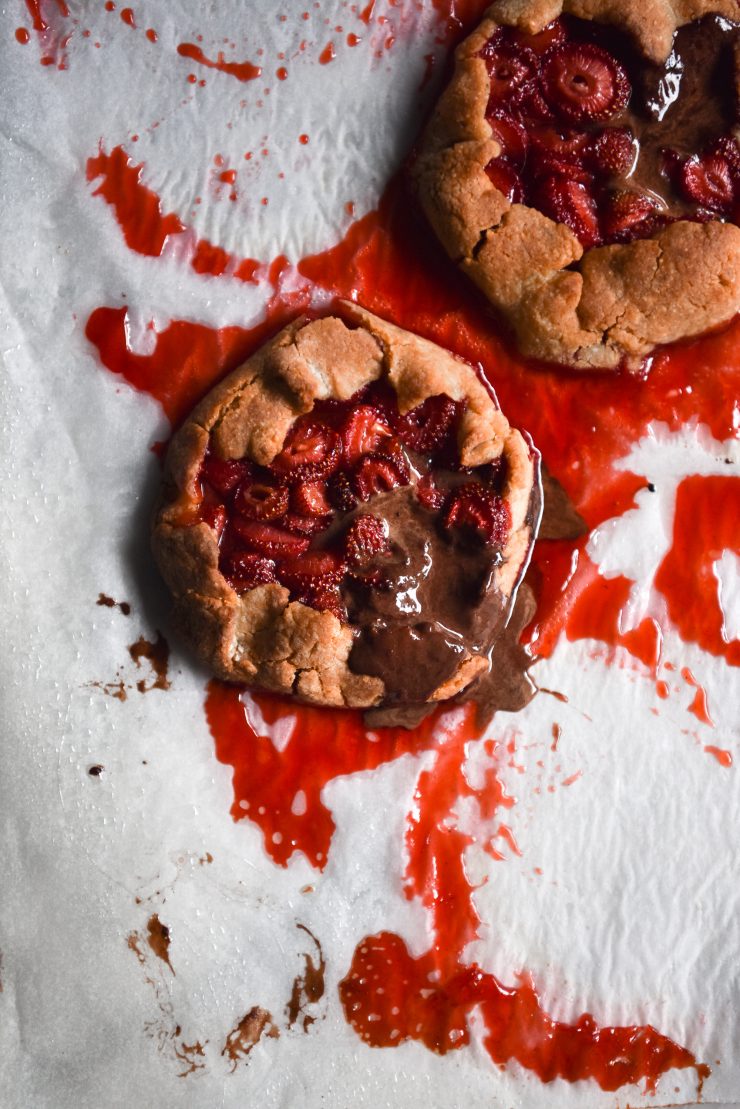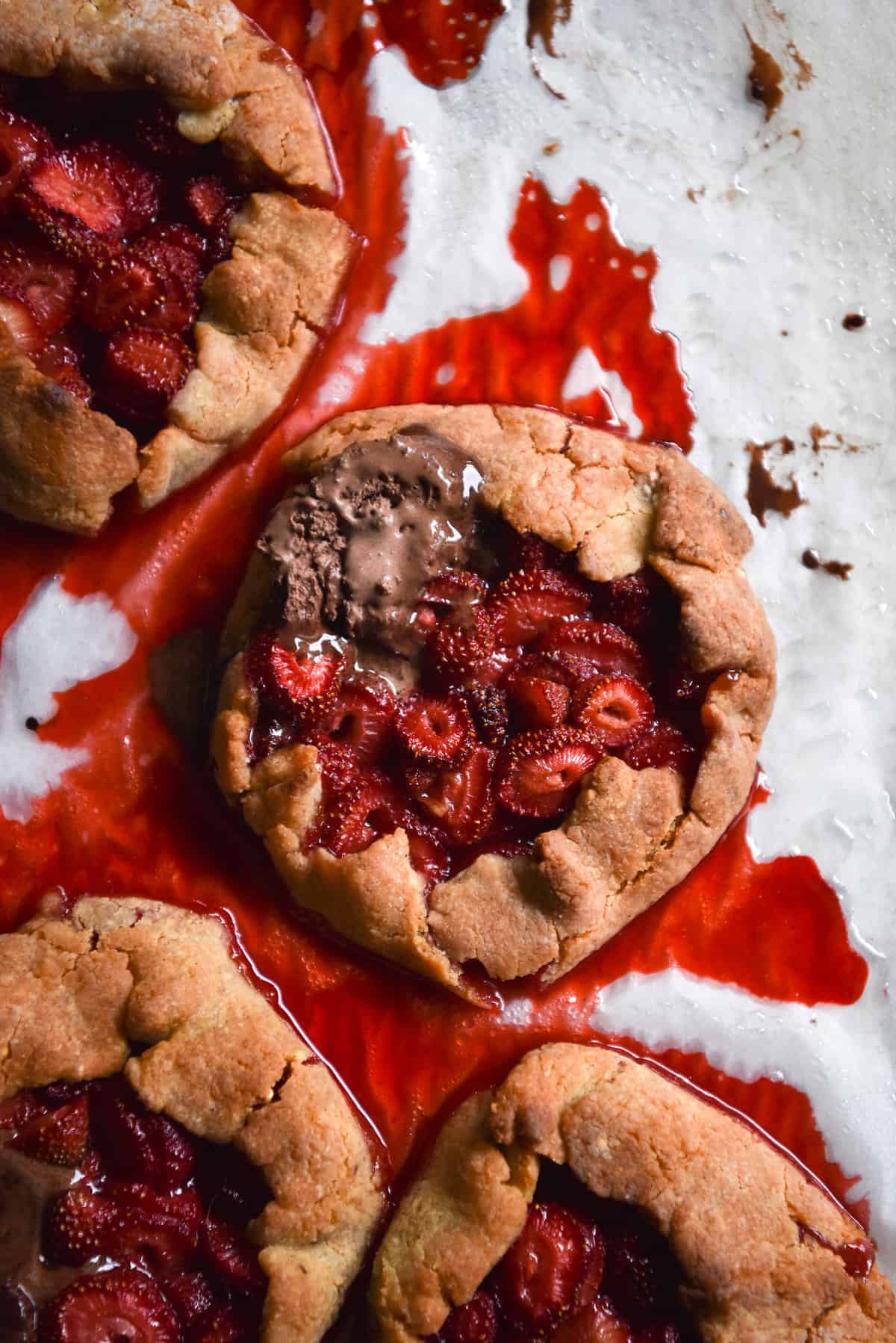 I've already done a vegan Caprese galette, so I figured it would be rude not follow up with a sweet variety. Given that it's summer here in Australia, a vegan strawberry galette was the natural choice.
Vegan pastry is surprisingly easy to make. Because pastry generally doesn't contain eggs, all that needs substituting is the butter. As I mentioned in the Caprese post, I have chosen (for now) to substitute with a vegan butter. In the past I have had some difficulty with using coconut oil, given that it needs to be at precisely the right state of melted. A recipe for a coconut oil pastry is in the works, but for now vegan butter works a treat.
The flours I have used in the pastry are my current favourite for a flaky and flavourful crust. While vegan pastry doesn't tend to be quite as flaky, in my experience, it is still delicious. It probably could be flakier if I had more of a science mind for these things, but I hate food waste and I'm very content with this pastry. For now, it is the go-to.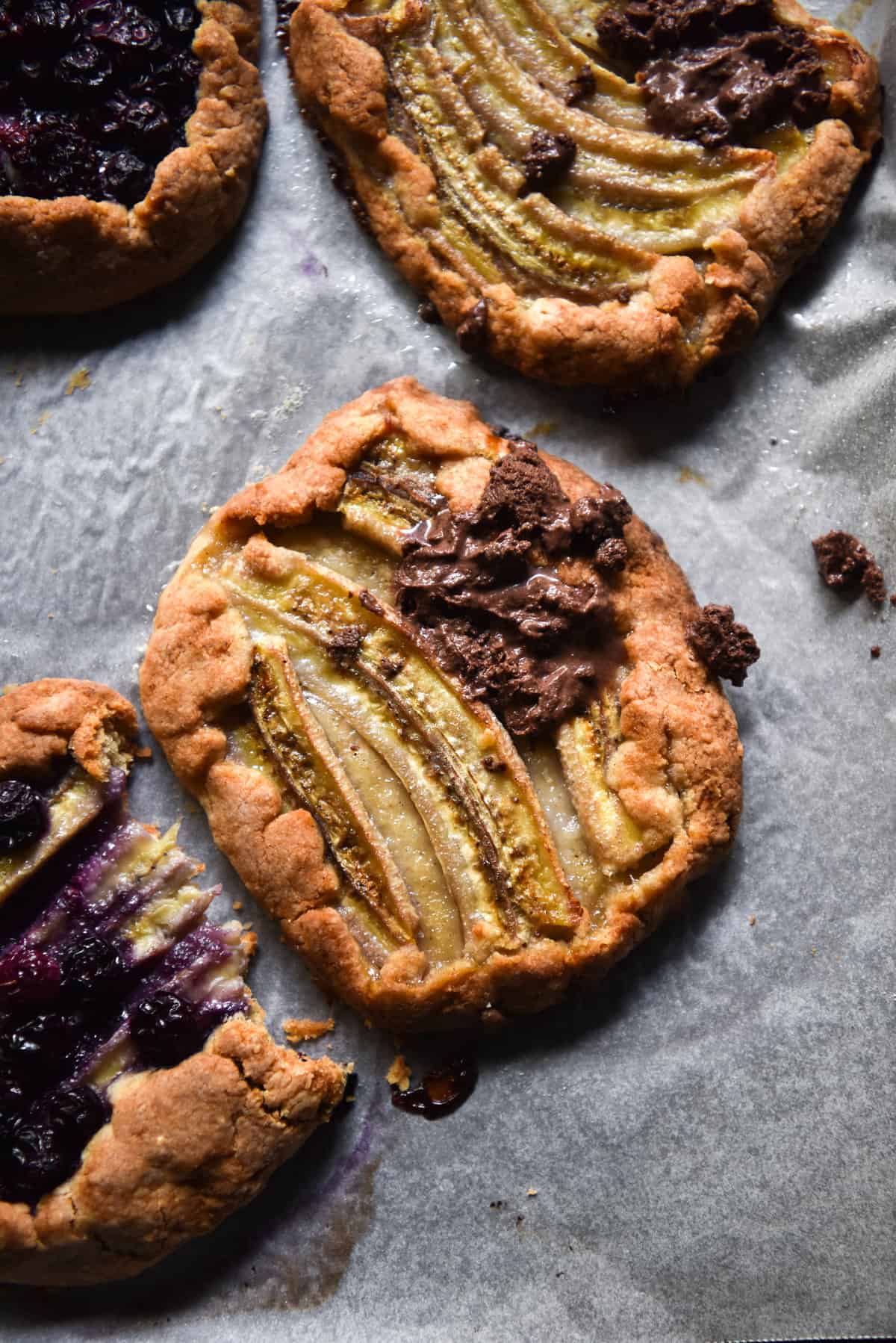 TIPS FOR VEGAN STRAWBERRY GALETTES
Firstly, make sure your butter substitute is super cold. Before I begin, I like to start by measuring the 'butter' and putting it in the freezer. That way it is icy cold by the time I'm ready to go.
Secondly, only use as much water as is necessary to bring the pastry together. It doesn't need to be a wet batter – if you can pinch it together easily with your hands, it is hydrated enough.
You can fill this pastry with anything you see fit within the sweet realm. Bananas (unripe if you have fructose issues) blueberries or even citrus would make a delicious galette. If you use citrus, make sure you add some extra sugar to compensate for the tartness, particularly if you use the orange blossom and lemon syrup.
TIPS FOR NOT STRAWBERRY GALETTES
As the imagery demonstrates, you need not limit yourself solely to strawberry galettes. A banana variety goes down an absolute treat, as does a blueberry. Keep in mind the fructose in each – use a riper banana, 1/2 in each galette.
If you're after a savoury snack, you're in the wrong place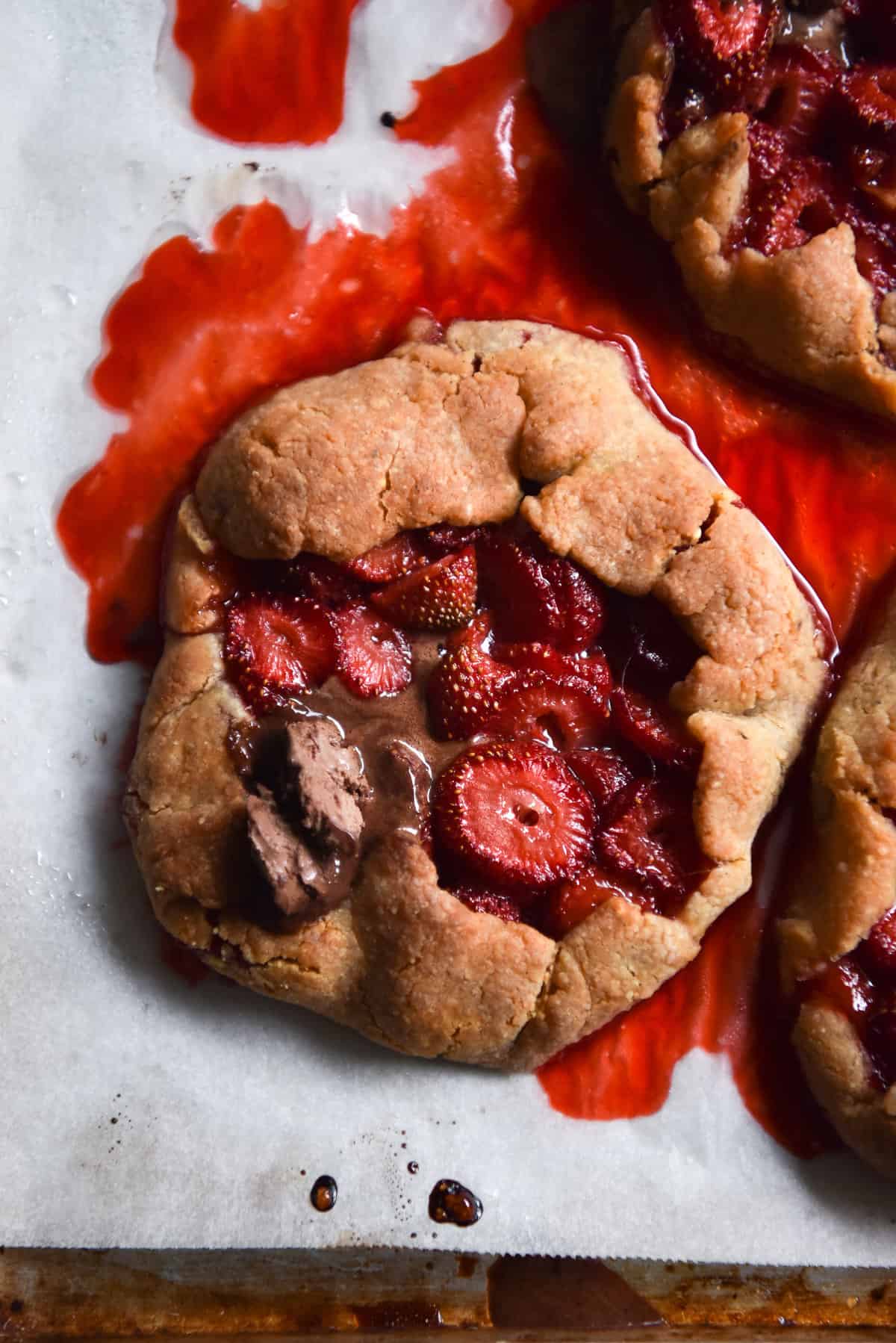 go look at the tomato galette.
Vegan, gluten free strawberry galettes with orange blossom and lemon syrup
Gluten free, vegan, FODMAP friendly
Ingredients
For the pastry:
2/3

cup

quinoa flour

80g

1/2

cup

brown rice flour

60g

1/4

cup

tapioca flour

30g

3

tablespoons

caster sugar

1

teaspoon

vanilla bean paste

1

teaspoon

baking powder

125

g

Nuttelex Buttery or vegan butter of choice

cold

1

tablespoon

ice water
For the 'egg'
1

tablespoon

psyllium husk

2

tablespoons

boiling water

1

tablespoon

olive oil
For the syrup:
2

tablespoons

lemon juice

2

tablespoons

orange blossom water

1

tablespoon

caster sugar
Instructions
METHOD
Measure out the Nuttelex or butter substitute of choice, and place in the freezer for 15-20 minutes. It needs to be cold to pull the galette together.

In your food processor, combine the flours, sugar, baking powder and salt. Pulse a couple of times to combine everything.

Mix together the psyllium husk, olive oil and water in a small bowl and set aside to solidify.

Add the 'butter' and psyllium husk mix to the processor, and pulse a few more times. The mixture should have visible chunks of butter substitute, but look a bit like slightly damp sand.

Turn the machine to a low-medium speed, and add the water, 1 tablespoon at a time, until the mixture just comes together. You should only need 1 tablespoon of water for this to happen. As soon as it goes, turn the machine off. Gather up the pastry, wrap in bees wax wrap or cling film, and pop in the fridge to firm up for at 20 minutes or so, climate dependent.
To make the syrup:
Place all the ingredients in a small saucepan over a low-medium heat, and cook for 5-10 minutes until a syrup forms. Remove from the heat and allow to cool.

Once cooled, gently toss the sliced strawberries through to coat. Set aside.
To assemble:
Preheat the oven to 180 degrees Celsius or 356 Fahrenheit. Divide the pastry mixture into four, keeping the remaining 3 in the fridge while you work.

Lay 1 ball of pastry on a well floured (tapioca works best) benchtop or piece of baked. Dust the top of the pastry, and use the palm of your hand to quickly flatten it into a mini galette. The pastry is sensitive so work quickly, and transfer back to the fridge if need be.

Arrange 1/4 of the strawberries (or whatever fruit you're using) in the centre of the galette. Keep in mind you need to pull the edges up around it, so leave a bit of room.

Use your hands to pull the pastry up around the strawberries, and repeat with the remaining galettes. If there is syrup leftover, drizzle it over the galettes.

Give the galettes a light spray of oil, and then transfer to the oven for 30-40 minutes. I like to check on them at the 20 minute mark and then continue cooking.

The pastry is very sturdy, but it does firm up as it cools if you're worried about transport. Serve with some vegan ice cream, hot or cold.