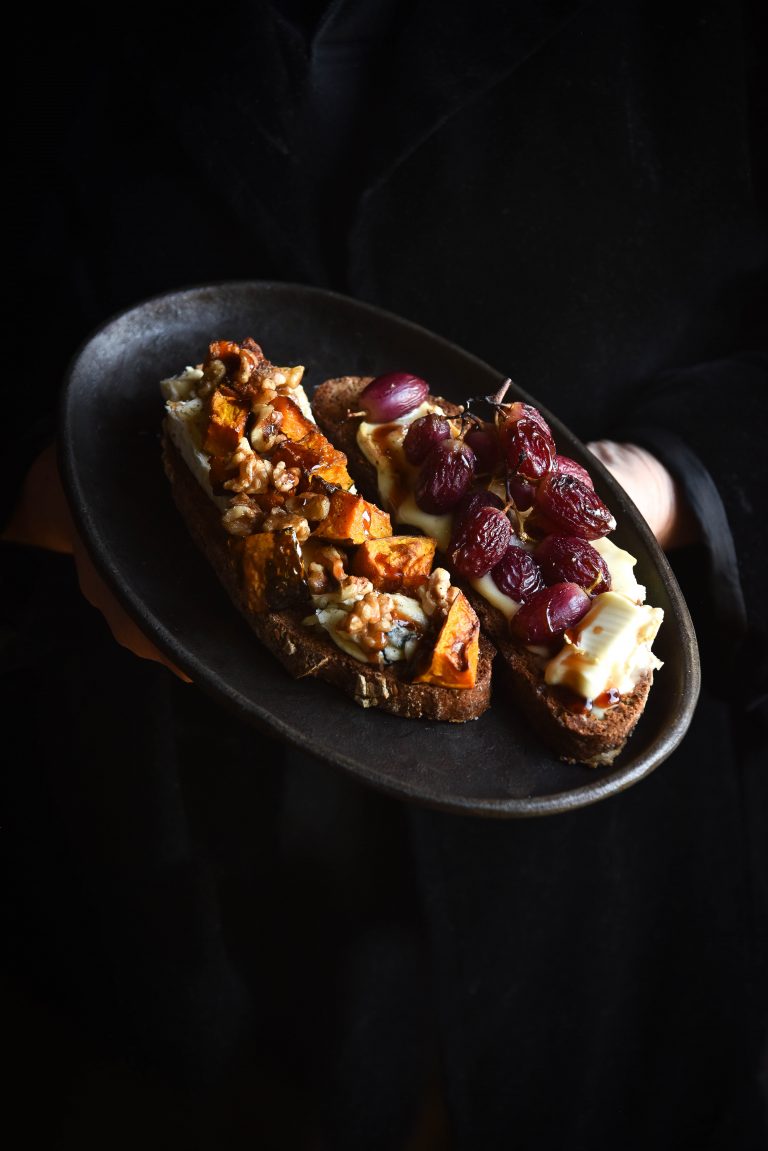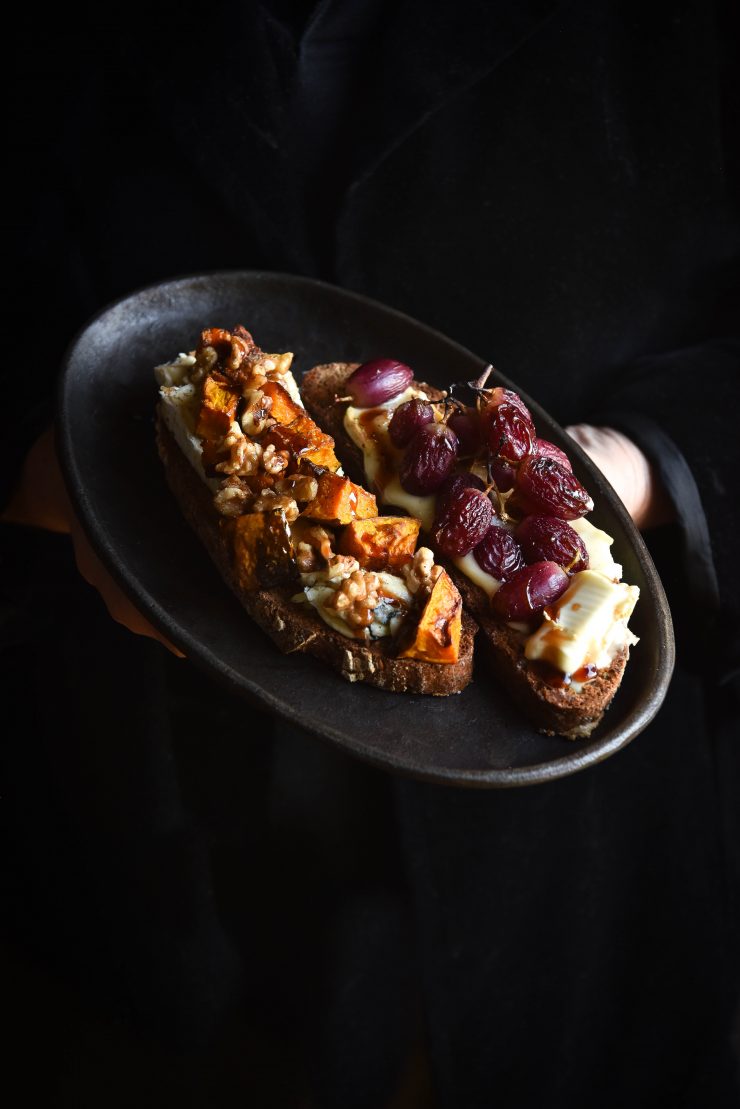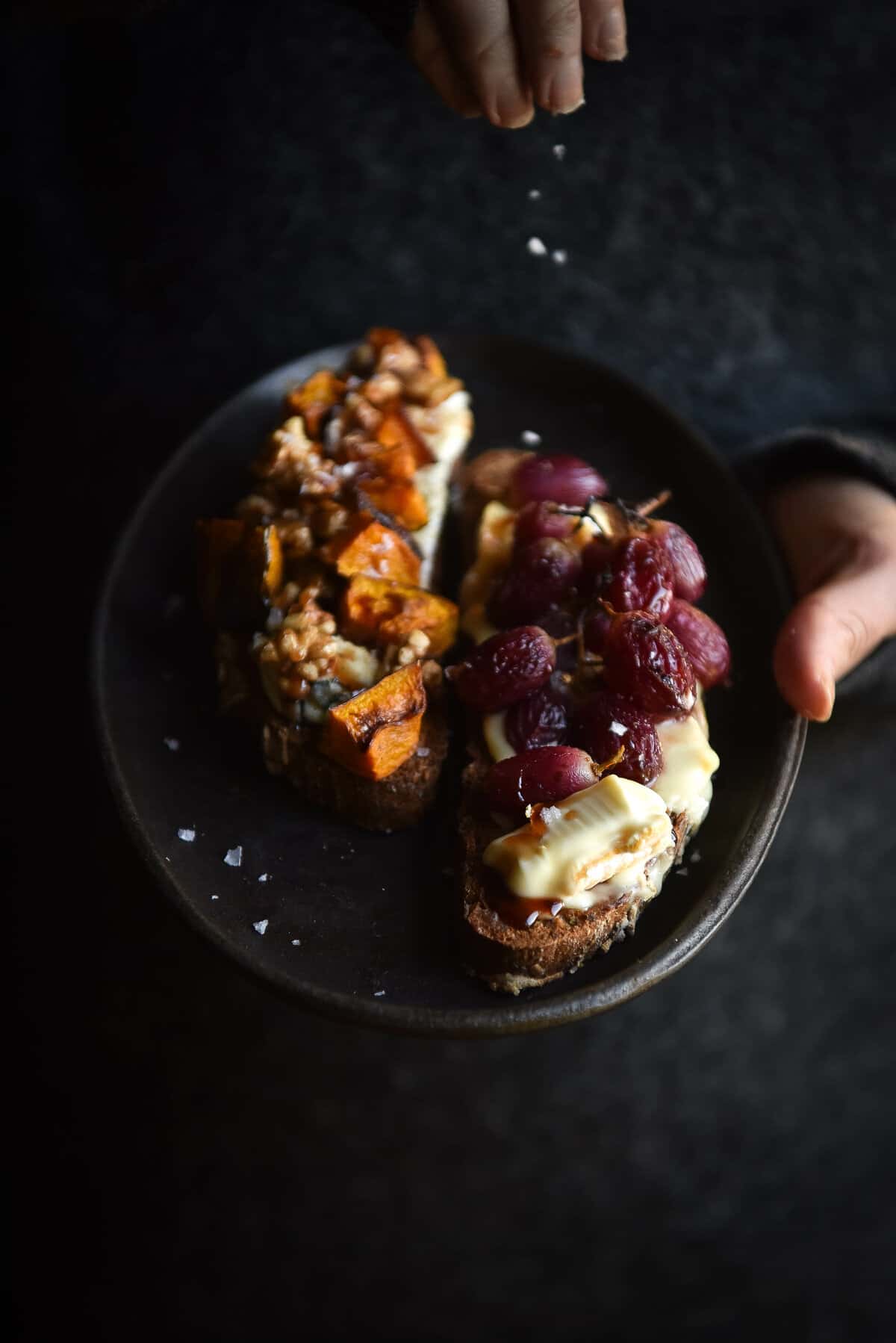 Now that we're all baking bread, we need some fancy things to do with it. And what, my friends, is fancier than making toast and calling it a tartine? Today's recipe, seeded gluten-free sourdough tartines, is in partnership with Fromager d'Affinois. I have used their triple cream blue cheese and their Campagnier to create the tartines/toast of my DREAMS.
SEEDED GLUTEN-FREE SOURDOUGH TARTINES
If you're a frequenter of my site or my Instagram, you'll know that I am knee deep in bread territory these days. This seeded sourdough bread is a refinement of my original recipe, which I'm constantly changing and working on as I bake bread and learn more about it.
If you haven't made a gluten free sourdough before, you'll need a few things.
First and foremost, a healthy sourdough starter. My guide is here, although I am currently using a 100% fine white rice flour starter because of flour scarcities.
You'll need a bit of a handle on gluten free flours and how to use them. The knowledge that you can grind your own (for some flour varieties) in a pinch is also helpful.
A banneton (or bowl and clean tea towel) a high heat safe dutch oven (or an oven safe skillet and a lid of some sort) and a lame (or a sharp blade).
Patience! Bread making is an art, and as they say: 'every loaf is a lesson.'
SUGGESTED PAIRINGS FOR THE TARTINES
These seeded gluten-free sourdough tartines can really be whatever you want them to be. Use your favourite cheese accompaniments, or use whatever you have in the fridge. Aside from the bread and the cheese, you're free to customise as per your taste.
So! To give you a little inspiration, here are the tasting notes for each cheese:
Campagnier is 'an ooey-gooey wonder with a deep, amber colour coming from annatto, an indigenous plant. The center is velvety soft and has a mild and subtle aroma. The taste is slightly more pronounced than D'Affinois plain double cream.' Fromager d'Affinois suggest pairing it with flavours like pink lady apples and wheat beer. Because these flavours aren't available to many FODMAPpers, my suggestions include roasted red grapes and balsamic, a tart quince paste, cumquat marmalade (or any sharp marmalade) or some slices of persimmon.
The bleu is described as having 'the tang and bite of a blue veined cheese balanced with the rich, buttery taste of a triple cream recipe. With the silky mouth feel typical of Fromager d'Affinois, it leaves a sweet blue after taste, that converts even the biggest blue cheese sceptic.' Fromager d'Affinois suggests pairing it with muscatels, pears or honey. I've paired it with some roasted pumpkin and a walnut honey cinnamon crumb. I can also confirm that honey and sea salt flakes are the best 2 minute accompaniment to the bleu that you will ever find.

FODMAP NOTES
The wholegrain gluten-free sourdough bread uses FODMAP friendly flours, so no issue there.
Both cheeses (along with being vegetarian) are very low in lactose and thus FODMAP friendly. There's a common misconception that creamy cheeses are always high FODMAP – not so!
Honey is considered FODMAP friendly in 1 teaspoon serves per person. I recommend getting a really good quality floral honey so that the taste goes a long way. Leatherwood is heaven!
However, if you'd prefer not to use honey, a deep flavoured pure maple or sorghum syrup would be nice. In truth, the juxtaposition of blue cheese with something sweet is always good, so you could probably even use rice malt syrup in a pinch.
Use Japanese or Kent pumpkin to keep the FODMAP content lower. 30g of walnuts per serve are a FODMAP friendly amount, so no concerns there.
Cumquat or citrus marmalades are FODMAP friendly because they use low FODMAP fruit.
Persimmons are FODMAP friendly in 60g serves per person.
Quince paste is FODMAP friendly in 1 tablespoon serves per person.
For any other accompaniments you choose, I highly recommend downloading the Monash FODMAP app. It is a lifesaver and worth more than every cent (it's not expensive either.)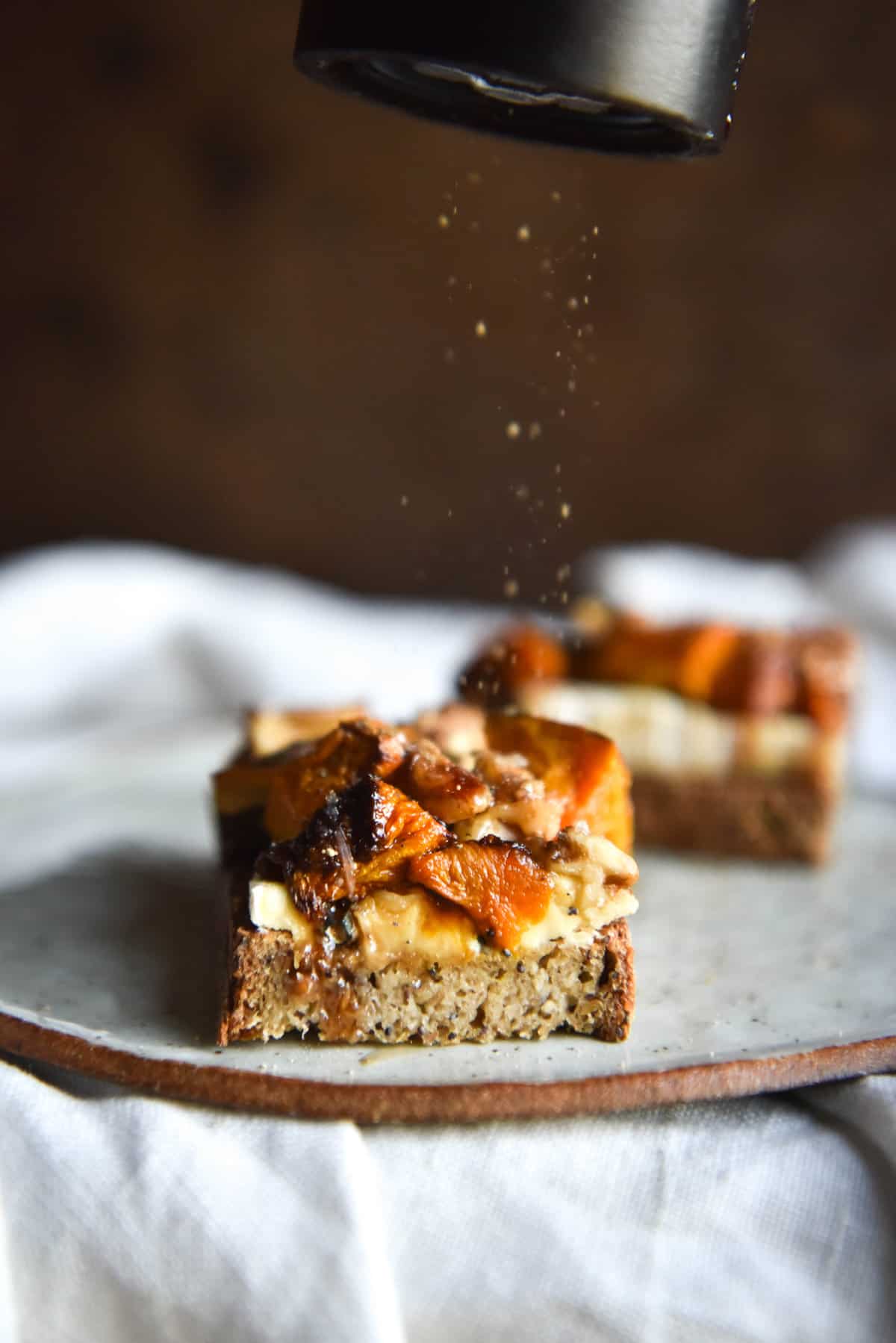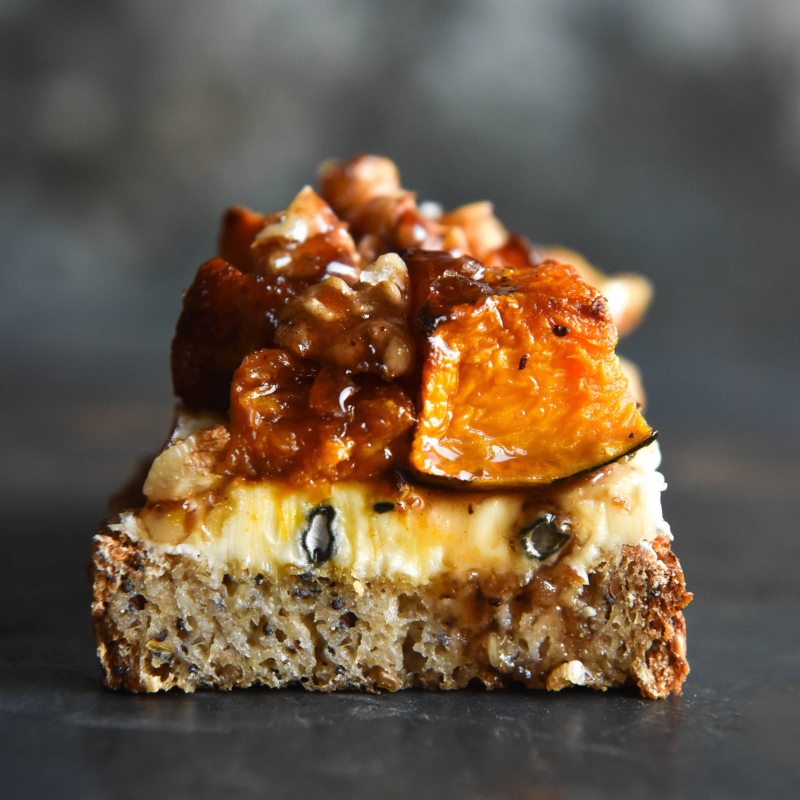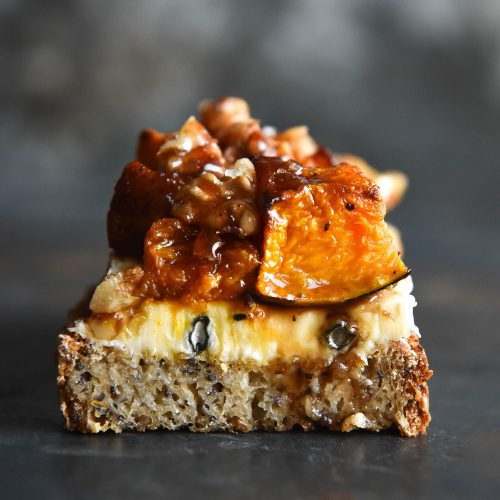 Gluten free seeded sourdough tartines
Gluten free, vegetarian, FODMAP friendly
Ingredients
FOR THE BLUE CHEESE AND ROASTED PUMPKIN TARTINES
Per tartine:
1

slice

of gluten free seeded sourdough

25-50

g

Japanese or Kent pumpkin

roasted in olive oil

2-3

slices

of Fromager D'Affinois Bleu

3-4

walnut halves

1

teaspoon

of honey

1/4-1/2

teaspoon

cinnamon

Sea salt flakes and freshly cracked pepper

Red wine vinegar glaze

to taste (recipe below)
FOR THE TRIPLE CREAM BRIE AND ROASTED GRAPE TARTINES
Per tartine:
1

slice

of gluten free seeded sourdough

Handful of red grapes

roasted in olive oil and salt

2-3

slices

Fromager D'Affinois Campagnier cheese

Sea salt flakes and freshly cracked pepper

Red wine vinegar glaze

to taste (recipe below)
FOR THE RED WINE VINEGAR GLAZE:
1/4

cup

red wine vinegar

sherry or balsamic vinegars will also work

1-2

tablespoons

light brown sugar

to taste
Instructions
FOR THE RED WINE VINEGAR GLAZE:
1/4 cup red wine vinegar (sherry or balsamic vinegars will also work)

1-2 tablespoons light brown sugar, to taste
TO MAKE THE TARTINES:
Roast a suitable amount of grapes and/or pumpkin, lightly coated in olive oil and salt, in a 180C or 256F oven. Roast for 30-50 minutes or until they are golden and caramelised.

In a small saucepan, combine the ingredients for the red wine vinegar glaze and cook down until they are thick and syrupy. Set aside.

To assemble the tartines, lightly toast each piece of gluten free seeded sourdough before topping them with the Fromager D'Affinois and the remaining ingredients. Note that the baklava crumb also tastes delicious on the roasted grape and Fromager D'Affinois Camagnier tartine.

Season, drizzle with red wine vinegar and serve immediately.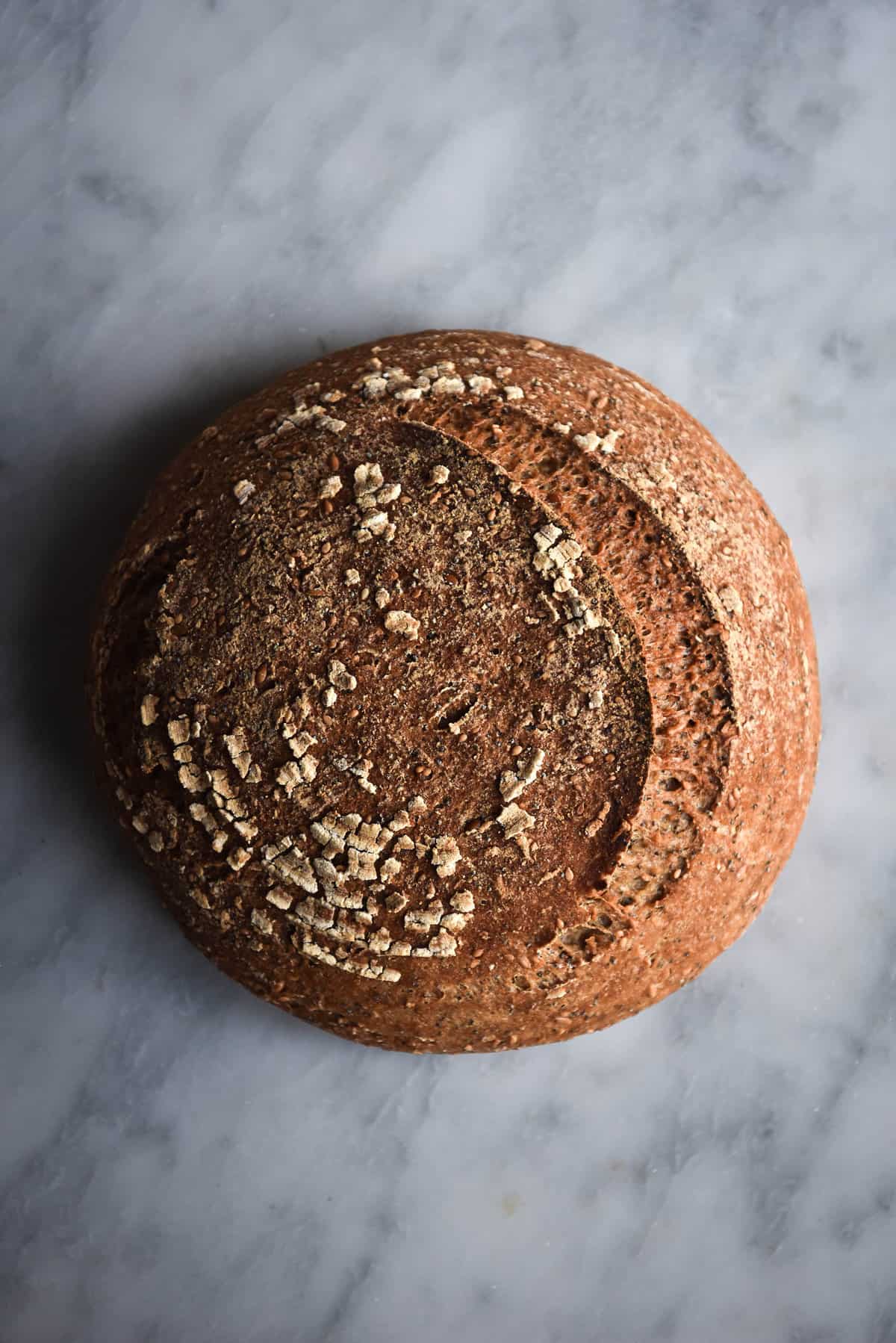 Seeded gluten free sourdough bread
Gluten free, FODMAP friendly, vegan adaptable (use maple instead of honey)
Equipment
Large glass or plastic mixing bowls

Boule shaped Banneton (bread shaping basket) or a bowl with a clean tea towel

Lame (scoring blade) or sharp knife

High heat safe dutch oven or cast iron skillet and tin foil
Ingredients
For the preferment:
125

g

starter

80

g

sorghum flour

125

g

water
Dry ingredients:
55

g

(1/2 cup) quinoa flour

60

g

(just over 1/2 cup) sorghum flour

100

g

(1 cup) tapioca flour

60

g

(1/2 cup) white rice flour

2

teaspoons

fine salt

I use celtic

1/4

teaspoon

ginger powder

1

tablespoon

sunflower seeds

1

tablespoon

golden flaxseeds

2

tablespoons

poppyseeds

2

tablespoons

sesame seeds
Binder:
20

g

(1/4 cup) psyllium husk, not psyllium husk powder

1

tablespoon

honey or maple syrup

1/2

teaspoon

apple cider vinegar

300

g

water
Instructions
To make the pre-ferment:
Firstly, ensure you're using a starter that has been fed a few hours before. It should be on the rise and have a domed top when you measure it into the bowl. To fit this around a normal work schedule, I'd suggest feeding your starter at 5.30pm, and then waiting until bedtime (or the peak of your starter) to make the pre-ferment.

Once the starter is ready to go, mix it with the water and then add the flour. Stir until combined and cover with cling film or a wrap. I hate recommending cling film but it does do a good job here.

Leave this in a reasonably warm, draft free place overnight.
To make the loaf:
In a medium sized mixing bowl, combine the psyllium husk and water.. Whisk to combine, and then leave for 5-10 minutes to thicken into a gel. Once thickened, add in the honey or maple syrup and apple cider vinegar

While you're waiting, combine the flours, seeds and salt in a large glass or plastic mixing bowl. Whisk to thoroughly combine.

Once the psyllium gel has thickened, mix the pre-ferment into it and whisk to combine. Add this wet mixture to the flours and use a spoon to combine the mixture as much as possible. Once it's almost mixed, use your hands to squelch the dough around, picking up dry bits of flour as you go. If you've weighed everything diligently there shouldn't be a need for extra water, but you can add 1-2 tablespoons if it's truly necessary. You should be able to pick up the dough and shape it.

Once the dough is completely mixed through and formed into a rough ball, tip it onto a very lightly (white rice) floured bench. Use your hands to close any seams as much as possible. Make sure the side with no seams is the top of your loaf.

When the dough is shaped, lightly flour your banneton or bowl with white rice flour. Place the nice side of the dough (aka the side with no seams that you've chosen as the top of the loaf) down into the banneton. The base of the loaf (with all the seams) should be facing upwards now.

Cover the loaf with a lightly oiled shower cap or the cling you used for the pre-ferment. Place the loaf in a warm, draft free place ( I use my oven with just the light on) for 2 hours, or until it's a little jiggly and a finger poke springs back halfway.
To bake the loaf:
An hour or so before baking the loaf, place your dutch oven in the oven get the heat up to 250C or 400F. Making sure the dutch oven is very hot is integral to getting oven spring.

When the oven and loaf are both ready, take a long piece of baking paper and lay it on the bench. It needs to be long enough that you can lower the loaf into the dutch oven without burning your arms. In my experience, dropping the loaf into the dutch oven results in a flat and gummy loaf.

Invert the loaf onto the centre of the baking paper, leaving the edges for lowering handles. Use a lame (sharp scoring blade) or a sharp knife to make a reasonably deep incision in the loaf. Google 'bread scoring' for some pattern ideas, or just keep it simple.

Get all your oven gear ready to work quickly for this next step. Carefully and quickly remove the super hot dutch oven from the oven. Shut the oven door while you work. Take the lid off and quickly lower in the bread. If you're using an ice cube for extra oven spring, add it now. Pop the lid back on and quickly return the dutch oven to the oven. Turn the oven down to 200-220c (or for a darker loaf, keep it at 250C)

Bake the loaf with the lid on for 40-50 minutes. If you prefer a less caramelised (aka dark) crust, leave the lid on a little longer. Once the time is up, remove the lid and continue to bake your loaf for another 30 or so minutes, or until the crust sounds hollow when you knock on it.

Once cooked, remove the loaf from the oven and baking paper, placing it on a cooling rack. Allow to cool completely (3-4 hours) before slicing into it, as you can compress all the air in the loaf and end up with extremely gummy bread.

You can store the loaf in a bag or freeze it in slices.