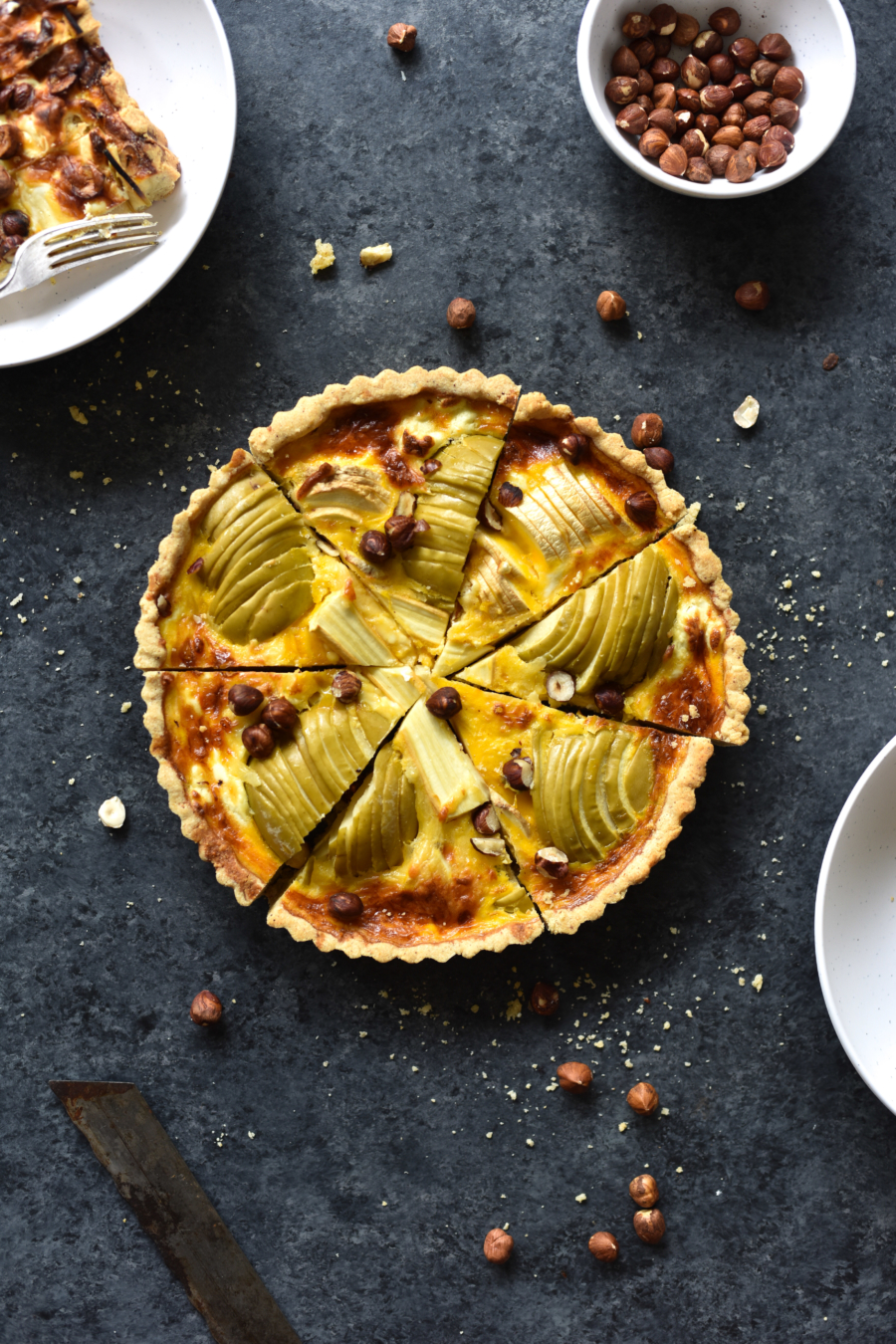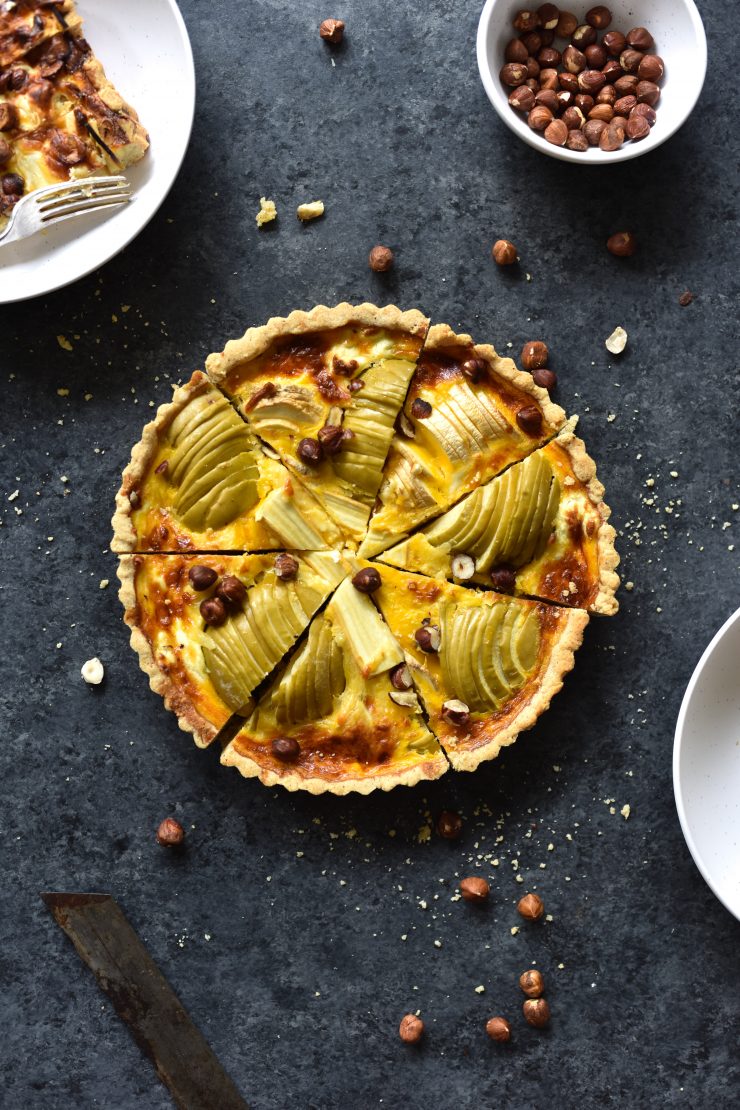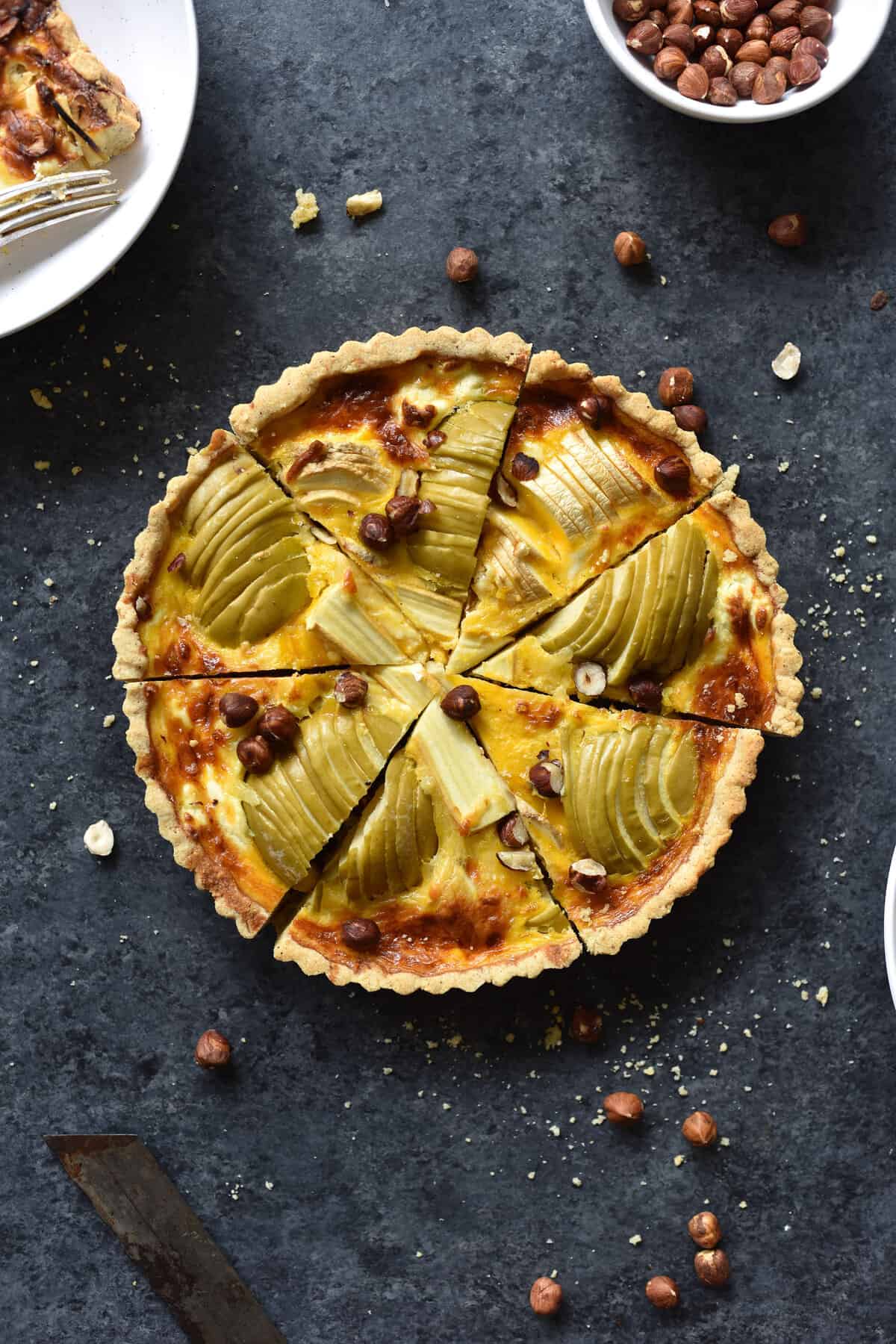 The older I get, the more I realise that the aspect of a globalised world I previously enjoyed (that is, being able to purchase figs and raspberries in the dead of winter) is not really all that worthy of celebration, particularly when it's mainly for a 'gram shot.
Not only are there the carbon miles to consider, but also the fact that un seasonal produce is often depleted of nutrients, sprayed with additional pesticides and chemicals, more expensive, and just generally all round bad time. What is seasonal varies a little from country to country, but there are some handy websites to give you a few tips to get started, like this one and this one.
With that (uncharacteristically serious thought process) in mind, I decided to have a crack at creating a Winter/early spring tart for Country Road. Apples and parnsips are seasonal to winter/early Spring here in Australia, so I've combined them with a hazelnut crust (hazelnuts are also seasonal to winter in Australia, although I'd be lying if I said I considered that when I made it… baby steps) and a goat's cheesy interior. Winter comfort food, with none of my new found seasonality guilt.
ONTO THE TART
So! Let's chat tart specifics. This one uses a grain free crust, made with hazelnut and almond meal. Almond meal is considered FODMAP friendly in 1/4 cup serves. Monash hasn't released any stats on hazelnut meal, although 10 hazelnuts per person is a friendly serve. If you're worried, just swap the hazelnut meal for extra almond meal.
The tart is vegetarian, gluten free, grain free and perfect for spring. If you have no need for it to be onion and garlic free, you could absolutely add some caramelised onion to the mix. I wish I could.
If you're in the mood for some tart-spiration, may I suggest the zucchini, herb, caper and ricotta tart, the vegan version of aforementioned tart (yes, vegan 'ricotta') or even the grain free apple minced tart with spiced torched meringue? 'Tis the season etc etc.
Apple, goat's cheese and parsnip tart with a hazelnut crust
Gluten free, grain free, vegetarian
Ingredients
FOR THE TART CRUST:
1

cup

tapioca flour

¾

cup

almond meal

you can use all hazelnut meal, if you wish

¾

cup

hazelnut meal

50

g

parmesan

1

egg

100

g

butter

Generous salt
FOR THE SEASONAL FILLING:
4

eggs

50

g

parmesan

50

g

goats cheese

½

cup

milk of choice

Salt and pepper

25

g

hazelnuts

1 - 1 ½

green apple

depending on what tart shape you choose

1

medium parsnip
Instructions
Preheat the oven to 180 degrees Celsius.

Place all your ingredients for the crust into your food processor, and blend until it forms a ball of dough.

Grease your desired fluted tart tin. (I used both a circular and rectangular one – a rectangular tart requires that you discard a bit of the pastry, whereas the ratios for circular are perfect) Press the tart pastry into the tin evenly, and use a fork to poke a generous amount of air holes in the base. Place in the oven for 10-15 minutes.

While the pastry is cooking, thinly slice your apples and parsnips, and whisk together the eggs with the milk, seasoning, Parmesan and Goat's cheese.

Remove the tart shell from the oven, and arrange the slices of apple and parsnip as you fancy. The apples look best skin side up. For aesthetics, make sure they are poking up out of the egg mixture – you may want to pour half of it into the base of the tart shell before adding them.

Pour the remaining egg mixture into the tart, and garnish with some chopped hazelnuts and more seasoning. Place into the oven for 20-30 minutes, until the egg mixture is cooked and the top is browned. Remove from the tart tin and serve.