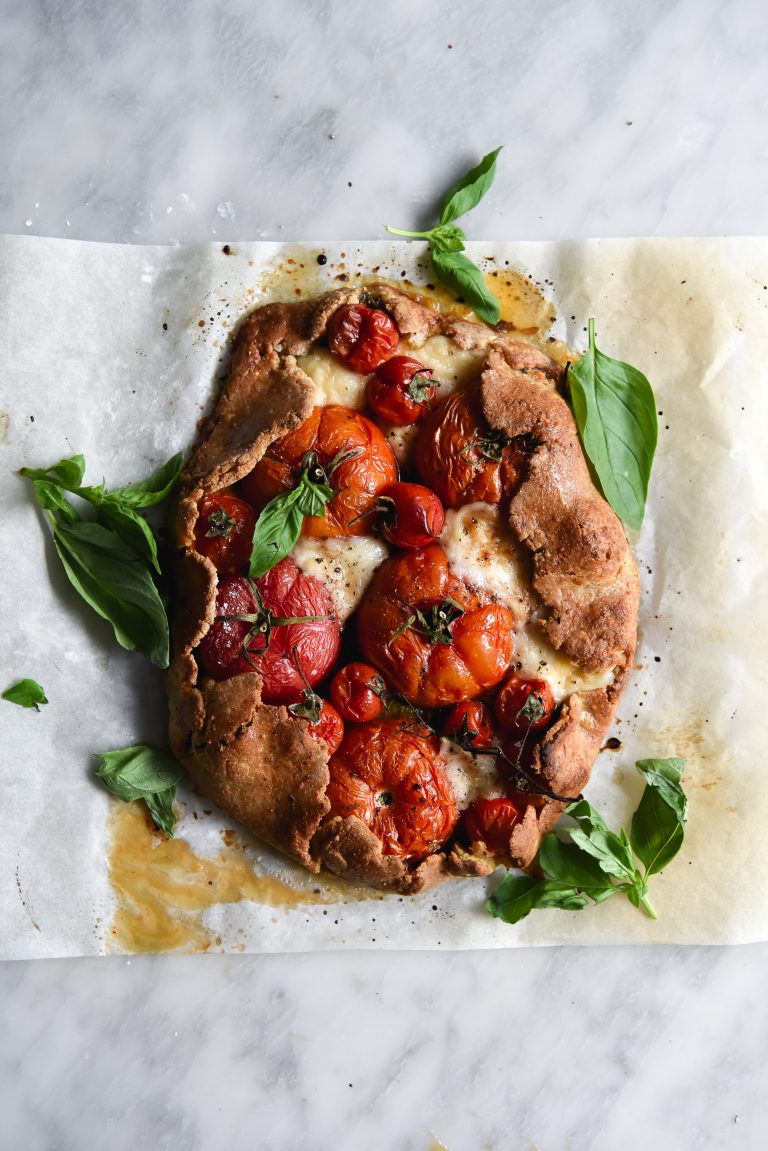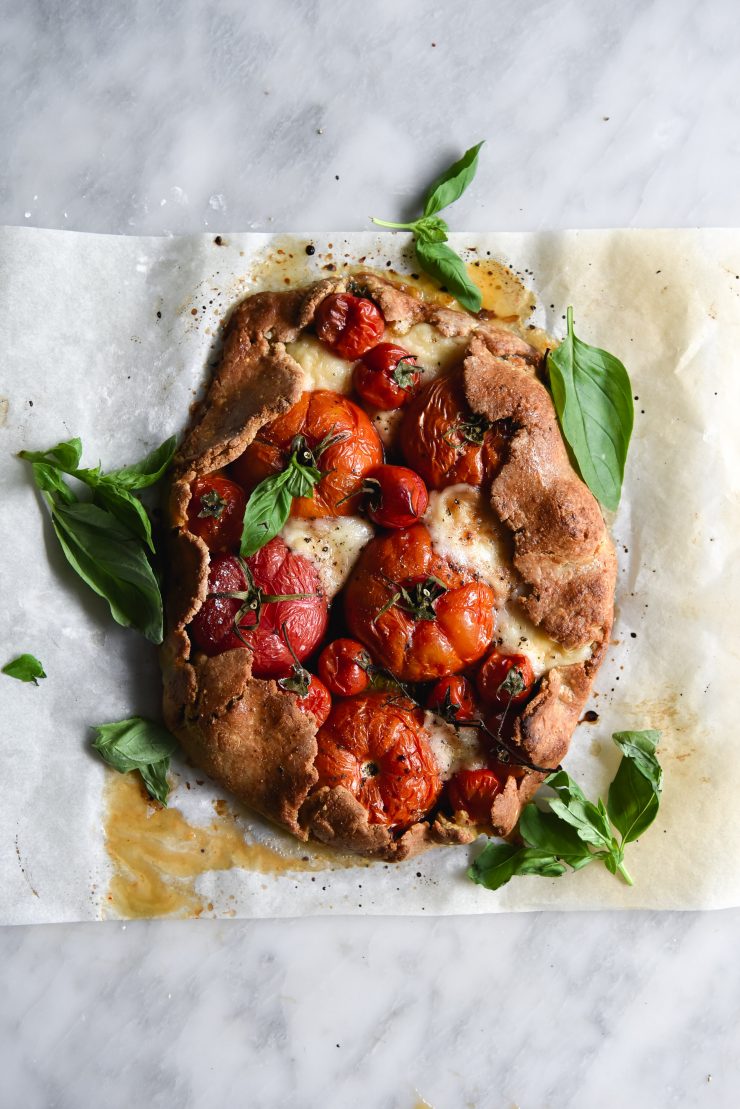 I've been into galettes for a long time (see this pumpkin, blue cheese, honey and thyme variety, or this potato and halloumi number. The galettes are always gluten free, but never vegan. Today, I give you the gluten free, vegan galette.
A vegan galette is actually more simple than you would imagine, because they don't normally contain eggs. Many people use coconut oil in place of butter, although I have found that this is trickier to manage. Personally, I'm a fan of using a butter alternative, which is what I have used here.
A lot of vegans are concerned about the use of palm oil in butter substitutes, so I did a bit of digging on the brand I use, Nuttelex. While it is derived mostly from vegetable oil, they do use some palm oil in their formula. They state that the palm oil is sourced from sustainable suppliers, but they do make a coconut oil based spread, which is completely palm oil free. Either way, this recipe will be tested with coconut oil, so keep your eyes peeled.
VEGAN GALETTE LOWDOWN
Veganism and a FODMAP diet don't always go hand in hand. Add in a gluten free requirement and boy, it's a party! Some of the ingredients in the galette are not holier than thou, FODMAP wise or in general. As I discussed above, there are some ethical considerations with vegan butter. Probably with vegan cheese, too. What I'm trying to do is give everyone options! Options are fun!
This galette is made with the same gluten free pastry I have used in the past, with some tweaks to make it vegan, obviously. It uses quinoa flour, which is deliciously rich and nutty. As mentioned, I have used Nuttelex in this recipe, but you can use whichever butter substitute you like.
This vegan galette is best made in summer, when the tomatoes are beautiful and sweet. Because it doesn't contain many ingredients for the filling, you need beautiful tomatoes to make it taste delicious. I bought mine from a farmer's market outside of Melbourne city, and they just might be the nicest tomatoes I've ever eaten.
Onto the vegan cheese! I have used Damona 'buffalo mozzarella' for this recipe, and I was super impressed. It melted well, and the taste (although a little more floury and artificial than regular ol' mozzarella) was pretty bang on. It even pulled apart in 'strings' as regular mozzarella does. I believe it's a local Melbourne brand, but I've linked it so you can check out the ingredients.
RECIPE NOTES
You can fill this pastry with practically anything you like, once you get the hang of it. I'd like to try a tomato, mint and almond version, or perhaps a pumpkin version when the weather cools down again.
If you have particularly runny tomatoes or you're worried about juices, add a little cornflour or tapioca to the rolled out pastry before topping with tomatoes. This will stave off juice leakage. That said, I had some juice leakage in the base of my trial galette, and the pastry still held up incredibly well to cutting and slicing.
If you're having trouble finding a vegan cheese that will fit with FODMAP requirements, you can always omit it. If your tomatoes are beautiful, I promise that is all that you need to taste. However, you could also sprinkle some nutritional yeast underneath the tomatoes for the cheesy flavour.
I used nutritional yeast in the pastry to substitute the parmesan I put in my non-vegan version. I believe the savoury vegan pastry really benefits from a cheesy boost. You can omit it if you really really have to, but I can't say I condone that omission.
Note that the pastry firms up as it cools, so if you want perfect slices, wait a while before cutting the galette. It is at it's firmest after a stint in the fridge.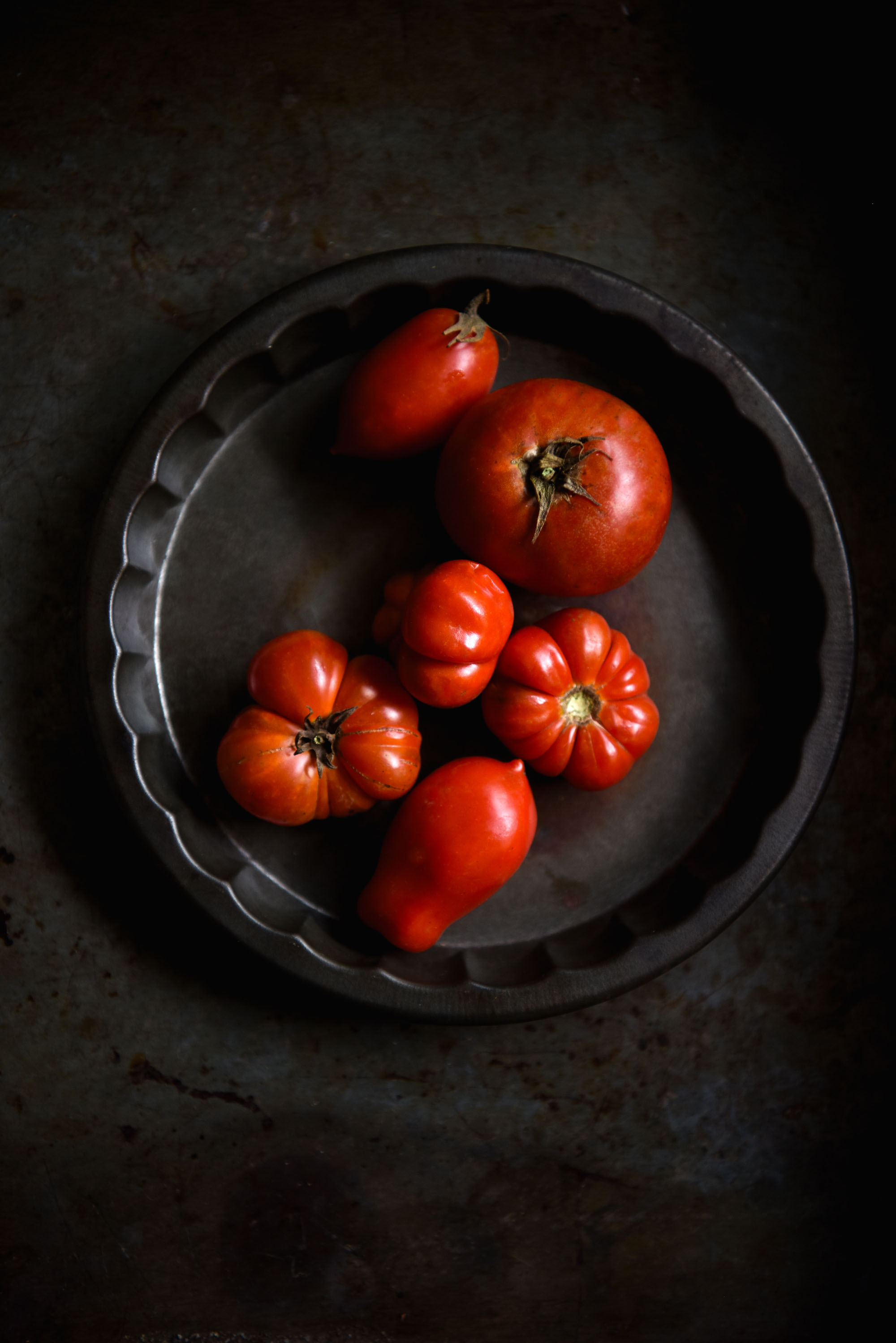 PASTRY DECISIONS
I should note that you have a few options in terms of the flakiness of the pastry. The psyllium husk 'egg' and the baking powder help to create a crumbly, flaky pastry akin to the regular variety. However, depending on what you intend to fill the pastry with, you may or may not need a less flaky pastry.
If you are filling the pastry with two particularly 'wet' roasted ingredients, like tomatoes AND pumpkin, you can omit the baking powder, and simply add a tablespoon of psyllium husk, without the tablespoon of water and tablespoon of olive oil. This will produce a firmer, less flaky pastry, that will hold up better to particularly wet ingredients.
Personally I found that the flaky pastry still held up well, but I thought I'd mention the option.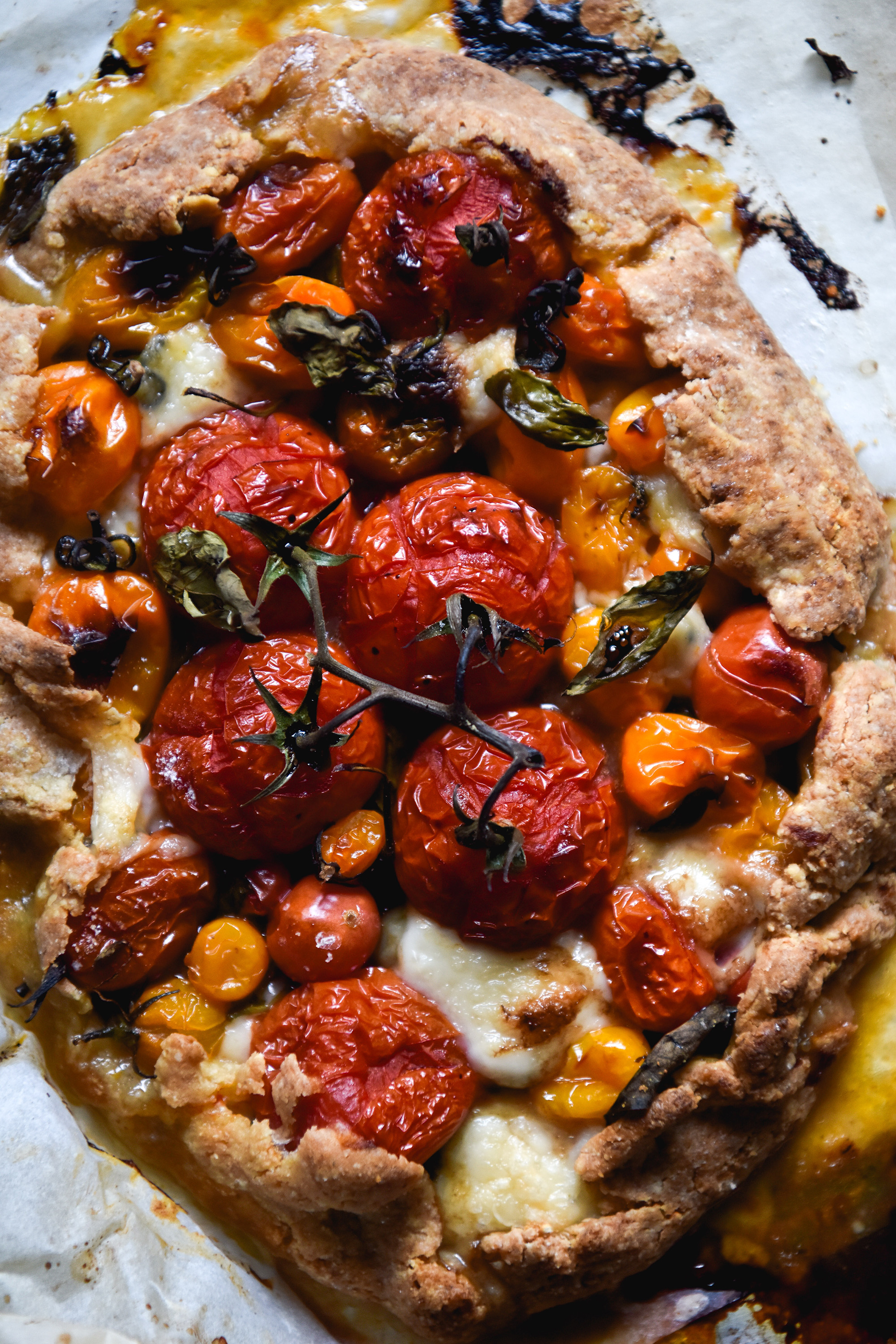 UPDATE:
Monash has recently updated the FODMAP friendly quantity of common tomatoes to 1/2 a tomato per serve if you have issues with fructose. Similarly, the new safe limit of cherry tomatoes is 3 tomatoes per serve. Please keep this in mind if you have previously reacted to tomatoes. If not, business as usual!
VEGAN, GLUTEN FREE CAPRESE GALETTE
Gluten free, vegan, FODMAP friendly
Ingredients
FOR THE PASTRY:
2/3

cup

70g quinoa flour

1/2

cup

60g fine brown rice flour

1/4

cup

30g tapioca flour

2

tbsp

nutritional yeast

see notes above

generous pinch of fine sea salt

1/2

tsp

baking powder
FOR THE 'PSYLLIUM EGG'
1

tbsp

psyllium husk

1

tbsp

olive oil

1

tbsp

water
TO BIND:
125

g

Nuttelex Buttery

or your preferred butter substitute (see notes above)

1-3

tablespoons

ice water

only as needed
TO FINISH:
400-500

g

fresh tomatoes

the best quality you can afford

1

bunch of basil

Vegan mozzarella

as you see fit (I used Damona which is a Melbourne brand)
Instructions
TO MAKE THE PASTRY:
Measure out the Nuttelex or butter substitute of choice, and place in the freezer for 15-20 minutes. It needs to be cold to pull the galette together.

In your food processor, combine the flours, nutritional yeast, baking powder and salt. Pulse a couple of times to combine everything.

Mix together the psyllium husk, olive oil and water in a small bowl.

Add the 'butter' and psyllium husk mix to the processor, and pulse a few more times. The mixture should have visible chunks of butter substitute, but look a bit like slightly damp sand.

Turn the machine to a low-medium speed, and add the water, 1 tablespoon at a time, until the mixture just comes together. After 1-2 tablespoons, I like the turn the speed up just a little, until a ball JUST begins to form. As soon as it goes, turn the machine off. Gather up the pastry, wrap in bees wax wrap or cling film, and pop in the fridge to firm up for at 20 minutes or so, climate dependent.
TO FINISH:
Once the galette pastry has cooled, preheat the oven to 180 degrees Celsius. Dust a large piece of baking paper with tapioca flour, and lay the pastry on top. Sprinkle a bit more tapioca on top, followed by another piece of baking paper. Use a rolling pin to roll the pastry out under the baking paper. This is the easiest way to roll out gluten free pastry, which has a tendency to be sticky.

Roll the pastry into a large, flat circle or oblong. You needn't be too fussy about smooth edges or a perfectly even shape – this is the idea of a galette. Condoned laziness, I'll drink to that. Or you know, eat to that.

Lay some of the basil on centre of the base of the galette, keeping in mind that you need to leave some edge space to roll the sides up.

Arrange the tomatoes and vegan mozzarella on top, and finish with some sea salt, a good grinding of fresh pepper and a bit of balsamic vinegar.

Using the baking paper to assist, lift little bits of the galette pastry up and press them into the tomatoes, to form the edges. This is a very imprecise art and needn't look too neat. Continue lifting up the edges until done, and you have a little freeform pie, ready to go.

10. Brush your galette with an egg wash substitute of choice. I used soy milk with a dash of maple syrup, because sugar encourages browning. You could use a smidge of oil too.

11. Place the galette in the oven for 30 minutes. After that, you can grill it for 5-10 minutes to encourage a crunchy golden pastry.

12. To serve, top with the remaining basil and a little extra salt and pepper, if it needs it.
Notes
UPDATE:
Monash has recently updated the FODMAP friendly quantity of common tomatoes to 1/2 a tomato per serve if you have issues with fructose. Similarly, the new safe limit of cherry tomatoes is 3 tomatoes per serve. Please keep this in mind if you have previously reacted to tomatoes. If not, business as usual!