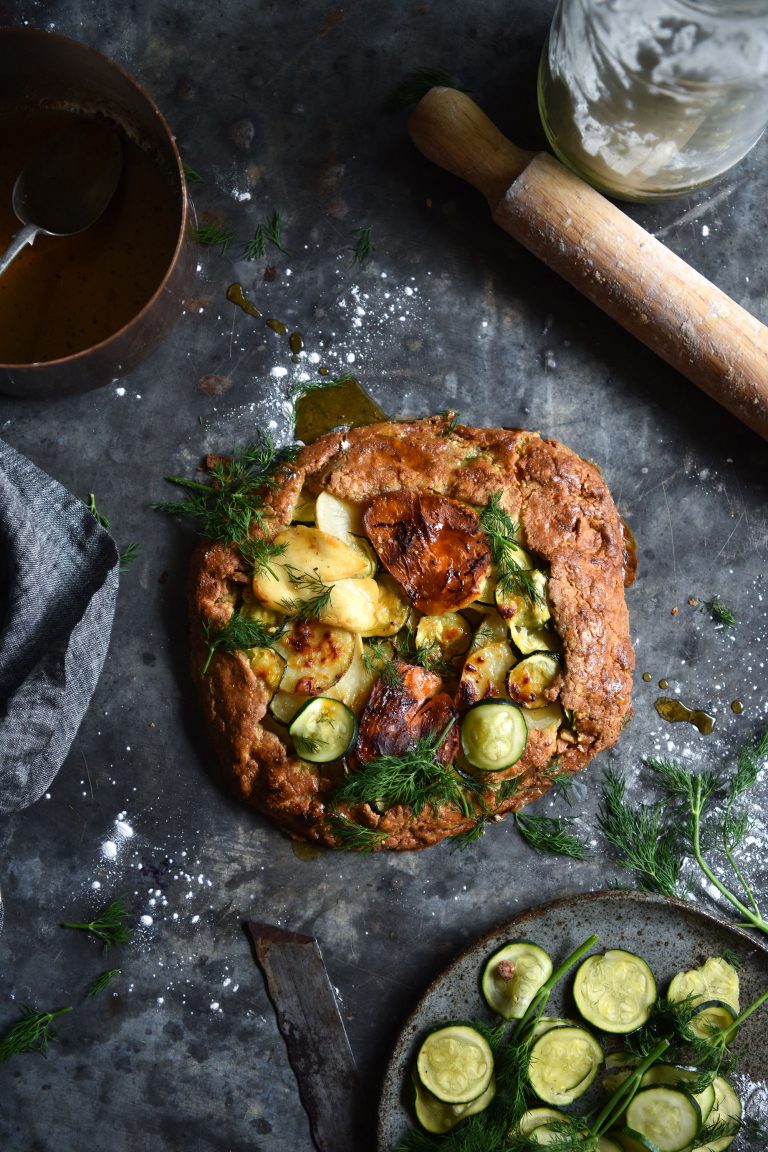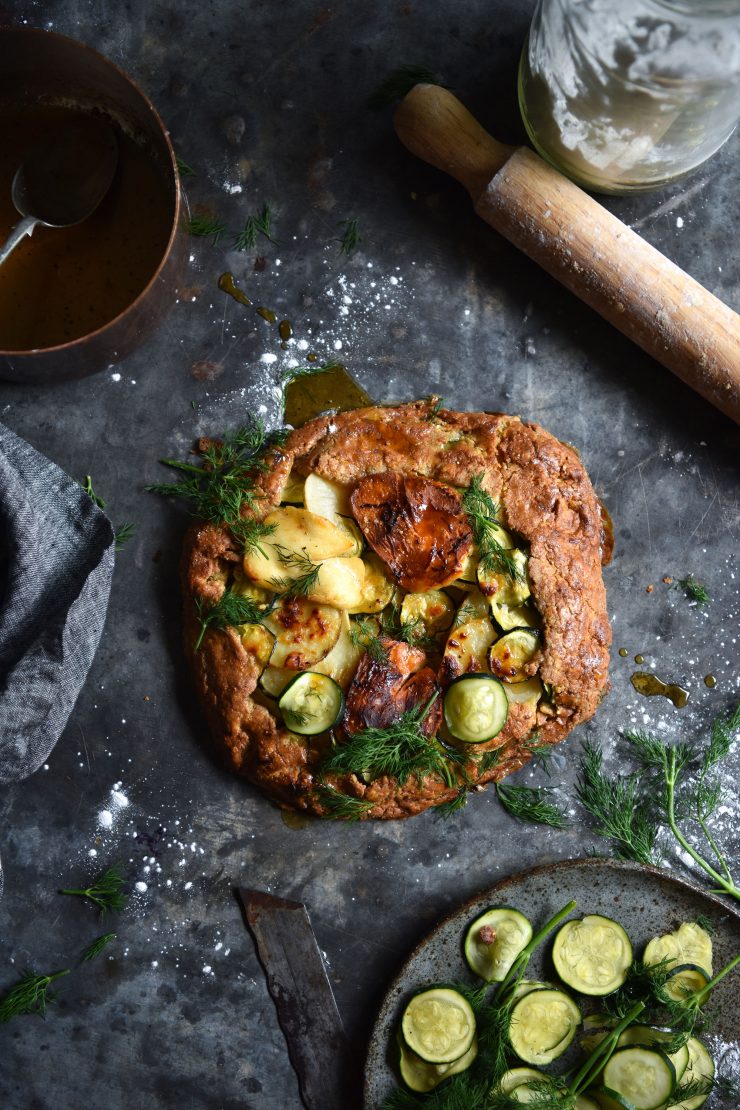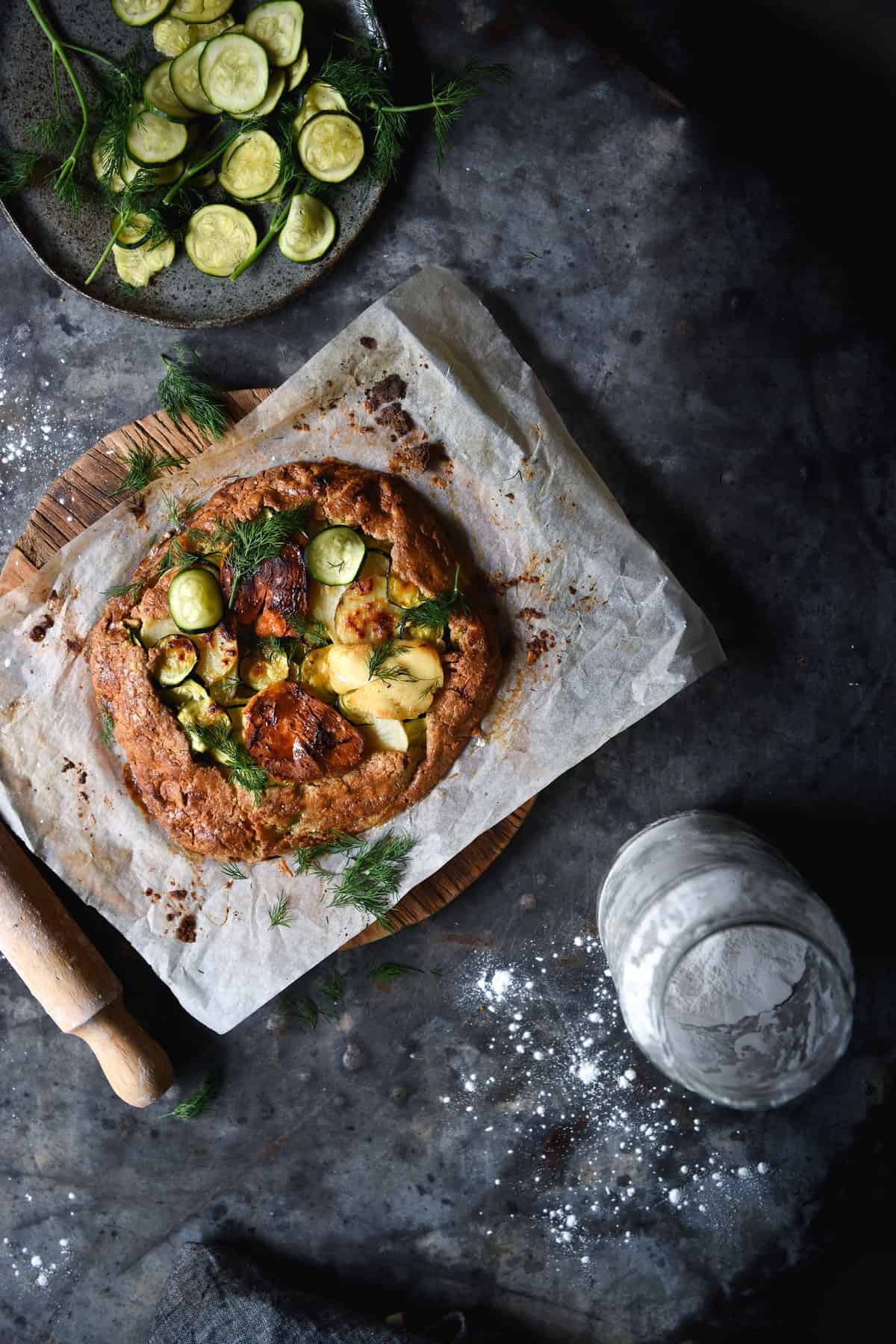 Is this dough strikingly similar to the dough for the honey and lemon thyme pumpkin galette? You have a keen eye – yes it is. Do I have a good reason for reusing this recipe so soon? I wouldn't say good (does lemon and maple glazed halloumi count as good?) but I'll outline it anyway.
I've been in a crazy recipe development phase of late, working on something exciting for release in a week or two. This has meant I've got a few odds and ends in my fridge. I am well aware that the job of recipe development is not the most waste free job in the world (gluten free cake disasters, I see you.) I am trying to make it more so, through little steps, like using every sad looking zucchini at the back of the fridge. Every potato variety that I bought out of curiousity. Every pack of dill I bought because it was on sale. See where we're going?
My environmental rants seem to go down like a lead balloon on Instagram, but what does that matter when you have a second soapbox, amirite? Plastic and climate change have become pretty scary to me, and I'm trying my best to reduce my waste. Did you know, for example, that takeaway coffee cups aren't recyclable? Nor are spinach packets (in your regular recycling?) That any recycling with food in it is thrown straight into landfill? That recycling plants are running out of space, and throwing your recycling into landfill?

6 DEAD EASY LOW WASTE COOKING/RECIPE DEVELOPMENT TIPS
BUY AT BULK FOOD STORES
We are very lucky to have an amazing array of bulk food stores here in Australia – I know some other countries don't have access to such shops. So, for those who can't (they tend to be a bit more expensive, oddly enough) I do as much of my shopping at bulk food stores as possible. Nuts, nut meals, flours, without the insane amounts of plastic.
If you don't have a bulk food store nearby, there are lots of stores that sell flours and what not in compostable bags. Terra Madre in Northcote is one of them, but most health food shops these days do too. Plus, buying in bulk is cheaper! Hello savings!
BUY HERBS WITHOUT PLASTIC SLEEVES, AND STORE THEM PROPERLY (SO YOU DON'T HAVE TO USE THEM THAT WITHIN 3 SECONDS)
Herbs are the worst. I mean they're the best, but they wilt before you've had a chance to think about what to do with them. Somehow, to me, a rotten herb is more annoying and offensive than any other produce.
Herbs are also annoying because they come with so much unnecessary plastic. I get that they're fragile, but aren't we all? Where is my plastic sleeve? Where is the plastic sleeve protecting the planet from all this unnecessary plastic? Obviously this one hits a nerve for me.
I've come across a few places in the Fitzroy area that do plastic free herbs, so on the off chance you're in the same hood and not anywhere else in the world, hopefully this will help. The asian grocery at Abbotsford Woolworths complex, most food markets (Abbotsford Convent market is my favourite!) and Wild Things organic food in Fitzroy North. The health food shop on Smith Street is making an effort to reduce their plastic (as per their signs) so I imagine that is only a matter of time.
As for storage! Oh boy, do I have a tip for you. This article has basically every bit of information on herb storage that you could ever need. However, I'll give you the short of it: snip the bases of the herbs upon arrival home from the supermarket. Pop them in a glass of fresh water or a large jar with  some water at the bottom. Either place a plastic bag (reserved from past uses of course) over the herbs, gently sealed around the container (see article if that isn't eloquent enough) or seal the jar. Keep basil and mint at room temperature, store other herbs in the fridge. Viola! Plastic free, long term fresh herbs.
BUY A CUTE REUSABLE COFFEE CUP/DRINK BOTTLE THAT YOU'LL ACTUALLY WANT TO USE
I have at least three 'reusable coffee cups' that have rapidly lost their functionality (lost lid caps, cracks) Hello yes that defeats the purpose of a reusable coffee cup. Also, am I excited to be carrying it around? No, not really. A solution! I bought my ceramic keep cup from the Finders Keepers Market in Melbourne. It is super cute and I'm still excited to be seen with it. Win win. Here is a photo for aesthetic proof.
FREEZE YOUR VEGGIE ODDS AND ENDS TO MAKE STOCK
This one is so easy it's almost embarrassing. Keep a bag in the freezer, and fill it with veggie odds and ends, peels, and carrots that are just a smidge past their best. Once the bag is full, whip up some stock. Too easy.
GRAB SOME SILICON BAKING PAPER/CLING WRAP
I like the idea of beeswax wraps, but the reality hasn't quite translated for me. They don't seem to stick very well to my plates, and the packs that I have tried come in awkward sizes that leave me using cling wrap as an interim measure. There are a bunch of silicon mats available through a quick google search, but the one I currently have is called Agreena, and it acts as both baking paper and clingwrap, which I really like. If that option isn't available to you, try reusing your baking paper as much as possible.
GRIND YOUR OWN FLOURS, AND MAKE YOUR OWN NUT MILKS
Do you own a high powered food processor? Great! You can do these things, saving a tonne of plastic and money in the process. I use my nutribullet to make nut milks, quinoa flour, even rice flour! Almond meal! The world is your oyster!
To make the best of it, simply buy your nuts and grains from a bulk food store (bonus points for taking jars with you) and process them until smooth! I pulse my quinoa grains for a minute, open the top and give it a cooling break (I'm terrified of heat related nutribullet explosions) and then pulse for an additional minute. Smooth, fresh, delicious flour, at half the price of the shops.
BONUS TIP: IT'S NOT ALL OR NOTHING. IT DOESN'T MATTER IF YOU CAN ONLY DO A LITTLE. TINY THINGS STILL MAKE A DIFFERENCE IF YOU'RE 'JUST ONE PERSON.'
OK, ONTO THE LEMON AND MAPLE GLAZED HALLOUMI GALETTE BUSINESS
I get it. You're here for the galette. That's fine. It is pretty bloody good.
A few quick recipe notes: I haven't tried the galette pastry without the cheese. I don't think I will. It adds a delicious, cheesy flavour boost, and also a bit of structure. You can use parmesan or cheddar, or really any other hard cheese you have on hand. We're all about using what's in the fridge.
Halloumi is considered FODMAP friendly in 2 slice, or 40g, serves. This recipe, divided amongst 6-8, is well under that limit. If you're concerned, you could substitute another cheese.
The recipe is vegetarian, FODMAP friendly, gluten free and nut free. On the topic of nuts, though, some toasted pine nuts or hazelnuts would go down a treat.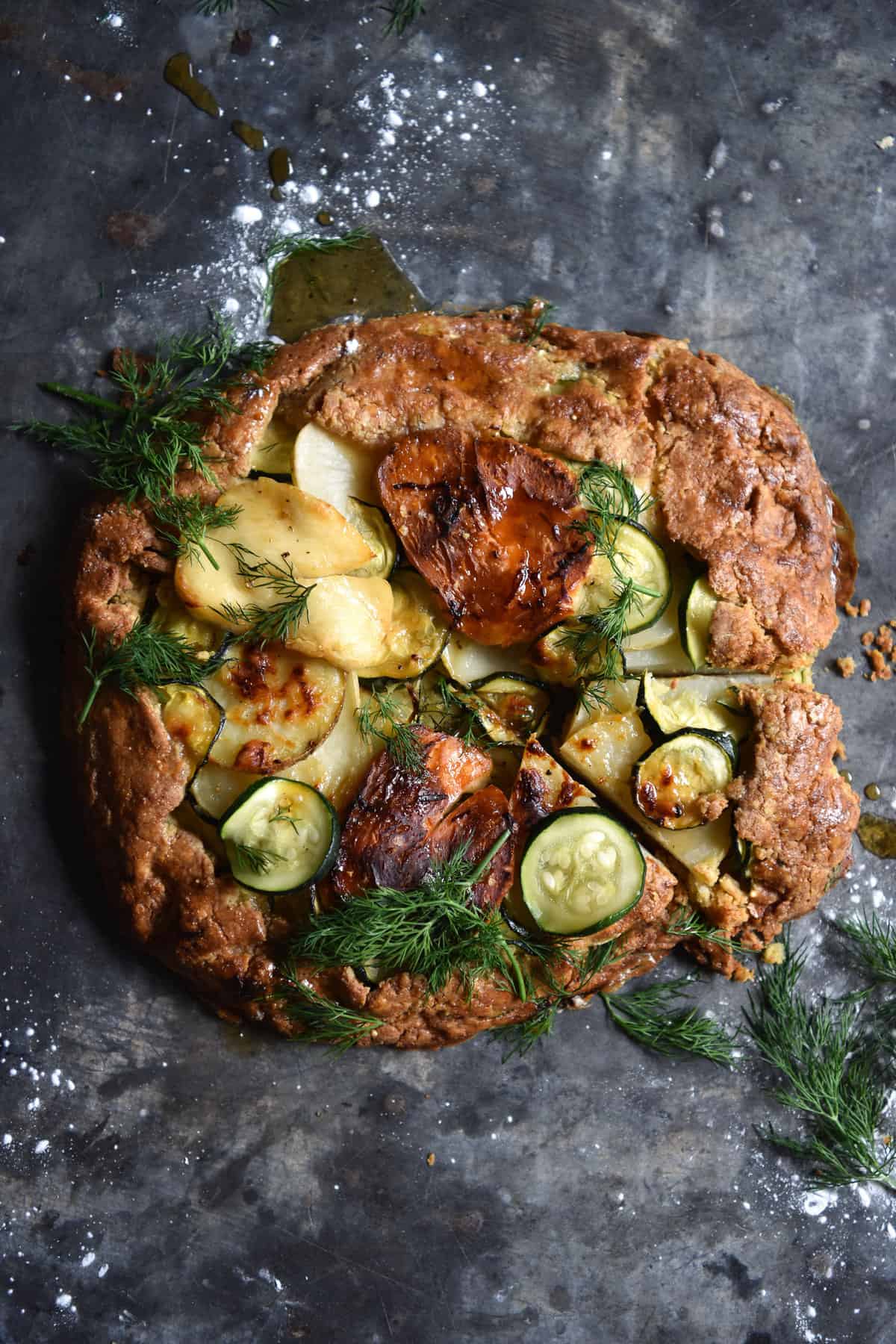 Lemon and maple glazed halloumi, potato, zucchini and dill tart
Gluten free, FODMAP friendly, vegetarian and nut free
Ingredients
FOR THE GALETTE PASTRY
2/3 cup

(70g)

quinoa flour

(see intro for how to make your own)

1/2 cup

(60g)

brown rice flour

1/4 cup

(30g)

tapioca flour

25g

finely and freshly grated sharp cheddar

1

tbsp

psyllium husk

(for structure and binding)

125g

cold butter

2-4

tbsp

ice water

(only as necessary)
FOR THE LEMON AND MAPLE GLAZE
4

tbsp

fresh lemon juice

4

tbsp

maple syrup

sea salt, to taste

generous freshly cracked pepper
TO FINISH
1

medium

zucchini (about 100-150g) mandolined or finely sliced

1

medium

potato (I used Sebago, a good all rounder)

125-225g

halloumi (as much as you can fit in)

bunch of dill

additional cheddar, to finish (optional)

lemon zest, to finish (optional)

1

egg, for eggwash
Instructions
TO MAKE THE PASTRY:
Combine the flours, cheddar, salt and psyllium husk in your food processor, and blitz to combine. Add the butter, pulsing the mixture until it just begins to ball up, and looks like sandy crumbs. Add the water as and when it's necessary, one tablespoon at a time, until the mixture looks pliable but moist. Gather it into a ball with your hands and place it in the fridge to cool.




To roll out the pastry, divide it into six balls, and take two sheets of baking paper (or silicon baking paper!) Sprinkle the first sheet thoroughly with tapioca flour, and place one ball of pastry dough on top. Sprinkle the dough with a little more tapioca, and then lay the second sheet on top.

Use your rolling pin now to roll the dough out in the little paper sandwich. It's the easiest way to roll out gluten free dough. If at any time the dough is sticking, use a bit more tapioca flour. Store in the fridge until ready to use, and transfer back to the fridge at any point it gets really sticky.
TO MAKE THE LEMON AND MAPLE GLAZE:
Combine the lemon juice, maple syrup and seasoning in a small saucepan over a low heat, and allow to cook for 10-15 minutes until is is bubbling and thickened. Stir it intermittently to make sure it doesn't burn.
TO FINISH THE GALETTE:
Preheat the oven to 180 degrees Celsius, or 356 degrees Fahrenheit.

Salt your mandolined zucchini generously, and place it in a colander over the sink. Allow to sit for 15 or so minutes. Salt draws moisture out of the zucchini, which will make sure the tart isn't too soggy.

Place your halloumi in the glaze, and allow to sit while you assemble the galette.

Sprinkle a bit of additional tapioca flour on the base of the pastry. This will assist a lil in absorbing the moisture from the zucchini.

Lay some herbs on the bottom of the tart (otherwise they get burnt) and then start arranging the thin potato, zucchini and halloumi slices in a circle, leaving space the tuck the pastry up around the edges.

Once finished, use the baking paper to pull the pastry up over the edges of the vegetables. Press gently to secure the pastry to the vegetables.

Drizzle over the remaining glaze, and, if you fancy, finish the galette with an additional fine grating of cheddar and/or some lemon zest. Brush the pastry with a well beaten egg, to make it brown and glossy.

Transfer to the oven, and cook for around 30 minutes, or until the innards are cooked and the pastry is golden. Allow the galette to cool for 10 or so minutes before handling or serving - it is very delicate, but firms up when cooled.