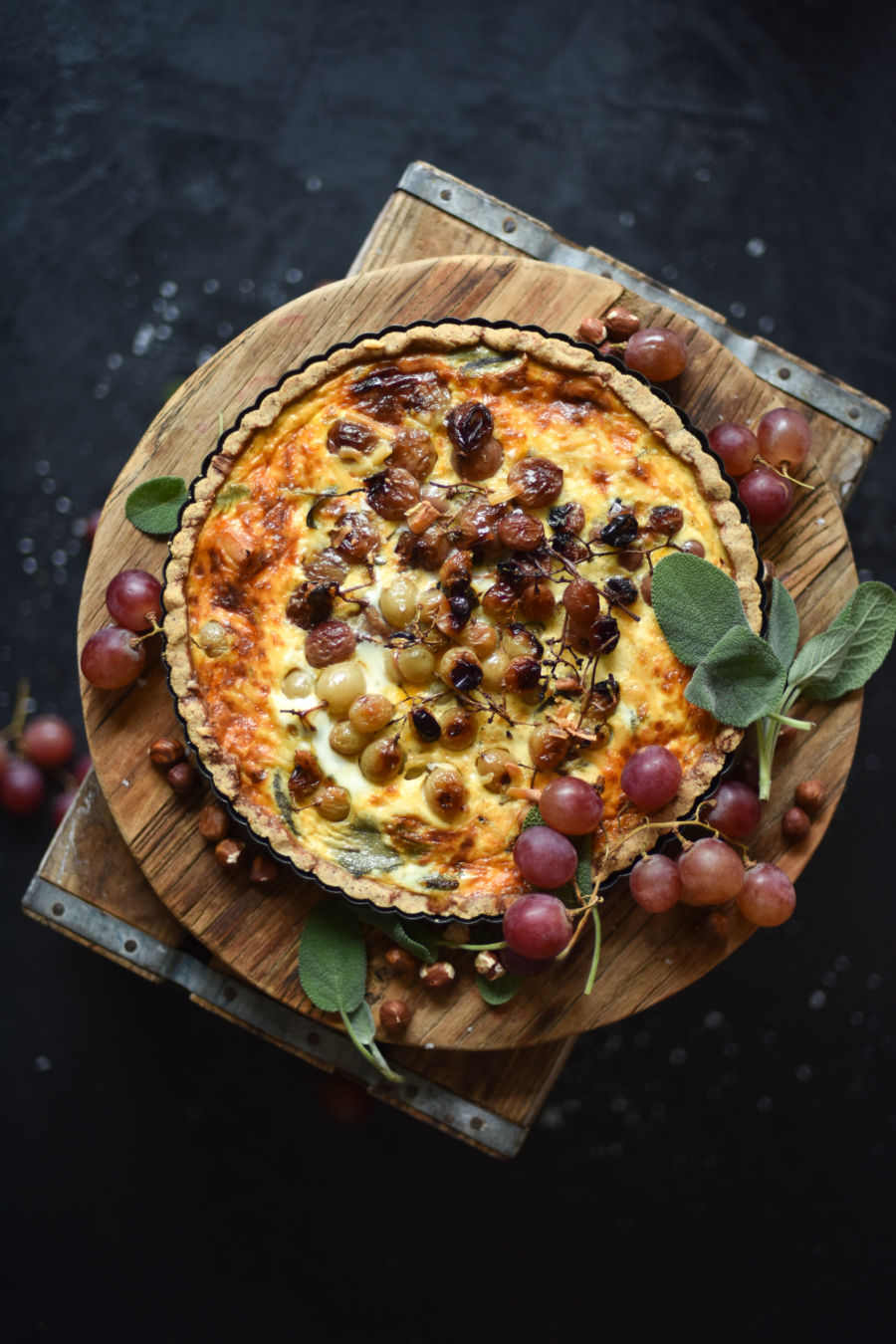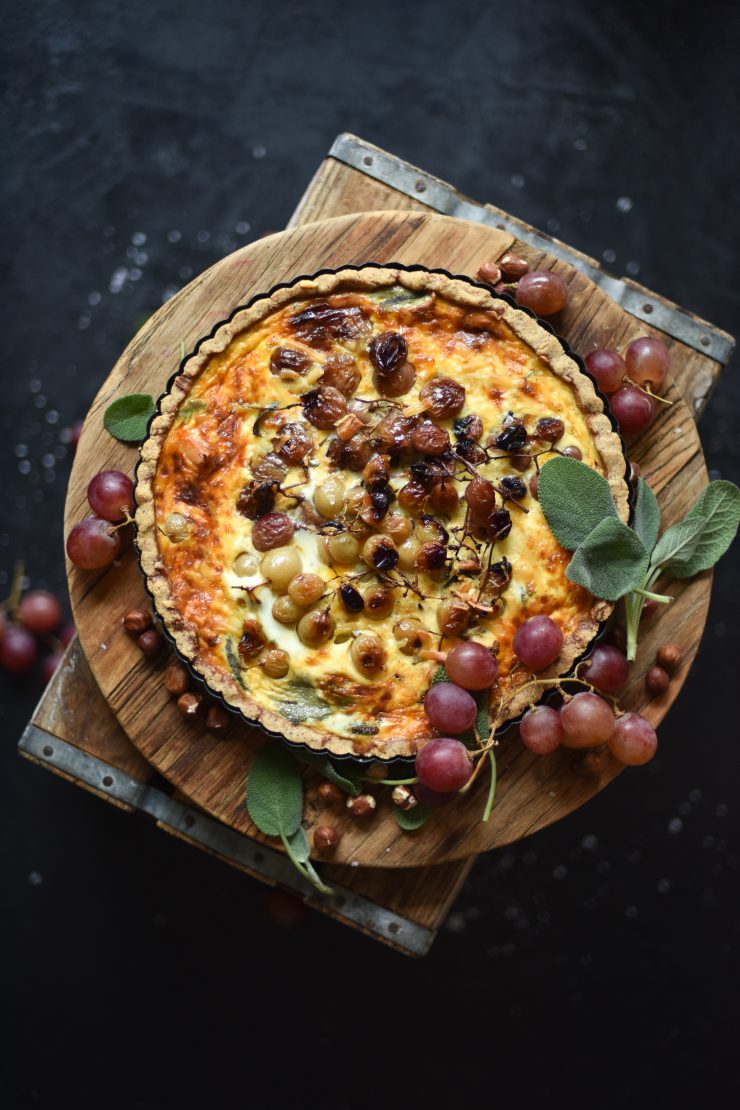 New year, new me, new gluten free tart, new website.  This (website, not so much tart) has been a long time coming, considering I'm often referred to, particularly by tenacious young PR assistants, as a full time 'blogger.' Being as tech illiterate and impatient as I am, I have been putting off having my own website built for as long as I've been adding content to a website. AKA about 4 years. Still, it wouldn't be 'me' if I wasn't desperately and embarrassingly late to the game, (I just discovered Lean in by Sheryl Sandberg, if that gives you any indication) so here we are.
I am a real advocate for tarts, despite the fact that I despise the process of crimping pastry into a tart tin. Yes, I am aware that gluten free tart making is even easier than the regular variety, which might make this the first time I'm thankful for my feeble digestive system? Really, though, once you've got the hang of, and mentally prepared yourself for, the pastry part, the rest is not only easy, but a surefire way to ensure your contribution to the dinner party is most aesthetically pleasing.
This tart is both gluten and grain free, thanks to the use of hazelnut meal and tapioca flour, which is also called arrowroot flour. Depending on your cheeses of choice (FODMAPpers will know that hard cheeses have a lower, sometimes virtually non-existent, lactose content) it is also relatively FODMAP friendly, in single servings. To make it completely FODMAP friendly, you could substitute a nut free, gluten free pastry recipe of 'yo choosing.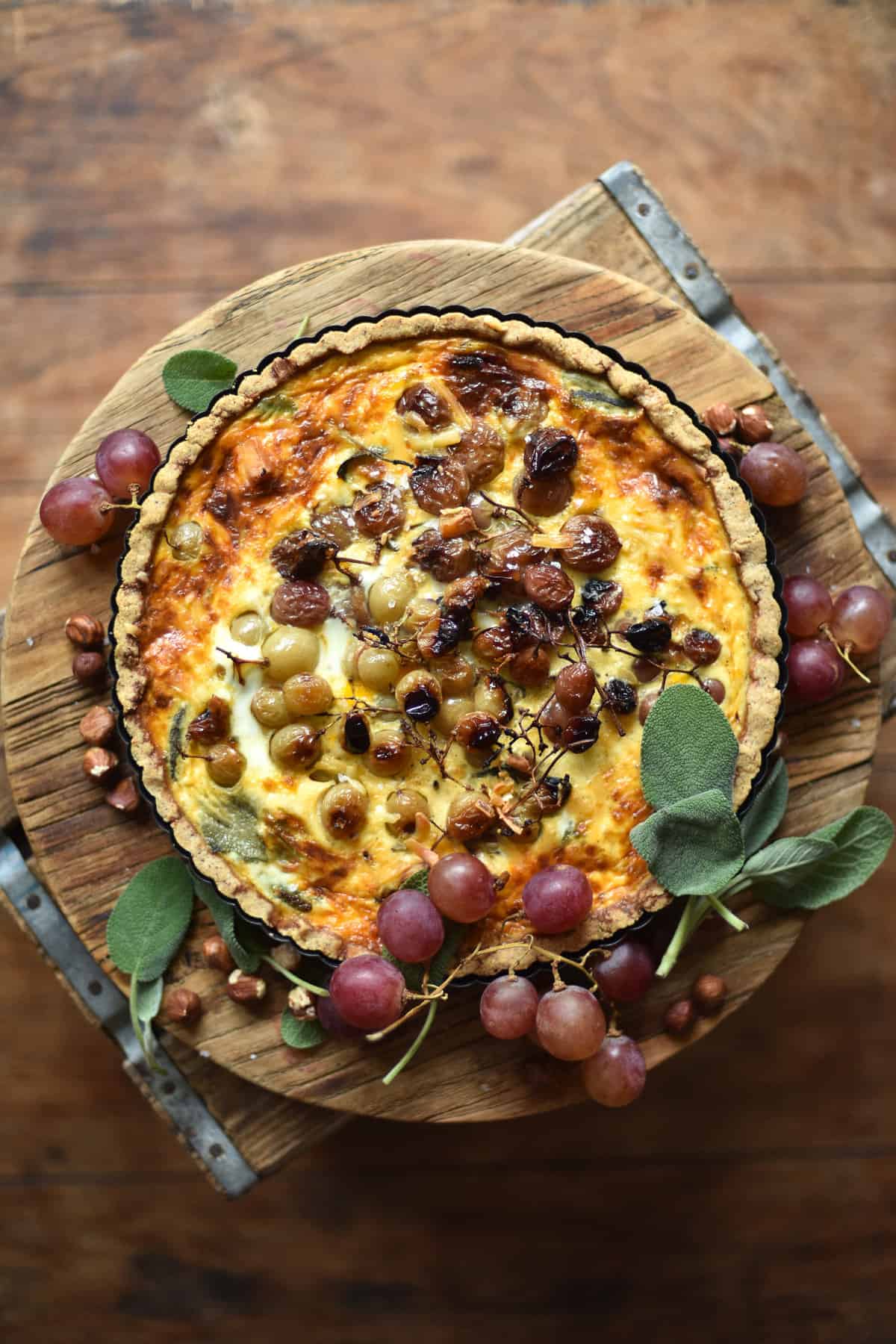 RECIPE
Gluten free roasted grape, sage and cheese tart with hazelnut crust
Ingredients
GLUTEN FREE TART BASE
1 1/2

cups

hazelnut meal

you can buy it from the supermarket or grind your own - 1 cup of hazelnuts makes ABOUT 1 1/2 cups hazelnut meal, don't quote me but just a handy hint

50

g

butter

75

g

Parmesan

finely and freshly grated

Pinch

of salt

1

egg
FILLING
500

g

grapes of your choice

seedless are a bit more pleasant, but optional

5-10

g

sage

chopped

3

eggs

100

g

cheese of your choice

I used a mixture of blue cheese and cheddar because what waistline?

1

cup

milk of choice

I used lactose free cow's milk, just because it was in the fridge each time I tested, and you, likewise, can use what you have in your fridge

Generous salt and pepper
Instructions
METHOD
Preheat the oven to 180 degrees Celsius.

Place your grapes onto a lined baking tray, and, with a spray of olive oil, into the oven for 20-30 minutes, until they are roasty and have taken on lots of colour.

While the grapes are cooking, place all the ingredients for the tart base into your food processor (if you're making your own hazelnut meal, do so beforehand) and process until a dough ball forms. Remove from the food processor, and press into a fluted tart tin. (between 23-25cm in diameter) Use a fork to poke numerous air holes in the base, and then place the tart in the oven for 10 minutes, to pre cook the base.

Once the base has cooked and cooled, whisk together your eggs, milk, salt, pepper, and sage. Assemble the tart by laying half your cheese (whether you grate the cheese or just spread it in blobs depends largely on which cheese you decide to use - grate the cheddar, blob the blue, etc) on the base. Lay the roasted grapes in the centre of the tart, and pour the whisked egg mixture around them. Finish with the remaining 50g of cheese, and then place the tart into the oven for 30 minutes (checking intermittently - spray the grapes with some olive oil if you're worried about them) or until the egg is fully cooked and the top is beautiful and brown.