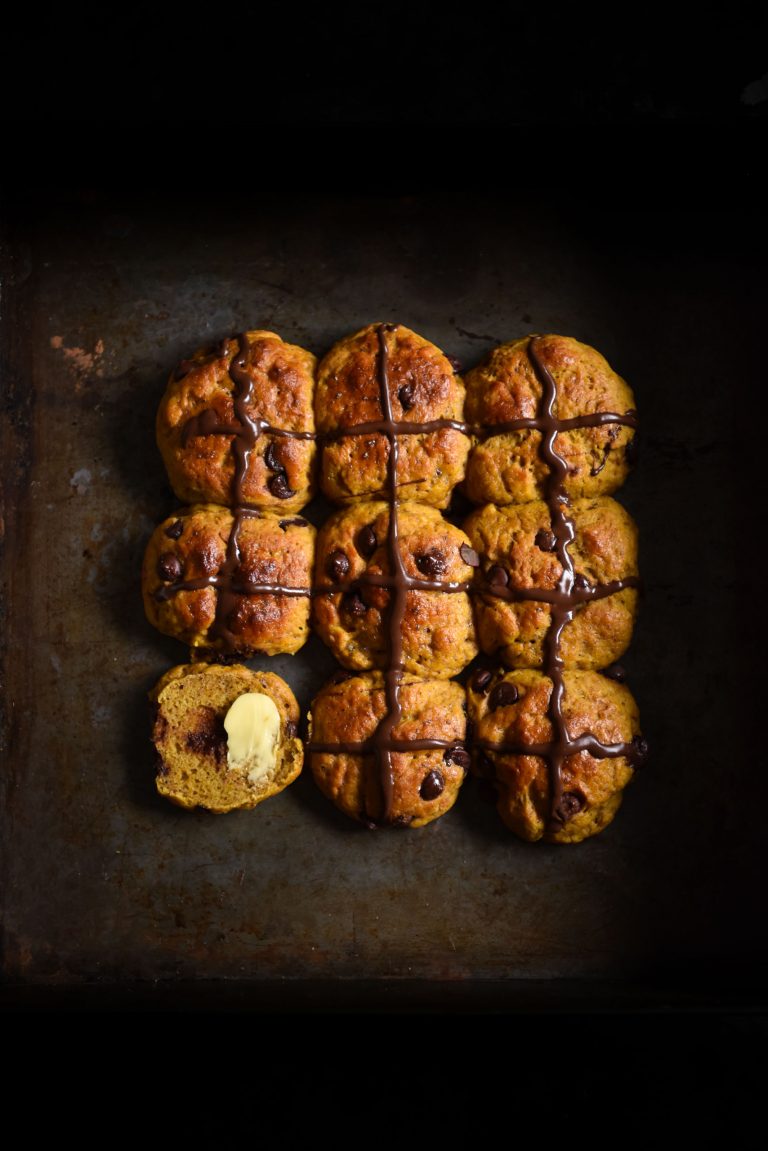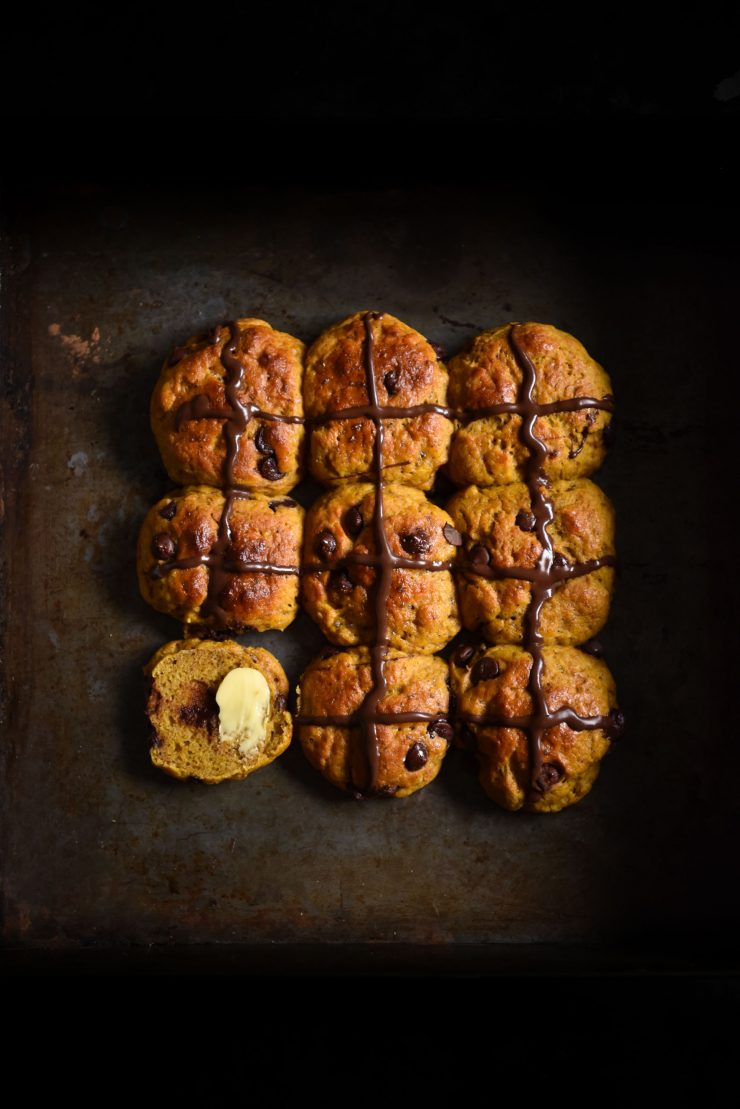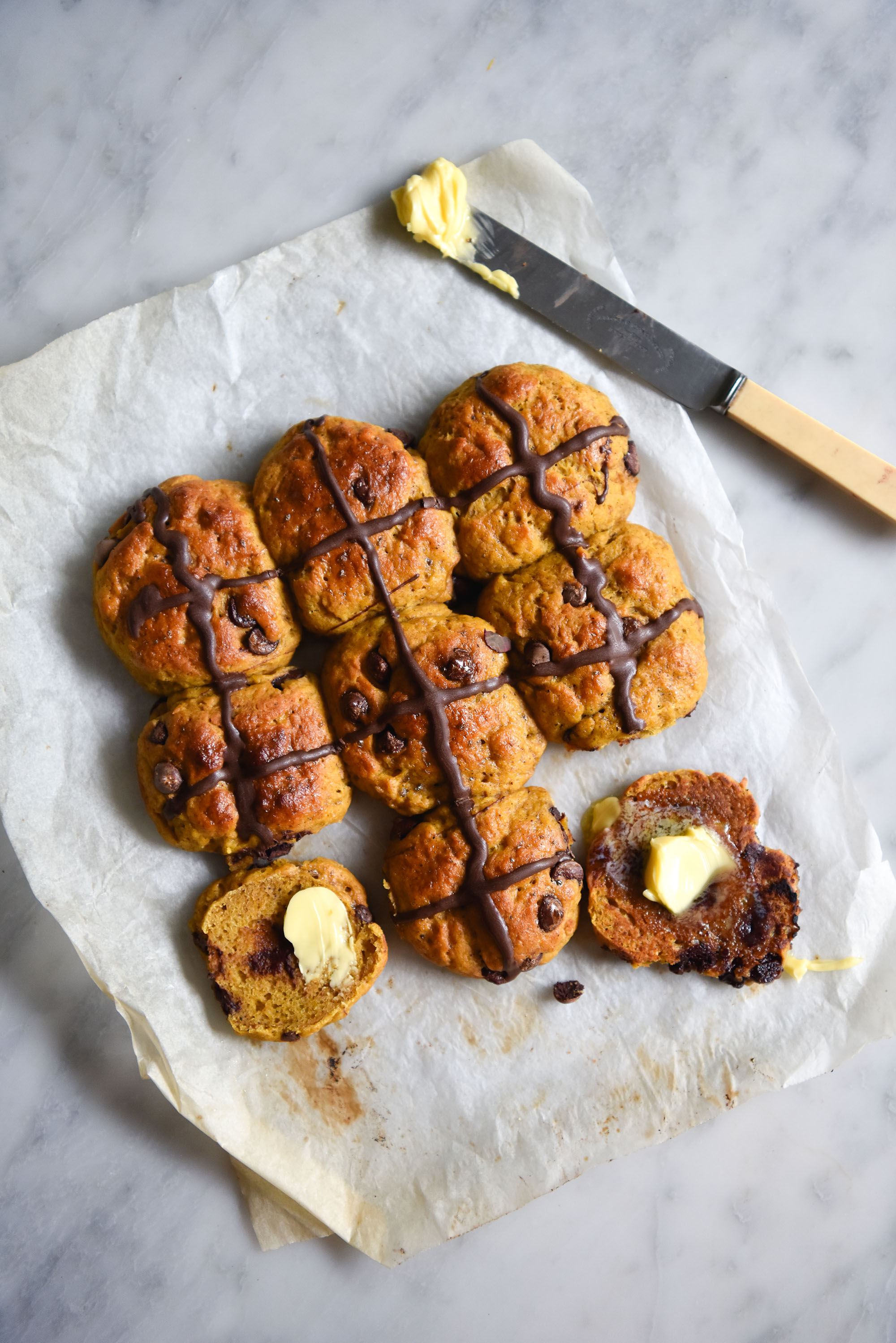 Bougie hot cross buns. You've heard about them, you've eaten them, you've seen them on the 'gram. Today we're jumping right into the concept, with these  gluten free pumpkin hot cross buns. They're gluten free, they're FODMAP friendly, and they're bougie as hell.
Firstly, let me clear the air by saying that the pumpkin does not overwhelm the HCB taste we know and love. As you'd be aware if you've ever baked something gluten free, the results can be, um, dry as the Sahara. Rock Cakes. Unable to be washed down by a litre of water. So, where does pumpkin fit in?
It fits in by adding extra moisture that your everyday gluten free hot cross bun doesn't have. It also adds a sweet richness and depth, binding capabilities, and a bougie title. In essence, what doesn't it do?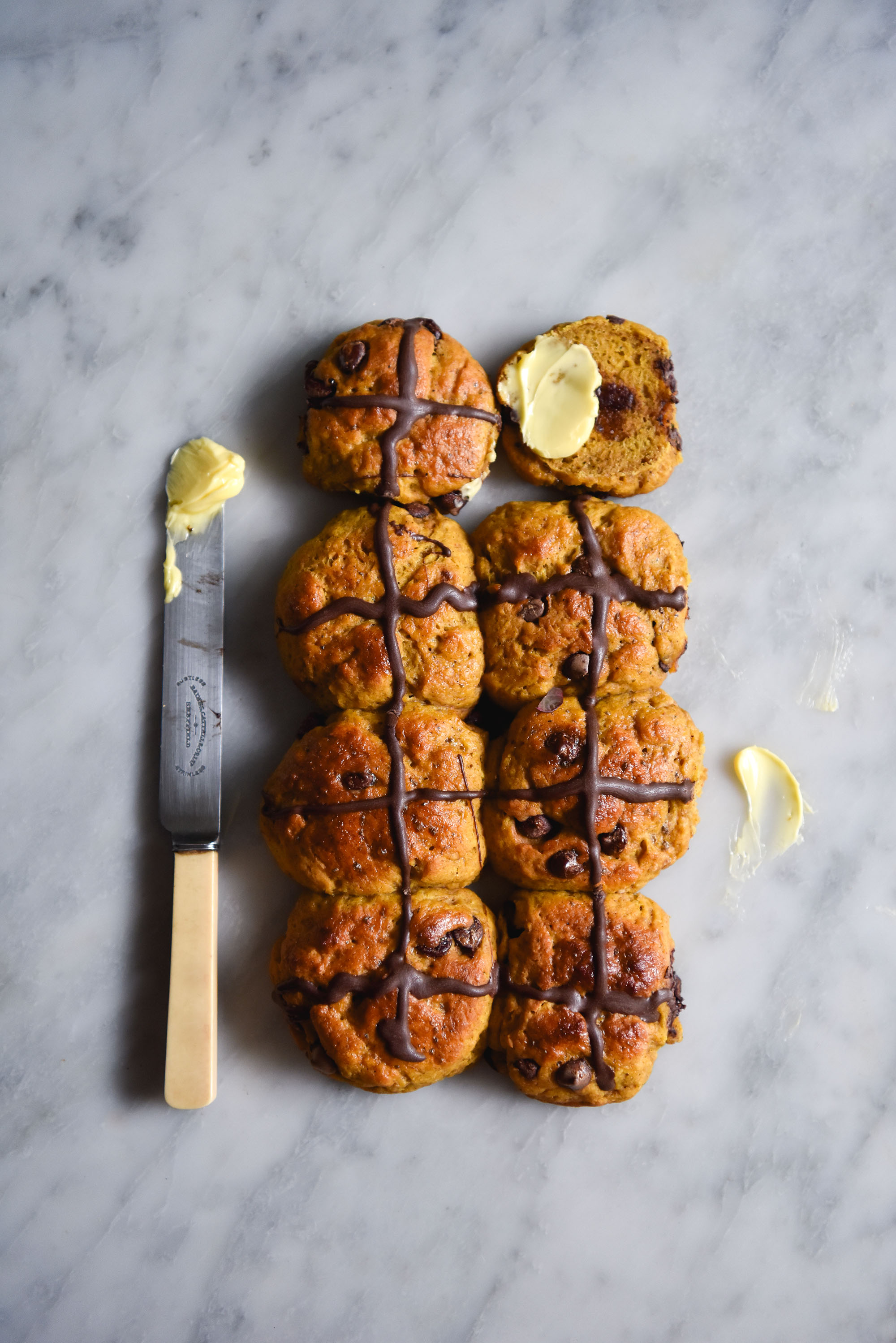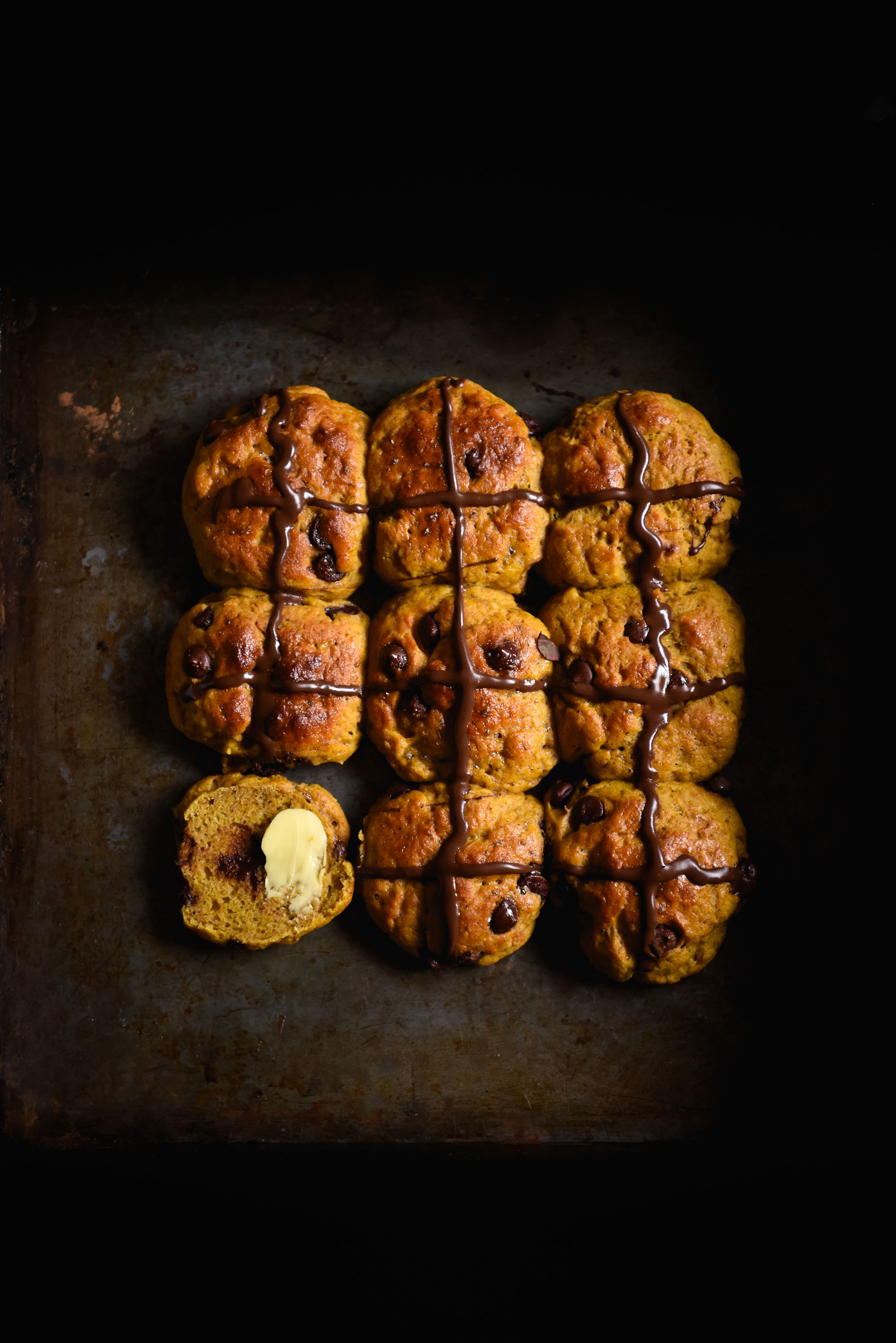 These gluten free hot cross buns use everyday, easy gluten free flours and ingredients. I buy my gluten free flours at bulk stores, to save the unneccessary plastic and my wallet. Make sure you buy really finely ground white flour, or else the result will be gritty.
Psyllium husk is easily purchased at supermarkets these days, although, as above, I buy mine in bulk. Make sure you get psyllium husk and not psyllium husk powder. I had an unfortunate baking experience with it recently, and although the internet says they're basically the same, I say different.
To keep the hot cross buns as FODMAP friendly as possible, use Kent pumpkin instead of butternut. You could potentially use a butter substitute to keep the HCBS dairy free, although I haven't tested that yet.
If you're in the mood for a regular old glutenfree hot cross bun, this recipe is a riff on my original, which is in my cookbook. Why reinvent the wheel when you can just tweak your own recipe?
GLUTEN FREE HOT CROSS BUN TIPS
Make sure you have psyllium husk and not psyllium husk powder. I don't think they work exactly the same.
I like to steam my pumpkin in the water for this recipe, instead of over the water. You want the pumpkin to be a bit soggy so it adds moisture to the buns.
Making a gluten free cross for buns is harder than you'd think, which is why I have used icing. If you'd prefer to make your own crosses, go right ahead.
Make sure you are using finely ground white rice flour for this recipe. Course rice flour will alter the final product, and I had an unlucky attempt at subbing in brown rice flour, which is why I recommend white here.
As with most gluten free baked goods, these gluten free hot cross buns get drier the longer they sit out. Heat them in the microwave or oven and slather with butter if they get a lil dry.
I always buy and use the 700g packet of eggs, which are called 'extra large' here in Australia.
I haven't tried substituting a butter substitute in this recipe, although I don't see why you couldn't. You could also use dairy free chocolate chips, or omit them entirely.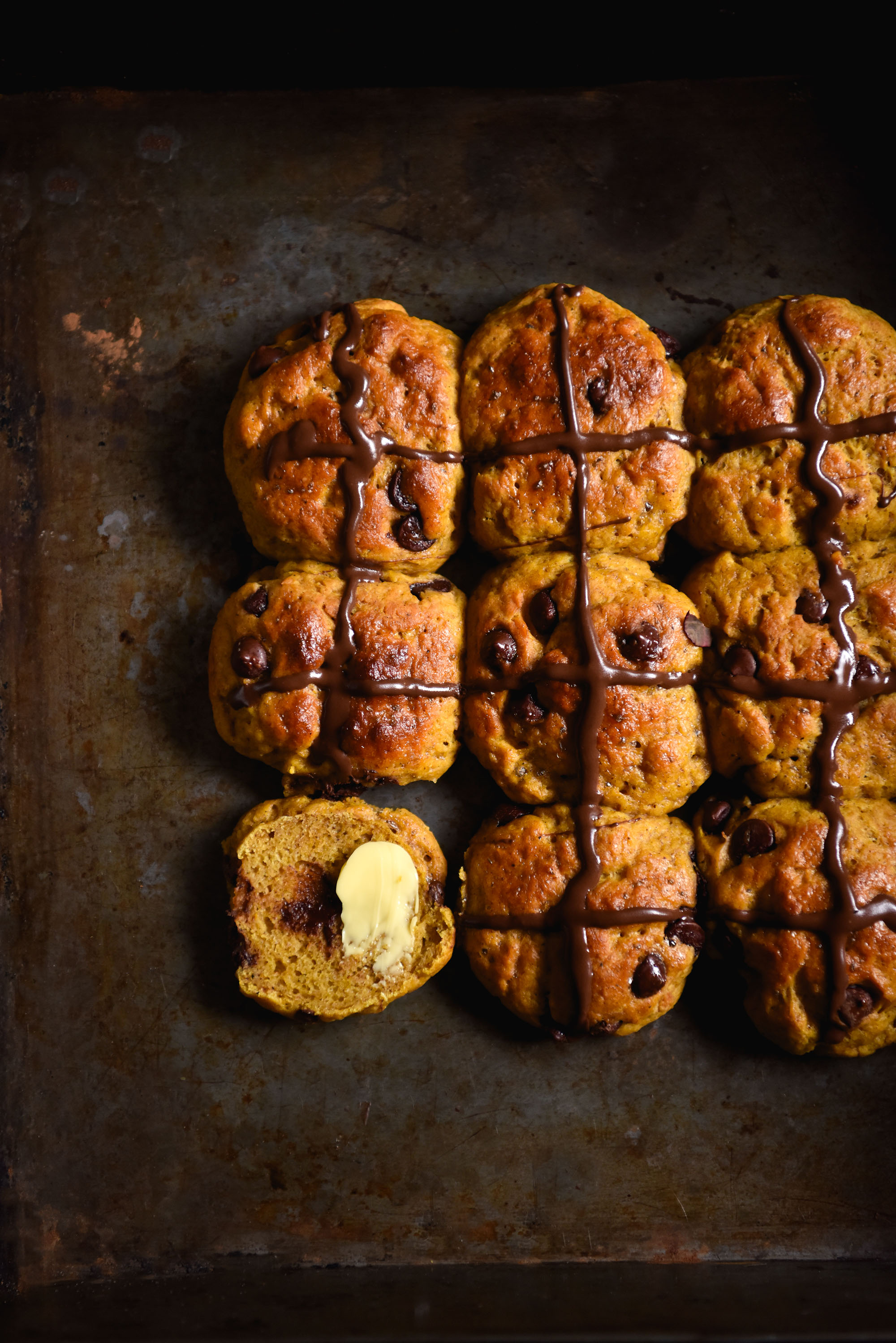 Gluten free pumpkin hot cross buns
Gluten free, FODMAP friendly, low lactose
Ingredients
FOR THE BINDER:
1/4

cup

psyllium husk

3

extra large eggs

200

g

pumpkin puree

125

g

melted butter

1

tablespoon

olive oil

2

teaspoons

vanilla bean paste

1/4

cup

soy milk or milk of choice
FOR THE DRY MIX:
1 1/2

cups

white rice flour

190g

1 1/2

cups

tapioca flour

180g

2 1/2

teaspoons

baking powder

100

g

3/4 cup reasonably well packed light brown sugar

2

teaspoons

ground nutmeg

1

teaspoon

ground cinnamon

1

teaspoon

allspice
FOR THE YEAST:
1/2

cup

soy milk

2

teaspoons

caster sugar

1 7.5

g

sachet instant yeast
TO FINISH:
50-100

g

chocolate chips

optional

1

egg

for brushing
Instructions
METHOD
Prepare your pumpkin puree. As I mentioned, I like to steam the pumpkin pieces in the hot water for this recipe, so that they're a little soggy. The more liquid the merrier in gluten free baking. Once cooled, mash or puree and set aside.

Melt the butter over a gentle heat or using your preferred method. Allow to cool enough to pour over eggs without scrambling them.

In a large mixing bowl, combine the psyllium husk with the eggs, and whisk well to combine. Add the cooled butter, olive oil, vanilla bean paste and soy milk, and gently whisk until combined. Set aside to thicken up while you prepare the other elements.

Combine all the ingredients for the dry mixture in a large mixing bowl. I am the Queen of lazy but in this instance it is helpful to sieve the brown sugar in, if you're so inclined.

To prepare the yeast, heat the milk so it is warm but not hot. If it is too hot it will kill your yeast, and if it is too cold the yeast won't activate. Add the yeast and sugar to the warm milk, and gently mix to combine. Allow to sit for 5-10 minutes – there should be a bubbly dome on top. If there isn't any action after 10-15 minutes, throw it out and start again, because your yeast is inactive and it won't do anything for the buns.

Once the yeast is ready, add everything to the dry flour mixture. Use a spoon to get the mixture most of the way, and then use your hands to squelch it through your fingers, picking up the dry bits as you go. It will take about 5 or 10 minutes, but eventually all the dry bits should attach to the dough, and it will become borderline sticky. Keep going, I promise you'll get there!

Once the dough has formed one large, smoothish and kind of sticky ball, add the chocolate chips, and gently mix them in with your hands. Don't mess around with the dough more than necessary. I have a theory that the psyllium husk starts to jam up (kinda like gluten) with too much kneeding.

Line 1-2 large baking tins with baking paper. Use your hands to form the dough into even sized buns. Personally I like them on the smaller side – gluten free baking is most often a lot denser than regular, and so smaller ones are generally enough. You can make anywhere from 12 large to 20 small buns with this recipe.

Once you have made the buns, set them in a warm, draft-free place to rise for one hour. I cover mine with an inverted bowl, topped with a tea towel, to keep warmth in. Towards the end, preheat the oven to 180 degrees Celsius. Alternatively if you're in cold weather, keep the oven on for their rising time, and cook something else while you're waiting.

10. Once the buns have risen (it's not a dramatic rise, but it should be tangible) brush them generously with egg wash. This helps them get brown and shiny, but also helps smooth any bumps from the tops of the buns.

11. Place them in the oven for 20 minutes. Once cooked, allow to cool completely before adding the icing or white chocolate cross. Alternatively, eat them plain!

12. Store in an airtight container, and heat them in the oven or toaster if they start to get a little dry. They are best on the first day, but keep surprisingly well for a gluten free baked good.