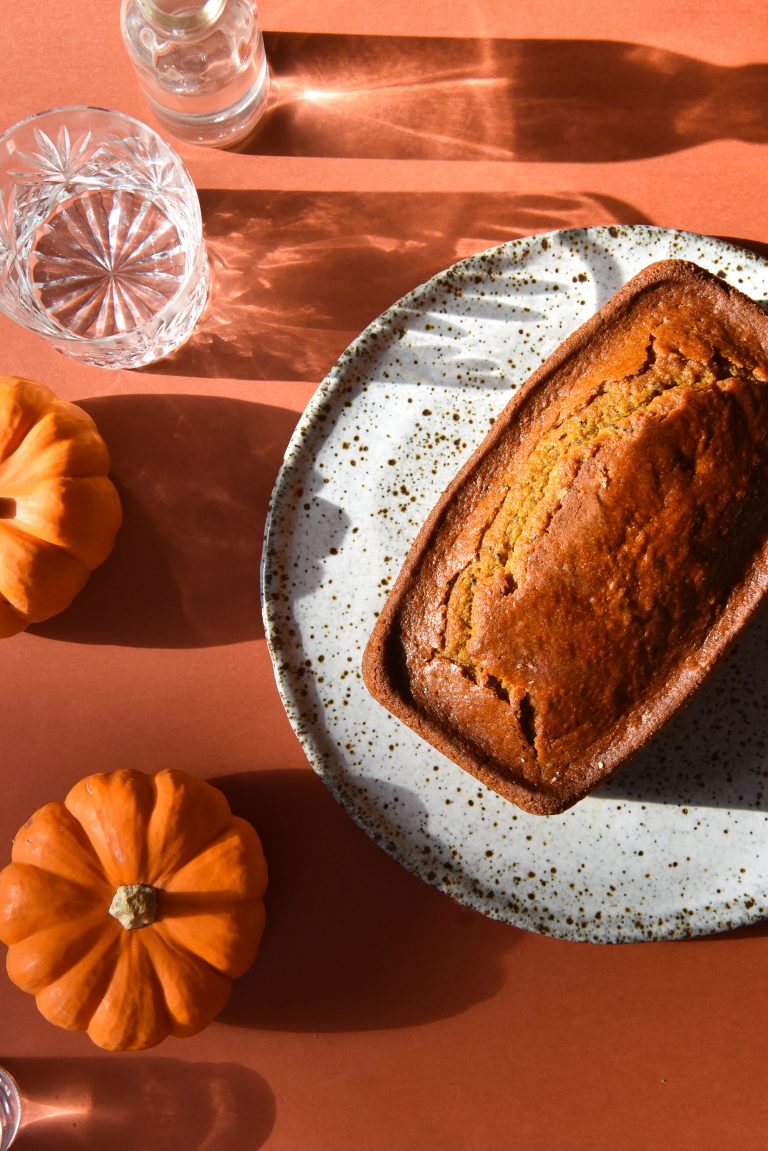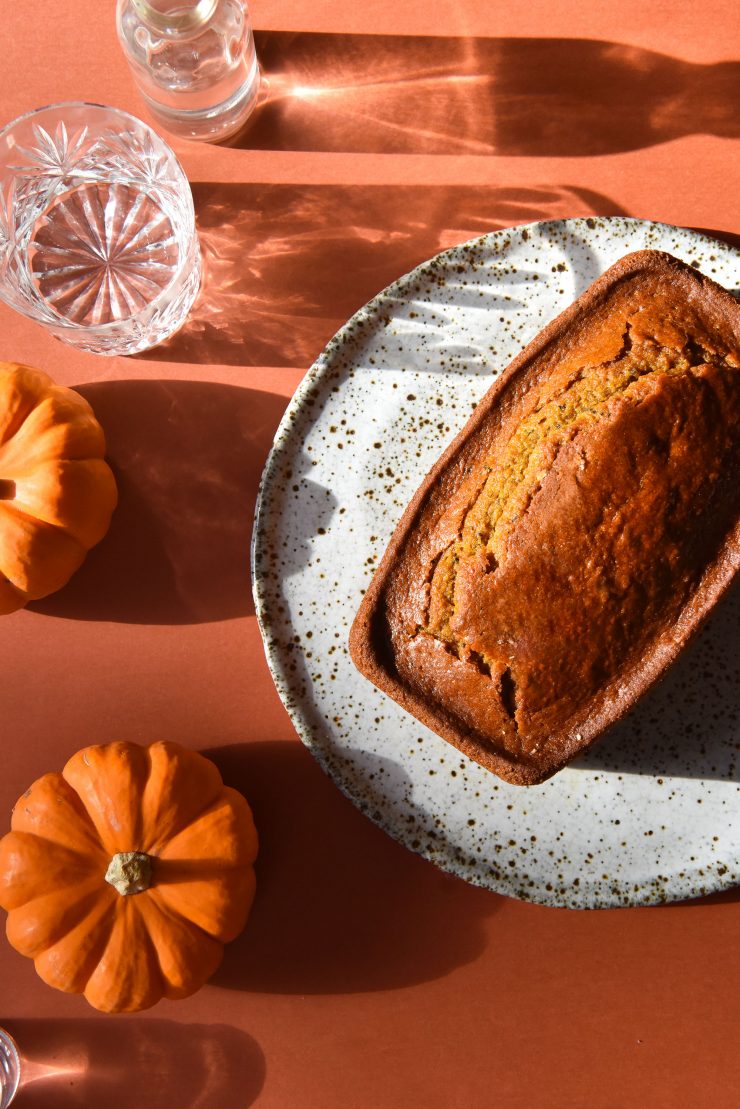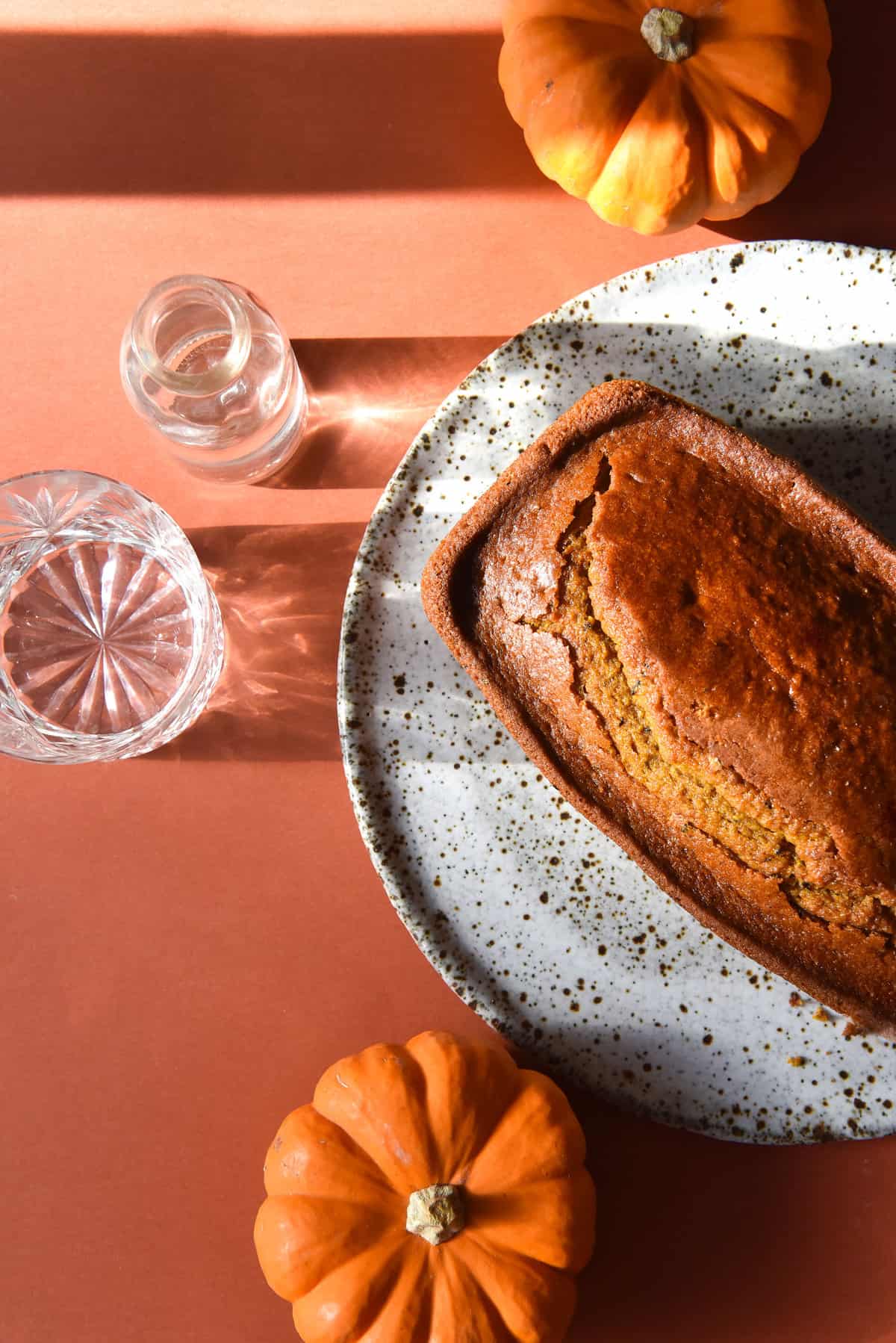 I've seen a lot of recipes in my time that purport to be tea flavoured. By adding a teaspoon of tea leaves, the recipe writer ticks a box, and gets to add an exotic flair to their recipe title, without any real tea flavour. NOT TODAY, friends. Today we're deep diving into the world of flavouring baked goods with tea. We're doing that with this gluten free pumpkin earl grey loaf.
This recipe was written for my pals at Thankyou Australia, who are doing great stuff for the world. They recently collaborated with a Melbourne artist to develop the packaging for their hand wash products, and asked if I would develop a recipe involving sage and earl grey. I love sage, I love earl grey, I love people doing good things for the world. A no brainer. A gluten free pumpkin earl grey loaf with sugared sage sort of no brainer.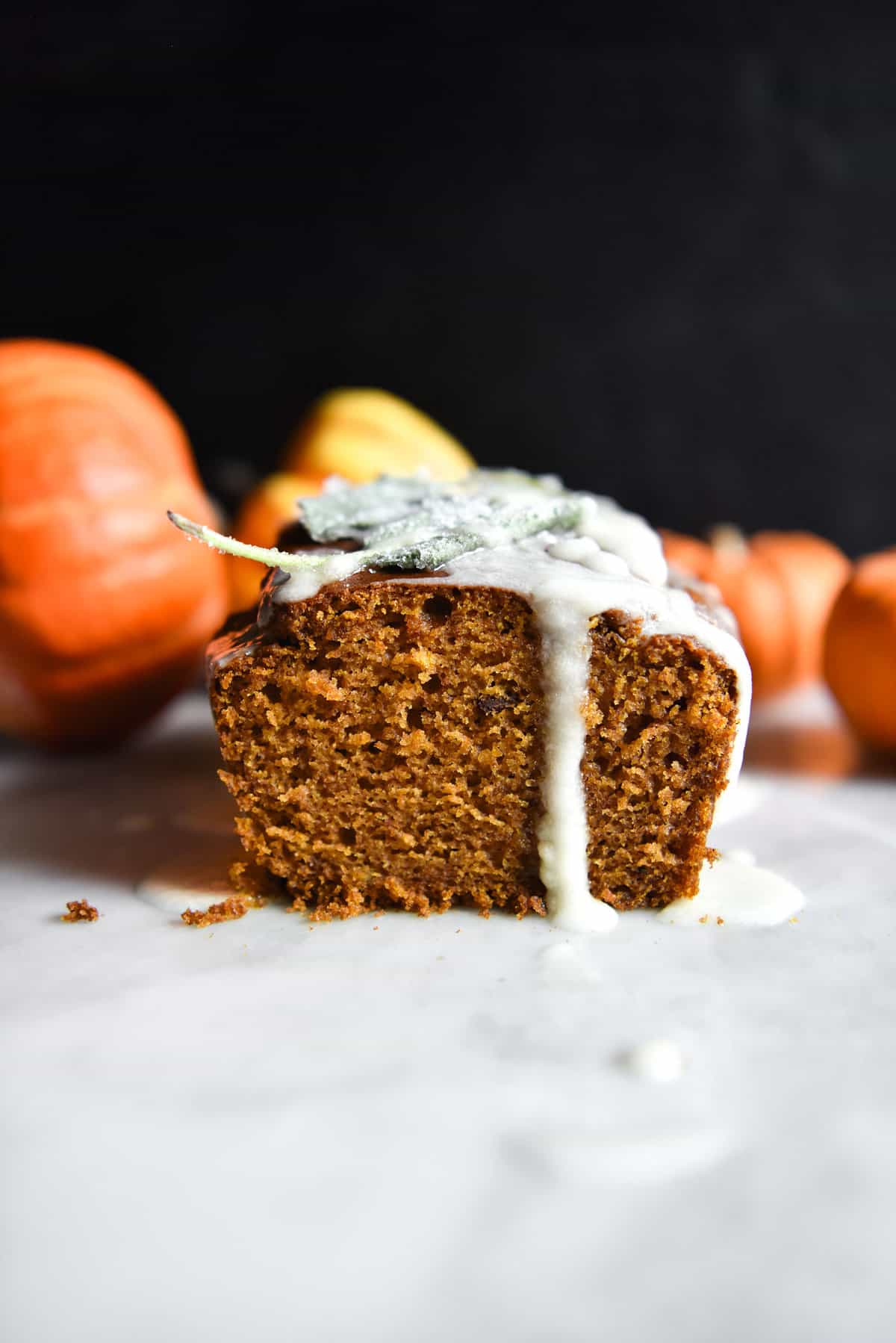 TIPS FOR INFUSING TEA INTO BAKED GOODS
I couldn't find one succinct place for this, so I thought I'd create my own. The following is what I learnt from my tea infusing adventures:
Use fresh loose leaf. Aside from the waste accrued from using 20,000 tea bags per loaf, only loose leaf has the strength necessary.
You will use more tea than you'd think. This recipe uses 1/3 cup of loose leaf earl grey.
Fresh tea is best, but not wasting older tea for the sake of a loaf is better.
Infusing the tea in the oil is an important step in getting the tea flavour to shine. Cooking the oil with the tea leaves, before allowing them to cool and steep, is the way to do this. This technique would likely work for butter also, but you would need to be careful not to brown the butter. If you need to beat butter into a recipe, try infusing the tea by cooking over a low heat, steeping, removing the leaves, and then refrigerating until solid.
Infuse the tea in as many liquids involved in the baked good as you can! You will notice that this recipe involves infusing the oil and the milk with tea leaves. Flavours often cook out, so it's important to get as much flavour in to begin with as you possibly can.
If you're game, you can add some of the tea leaves into the batter. They're crunchy, add a nice textural mix up, and potentially add a lil extra infusion while baking. And no, they won't kill you.
Choose a tea with a distinct flavour beyond 'tea.' Early grey has a bergamot flavour which shines through in the loaf. You could also try a smokey tea such as Russian Caravan or Lapsang Souchong. Plain ol' black tea might not add as much flavour as you'd like.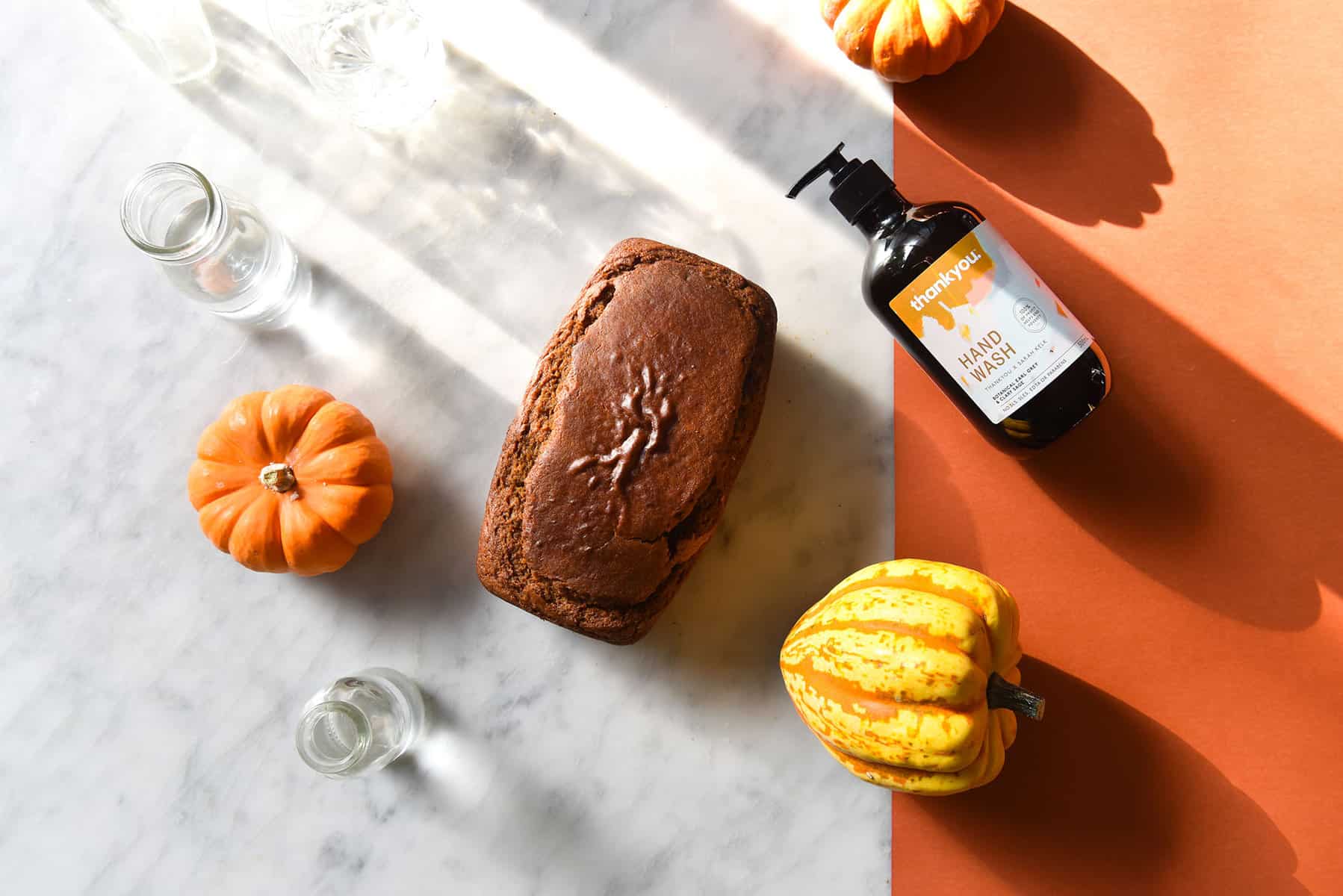 EARL GREY PUMPKIN LOAF WITH LEMON GLAZE AND SUGARED SAGE LEAVES
Gluten free, FODMAP friendly Makes 8-10 slices Prep time: 30 minutes Cook time: 40 minutes
Ingredients
INGREDIENTS
For the loaf:

1/3

cup

fresh earl grey tea leaves

not tea bags

1/2

cup

light flavoured olive oil

will become roughly 1/4 cup after steeping

1/2

cup

soy milk

1

cup

brown rice flour

130g

1/2

cup

tapioca flour

60g

1/2-1

teaspoon

cinnamon powder

optional

1

teaspoon

baking powder

1

teaspoon

baking soda

Generous sprinkle of table salt

helps bring out the flavour, I swear!

175

g

pumpkin puree

130

g

light brown sugar

1 well packed cup, but weigh it instead of using the cup measure

1

tablespoon

lemon juice

2

eggs

extra large, I buy the 700g packet

2

teaspoons

vanilla bean paste

Optional 1 tablespoon of the seeped tea leaves
For the lemon glaze:
1

cup

icing sugar

1

– 1 1/2 tablespoons lemon juice

1

teaspoon

melted butter
For the sugared sage leaves:
1/2

bunch of sage leaves

1

tablespoon

lemon juice

Caster sugar

to coat
Instructions
To make the loaf:
As early in advance as possible, place the olive oil and earl grey tea leaves in a medium saucepan. Place it over the smallest heat source on a low heat, and allow for ten minutes, stirring intermittently. Turn the heat off, and allow the tea to steep in the oil for as long as time permits – at least 10-20 minutes.

Strain the oil into a bowl, and place the tea leaves back in the same saucepan. Add the 1/2 cup of milk, and heat just until hot. Don't worry about the residual oil, it won't make a difference to buttermilk. Turn the heat off, and allow the tea to steep in the milk for at least 10 minutes. Strain, and set the tea leaves aside.

Preheat the oven to 180 degrees Celsius or 356 degrees Fahrenheit. Grease a silicon loaf tin with oil or butter.

In a large bowl, combine the flours, baking powder, baking soda and cinnamon, if you're using it. Mix well to combine.

Add the tablespoon of lemon juice to the strained milk mixture to make buttermilk. This will give the loaf a lovely bit of oomph.

In a large mixing bowl, combine the pumpkin puree with the brown sugar and vanilla bean paste. Stir until the mixture is well combined.

Add the remaining wet ingredients – buttermilk, eggs and steeped olive oi. Stir thoroughly to combine until a smooth batter forms. Finally, mix the dry ingredients into the wet.

As an option, you can add 1 tablespoon of the steeped tea leaves to the batter. It creates lovely little flecks in the loaf, and a nice texture. Totally optional.

Pour the batter into the well greased loaf tin, and place in the oven for 35-40 minutes, or until a skewer comes out clean. Allow the loaf to cool in the tin, before gently removing it. Allow the loaf to cool completely before icing.
To make the glaze:
Mix together all the ingredients with a beater or whisk. Continue whisking until a smooth glaze forms. You can make it thicker with a little more icing sugar, thinner with more lemon juice, or 'fluffier' with a bit of extra beating time.
To make the sugared sage leaves:
Dip the sage leaves in the lemon juice, and then transfer into a small bowl of caster sugar. Gently toss to coat. You can crisp the sage leaves up beforehand in a dry hot pan, if you like.
To assemble:
Drizzle the glaze over the loaf, and top with the sugared sage leaves, and a little of the clumpy lemon sugar leftover from making them. Slice and serve.