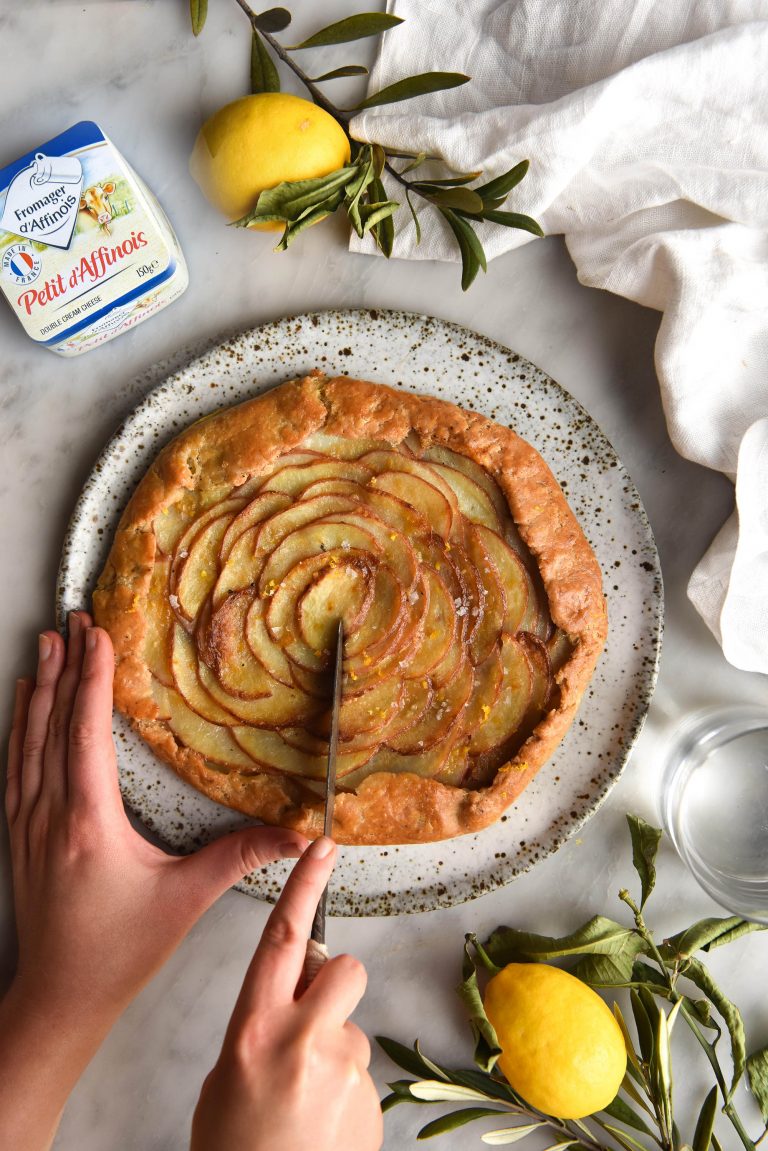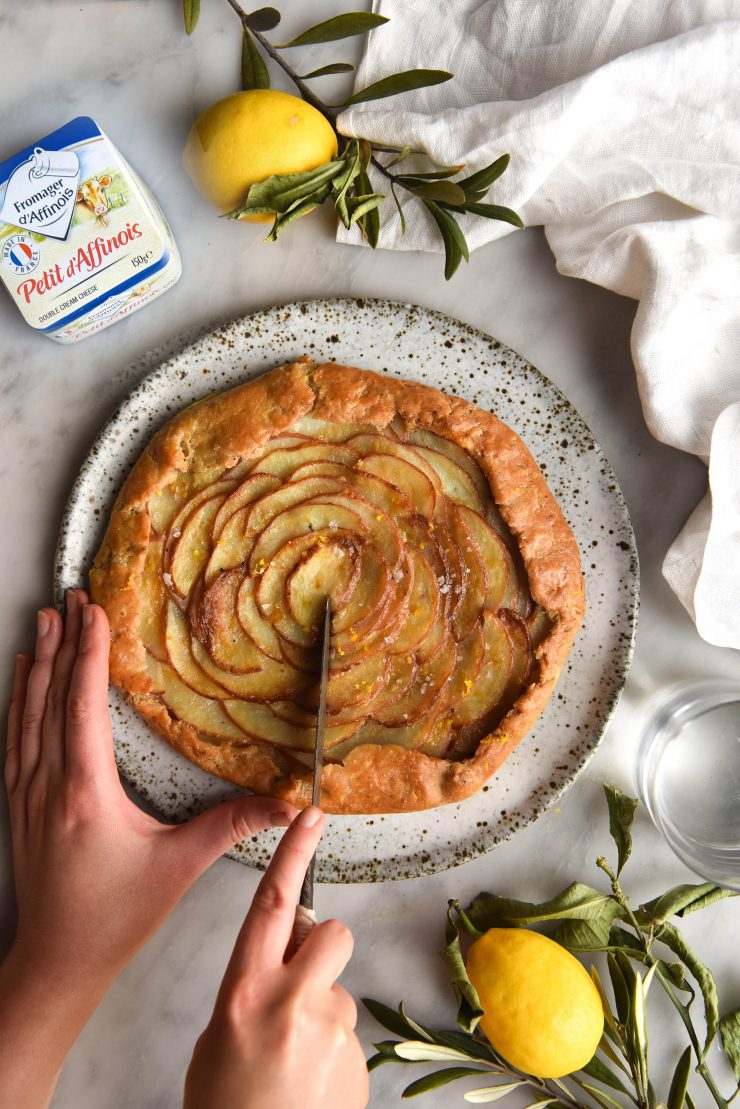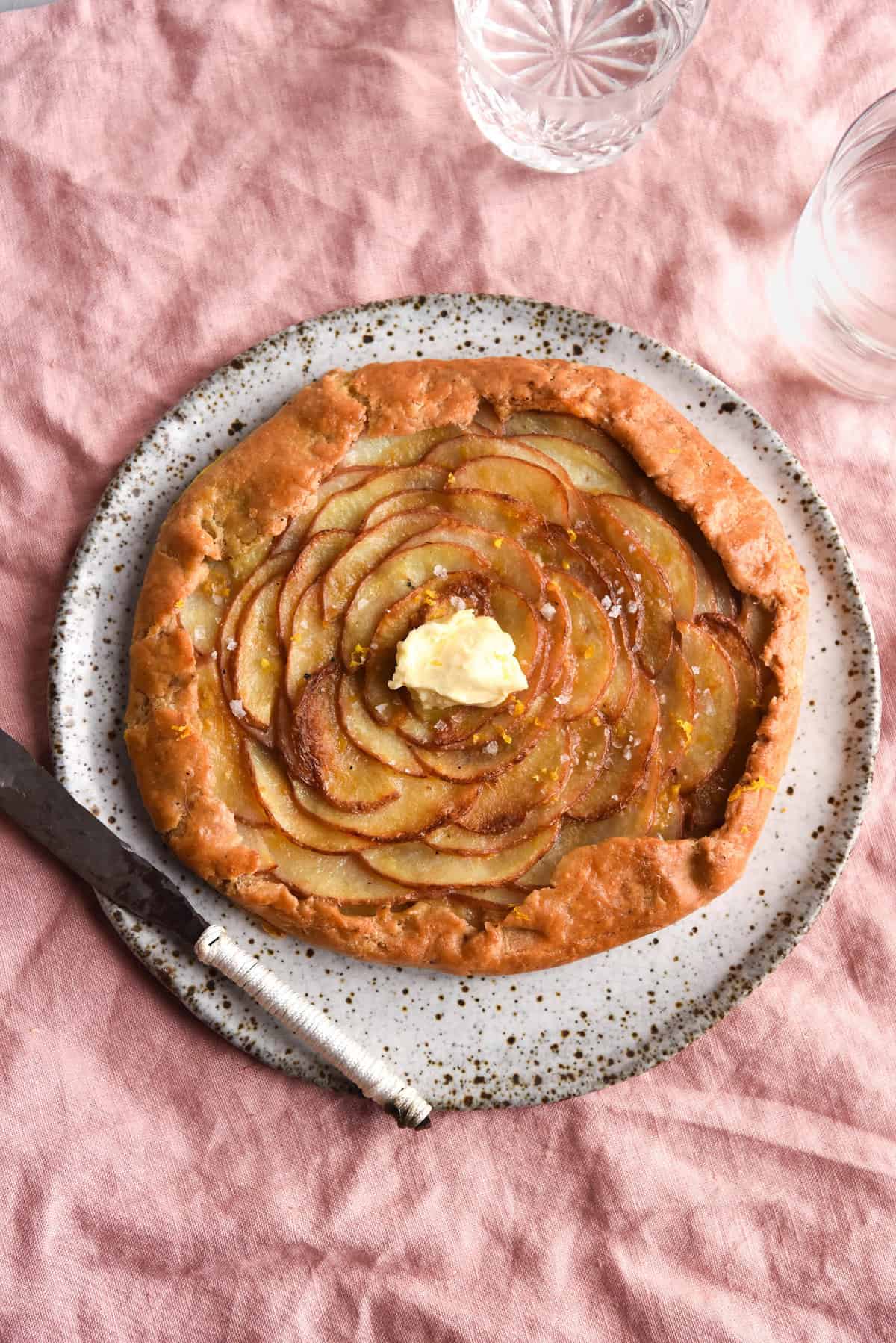 Since my digestive system crumbled into a heap, it has always pained me that I cannot provide my Instagram followers/myself with the pure aesthetic vision that is an apple galette. For me personally, apple galettes are both the height of sophistication and the height of my own digestive distress. Apples and I broke up a long time ago, and I'm still not over it. So, when I was recently asked by Fromager D'Affinois to create a trompe l'oeil of a classic french dessert, the choice was obvious. A gluten free potato galette with the aesthetic of an apple galette.
I have made savoury galettes before (this halloumi number and this pumpkin blue cheese varietal) but I think this gluten free potato galette is my favourite. The pastry is made with petit D'Affinois, a little butter and a lot of freshly cracked pepper. It is reminiscent of a cacio pepe, my obsession which with is well documented.
GLUTEN FREE POTATO GALETTE RECIPE NOTES
I don't normally recommend xanthan gum unless it's strictly necessary. In pastry, I find it's an absolute LIFESAVER in creating something that holds together with ease. 1/4 teaspoon is plenty – more isn't better.
In an ideal world, you would make the pastry the night before or at least a few hours in advance. It needs time to chill and harden so that the butter puffs up while in the oven. However, I know that isn't always possible, so I've given options for making it at the same time as the galette.
Petit D'Affinois is vegetarian! Hurray! It's also low in lactose, so suitable for those with an intolerance or on a FODMAP diet. Which brings us to:

FODMAP NOTES
Petit D'Affinois is low in lactose, and thus suitable for people with a lactose intolerance as opposed to a dairy allergy.
As always, butter is very very low lactose! You could potentially substitute ghee if you fancied giving that a whack. If you need a completely lactose free pastry, try my vegan, gluten free galette pastry here.
1/2 tablespoon plus a final drizzle of honey for an entire galette presents no fructose issues whatsoever. However, if you'd prefer to use something else, maple syrup would be a worthy substitute.
REAL WORLD NOTES
Making this recipe a trompe l'oeil has been a lot of fun, but it may not be practical for everyday life. So:
Potatoes can just be sliced into rounds as opposed to half rounds.
You could add any non-watery greenery you fancy! Some herbs would be lovely – sage or rosemary would be my primary suggestions.
Another very viable option is to bulk up the contents with a variety of vegetables. This will make it more of a main meal than a light meal.
If you would prefer not to double carb, I daresay some summer tomatoes or another vegetable would be delightful in place of the potato. Stay tuned for more galette recipes really soon.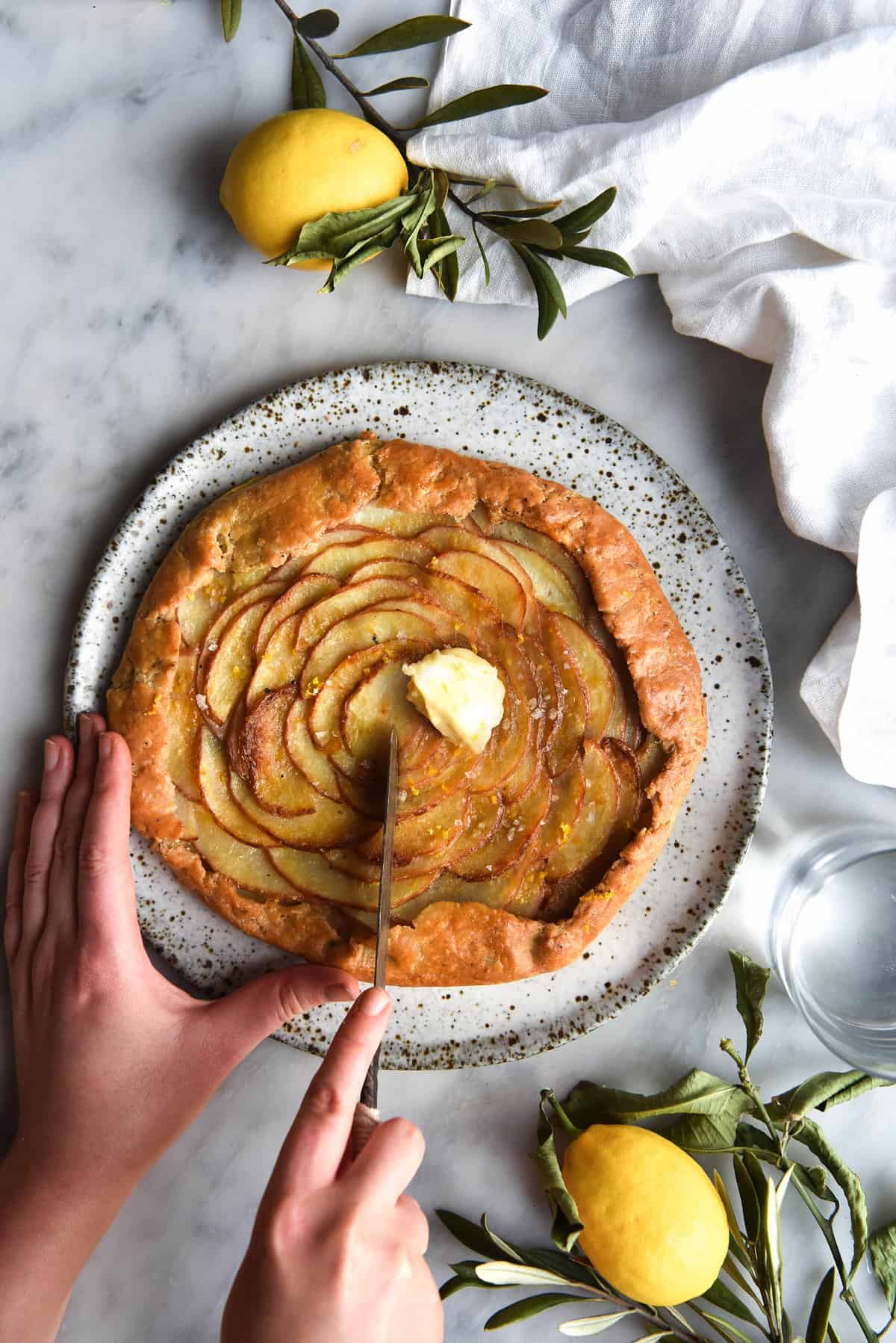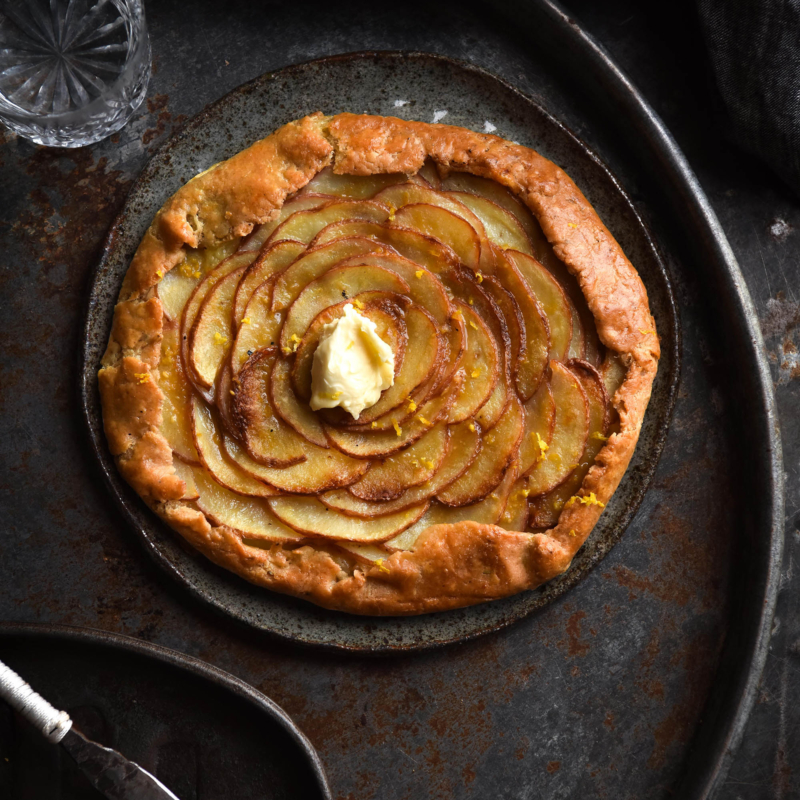 Gluten free potato galette with D'Affinois double cream and a honey vinegar glaze
Gluten free, nut free, low lactose, FODMAP friendly, vegetarian
Ingredients
For the galette pastry:
80

g

2/3 cup sorghum flour

50

g

1/2 cup white rice flour

50

g

1/2 cup tapioca flour

1

teaspoon

fine salt

I used table salt

1

teaspoon

fennel seeds

optional

Plenty of freshly cracked black pepper

About 1/4 lemon worth of lemon zest

1/4

teaspoon

xanthan gum

50g

Fromager D'Affinois double cream cheese

100g

cold butter, cubed

6

tablespoons

cold water

plus extra if strictly necessary
For the potatoes:
600-700

g

large

smooth red potatoes

1

tablespoon

olive oil

1/2

teaspoon

fine salt

I used table
For the base of the pastry:
50

g

Fromager D'Affinois double cream cheese

50

g

parmesan

Lemon zest

1

teaspoon

fennel seeds

chilli flakes to taste

optional

Salt and pepper
For the glaze:
2

tablespoons

sherry vinegar

1

tablespoon

honey
Instructions
To make the pastry:
Ideally, make the pastry the night before. If not, make it while the oven is preheating and let it firm up in the fridge while you cook the potatoes. Combine the flours, seasoning, flavourings and xanthan gum.

Rub the cubes of D'Affinois in with your fingers until it becomes fine sheets of cheese. Do the same with the cool cubes of butter. Keep going until all the cheese and butter has been reduced to fine sheets. Add the water, just enough to bring together into a smooth ball. Place in some wrap, flatten into a circular disk and place in the fridge to chill for 10 minutes.
To cook the potatoes:
Preheat the oven to 200c or 400F. Line two large baking trays.

Mandoline or very finely slice the potato. If you fancy it, stack the slices and cut them in half to resemble apple slices. Place them in a bowl and toss them with the oil and salt.

Divide the potatoes between two trays and space them out. They can be touching but not stacked on top of eachother.

Cook for 10 minutes, swap the trays and cook for an additional 10 minutes. If you have thicker potato slices, this might take a little longer.
To make the galette:
Place the pastry on a sheet of baking paper and then another sheet on top. Use a French rolling pin (or a wine bottle) to roll the pastry out into a big circle, with the pastry about a centimetre thin.

Sprinkle the parmesan, lemon zest, chilli flakes, fennel seeds and seasoning over the centre of the galette. Keep in mind you'll fold the egdes up, so leave some empty space around the edges. Dot pieces of half of the D'Affinois on top.
To finish:
Once the potatoes have cooked and cooled a little, arrange them on top of the base as you see fit.

Fold up the edges of the pastry and press down gently to secure to the potatoes.

Lightly brush the pastry and potatoes with the eggwash, and then place into the oven for 30 minutes. I like to give the pastry an extra brush of eggwash at around the 15 minute mark.

Just before the galette finishes cooking, whisk together the glaze ingredients in a small pot over a medium heat. Cook for around 5 minutes or until the mixture is bubbling and looks considerably more viscous than before.

Once the galette has cooked, remove it from the oven and pour the glaze over the top. Sprinkle with seasoning and a little extra lemon zest. Dot over the remaining D'Affinois and serve.