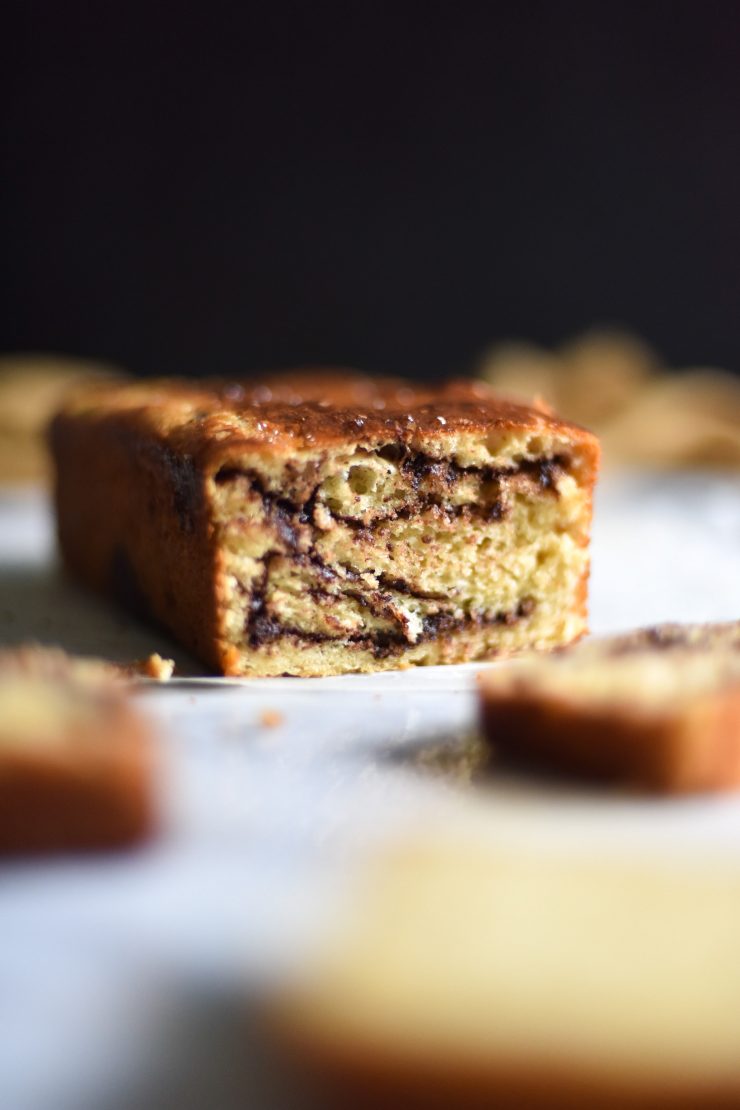 [vc_row][vc_column][vc_column_text]Oh boy. This chocolate brioche has been a long time in the making. Well, a gluten free chocolate, yeasted bread, has been, at least. For as long as I can remember, I've been trying my hand at a chocolate babka, and for as long as I can remember, it's been an absolute failure. Gluten free baking is a fickle friend, and babka is seemingly the most fickle of them all.
After some research, I decided that a new angle, namely, a brioche angle, was in order. Because brioche doesn't need to be rolled out into delicate logs, there is less margin for crumbly, dry, gluten free error. Don't get me wrong: there was plenty of those. There were plenty of those after I wrote this intro. However, because brioche can be poured into a baking tin, one can inject more moisture into the dough, and one can save their mental health and sanity while they do so.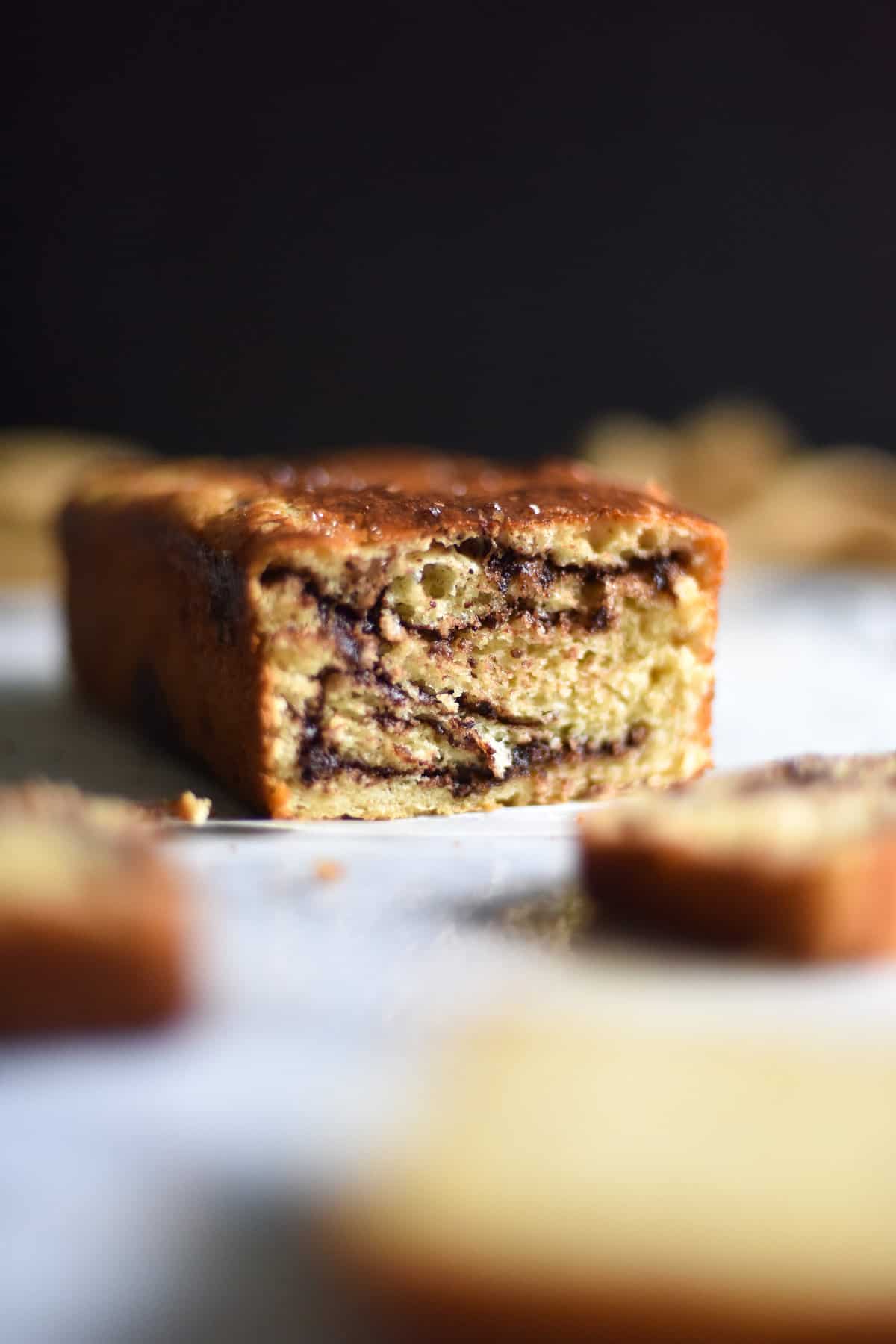 This brioche is gluten free, FODMAP friendly, and relatively straightforward to make, although, as mentioned below, it is a time-munching process. Honey is high in fructose and thus not FODMAP friendly per se, but 3 tablespoons in an entire loaf shouldn't be enough to cause any grief – it wasn't for me, and everything causes me grief. You could potentially experiment with another viscous sugar like rice malt or maple syrup, but I haven't tried it.
A few notes on the 'must haves' of this recipe: room temperature butter, a loaf tin, a stand mixer, and a free afternoon. You might be able to get creative without a high rise bread tin (I did use a silicone loaf pan to success, although it produced a flatter and less elegant brioche) but I wouldn't condone an attempt without the others. A stand mixer will give you sufficient power to incorporate the butter into the flour mixtures, which helps give rise to the dough. It's also, like, a million times less elbow grease. Butter gotta be squidgy. Melt it slightly if you must, but preferably just leave it out the night before. On the subject of time: This takes, all up, at least 4 hours to produce. Most of that is inactive time, but time nonetheless. I experimented with a fridge rise, and had mediocre success, so I'd suggest clearing your schedule. Worth it for brioche.
FOR THE BRIOCHE:
1 sachet instant yeast
1 teaspoon caster sugar
1/4 cup lactose free full cream milk (you could experiment with this, but given the amount of times I experimented, I couldn't fathom any more)
1 cup tapioca flour
1/3 cup + 2 1/2 tablespoons white rice flour
3 tablespoons caster sugar
4 tablespoons psyllium husk
5 700gm eggs, + 1 yolk (plus an additional egg, for an egg wash) room temperature
3 tablespoons honey
150gm butter, room temperature (soft and squidgy)
75gm dark cooking chocolate
METHOD:
Grease and line a loaf tin with butter and two strips of baking paper, long enough to act as handles to pull the brioche out. Heat the milk over a low heat, and, once warmed, place it in a small bowl with the yeast, and the teaspoon of sugar. Set aside and allow to rise for 10-15 minutes. It should look like a little loaf of bread in your bowl. If it doesn't, start again – your yeast is inactive. A charming sentence if I ever heard one.
While you're waiting, whisk your eggs and egg yolk in a large mixing bowl (don't add the additional egg, that's for the wash, remember) and then add the psyllium husk. Continue whisking until you have a smooth-ish, thickening mixture. Add the honey, and whisk that in too. Set aside and allow to gel up for 5-10 minutes.
Add the tapioca flour, rice flour and the remaining 3 tablespoons of caster sugar to the bowl of your kitchen mixer, and mix with a spoon to combine. Attach the whisk attachment, and pour in the weird psyllium husk mix and the yeast mix. Turn the mixer to low, and allow the wet and dry ingredients to combine for a couple of minutes.
Tablespoon by tablespoon, add the butter. I stress it should be very malleable – you should be able to smash it between your fingers, if you so desire. Take your time adding the butter – around 5-10 minutes is great. I leave the mixer on and add a tablespoon as I walk past, in between cleaning up the millions of dishes I've created with random experiments. Once all the butter is added, the mixture should have the colour of creamed butter.
Place the bowl, covered with a clean tea towel, in a warm, dry, non-drafty spot for 2 hours, or until the dough has doubled in size. I like to put mine on my stovetop, above the oven, while I'm cooking other things. 2 hours is a rough time – it may take more or less time, depending on your environment. 2 is a good guide for doubling, but go by your own eye.
Once it's ready, lay a large piece of plastic wrap on a large, clean, workspace. Spray it liberally with olive oil spray, and then spoon the brioche dough onto the cling wrap. I've included pictures below for the next few steps, because I'm always and forever a hopelessly visual learner. Place a teaspoon or so of butter in your palm, and grease your hands with it (very Handmaid's Tale, I know.) Working quickly, use your greased palms to spread the dough into a smooth, rectangular shape. It doesn't need to be perfect, it just needs to have chocolate spread in it. Rustic is very hip, and it won't matter once it's thrown in the pan anyway.
Melt the chocolate as per your preferred method (I use double boiler because I consistently burn chocolate) and pour it over the brioche dough. Spread it extremely gently, and as far as you can without impacting the integrity of the dough.
Take the closest side to you of the dough rectangle, and roll it gently away from you, flicking the roll forward a little to encourage the dough to detach from the cling wrap. Once you've rolled it 3/4 of the way into a log, pull the other side (that's still lying flat on the counter) up over the brioche, so that you have a log, seam side up, on the cling wrap. Take one end of the log, and, using the cling wrap, fold it over onto the other side of the log, creating a fat, halved brioche. Use the cling wrap to gently lift the brioche up and over the greased and lined loaf tin. Flip the cling wrap to gently drop the brioche dough into the loaf tin. Don't worry TOO much about how it lands, because it needs to do a second rise. Speaking of, cover it and allow to rise for an additional hour, or until it's roughly doubled again.
When you're ready to roll, preheat the oven to 180 degrees Celsius. Whisk the remaining egg together with a couple of tablespoons of water (this makes it easier to paint over the fragile dough) and gently paint the brioche liberally, using a dabbing motion, before painting it in in light strokes. Allow to sit and soak for 5 or so minutes, before giving the dough a second egg wash. Transfer to the oven and cook for 35-40 minutes, or until the top is dark and shiny, but firm when you tap the top or insert a skewer.
Allow the brioche to cool a little before cutting, for easiest and smoothest slices, although it tastes pretty gr8 warm. It's best within the first day or so, although it is still delicious as a reheated baked good. Don't slice it up if you don't intend to eat the slices straight away, because they'll dry out quickly and you'll hate me.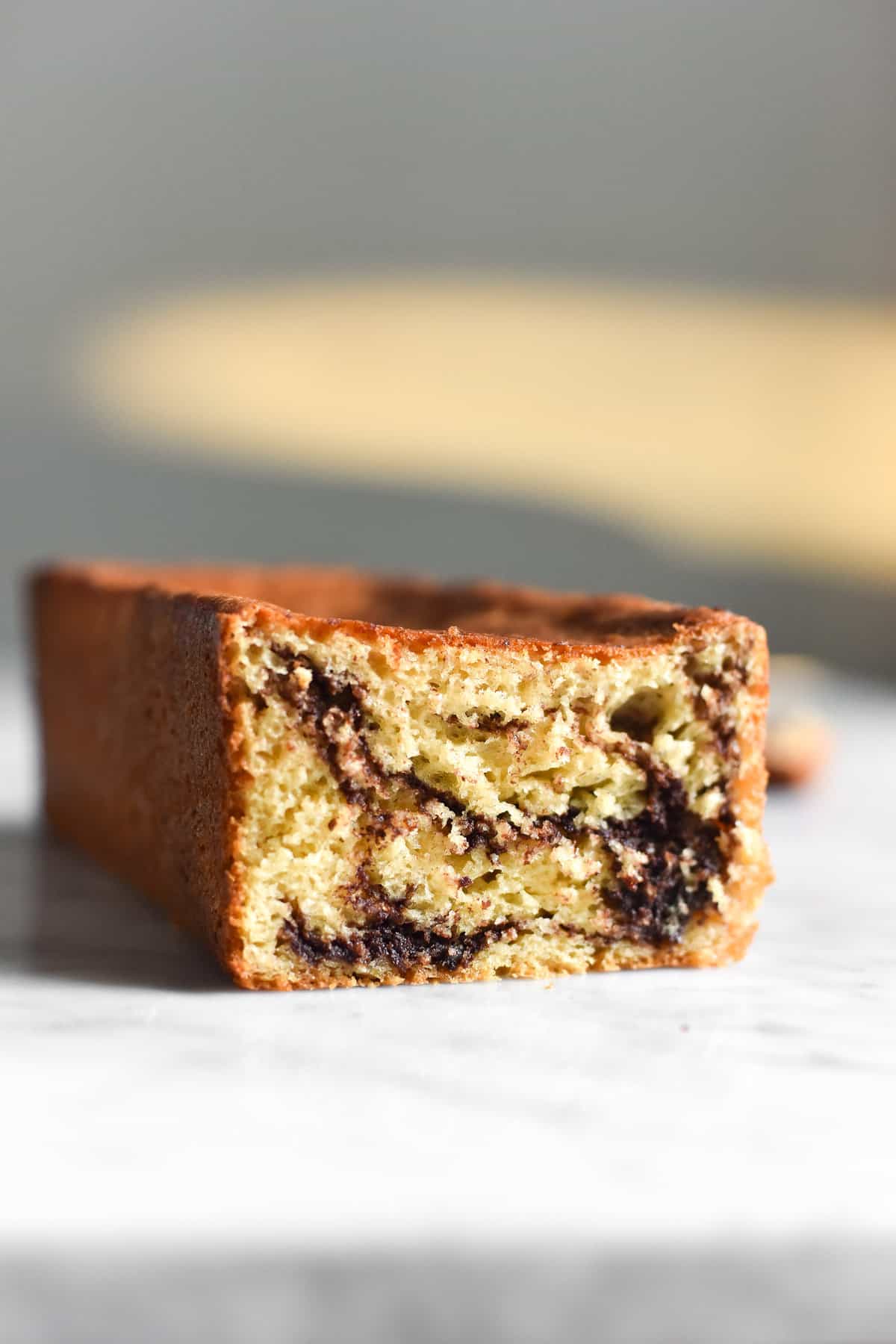 [/vc_column_text][/vc_column][/vc_row][vc_row][vc_column][vc_gallery][/vc_column][/vc_row]