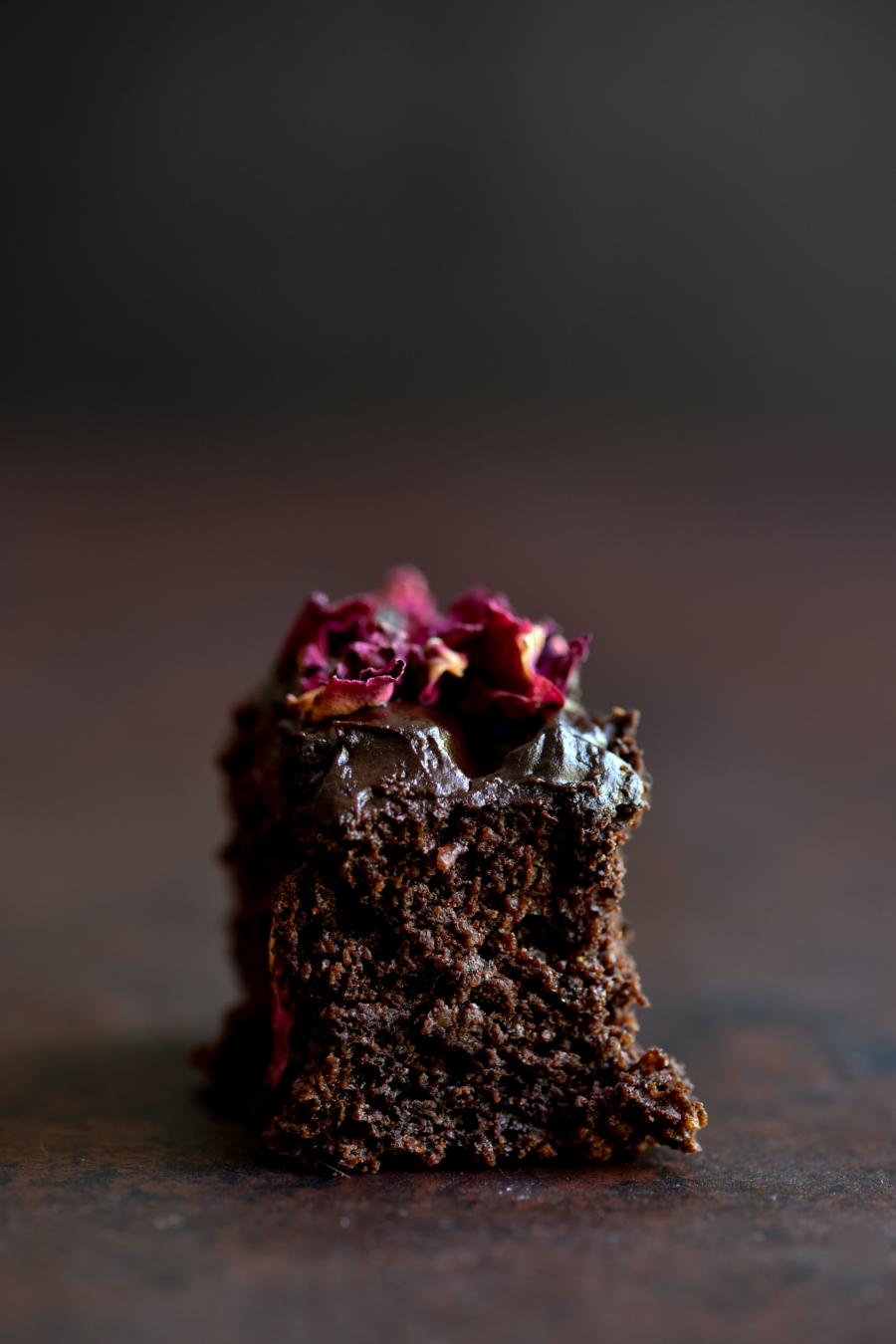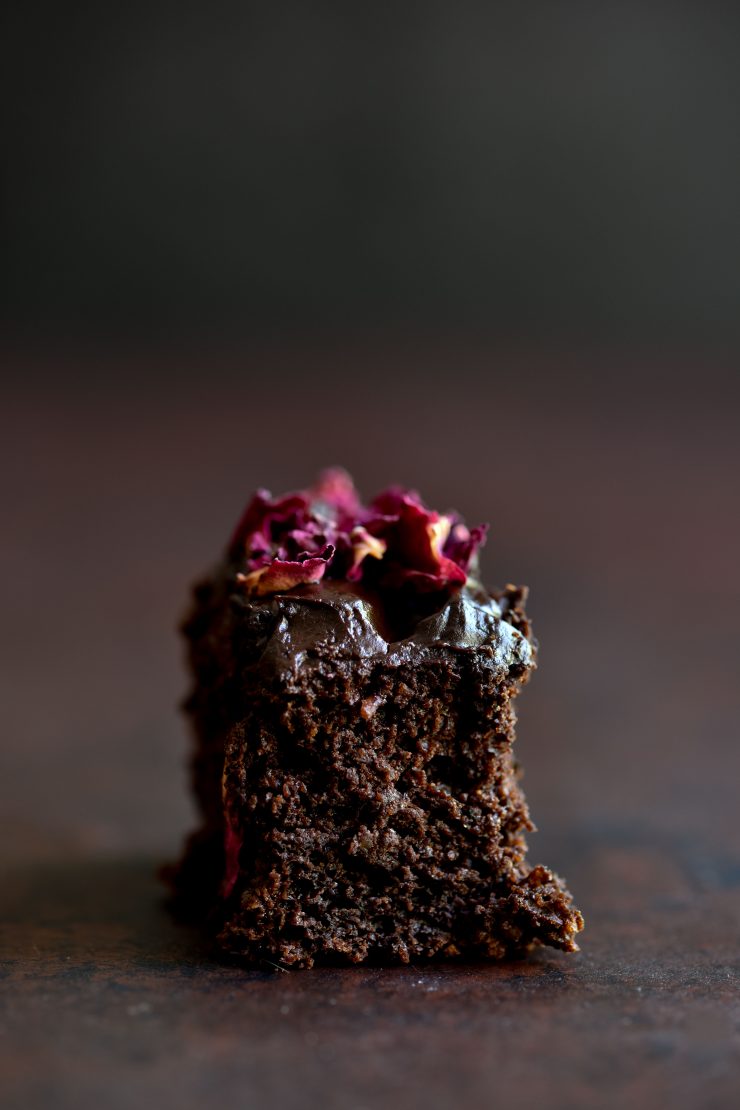 Yes, a chocolate zucchini sheet cake. What is a zucchini doing in a chocolate cake, you might be asking? I'm glad you are, because I am about to tell you. The humble zucchini is somewhat of a FODMAP friendly superfood – it is filling, mostly liquid, rather bland (no offence, zucchini, I'm bland too) and can take on literally any flavour thrown at it, chocolate included. Given the above qualities, zucchini is an ideal candidate for FODMAP friendly, healthier baking – it gives gluten free baked goods the liquid they need to not become rock cakes, without adding much to the FODMAP count of said baked goods. A true FODMAP miracle.
As you can see, I am a huge proponent of zucchini in cake, but it wasn't that long ago that I used to make Nigella's 'courgette' cake for my Mum's birthday, weirding myself out, year after year, by the fact that I was putting ZUCCHINi in CAKE. It's times like these that I truly believe in the human capacity to evolve and grow. On that note, you can find my recipe for a gluten free version of Nigella's zucchini cake right here.
This chocolate cake is gluten free, grain free, refined sugar free and FODMAP friendly. It's also dead easy to make, which is arguably a bigger bonus than all the above combined.
What if you're vegan, though? Well, it's your lucky day! There is a recipe for a vegan chocolate and pumpkin version, the recipe for which is right here.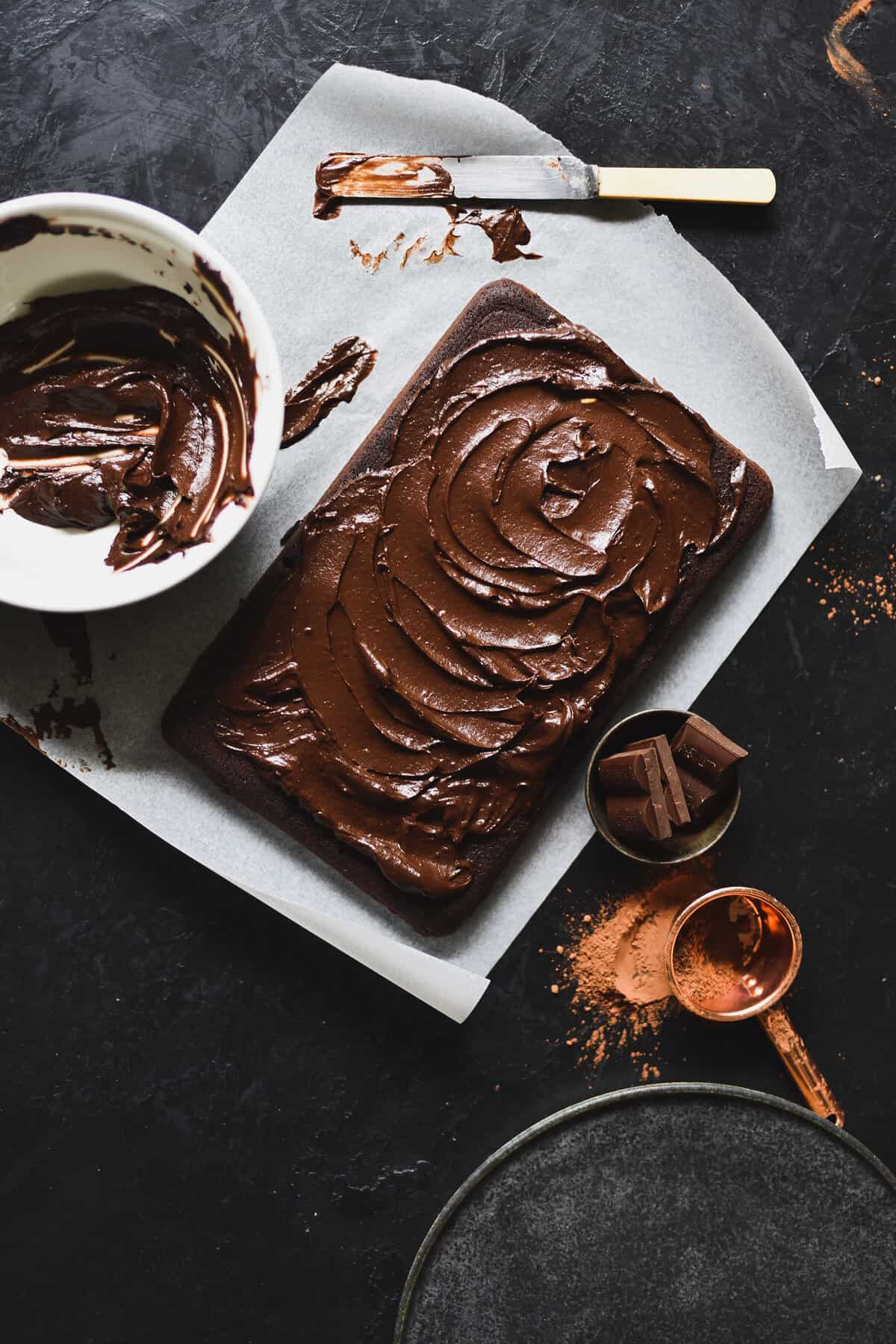 RECIPE NOTES FOR THE CHOCOLATE ZUCCHINI SHEET CAKE
First and foremost, it's important to acknowledge that different zucchini have different water contents. They're highly variable, so you might want to give the zucchini a bit of a squeeze before adding it.
If you suspect that your grated zucchini is particularly soggy, place it in a strainer and sprinkle over a little salt. The salt will draw out the moisture and you'll be able to squeeze out excess. I find table salt the easiest to work with in this context because it's very fine. Simply omit the salt from the cake batter to compensate.
Because the cake contains a lot of moist ingredients, I've used coconut sugar as the sweetener. Coconut sugar does tend to be a little higher in fructose, which is something to consider for FODMAP people. More on that below.
SUBSTITUTION OPTIONS
As we've discussed, the high proportion of moisture containing ingredients in this cake mean you will need to use a dry sweetener. This means this maple syrup, rice malt syrup and honey are not an option. If you'd like to keep the fructose content down, you could use maple sugar (not syrup) or light brown sugar.
If you'd like a bit of a twist, you could use hazelnut meal in place of some of the almond meal. I haven't tested it with all hazelnut meal, but I can't see why it wouldn't work. There is no substitution for nut meal in this recipe, however – see my gluten free chocolate for a nut free variety.
Dutch processed cocoa, regular cocoa or cacao will all work in this recipe.
Chocolate zucchini sheetcake with chocolate avocado icing
Ingredients
FOR THE CHOCOLATE CAKE:
100g

(1 cup)

almond meal

50g

(1/2 cup)

tapioca flour

200

g

grated zucchini

skin on, about one medium-large zucchini

3/4

cup

cacao or cocoa

1/2

cup

coconut sugar

2

teaspoons

maple syrup

2

eggs

2

tablespoons

almond butter

1

tablespoon

coconut oil

softened

1

teaspoon

vanilla bean paste

2

teaspoons

baking powder

2

teaspoons

apple cider vinegar

Generous pinch of sea salt flakes
FOR THE CHOCOLATE ICING:
1

large avocado

1

tablespoon

maple syrup

2 tablespoons if you have a particularly sweet tooth

1/4

cup

cacao or cocoa

A pinch of sea salt
Instructions
METHOD
Preheat the oven to 180C or 356F.

Combine the almond meal, tapioca flour, eggs, cacao and zucchini in your food processor, scraping down the edges intermittently, until you have a nice smooth batter. Add the coconut sugar, maple syrup, almond butter, coconut oil, vanilla bean paste and sea salt, and continue to process until combined.

Add the baking powder and apple cider vinegar, and stir by hand to combine.

Pour the mixture into a small greased baking pan. I used both a small rectangular 27cm x17 cm and square 20cm x 20cm pan, both to success.

Place into the oven for 15-20 minutes. You may need to adjust the timings, depending on how thinly your cake batter is spread.

While the cake is cooking, process your avocado, cacao, maple syrup and sea salt together until a smooth icing forms. You might have to scrape down the blender a few times, depending on the size of your avo.

Once the cake has cooked and cooled, pile it up with the avo icing, and top with aesthetically pleasing bits and pieces as you see fit. The cake keeps well (icing and all) in the fridge for a number of days.