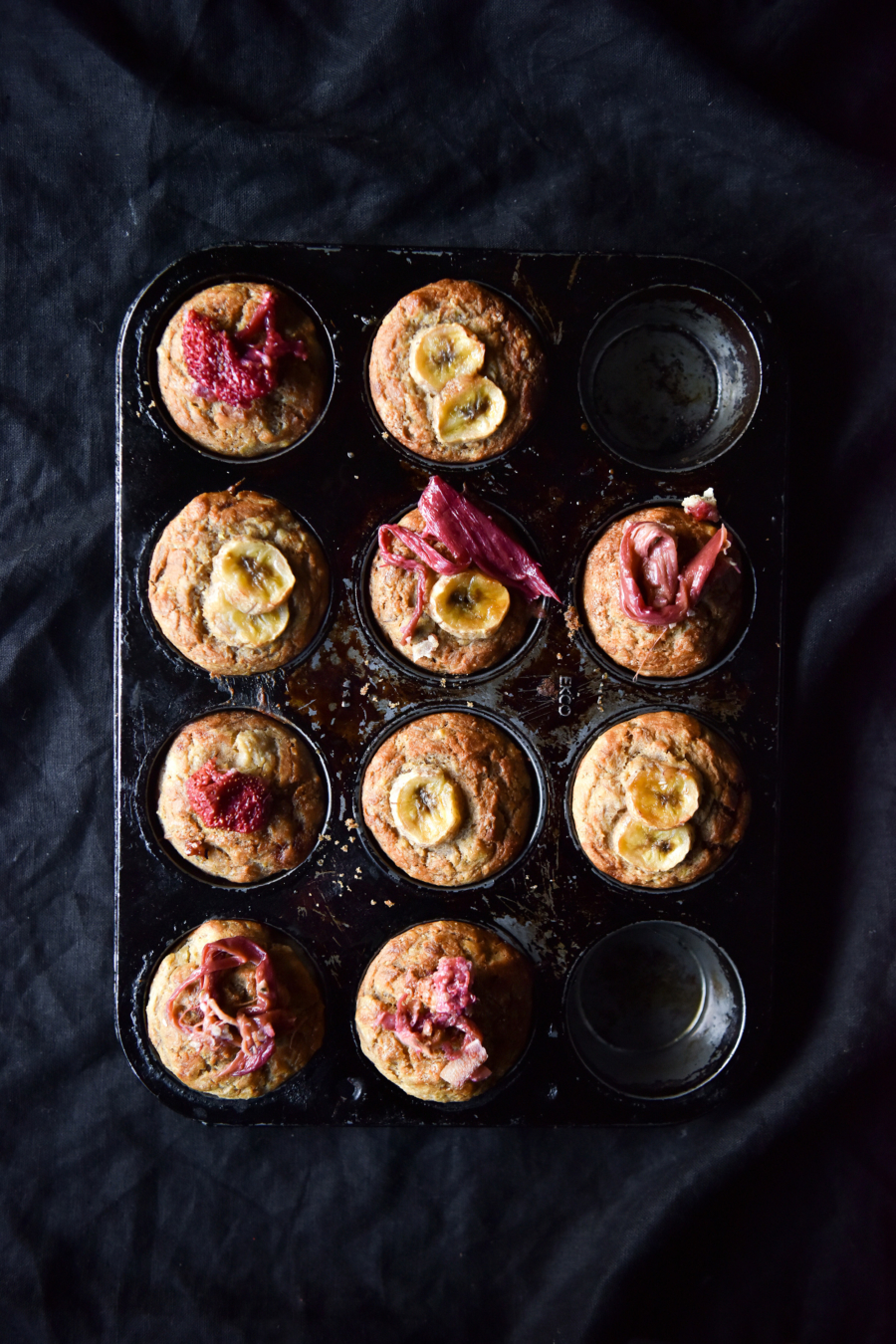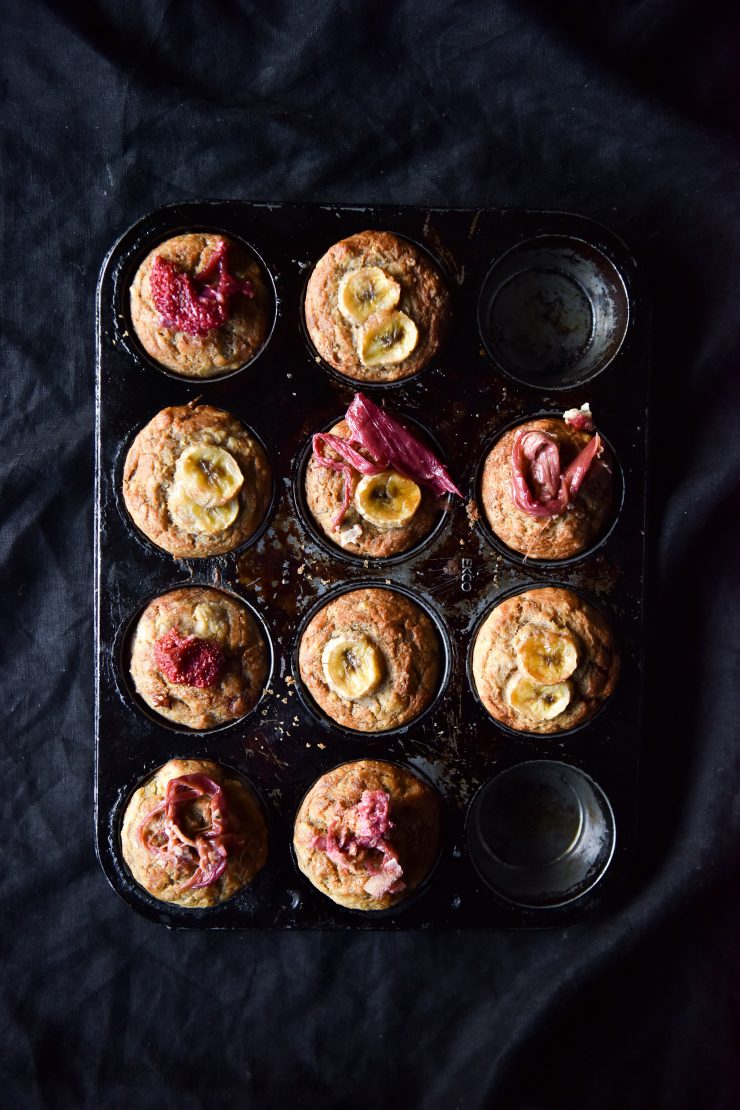 Much like anything banana related, the demand for good banana muffins never really dies down. Much less so, in my circles, good gluten free banana muffins.
It has been a while since I've attempted the humble banana muffin, but after a number of requests for a gluten free varietal, I figured now is as good a time as ever. And on the topic of humble, I naturally decided to name them something really wanky, such as buttermilk, olive oil and sea salt banana muffins. Why the hell not, I say. It's like the equivalent of fake tan for a banana muffin.
I've been tinkering with the idea of roasting not-fully-ripened bananas. Whether or not my logic is correct (if you know more than I do, please let me know) I figured that by roasting a just ripe banana, I could coax out the delicious banana flavour, all the while keeping the excess fructose content down.
GLUTEN FREE BANANA MUFFINS + FODMAP NOTES
These gluten free banana muffins contain 2 1/2 bananas, and the recipe makes 8-12 muffins. This is within acceptable fructose levels. If you're concerned, use unripe bananas, and roast them for a little longer.
I have used brown sugar in this recipe. You could substitute coconut sugar for a refined sugar free alternative. However, keep in mind that coconut sugar is higher in fructose.
1/4 cup of almond meal, divided amongst 8-12 serves, is very friendly. It also adds a delicious crumb to gluten free baked goods.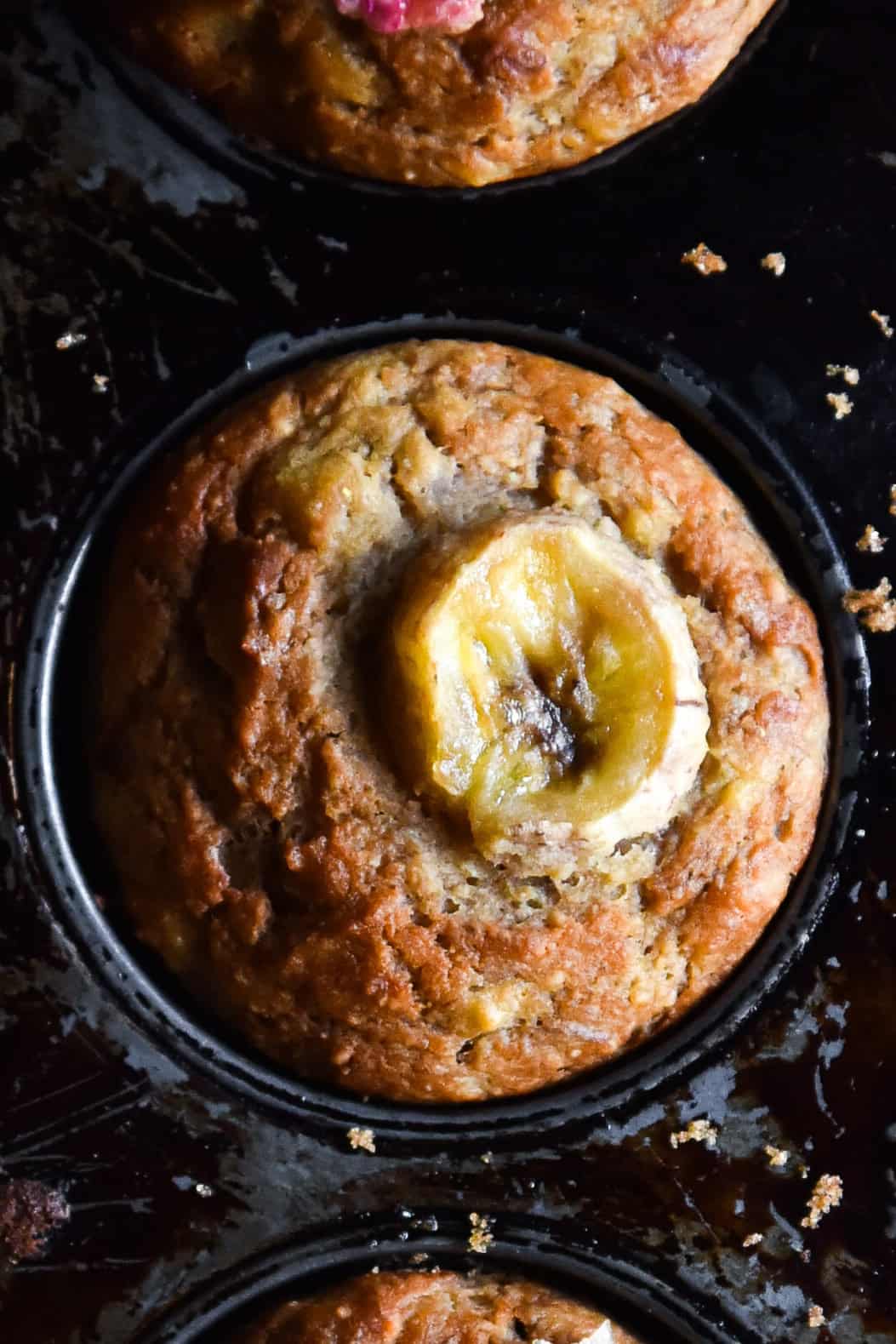 Gluten free olive oil banana muffins
Gluten free, FODMAP friendly, dairy free
Ingredients
FOR THE BANANA MUFFINS:
350

g

bananas

about 2 1/2 large ones ripe or unripe (unripe for a low FODMAP option) plus extra to garnish, if desired (I used the 2nd half of the third banana)

3/4

cup

soy milk

1/2

tablespoon

white vinegar

1/2

cup

80g brown sugar

1

cup

120g white rice flour

1/4

cup

25g almond meal

1/4

cup

30g tapioca flour

1

teaspoon

baking powder

1/2

teaspoon

baking soda

1/2

teaspoon

nutmeg

1

teaspoon

sea salt

2 700

g

eggs

3

tablespoons

olive oil

1

teaspoon

vanilla bean paste
Instructions
METHOD:
Preheat the oven to 180 degrees Celsius.

Line a baking tray, and lay your bananas on it with a light spray of oil. Once the oven is ready, cook the bananas for 20-30 minutes. If they're super ripe, they'll probably only need 20, but the firmer ones will need longer.

While the bananas are cooking, mix together the soy milk and vinegar, and set aside to form buttermilk. It should be clumpy and separated by the time you stir it into the mixture - aside from contributing to the fancy name it will also give the muffins lift.

In a large bowl, mix together the dry ingredients and set aside.

Once the bananas are cooked - they smell like heaven and they're super squishy, transfer them to a bowl and mash them roughly. Allow them to cool slightly so your batter doesn't become scrambled eggs.

Once the bananas have cooled, add the wet ingredients (buttermilk, eggs, mashed banana, olive oil and vanilla bean paste) to the dry, and mix thoroughly to combine. After a couple of minutes, the batter should be spoonable but also kind of fluffy looking.

Grease 10-12 muffin holes (depending on their size) with a good spray of olive oil, and use a spoon or ladle to fill them with batter. Top them with the extra banana slices, and a sprinkle of brown sugar and/or cinnamon, if you fancy. Allow them to cook for 20-25 or so minutes - I like to finish mine with a quick blast under the grill for some colour on top.