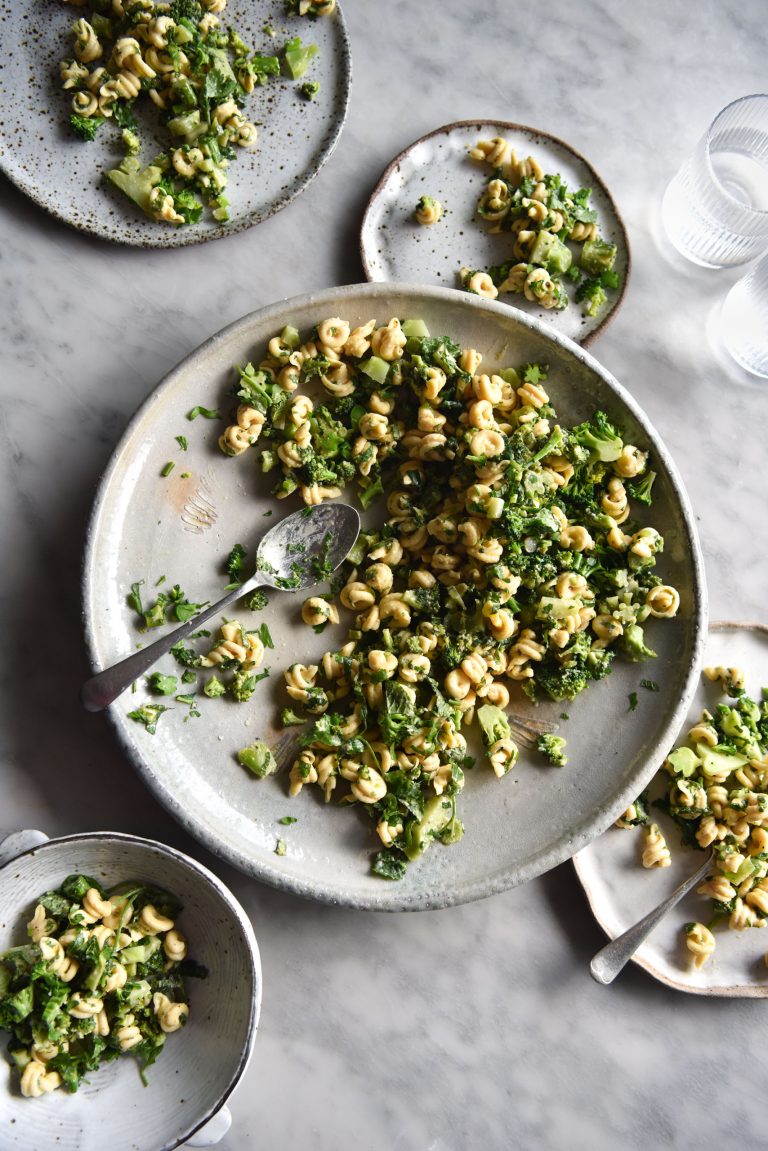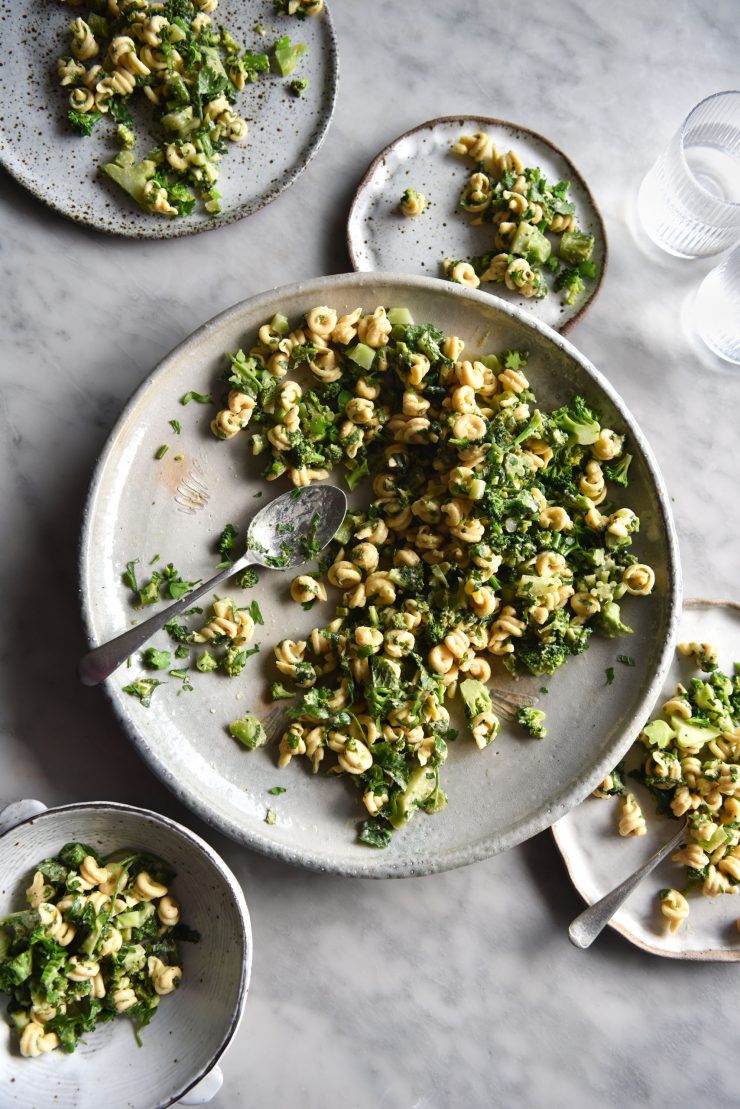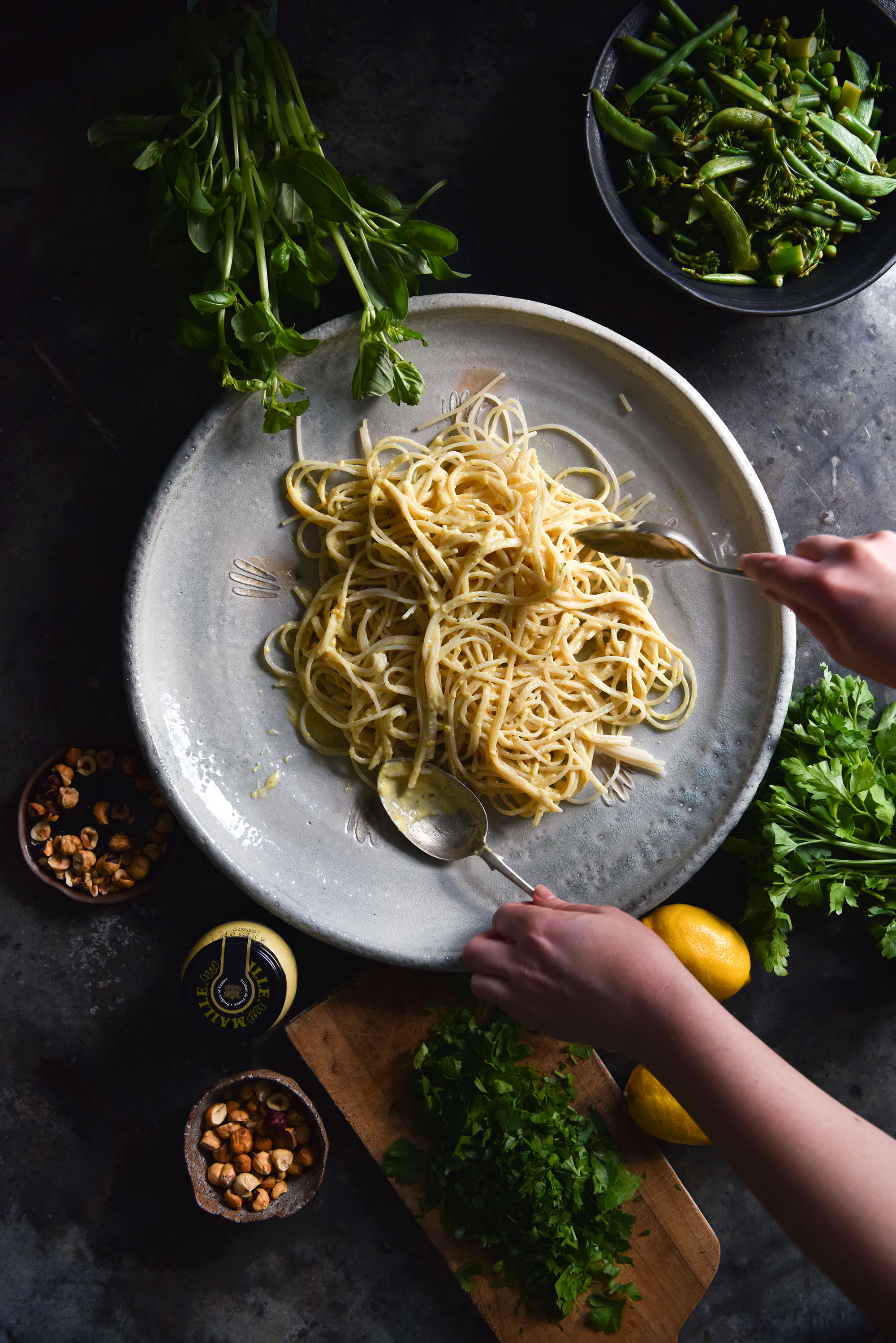 Given that pasta, onion and garlic are essentially synonymous, it's hard to imagine that a FODMAP friendly pasta dish would have much pizzazz. This creamy lemon AND mustard pasta, my friends, is here to disprove that assumption. Do you have to get a little creative to fill the void that garlic and onion leave? Absolutely. Is it possible? See previous answer.
I was asked my Maille to develop a couple of mustard forward recipes, and a punchy pasta dish was first on my hit list. This mustard and lemon pasta is zingy and bright – essentially early spring personified. It is also extremely versatile, and works with a multitude of pasta shapes, vegetables and herbs. There isn't much you couldn't add to it. Except, if you're anything like me, garlic and onion.
The sauce uses Maille Dijon Originale, my go-to for all things mustard and all things punchy flavour. Mustard is FODMAP friendly in 1 tablespoon serves per person, which makes it a great way to pack a serious flavour punch without any ill effects. I use mustard in sandwiches, stocks, soups, stews, and (to break up the illeration and the rambling) PASTA.
CREAMY LEMON AND MUSTARD PASTA: FODMAP THINGS
As we've discussed, this is an extremely riff-able pasta dish. I'll run through the FODMAP notes for this version of the dish, but keep in mind FODMAP quantities if you strike out on your own. The Monash app is the best place to start.
I have used lactose free cream for this recipe. If you're fine with lactose, then you can absolutely use regular cream. I have also tried this sauce with 75g butter, which is lower in lactose than cream. To make the dish vegan, you could look into using coconut cream for an exotic take, although I haven't tried this personally.
Broccoli is considered FODMAP friendly in serves of 75g or less per person, and broccolini at 45g per person. This recipe serves 4-6, so the quantities of broccoli are fine in terms of FODMAPs per serve. If you have severe issues with fructose and/or the taste of broccoli, you can replace it with another vegetable you fancy. See the substitution section for some ideas.
Hazelnuts are considered FODMAP friendly in 15g or 10 nut serves. This keeps the quantity per person well within acceptable limits. You could substitute for another nut if you fancy, although I find hazelnut works particularly well in this dish.
SUBSTITUTIONS AND TIPS
This recipe works really well with the seasons. It is winter bordering on spring here in Melbourne, which is why I have chosen broccolini and beans. You can easily find seasonal food charts online for your home city – here is a great one for Melbourne.
For a nut free version of this dish you could use some toasted pepitas or omit the nuts entirely. If you don't like hazelnuts, toasted pine nuts would be a good substitute. When possible, buy your nuts at a bulk food store to save excess plastic.
You're really not into broccoli? You could substitute with pretty much anything. Some kale, spinach, rocket or radicchio would be lovely, as would some roasted pumpkin.
There are a plethora of great gluten free pasta brands on the market these days. My favourite is generally Green Olive Organics, but I also used Otway Pasta Company gluten free Torchio for this recipe. I was very impressed. However, a regular pasta is also totally suitable for this dish, if your family doesn't need to be gluten free.
On the note of pasta, you can see that I used all sorts of shapes in the making of this dish. You can use whichever is your favourite – they all work really well.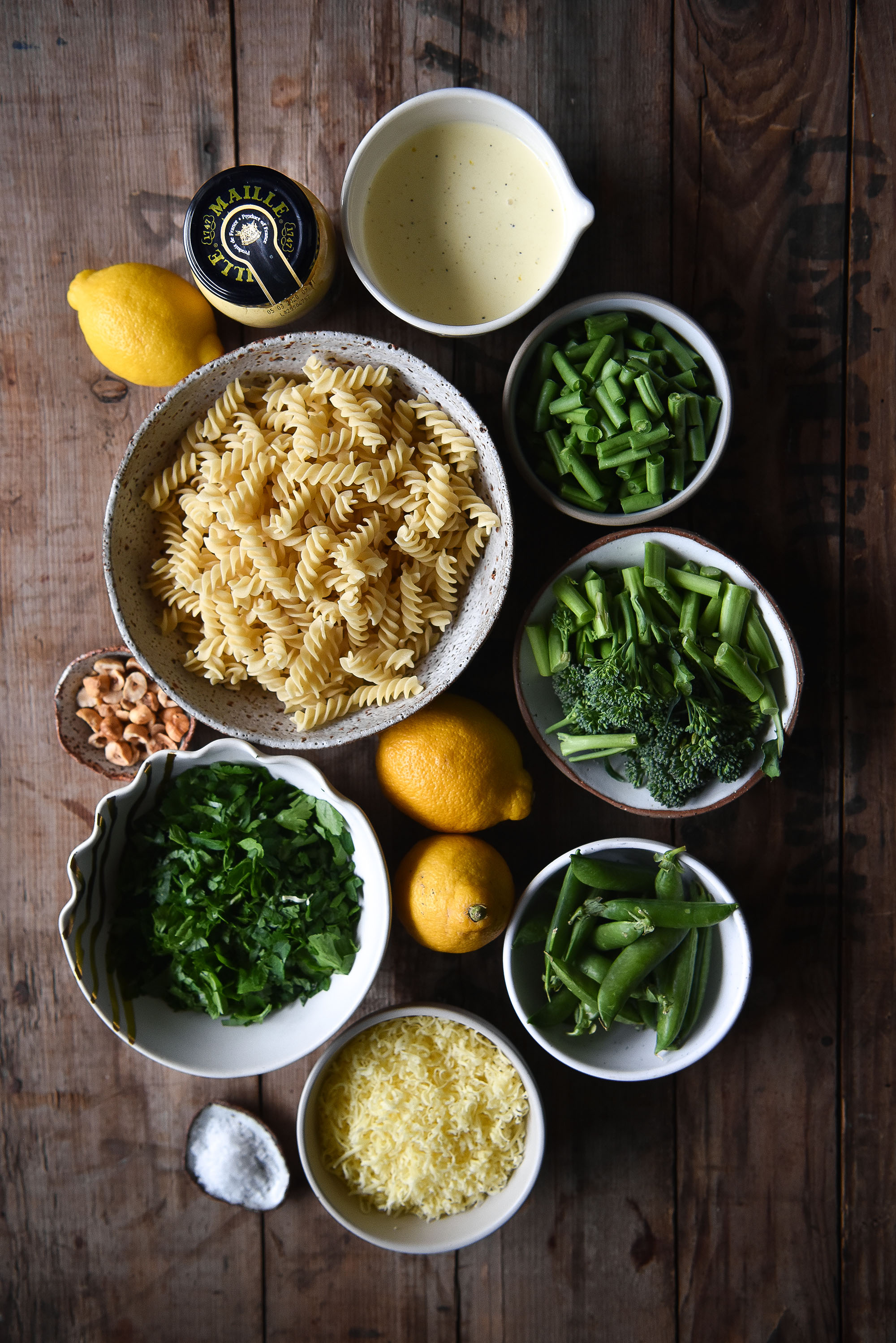 Creamy mustard lemon pasta with spring vegetables, herbs and toasted hazelnuts
Gluten free, vegetarian, FODMAP friendly, quick dinner
Ingredients
FOR THE CREAMY SAUCE
150

ml

lactose free full fat cream

Zest of 2 large lemons

Generous freshly cracked pepper

1

tablespoon

Maille Dijon Originale

100

g

freshly and finely grated Parmesan

you can also use pecorino, cheddar, or another hard cheese if you prefer

Sea salt flakes

to taste

Pasta water

reserved from cooking the pasta
TO FINISH THE DISH
1

bunch of broccolini

1

handful of green beans, topped and tailed

1

bunch of flat leaf parsley

or whichever herb you prefer

1/2

cup

peas (I used frozen)

Juice of 2 lemons

the ones used for zest in the sauce

1/2

cup

toasted hazelnuts

1 250-300

g

packet gluten free pasta

shape of your choice
OPTIONAL TOPPINGS
Radicchio

rocket, spinach or any sort of fresh greens

Extra finely grated parmesan
Instructions
In a small saucepan, combine the cream, lemon zest and pepper, stirring to combine. Leave to infuse while you prepare the vegetables.

In a medium sized pot, combine the lemon juice for the vegetables with 2 or 3 cups of water. We're blanching the vegtables in the lemony water to give them some brightness and a lemon hit, so don't add too much water to pot or you'll dilute the lemon. Blanch the beans first, followed by the broccoli and peas. I like to leave them for a couple of minutes so they're a little cooked but still green and crunchy. You can cook them as long as you prefer, keeping in mind they won't get cooked again.

As you blanch the vegetables, remove them from the water with a slotted spoon, and set aside in a bowl or sieve. You can refresh them in some cold water to stop the cooking, if you fancy. I don't bother.

Once all the vegetables are blanched, fill the pot with enough water to cook the pasta. The lemon water should still be in the pot. Add a generous amount of salt, and allow the water to come to the boil before cooking your pasta as per packet instructions. Remember to save some pasta water from near the end of the pasta cooking process – we will use it to thin the sauce.

While the pasta is cooking, place the cream mixture on a low heat. Allow it to cook and infuse the lemon for a few minutes before adding the mustard. Keep it on a very low heat.

Once the pasta is cooked, drain it (again, remember that pasta water!) and place it into a large mixing bowl, or even back in the pot.

Turn the heat off on the cream mixture. Add the grated parmesan to the creamy sauce, big spoonfuls at a time. Stir the last spoonful before moving onto the next – this ensures the cheese melts into the sauce, and you don't end up with any lumps of cheese.

Once all of the parmesan has been stirred into the sauce, adjust it for seasoning. You might not need to add extra salt, but keep in mind that this small quantity of sauce covers 6 large servings of pasta. I generally add 1 teaspoon of sea salt flakes.

Pour the sauce over the pasta, and use tongs to quickly distribute it evenly across the pasta. Use the remaining pasta water to thin the sauce out to your desired consistency. Use a splash at a time, because you can't take it back once you've overdone it. I generally add about 1/2 – 1 cup, because the pasta does suck a lot of liquid up as it cools.

Top the pasta with the blanched green vegetables, herbs and toasted hazelnuts. Season with generous freshly cracked black pepper, and any other fresh veg you fancy (rocket, radicchio, spinach or some sort of salad green would all be lovely)