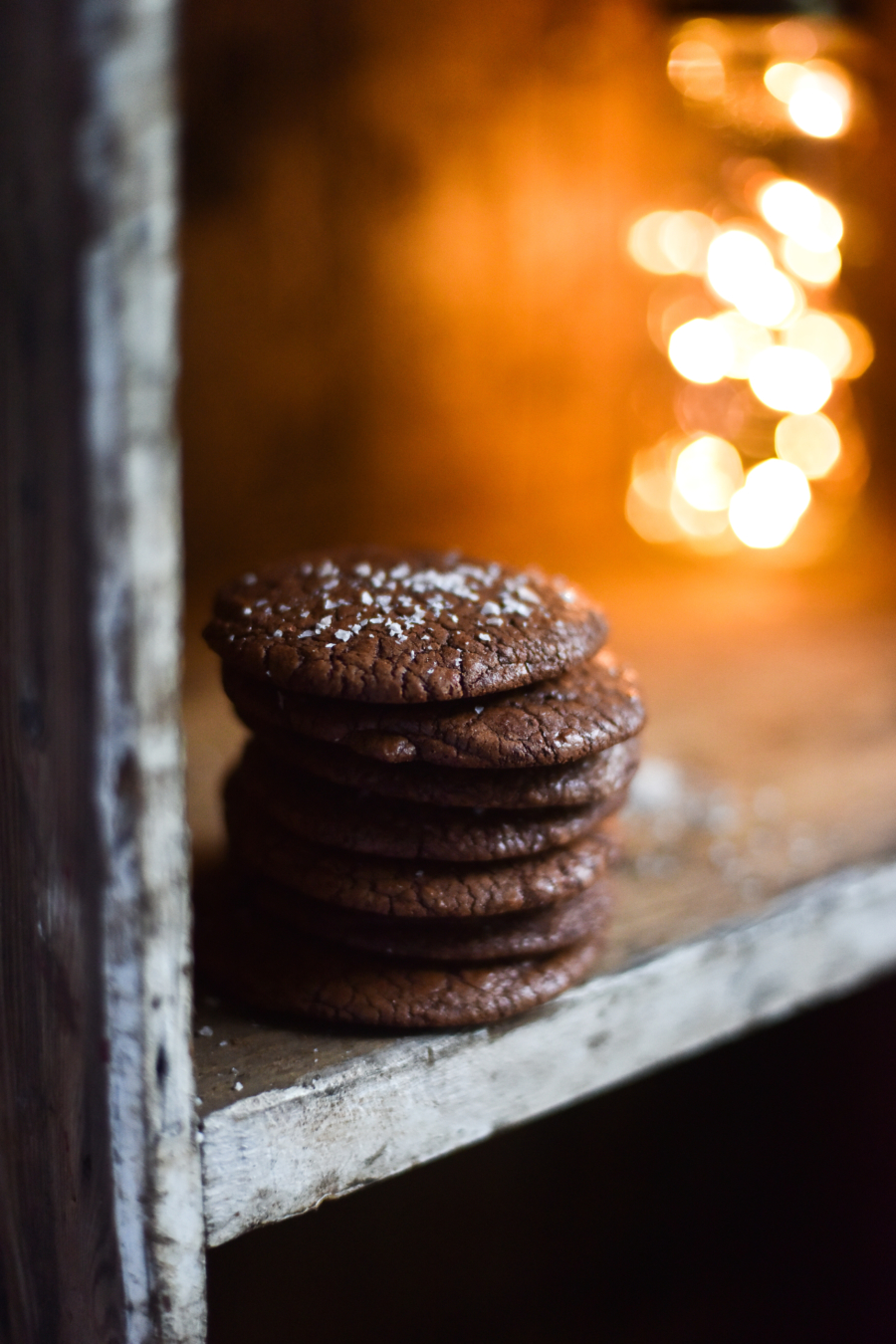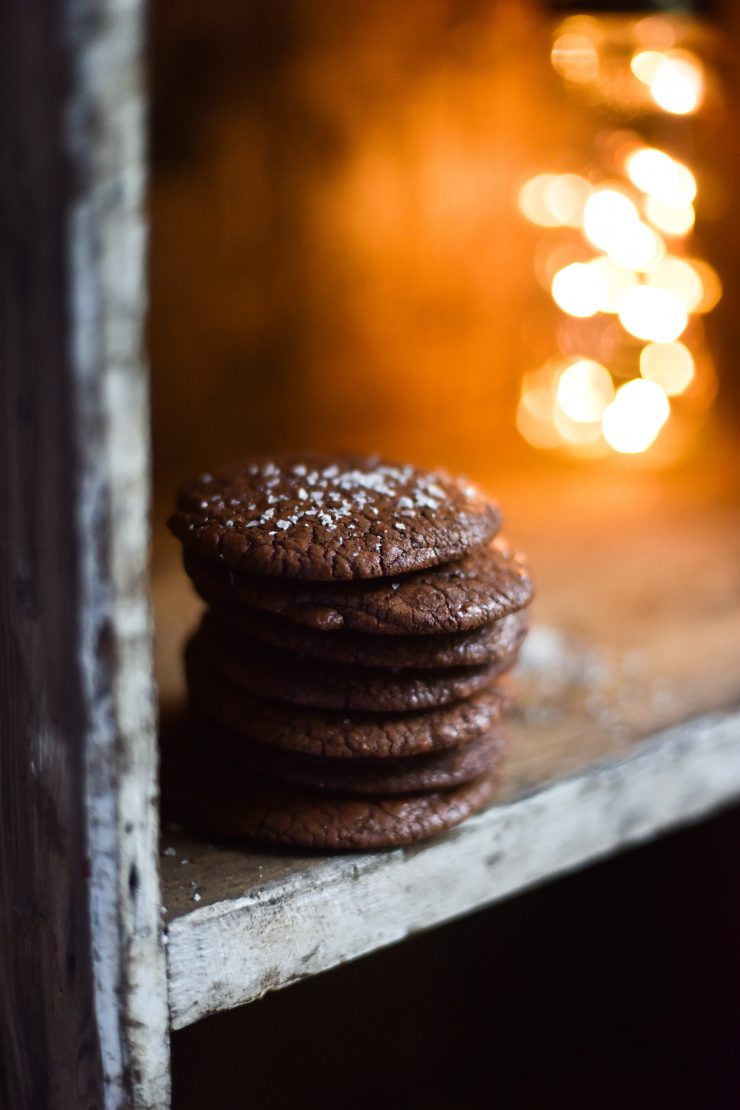 I mean, is there anything brown butter can't improve? Because brownie cookies are good, but brown butter brownie cookies are better. I've been toying around with these brownie cookies for a while (and promising the recipe on Instagram even longer, soz) and they're finally here. The delay is due in part to illness, but mostly due to a huge, all consuming project that I can (hopefully finally) talk more about soon.
While I initially set out to make a stock standard chocolate cookie, I ended up with this brown butter, sea salt and quinoa flour number. As a result of both a baking accident and of spending too much time on Pinterest, they quickly became brownie cookies. Brownie cookies are quite customisable in the sense that you can cook them for as long or as short as you like (within reason) – as you would a regular brownie. Want a squishy brownie cookie? Cook it for less time. Looking a firm, cake-like brownie cookie? Cook it all the way through. The world is your salted, chocolatey, nutty, complex flavoured, brown butter oyster.
If you're into classing foods as 'sometimes' foods, I would definitely go ahead and pop these brownie cookies in that category. They're FODMAP friendly and gluten free, but they are most definitely not refined sugar free, a healthier alternative, vegan, or a weight loss snack. I have intimate knowledge of that last one, because I've been testing them the past few weeks, and the opposite has been occurring. Took one (or two) for the team, literally and FIGUREatively. Side note: If this level of pun use is the result of overtired deadline making, I should run late on deadlines more often…
Into chocolate? Try the chocolate and peanut butter cheesecake. 

Brown butter brownie cookies
Gluten free, FODMAP friendly, low lactose
Ingredients
FOR THE BROWN BUTTER BROWNIE COOKIES:
150

g

butter

100

g

dark chocolate

1

teaspoon

sea salt

1

teaspoon

vanilla bean paste

2

eggs

1/2

cup

caster sugar

1/4

cup

light brown sugar

1/2

cup

cocoa or cacao

1/2

cup

quinoa flour

1/4

teaspoon

baking powder
Instructions
TO MAKE THE COOKIES:
Melt the butter over a high heat in a large pan, and allow it to turn brown. Brown it a little more than you would for a sauce - there should be flecks of dark brown, the colour (overall, when looking in) should be dark brown, but it should smell nutty, rather than burnt.

Use the double boiler method, or your preferred method, melt the chocolate.

Once the butter is done to your liking, remove it from the heat and allow it cool a little. Once it has, pour it over the chocolate, add the teaspoon of sea salt and vanilla bean paste, and mix well to combine completely. Set aside.

In your stand mixer (you can do it by hand, although I didn't attempt it because I'm a pampered Kitchenaid user) whisk together the white and brown sugar and two eggs, until they completely lighten in colour. You're looking for the colour of sand, or thereabouts. They should be thicker and a little bit foamy. Once this has happened, pour in the chocolate butter mixture (it shouldn't be too hot by now) and allow it to combine completely.

In a bowl, quickly mix together the cocoa, quinoa flour and baking powder. Lower the speed of the mixer to low (to prevent a cloud of cocoa) and add the cocoa flour mix, generous tablespoons at a time. Continue until this is all incorporated.

Transfer the mixture to the fridge for half an hour. Much longer and it will solidify completely, and be hard to scrape out. Once the time is nearly up, preheat the oven to 180 degrees Celsius.

Line a baking tray with baking paper, and once the cookie dough is ready, spoon rough tablespoons (4 at a time) onto the baking tray. Place them in the oven for 5 minutes.

After the 5 minutes, remove the cookies from the oven, and slam them (gently but not too gently) onto the floor or the oven racks. This creates the little ripple cracks in the surface. Return to the oven for an additional 5-10 minutes - 5 if you want super gooey cookies, 10 if you'd prefer them firmer.

Gently transfer to a cooling rack and to cool and harden a lil before eating. You can eat them warm but the fresher they are outta the oven, the harder they are to pick up. They might come out of the oven a little bit puffy - they should shrink as they cool, but if they're particularly puffy, you can gently press down on them with the palm of your hand. This has the added bonus of bringing bits of molten brownie up to the surface. HELLO. Sprinkle with a little extra salt before serving, if you're into it.